---
A Popular Dish from the Bay Area
Years ago I lived in San Francisco, and as many of you know it's where I went to culinary school. While I was there, I went to a seafood restaurant and I had these garlic noodles which I was told where the restaurant's signature dish. They were chewy noodles stir fried with lots of garlic and what appeared to be a generous amount of butter. It was the highlight of the meal, yet it's unbelievably easy and goes well as a side dish for a protein-heavy feast, whether seafood or a backyard barbecue.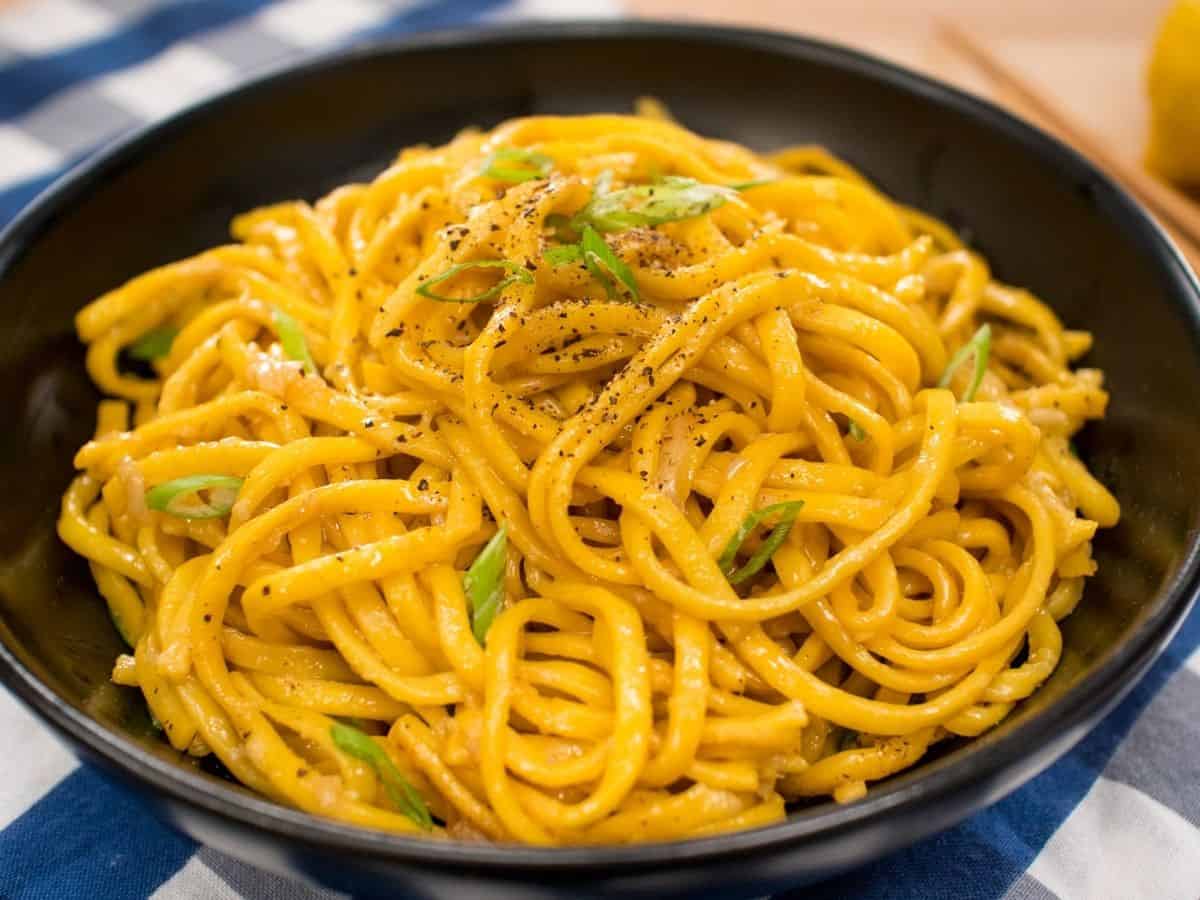 Years later, I ran into this dish on the internet, and it was then that I realized that it wasn't just the restaurant's signature dish, but it was so famous that other restaurants had copied them, and many home cooks have also tried to recreate them at home. These Asian garlic noodles were originally invented at Thanh Long, a non-traditional Vietnamese seafood restaurant, though I had it at one of their newer establishments, Crustaceans.
Choosing The Right Noodles
Thanh Long used a kind of thick, chewy, wheat noodles similar to Japanese ramen noodles, but thicker. I haven't been able to find the exact ones here, but I found that these fresh, fat Chinese egg noodles are perfect for this dish. These are the yellow noodles that come fully cooked and tossed in oil.
What you have available to you might be a bit different, but whatever you choose, you want them thick and chewy. The texture is part of the satisfaction of this dish. At Asian grocery stores you should be able to find a selection of fresh wheat-based egg noodles in the refrigerated section—go with the fattest one, and you might have to try a few to nail the perfect one.
If you've got leftover noodles, try using them in my mie goreng recipe.
Using Uncooked Noodles
The weight given in the recipe is for precooked egg noodles, which is what I have found to work best given what's available locally to me. But here are some modifications if you're using different types of noodles:
If the noodles you are using are fresh (not dry) but are still raw, you will need to use a little more than half the weight given, about 350 g.
If you're using dry noodles, you will need a little less than half the weight given, about 275 g.
This will vary between different noodles, so to be sure, I recommend weighing the noodles after you cook to make sure that you are starting with roughly the same amount as the recipe calls for. If it's a little different, adjust the amount of sauce as needed.
What is Golden Mountain Sauce?
Golden Mountain Sauce is an important component of this recipe. It's a brand of what Thais call "seasoning sauce" and it's essentially a type of soy sauce. Though there are other brands of seasoning sauce, Golden Mountain is the most popular and so it has become the generic name many people use. It's also the brand that's most widely available outside of Thailand, though I've also seen Healthy Boy brand seasoning sauce as well.
Compared to regular Thai soy sauce it is a bit darker and has a different, slightly stronger flavour. See this video for more on different types of Thai sauces. You can simply substitute soy sauce in equal amounts, of if you have Maggi Seasoning sauce this also works well as a sub.
What Can Replace Oyster Sauce?
If you're looking to make this vegetarian, substituting fish sauce with soy sauce or your vegan fish sauce of choice might be obvious...but what about the oyster sauce? Oyster sauce adds a lot of complexity to this dish, including saltiness, slight sweetness, and a lot of umami, so a good replacement is important here.
I've never seen something labeled as "vegetarian oyster sauce" on the market, but look for "vegetarian stir fry sauce" or "mushroom vegetarian sauce" instead. These are meant to be a vegan oyster sauce substitute, even though you couldn't tell with that labeling. Learn more about oyster sauce on my Guide to Oyster Sauce article/video!
Watch The Full Video Tutorial!
All my recipes come with step-by-step video tutorials with extra tips not mentioned in the blog post, so make sure you watch the video below to ensure success - and if you enjoy the show, please consider subscribing to my YouTube channel. Thank you!
Print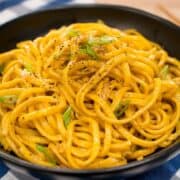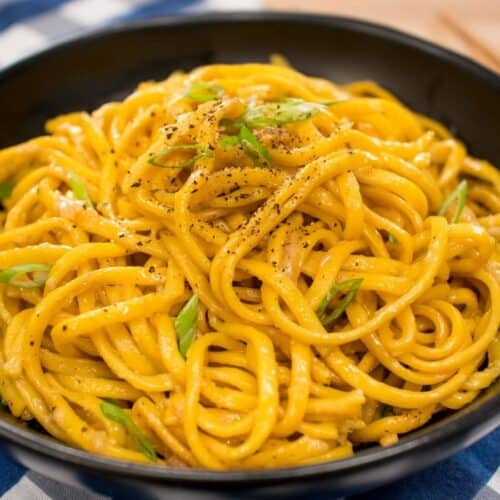 ---
Description
Incredibly simple yet satisfying, it's no wonder this dish became famous so quickly in San Francisco. Chewy egg noodles tossed in lots of garlic, butter, and umami-loaded sauces...it's the perfect pairing to any fish, seafood, or chicken! 
---
600 g

cooked egg noodles (if not using cooked egg noodles, see note)

8

cloves garlic, minced or pounded in a mortar and pestle into a rough paste

3 Tbsp

unsalted butter

1 Tbsp

olive oil

1 Tbsp

oyster sauce

1 Tbsp

Golden Mountain Sauce, or sub Maggi Seasoning or soy sauce (see note)

1 Tbsp

Fish sauce

35 g

finely grated parmesan cheese (about

½ cup

)

Freshly ground black or white pepper, to taste

1

lemon, optional but highly recommended!

1

green onion, chopped
Notes:
If using fresh but raw noodles, you will need about 350g to end up with about 600g of cooked noodles. If using dry noodles, you will need about 275g. This will vary between noodles so you should weigh the cooked noodles and adjust the amount of sauce as needed.
Golden Mountain Sauce is a type of soy sauce used often in Thailand. See this video for further explanation of different Thai cooking sauces.
---
Instructions
If using pre-cooked egg noodles that have been tossed in oil like the ones shown in the video, gently pull the noodles apart, then give them a quick rinse under cold water to wash off some of the oil they're coated in. Drain and rest them on a paper towel-lined plate to absorb excess water. Tip: If the noodles are cold and are hard to pull apart, heat them in the microwave on 50% power, a minute at a time, just until they are warm enough to be separated.

If using uncooked noodles, cook them off according to package instructions, then drain, rinse in cold water and set aside. Weigh the noodles to check the amount you have and adjust the amount of sauce up or down accordingly.

Pound the garlic in a mortar and pestle into a rough paste or mince them.
Combine oyster sauce, fish sauce, and Golden Mountain sauce in a small bowl.

Add oil and butter to a wok and melt the butter over low heat. Add the minced garlic and cook for about 3-4 mins or until very fragrant, keeping the heat low so as to not brown the garlic.

Add the noodles and the sauce, then turn the heat up to high and toss until the noodles are hot and all the sauce has been absorbed.

Remove from heat, then stir in parmesan cheese. If you want you can stir in a squeeze of lemon at this stage, or serve the lemon as wedges on the side. 

Plate, and garnish with black or white pepper and green onions if desired. 

Serve with a lemon wedge and enjoy!
---