---
Yes, we do have a version of the waffle in Thailand! We call them "kanom rung peung" or literally "bee hive snack", and they are made with coconut milk, palm sugar, shredded coconut, and studded with sweet corn, but you can change the corn to taro, raisins, or anything else you'd like.
Though I often eat these for breakfast (I freeze them and just pop them in the toaster), in Thailand they are sold on the street and are eaten as snacks any time of day (kind of like a doughnut!), and because they are already sweet and delicious on their own, you don't need any additional toppings!
Note on the waffle iron: Thai waffles are thinner than the typical American/Belgian waffles, so I chose to use the Scandinavian style waffle iron which makes thinner waffles (check it out here). You CAN use the classic squared or round Belgian waffle iron, but your waffle will not rise to fill the entire depth because this batter is thinner, so you will end up with a one-sided waffle. This is totally fine, you don't need to buy a whole new iron for this, I just wanted let you know in advance!
Watch The Full Video Tutorial!
All my recipes come with step-by-step video tutorials with extra tips not mentioned in the blog post, so make sure you watch the video below to ensure success - and if you enjoy the show, please consider subscribing to my YouTube channel. Thank you!
Print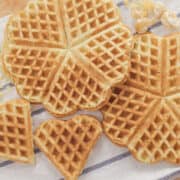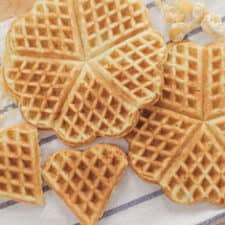 Thai Waffle Recipe ขนมรังผึ้ง
---
1 ¼ cups

coconut milk

75g

palm sugar, chopped

¼

+

⅛ tsp

salt

½ cup

dried shredded coconut, unsweetened

2

eggs

75 g

rice flour

75 g

all-purpose flour

1 tsp

baking powder

⅓ cup

corn kernels (roughly chopped), or you can use cooked taro, raisins, shredded young coconut, or other add-ins of your choice.
---
Instructions
In a small pot, combine sugar and just enough of the coconut milk to cover, then heat, stirring frequently, until the sugar is dissolved. Remove from heat, then add shredded coconut, salt and the remaining coconut milk. Let cool completely.
In a mixing bowl, whisk rice flour, all-purpose flour and baking powder together.
Beat eggs well and stir into the cooled coconut milk mixture.
Pour the coconut milk mixture into the flour bowl and stir with a rubber spatula just until combined, making sure to scrape all the way to the bottom of the bowl. Stir in the corn (or whatever you are using) and rest the batter for 30 minutes before using.
If serving all of them right away, preheat oven to 200°F, this is to keep all your waffles warm while you make the rest.
Cook in a preheated waffle iron until golden brown. (For my iron I use: A little less than ½ cup of batter, 3.5 darkness setting, high heat setting. I gently rest the top lid of the iron onto the batter and DO NOT clamp the lid closed or the waffle will be too thin.)
If serving right away, keep finished waffles warm in the oven while you make the rest. For the extra ones you're saving for later, let them cool completely on a rack and freeze in a freezer bag. To reheat, I put them in the toaster or toaster oven until heated through and a little crispy on the outside. 
---