---
Here's a recipe for a popular Thai street food that you can easily make at home. The soup is flavoured with aromatic 5-spice mix, and the duck is flavourful and tender. Another great recipe to make once you know how to make Thai-style chicken stock!
Watch The Full Video Tutorial!
All my recipes come with step-by-step video tutorials with extra tips not mentioned in the blog post, so make sure you watch the video below to ensure success - and if you enjoy the show, please consider subscribing to my YouTube channel. Thank you!
Print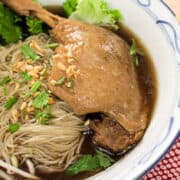 Thai Duck Noodle Soup Recipe บะหมี่เป็ดตุ๋น
---
The Broth
8

inches cinnamon stick

2

pc star anise

8

 pc galangal

1 tsp

toasted coriander seeds

8

-inches pandan leaf (optional)

10

-

12

goji berries (optional)

½ tsp

sichuan peppercorns (optional)

2 Tbsp

soy sauce

2 Tbsp

oyster sauce

½

-

1

tablespoon black soy sauce

2 Tbsp

palm sugar

4

pieces duck hindquarter (bone-in)
~ 1 cup water or as needed

½ tsp

ground white pepper or more to taste
Noodle Soup Components
220 g

fresh egg "wonton" noodles, thin (if using different types of noodles, you will need to adjust the weight according to the type of noodles you use) 

Cilantro or celery leaves, chopped

Bean sprouts

Green leaf lettuce, torn into chunks (or other greens you prefer)

Fried garlic & garlic oil (optional, but recommended, recipe follows)

Chili vinegar (optional, recipe follows)
Fried Garlic & Garlic oil (You can make this in advance and keep in fridge)
1

head of garlic, chopped (for fried garlic)
About

¼ cup

of neutral flavoured oil (for fried garlic)
Chili Vinegar (You can make this in advance and keep in fridge)
Spicy chili peppers of your choice, you can use Thai chilies, serranos, jalapenos, or habaneros.

2

cloves garlic

White vinegar, ¼-½ cup as needed to blend
---
Instructions
Make the fried garlic: 
Chop 1 head of garlic and add to a small pot or pan. Add just enough of the neutral flavoured oil to cover the garlic, then fry on low heat (gentle bubbling) until the garlic is golden and the bubbling has subsided. Be careful not to let the garlic get too brown or it will become bitter. Strain the garlic from the oil. You can keep them separately in the fridge in an airtight container for several weeks.
Make the chili vinegar: 
(Watch this video @ 7:13 for a quick visual of this being made). Cut the chilies in half and place on a foil-lined baking sheet, cut side down. Place the whole garlic cloves on the sheet as well and broil on "high" until the chilies are charred in spots and the garlic cloves are browned.  Transfer to a blender, add just enough of the vinegar to blend, and blend until there are no more big chunks. 
Make the broth:
Toast the cinnamon, star anise, coriander seeds, and Sichuan peppercorns in a dry saute pan over medium high heat until the coriander seeds darken slightly and the spices are aromatic. Set aside.
Add chicken stock to a pot, then add all the herbs, spices, and seasoning. Bring to a simmer, then add the duck. Add just enough water to keep the duck covered, then bring it to a gentle simmer again, cover and let cook over low heat for about 2 hours or until the duck is fork tender.
One the duck is tender, skim off the fat from the surface along with any spices that are floating. If making this in advance, you can cool the soup, refrigerate until cold, and the fat will congeal on the surface and it will be easy to scoop off. Taste and adjust seasoning with more salt as needed.
Assembly: 
Bring a pot of water to a boil. 
Meanwhile, tear lettuce into bite-size chunks and line the bottom of each serving bowl.
Once water comes to a full boil, blanch the egg noodles for about 1.5-2 minutes, then remove from water and drain off as much water as you can and place in serving bowl. Blanch the bean sprouts in the same pot for 10-15 seconds, then place them in serving bowls. Place one piece of duck and about 1 cup of broth over the noodles. Drizzle with garlic oil, fried garlic, chili vinegar, white pepper, and chopped cilantro or celery leaves.
Serve immediately. Enjoy!
---