---
A classic Thai dessert recipe, especially for durian lovers! A sweet coconut-durian "broth" is poured over chewy sticky rice...this is such a comforting, heart-warming dessert that is super easy. And if you already know how to make mango sticky rice, this recipe will be a breeze!
In this recipe I use a variety called mon thong durian which is a variety that is most widely available in Thailand, and is commonly available as frozen at Asian grocery stores here (yes, frozen works great here). It is a great option because its flesh isn't too soft and the smell is relatively mild. Definitely the variety you want to start with if you haven't had durian before!
And if you're new to making sticky rice, check out my in-depth post with 7 methods for making sticky rice.
Watch The Full Video Tutorial!
All my recipes come with step-by-step video tutorials with extra tips not mentioned in the blog post, so make sure you watch the video below to ensure success - and if you enjoy the show, please consider subscribing to my YouTube channel. Thank you!
Print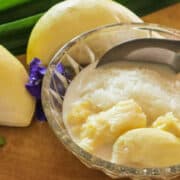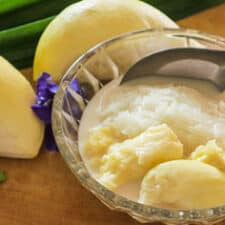 Durian and Sticky Rice ข้าวเหนียวทุเรียน
---
Sticky Rice
1 cup

Thai white glutinous rice (also called Thai sweet rice)

⅔ cup

coconut milk

½ tsp

salt

⅓

 

cup of sugar
Durian "Broth"
1 ½ cup

coconut milk

50g

- 75g palm sugar (see note)

¼ tsp

salt

4

-

6

pc durian
Note:  Start with 50g and taste and adjust from there. If your durian is quite sweet, the broth doesn't need to be that sweet. 
---
Instructions
For the sticky rice: 
Wash the rice by vigorously swishing the rice in a bowl of cold water about 5 times or until the water runs clear. Let soak in water for at least 4 hours or overnight. Drain the rice very well and steam the rice for 20-25 minutes.
While the rice is cooking, make the coconut syrup to macerate the rice by combining the coconut milk, sugar, and salt in a small pot and cook over medium heat, stirring occasionally, just until the sugar is dissolved. If the coconut milk is done before the rice is done, keep covered so it stays warm.
When the rice is done, transfer it into a bowl and immediately pour the syrup over the rice. Stir and break up any lumps, then cover the bowl. Let it sit and absorb the liquid for at least 40 minutes (longer is better), but after 20 minutes fold the rice to bring the bottom up to the top so the syrup is better distributed. Keep covered at room temp until ready to serve.
For the Durian Broth:
Combine the coconut milk, sugar and salt in a small pot. Cook the syrup over medium heat until the sugar is completely dissolved, and the coconut milk comes to a boil. Turn off the heat then add chunks of durian meat into the hot syrup and let it sit and infuse, covered, for another 20 minutes or so before serving.
Note: Some people like to simmer the durian in the coconut broth, and it is an option for you, but I prefer the "steeping" method because I like my durian chunks to remain fresh and intact. However, If you want to be able keep the durian broth for a while, bring the broth to a brief simmer after adding the durian. This will kill off all the bugs and you will be able to keep it longer. This is not necessary if you're going to eat it within a few days. 
---