A side dish so good you could eat it as a meal
This simple rice dish is from Japan, but I became aware of it while living in Thailand because many hot pot and "self-barbecue" restaurants (where you grill your own meats on the table) would have it on the menu as a side dish. And it's really quite perfect for that since the meats themselves tend to be plain in flavour, so you'd want your side of rice to be a little more interesting than just plain white rice. Enter the garlic fried rice!
The secret ingredient
Hondashi. It's the same trick I use in my pork dumplings recipe. This is the Japanese equivalent of a bouillon cube which makes this dish so much more addictive! Dashi is the base stock that the Japanese use in so many of their dishes, and hondashi is the "instant" version that comes in granulated form. It is a little salty, a little fishy (in the best possible way), and a lot of umami. It will instantly remind you of Japanese food as soon as you taste it.
You can omit it, and it will end up tasting more plain, but you will need to up the salt or soy sauce a little bit.
The "rice cups"
I made this recipe so that the amount of cooked rice you need is equivalent to 2 "rice cups" of raw rice. So you can just cook 2 cups of rice and use the whole thing without needing to measure the cooked rice. Much easier right??
But...what's a "rice cup"? If you've bought a rice cooker, it likely came with a little plastic cup for measuring rice. That is the rice cup I'm talking about. The lines for water inside the rice cooker pot also refer to this cup. Unfortunately things get a bit confusing because this cup is not the same as a standard measuring cup. It is actually ¾ of a measuring cup, or 180 ml. So when you cook the rice for this recipe, use 1½ measuring cups of rice, or 2 rice cups.
Tips for Garlic Chips
If you have a mandolin, now is a good time to pull it out. The key to the garlic chips is making the slices as even as you can so they cook evenly. Otherwise you might have to individually remove ones that are too thin like I did in the video! It's hard to get them even with a knife, so a mandolin would be helpful.
You can also make fried chopped garlic Thai-style, as I have shown in this garlic pepper chicken recipe.
Watch The Full Video Tutorial!
All my recipes come with step-by-step video tutorials with extra tips not mentioned in the blog post, so make sure you watch the video below to ensure success - and if you enjoy the show, please consider subscribing to my YouTube channel. Thank you!
Print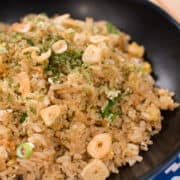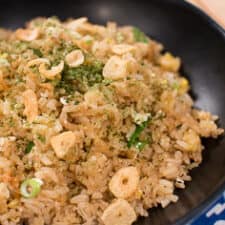 Garlic Fried Rice ข้าวผัดกระเทียม
---
Neutral cooking oil, as needed

1

head garlic

2 Tbsp

butter, unsalted

½ tsp

ground black pepper, or to taste

650g

cooked short grain Japanese rice (see note)

1 Tbsp

+

1 tsp

  Japanese soy sauce

¼ tsp

salt

1 tsp

dashi powder (hondashi), dissolved in 2 tablespoon of water

2

eggs

2

Green onions, chopped

Crushed seaweed (aonori) for garnish (optional)
Note: To get 650g cooked rice, start out with 1 ½ cups of raw Japanese short grain rice. Or if you're using the little measuring cup that comes with the rice cooker, this is equal to 2 "rice cups".
---
Instructions
Thinly slice about 40% of the garlic; this will be for making garlic chips. (Instead of garlic chips you can also make fried garlic bits, in which case you can just chop them into small pieces.)

Finely chop the rest of the half the garlic.

To make fried garlic chips, add about a centimeter of oil in a small pot or wok and turn the heat to medium. Add a little "test" piece of garlic to the oil right away, and once it starts to have a significant amount of bubbling, add the rest of the garlic and turn the heat down to low.

Fry the garlic chips slowly and gently until they are golden, and until the bubbling has mostly subsided. Remove and drain on paper towel. Keep the garlic oil.

In a wok or a large skillet, add butter and melt over medium heat. Add minced garlic and black pepper and saute for a few minutes just until the garlic is aromatic and softened. If you feel like it needs more fat, add a little of the garlic frying oil. 

Add rice, soy sauce, dashi mixture, salt. Turn the heat up to high and toss until well combined, breaking up any rice lumps with the back of your spatula.

Once well tossed, push the rice to one side of the pan to make some room for the eggs. Add a little bit of the garlic oil to the empty space, then add the eggs. Break the yolks, then let the eggs set a bit. Cover the eggs with the rice and let it cook for another 30 seconds longer. Then toss to break up the eggs. 

Turn off the heat and toss in green onions.

To serve, garnish with crushed seaweed (if using) and fried garlic chips. Enjoy!
---