---
A classic indonesian dish that will please just about everyone in the family! Chewy egg noodles stir-fried in a sweet-salty sauce, with lot of crunchy veggies and juicy tomatoes.
Mie Goreng simply means "fried noodles", so as you might imagine, there are many many variations of this dish that can be made. So free free to change up the veggies and protein! The common threads that run through all variations of mie goreng is that the noodles are WHEAT noodles, because "mie" refers to wheat noodles! And the noodles tend to be on the thicker, chewier side. So this could be egg noodles, or some people even use instant noodles! In fact, one of the most popular versions of mie goreng is...you guessed it...instant noodles! Indomie makes and uber popular mie goreng instant noodles, and it's one of my cameraman's go-to lunch when I'm not feeding him with food I cook on the show!
The sauce is also the heart of this dish, more specifically, the sweet soy sauce is the heart of this dish. To learn more about types of soy sauces, check out this video here.
Omit the chilies if you're making it for kids, obviously, but you may want to add a bit of black pepper instead.
*Extra Goodies for Patreon Members: In this episode's "Show After The Show" I talk about the cultural context of mie goreng, and also another variation that you can try at home! Click here to find out more about becoming a Patreon member!
Watch The Full Video Tutorial!
All my recipes come with step-by-step video tutorials with extra tips not mentioned in the blog post, so make sure you watch the video below to ensure success - and if you enjoy the show, please consider subscribing to my YouTube channel. Thank you!
Print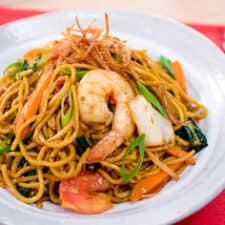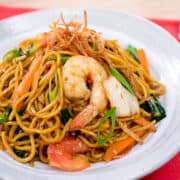 Indonesian Mie Goreng | Wok-Fried Egg Noodles
---
The Sauce
1 Tbsp

+

1 tsp

sweet soy sauce "kecap manis" (what is kecap manis?)

1 Tbsp

oyster sauce

1 ½ Tbsp

soy sauce

½ Tbsp

sesame oil

1 Tbsp

sambal oelek (chili garlic paste) or sriracha
The Rest
5

cloves garlic, chopped

1

heads shallots, chopped

Thai chilies, chopped, to taste, optional

15

-

18

shrimp, or another protein of your choice (see note)

1 cup

julienned carrots

1 cup

cabbage, chopped

2 cups

dark sturdy greens (Chinese broccoli or kale), cut into ribbons

2

Eggs

450g

(1lb) cooked egg noodles

Green onion, chopped

2

tomatoes, wedges

Optional: Fried shallots
---
Instructions
Combine all sauce ingredients together in a small bowl and stir to mix.
In a wok, heat a little oil over medium high heat and sear off the shrimp or whatever protein you're using. When fully cooked, remove from wok and set aside. Do not clean the wok.
Add a little more oil in the wok as needed, turn heat on to medium low, and add the garlic, shallots and chilies. Sauté until the shallots are translucent.
Add all the vegetables except tomatoes, turn the heat up to medium high, add a little splash of the sauce, then toss until wilted, about 1-2 minutes.
Push all the vegetables to one side of the pan, add a little extra oil into the empty space and add the eggs. Break the yolks and let the eggs set half way. Put all the vegetables back over the eggs, let it set for another 15 seconds or so, then toss everything together.
Turn heat up to high then add the noodles, the protein, and all the remaining sauce, then keep tossing until all the sauce is well mixed and absorbed.
Turn off the heat and toss in tomatoes and most of the green onions. Toss briefly just to warm up the tomatoes and mix everything.
Plate. Top with extra green onions and fried shallots if desired, and serve immediately.
Enjoy!
---
Notes
If using a more "bland" protein, like chicken breast, consider marinating it for 10-15 minutes in a little bit of soy sauce just to give it a nice flavour boost.
Want to save this recipe? Pin it!