---
Glass noodle salad is a staple dish in any Thai home, so it was one of the first things I made when I left Thailand and was homesick! Glass noodle salad has wonderfully bright flavours with lots of refreshing crunchy vegetables. I guarantee it will become a favourite salad!
Many people don't know that glass noodles are actually made from mung bean starch. In Thailand they are considered to be good for those trying to lose weight. Not because they're particularly healthy (it's still just all carbs!) but because glass noodles absorb a lot of water, so you only need a little bit of noodles to fill a bowl. So at the end of the day they are lower calories per serving!
Watch The Full Video Tutorial!
Print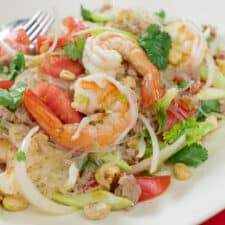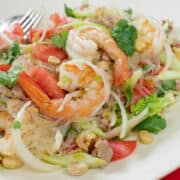 Glass Noodle Salad (Yum Woon Sen) ยำวุ้นเส้น
---
40 g

dry glass noodles (bean threads)

1

heaping Tbsp dried shrimp

2

cloves garlic

10

sprigs cilantro, stems and leaves separated

Thai chilies, to taste

1 Tbsp

palm sugar, finely chopped, packed

2 Tbsp

+

1 tsp

fish sauce

3 Tbsp

fresh lime juice

1

tomato, cut into wedges

¼ cup

julienned onion

1

stalk Chinese celery or

2

inner small stalks and leaves of regular celery

100 g

ground pork

6

medium shrimp

¼ cup

roasted peanuts
---
Instructions
Soak noodles in room temperature water for 7-10 minutes until soft and pliable. Drain, then cut the noodles with scissors 2-3 times to shorten them. 

Place dried shrimp in a small heatproof bowl, cover with hot water and let sit for 3-4 minutes to soften. You can also cover the shrimp with room temp water then microwave for 1 minute, then let it sit for a few more minutes. (If you're using large dried shrimp, they will take longer to soften).

Place tomato, onion and Chinese celery into a large mixing bowl. When the dried shrimp are ready, drain and pound them in a mortar and pestle until they are broken into smaller pieces. Alternately you can chop them roughly. Add dried shrimp to the mixing bowl.

Cut cilantro stems into small chunks and place in the mortar and pestle along with garlic and chilies; pound into a paste. Add palm sugar and pound until dissolved. Add 2 Tbsp of the fish sauce and lime juice and stir to mix.

Bring a pot of water to a boil, add glass noodles and cook for 2 minutes. Remove from the water with tongs (you want to keep the water) and place into a strainer to drain excess water; set aside.

Add fresh shrimp into the remaining liquid and cook for 30-45 seconds or until they are done. Place the shrimp into the mixing bowl.

Pour out the cooking water, leaving just enough water to cover the bottom, and return the pot back on the stove. Once the water boils,

 add the pork along with 1 tsp of fish sauce and stir until fully cooked. Use a slotted spoon to remove the pork from the liquid and place into the mixing bowl.  Then add about 1 Tbsp of the pork cooking liquid into the mixing bowl as well.

Add noodles into the mixing bowl, pour the dressing over and quickly toss to combine.

Toss in cilantro leaves and plate. Sprinkle with peanuts and serve immediately!
---