When is comes to barbecuing in Thailand, this recipe is an absolute classic. Pork jowl is a cut that is greatly underappreciated in North America. It is a flat, grill-friendly piece of pork that is incredibly flavourful because of the fat that runs through the meat. You can find this dish at restaurants that specialize in Isaan or northeastern Thai food, and serve this with some papaya salad and sticky rice and you're in heaven!
Watch The Full Video Tutorial!
All my recipes come with step-by-step video tutorials with extra tips not mentioned in the blog post, so make sure you watch the video below to ensure success - and if you enjoy the show, please consider subscribing to my YouTube channel. Thank you!
Other Barbecue Recipes to Try
Once you've made this recipe, try jazzing it up by turning it into a nam tok salad, which is a refreshing way to eat grilled meats. Follow my nam tok steak salad recipe, and simply substitute this pork jowl for the marinated steak.
If you love the idea of barbecued pork, try my char siu (Chinese BBQ pork). It's a very different flavour profile from this, and can be easily done in the oven.
Or if you want to stick with Thai style barbecue, this marinated grilled steak recipe is a must-try, and this gai yang Thai BBQ chicken is an absolute classic!
---
Print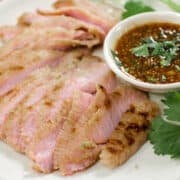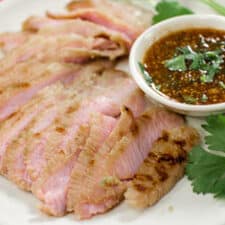 Thai BBQ Pork Jowl คอหมูย่าง นำ้จิ้มแจ่ว
Author:

Pailin Chongchitnant

Prep Time:

20 mins

Marinating Time:

2 hrs

Cook Time:

10 mins

Total Time:

2 hr 30 mins

Yield:

2 servings

Method:

Grilling

Cuisine:

Thai
---
Description
Pork jowl is an underrated cut that is flavourful, fatty, tender, juicy...perfect for the grill. It's popular cut for the barbecue in Thailand, and the nam jim jeaw dipping sauce is a classic pairing!
---
250 g

pork jowl (see note)

2

cloves garlic

¼ tsp

white peppercorns

1

-

2

cilantro roots or

4

-

5

cilantro stems, chopped

3

-inches lemongrass, thinly sliced

2 tsp

palm sugar, chopped

2 Tbsp

coconut milk

1 Tbsp

oyster sauce

1 Tbsp

soy sauce (see what brands of sauces I use) 
Note: Pork jowl is an incredibly flavourful cut of pork that is perfect for the grill. It can be found at Asian butchers or specialty butcher shops. If your piece comes with a lot of fat on it, trim some of it off but leave a little bit on; a little bit of fat on it helps keep it nice and moist. The piece I use in the video came with all the fat taken off, which is not ideal but that's okay!
"Nam Jim Jeaw" (Jeaw Dipping Sauce)
1 ½ Tbsp

palm sugar

2 Tbsp

tamarind juice (what is tamarind?)

1 Tbsp

fish sauce

Roasted chili flakes, to taste (or sub any spicy chili powder you have)

2 tsp

toasted rice powder (see recipe below)

1

heaping tablespoon small diced shallots

2

-

3

teaspoon lime juice

Chopped cilantro, optional
Toasted rice powder: (watch the video here) Place about 1 Tbsp, or however much you're making, of uncooked sticky rice or jasmine rice in a dry saute pan. If you happen to have some kaffir lime leaves, you can throw in a small leaf to toast with the rice. Toast the rice over medium high heat, stirring constantly, until the rice gets a deep and dark golden brown colour. Let cool and grind in a mortar and pestle or a coffee grinder until fine.
---
Instructions
Make marinade: In a mortar and pestle, grind the white peppercorns until fine. Add garlic, lemongrass, cilantro stems of roots and pound into a paste. Add palm sugar and pound until dissolved. Add oyster sauce, soy sauce and coconut milk; stir to combine. Pour the marinade over the pork, making sure the pork is thoroughly coated. Let the pork marinate for at least 2 hours, best to do the one day in advance.
Make the dipping sauce: In a small pot, add palm sugar, tamarind, and about 1 tablespoon of water. Cook over medium heat until all the sugar is dissolved and the mixture has thickened. Turn off the heat, and while still hot, stir in shallots. Add fish sauce and lime juice, then taste and adjust seasoning. Leave the toasted rice powder and cilantro until close to serving time.
To grill the pork: Preheat the grill (heat setting will depend on how powerful your grill is...mine is set on high but yours might only need to be on medium or medium high). Grill the pork without closing the grill lid for about 4-5 minutes on each side, timing will depend on the thickness of the pork and the heat of your grill. The pork should reach about a medium doneness (145°F internal temp).
Let the pork rest for at least 5 minutes before slicing. While the pork is resting, finish the dipping sauce by stirring in the toasted rice powder and some chopped cilantro leaves.
To serve, slice the pork THINLY and ACROSS the grain lines; this is very important as this cut of pork will be chewy if the pieces are too big and if you cut with the grain. If the pork is very thin, angle your knife about 45 degrees so you get a bigger piece.
---