---
I've always been a fan of Japanese curry, and I usually keep one of those Glico Japanese curry blocks at home! Recently, I began to wonder whether it would be much more work to make the curry from scratch, because surely, it must taste better! When I started researching, it's astounding how many Japanese curry recipes on the internet just tell you to use the curry blocks! Hana, my Japanese friend and fellow co-host of One World Kitchen, told me that this is because, in her words, "No one makes it from scratch." Of course, she was exaggerating to make the point that most people in Japan just use the curry blocks, and the concept of making it from scratch may even seem a bit odd to some ("...Why would you do that?").
When I finally tried to make the recipe from scratch, it turned out that the extra work is only in prepping a few additional ingredients, but the cooking time is still the same, and it's not at all difficult or complicated by any stretch of imagination! I thought the idea of the curry block was a bit like premade Thai curry paste; however, in Thailand, it is equally common to use premade paste as it is to make it from scratch. But once I made the Japanese curry from scratch, I realized that there is a big difference: Thai curry pastes are SO much more time consuming, and outside of Thailand, the ingredients that go into a Thai curry paste are much harder to find. So it perplexes me even further now why making Japanese curry from scratch is such a rare thing...any thoughts?
In any case, considering how much better (and fresher) it tastes, making it from scratch is so totally worth it. So now my curry blocks will probably only be used when I'm in a real rush.
In this recipe, I use beef because I just LOVE the rich flavour of beef with this curry, but you can use any other protein you like, or add no protein at all. It's common in Japan to make the curry sauce sans meat, and serve it with a piece of breaded and fried pork cutlet. So you can really take the basic idea of the sauce and apply it however you like!
Watch The Full Video Tutorial!
Print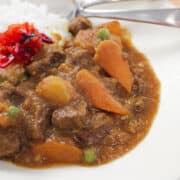 Japanese Curry from Scratch!
---
400g

beef chuck, or any other protein of your choice (see note)

A generous pinch of salt

1

onion, small dice

4

cloves garlic, chopped

1

-inch piece ginger, finely chopped

1 Tbsp

+

2 tsp

curry powder (any kind will do just fine, but if you want to use Japanese curry powder, see my video for the packaging)

2 cups

beef stock, unsalted (if not using beef, use stock that matches your protein)

1

medium apple, puréed (you may need to add a bit of water to the blender to get it going)

1

heaping tablespoon tomato paste

3

-

4

tablespoon Japanese soy sauce

2 tsp

Worcestershire sauce (or sub tamarind juice)

1

medium carrot, bite sized pieces

1

large russet potato, 1-inch chunks

¼ cup

frozen peas (optoinal)

2 Tbsp

butter

3 Tbsp

all-purpose flour

Japanese pickles for serving "Fukujinzuke"

Japanese rice for serving
Note: If using pork, choose pork shoulder, and it'll take 2 hours total to cook. If using chicken, choose dark meat, and whole, bone-in pieces will take about 45 minutes total to cook. If not adding any meat, you can add the potatoes and carrots along with the stock and seasoning, and just let them cook for 30 minutes. 
---
Instructions
Sprinkle a generous pinch of salt to the beef cubes and toss to coat.
In a heavy-bottomed pot (the one you're using for the curry) add just enough vegetable oil to coat the bottom and heat over medium high heat until the oil is very hot. Add beef to the pot without letting it crowd, you may need to do this in 2 batches. Let sear without stirring until browned, then flip and sear the other sides, and repeat until at least 3 sides are browned. Watch your heat and make sure you don't burn the brown stuff that's on the bottom of the pot. Remove the beef andset aside.
To the same pot, add onion, garlic, ginger and saute over medium heat for a few minutes until the onion is soft and translucent. Add tomato paste and saute for a minute. Add curry powder and toaste the spices for one more minute, adding more oil if it seems to dry.
Add the beef stock, pureed apple, the seared beef, soy sauce, and worcestershire sauce. Cover and simmer on low heat for at least 2 hours or until it is almost fork tender.
Once the beef has simmered, add carrots, potato and simmer, uncovered, for another 30 minutes until the potato and carrots are tender. If using peas, stir them in about 15 minutes after the potato has gone in. Note: At this stage, I let it simmer uncovered because I want to reduce the amount of liquid slightly, but if you don't want to lose any more liquid, you can keep it covered. 
Meanwhile, make a roux by melting butter in a small pot, then add the flour and stir over medium heat until the colour has darkened slightly. Remove from heat and set aside until ready to use.
When curry is done, stir in half the roux and bring to a simmer. Check the thickness, and if you want it thicker, add some or all of the remaining roux. If you have leftover roux, you can save it for another use in the fridge or freezer, it can be used to thicken any kind of soup, stock, or stew. 
TASTE and adjust seasoning! This is very important, as you may need to add more soy sauce.
Pour the curry over Japanese rice and serve with some fukujinzuke pickles. Enjoy!
---