---
After being on a toast-and-cereal breakfast routine for what seems like years, I desperately needed to find a new, interesting, delicious way to get breakfast ready in just a few minutes (because I am not getting up extra early if I can help it!). Then thank heavens this dish came to mind! Kai Grata, or literally "pan eggs," is a street-breakfast that is popular in the north and northeastern parts of Thailand.
The eggs are cooked in a cute little pan they are served in, and topped with a variety of meats. If you prep your toppings in advance, comes morning time it'll take you just a few minutes to put this dish together!
If you don't have a special pan like the one I used, you can simply cook the eggs in a small saute pan and slide them out onto a plate to serve. (A 6-inch pan will fit 2 eggs, and an 8-inch pan will fit 3 eggs.) The pan I used in the video is a stainless steel 6-inch tapas pan which I got it from a local cookware store (Gourmet Warehouse for those in Vancouver) and unfortunately I could not find a source for it online. This cast iron skillet will also work well.
Watch The Full Video Tutorial!
All my recipes come with step-by-step video tutorials with extra tips not mentioned in the blog post, so make sure you watch the video below to ensure success - and if you enjoy the show, please consider subscribing to my YouTube channel. Thank you!
Print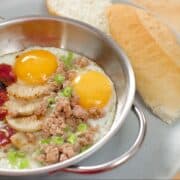 "Pan Eggs" Breakfast Thai Style! ไข่กระทะ
---
1 Tbsp

butter

2

eggs (if you want 3 eggs, use an 8-inch pan)

Chinese sausage, sliced, as much as you want

Vietnamese ham (cha lua), sliced, as much as you want
Seasoned ground meat (recipe below)
Optional condiments: White or black pepper, Sriracha hot sauce, ketchup, Maggi Seasoning.
Seasoned Ground Meat
For 2-3 servings
120g

ground pork, beef or chicken

½ Tbsp

oyster sauce

1 tsp

Maggi Seasoning or Golden Mountain Sauce
Optional: 1 finely grated clove of garlic

½

a green onion, chopped (safe the other half for garnish)
---
Instructions
To make the seasoned ground meat: Combine the meat, oyster sauce, Maggi Seasoning, garlic (if using) and and mix well. Add a little water to a saute pan and bring to a boil. Add the meat mixture and cook, stirring to break up lumps. When the meat is fully cooked, remove from heat and stir in green onions.
To prep the sausages: Slice thinly the Chinese sausages and the vietnamese ham, then sear them in a lightly greased pan over medium heat just until they are browned. Remove and set aside.
To make the pan eggs: Heat the pan/serving dish over medium-low heat. If using stainless-steel, to prevent the eggs from sticking, you should heat the pan until hot before adding any ingredients. See video for how to do the water test!
Add the butter, and once melted, add the eggs. Lay the toppings on the eggs and cover the pan. Let the eggs steam for a few minutes until the whites are cooked and the yolk is done to your liking. If you prefer the yolks to be well done, keep the heat quite low to prevent the bottom from burning before the yolks finish cooking. 
When finished, remove from heat and garnish with a little extra green onions and white pepper if you wish. Serve with some bread and condiments. Enjoy!
---