---
I call this incredibly delicious and beautiful dish the "creamy sister of pad thai." Mee gati shares many of the same ingredients as pad thai, but is truly unique in that it has a rich coconut gravy poured over the pink noodles! The thread-thin rice noodles are enriched by coconut milk and tinted an iconic pink colour by red bean curd.
And that gravy...my oh my...there's nothing quite like it—somehow its flavour is reminiscent of peanut sauce...but there are no peanuts in it!! That's right! The combination of "tao jiew" and coconut milk magically takes on the characteristics of peanuts after being simmered together, so if you're allergic to peanuts, but want to experience what peanut sauce tastes like, this is the dish to try.
Oh, did I mention there is no fish sauce in this dish? No fish sauce?!?! Had to happen eventually 😉 Enjoy!
Watch The Full Video Tutorial!
Print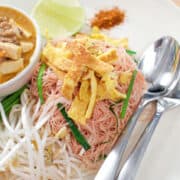 Pink Noodles w/ Coconut Gravy (mee gati) หมี่กะทิ
---
Do ahead tips: Make the gravy up to a few days in advance!
Coconut Gravy:
1 cup

(240 ml) coconut milk

2

small heads shallots, chopped

120 g

ground pork (or sub ground chicken, ground shrimp, or crumbled firm tofu)

2 Tbsp

(24 g) palm sugar, chopped

1½

-

2

tablespoon tamarind juice (what is tamarind?)

2 Tbsp

fermented soybean paste (tao jiew), mashed with a fork roughly (what is tao jiew?)

1 Tbsp

Sriracha hot sauce

100 g

pressed tofu, cut into small pieces (see video for size)

6

-

9

medium whole shrimp (optional)

Salt to taste, if needed
Shredded Egg
Pink Noodles
120g

dry thin rice noodles (see note), soaked in room temp water for

5

minutes, then drain

½ cup

(120ml) coconut milk

½ cup

(120ml) water or chicken stock

1

cube red bean curd +

1 Tbsp

of the liquid (what is red bean curd?)

1 Tbsp

white distilled vinegar or rice vinegar

1 tsp

sugar

1 cup

bean sprouts + extra for serving

¾ cup

garlic chives, cut into

2

-inch pieces
Note: When looking for these at the store, get the thinnest possible rice noodles you can find. They should be thread-thin, and to be sure, look for a product of Thailand.
For serving:
Lime wedges

Roasted chili flakes

Extra beansprouts and garlic chives
---
Instructions
To make the sauce: Add ¼ cup of the coconut milk to a small pot, bring to a boil and simmer over medium low heat for several minutes until thick and the coconut milk is "broken" (clear coconut oil will start to separate from the white portion). If this does not happen after the coconut milk is very thick, just proceed with the recipe; some coconut milk brands have been processed to prevent this separation.
Add shallots to the broken coconut milk and saute for a minute until softened. Add ground pork and quickly stir to break up all the lumps, making sure there are no big chunks. Add the remaining coconut milk, palm sugar, tamarind juice, tao jiew, sriracha, and simmer for 7-10  minutes or until it has a thick gravy-like consistency.
Add tofu and simmer 1 more minute. Add whole shrimp, if using, and cook for 30 more seconds just until the shrimp are done. Taste and adjust seasoning. Set aside.
To make shredded eggs: Heat a well-seasoned wok or a flat 10-inch non-stick pan over medium heat. When hot, brush some vegetable oil all over the pan. Pour in the beaten eggs, tilting the pan to create a thin, crepe-like omelette. Turn the heat to medium-low and let the eggs cook for a few minutes until the underside if golden brown. If by the time the bottom is browned, the top side have NOT cooked all the way through, flip the omelette and cook just a few more seconds to dry it off. If it has, you can remove the eggs without flipping.
Roll the omelette like a cigarette, then cut the roll in half horizontally (or leave it if you want longgg egg pieces). Cut the roll into ¼-inch shreds.
To make the noodles: Mash the red bean curd and its liquid with a fork until mostly smooth (little lumps are okay). Add the curd to a cold wok along with the coconut milk, water, vinegar and sugar; stir to combine and bring to a boil. While you wait for the liquid to boil, cut the noodles roughly in half with scissors (just a couple of snips, this will make it easier to toss and to eat).
Once the liquid is boiling, add the noodles to the sauce and keep tossing on high heat until the noodles have absorbed all the liquid. Once all the liquid is absorbed, add the bean sprouts and garlic chives, turn off the heat, and toss with tongs just until the vegetables are mixed with the noodles. 
To serve: Reheat the gravy if needed. Place the noodles on a plate and top with the shredded eggs. Around the noodles, place a small bowl of gravy, extra bean sprouts, extra garlic chives, a piece of lime, and some roasted chili flakes. Pour the sauce over the noodles when ready to eat (you don't need a lot, just enough to moisten the noodles). Enjoy!
---