"Mee Krob" or "Mee Grob" are crispy rice noodles coated in a sweet and sour sauce. Super addictive with the perfect balance of sweet, tart, and umami, they are popular treats amongst visitors to Thailand. They share many of the same ingredients as Pad Thai, so I like to think of them as crispy pad thai treats! It is often served in squares, so I suppose you can also think of them as savoury "Rice Krispie Treats".
In this post I'll share with you 3 keys to the perfectly crispy, puffed noodles that STAY crispy for weeks! It's not a hard recipe, but it does require precision in order for the noodles to have the right balance of flavours and, most importantly, be the perfect degree of crrrrrrrispy.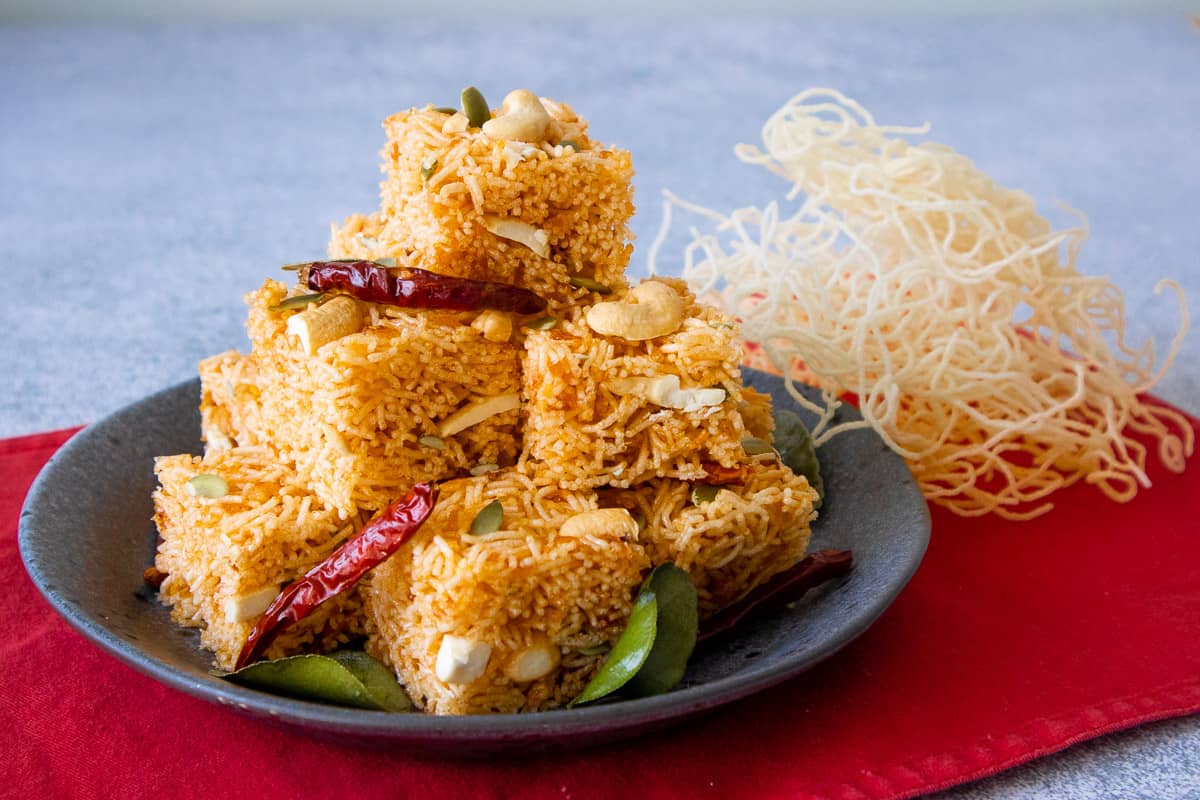 What You'll Need:
Here are all the ingredients for mee krob. One note: I'm using lime zest, but traditionally, a rare kind of citrus called som sa is used. If you want you can replace the lime zest with orange, lemon, yuzu, or grapefruit zest; or a combination.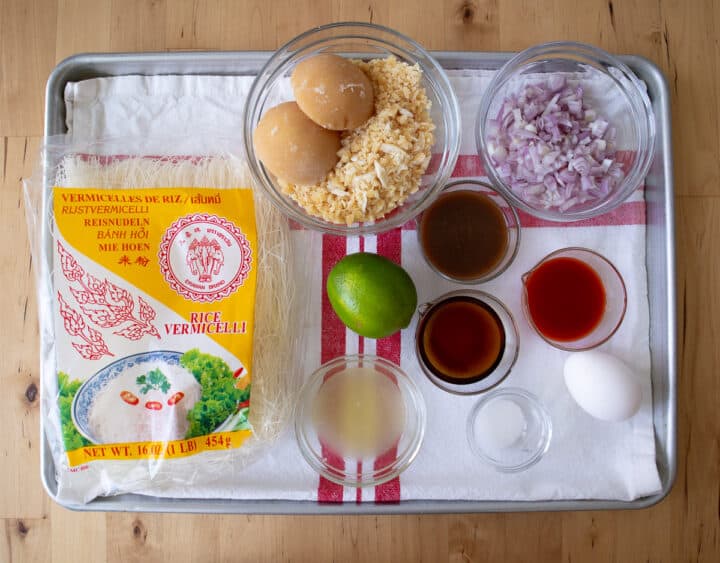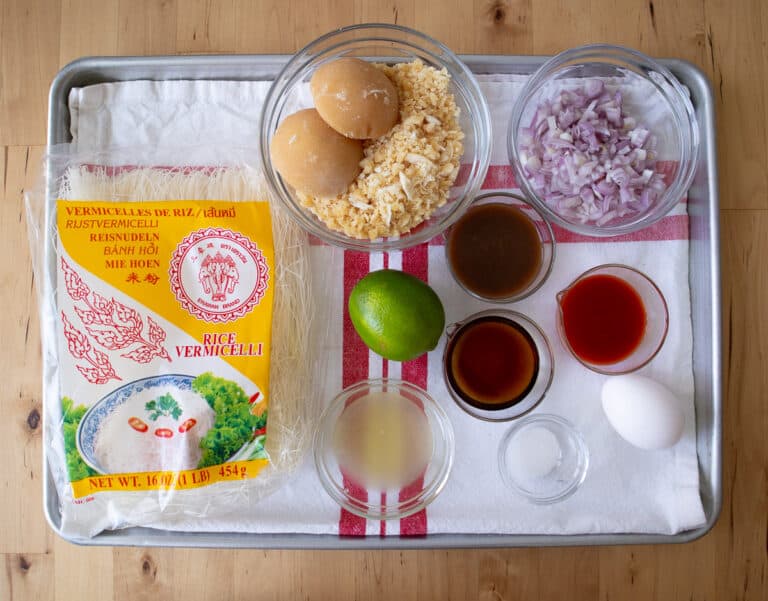 Step-By-Step: How to Make Mee Krob
I highly recommend you check out the full video tutorial in the recipe card below to ensure success, as it really helps to see how the noodles should behave and what the sauce should look like when it's ready. But here's a bird's eye view of what you'll need to do.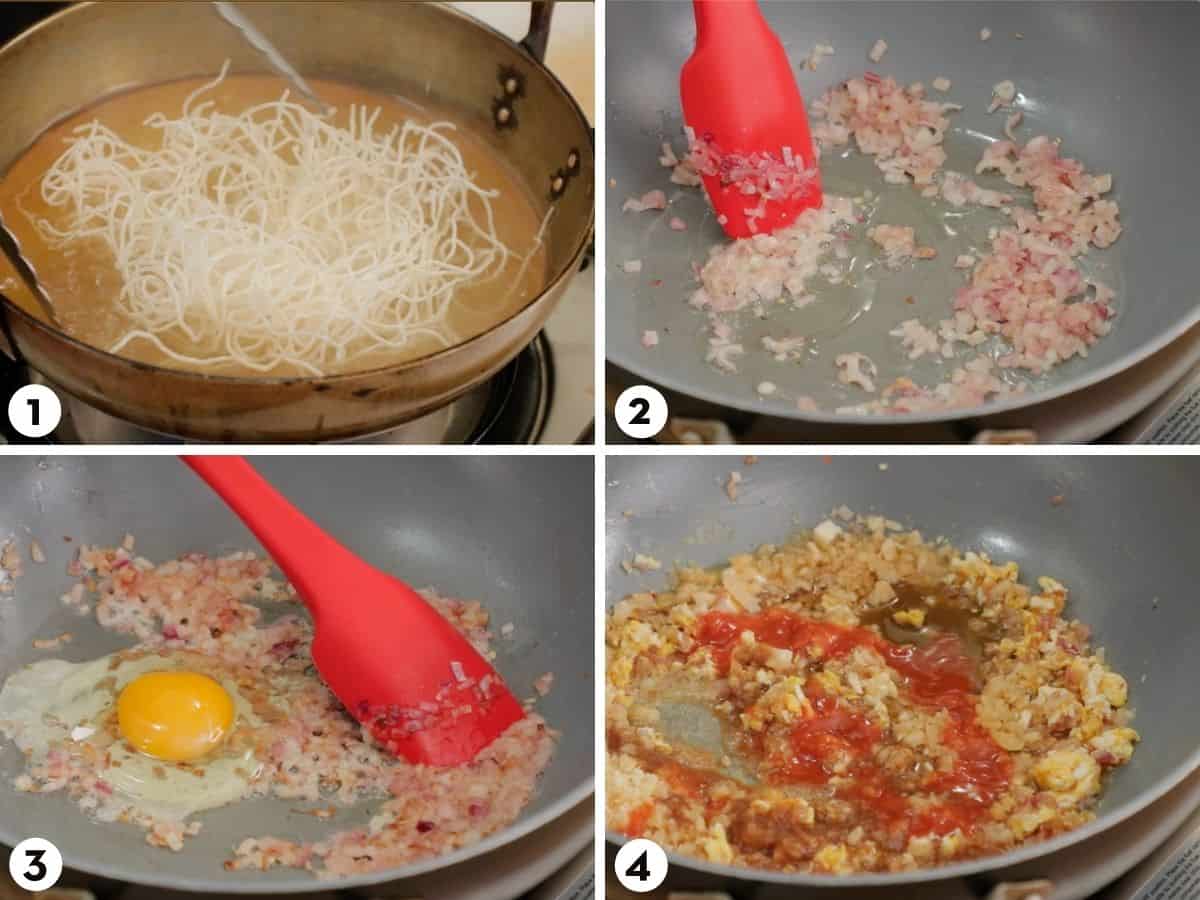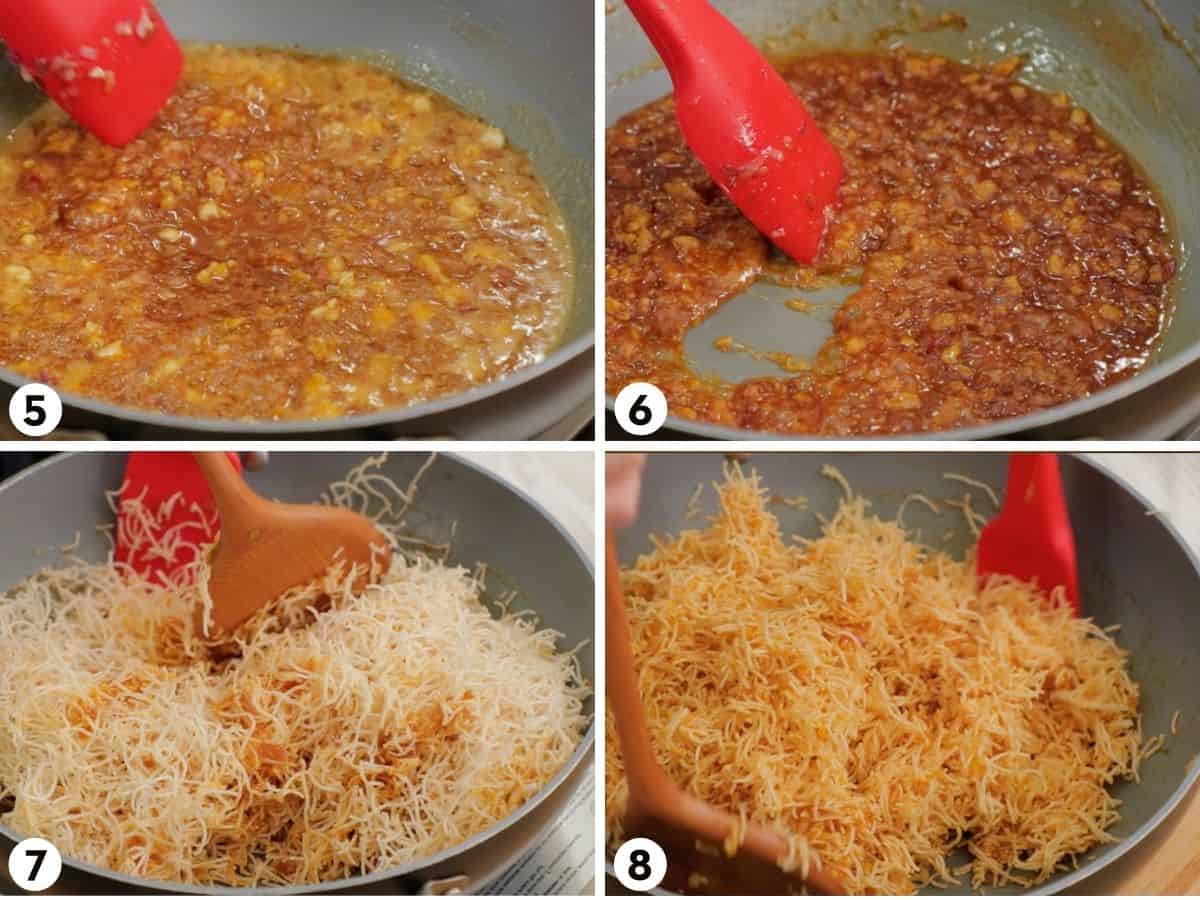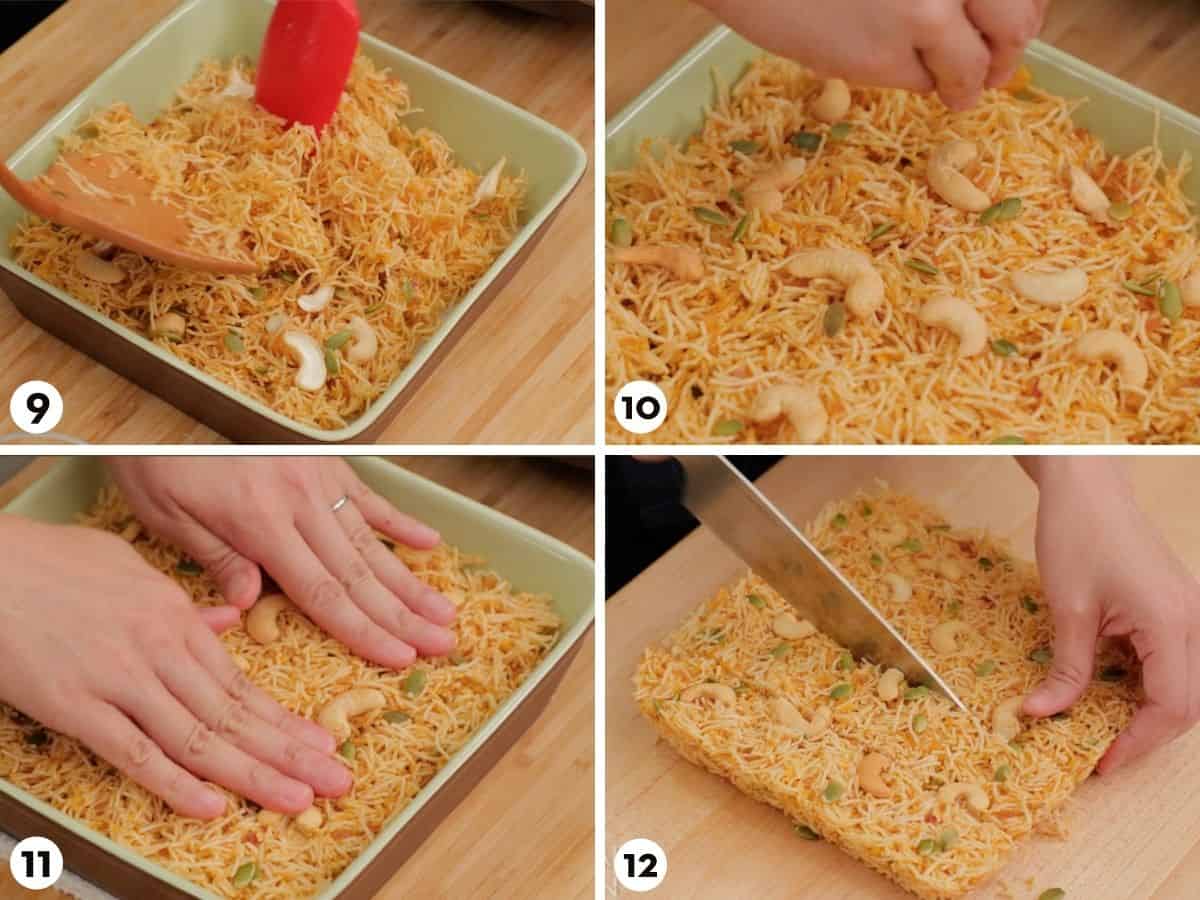 3 keys to perfect mee krob that stay crispy
Weigh Your Ingredients. This is not a recipe you can eyeball, because the ratio of noodles to sauce is everything. Too much noodle and it'll be bland, and not enough will get you noodles that are overwhelmed with too much sauce; making them too sweet, too sour, too sticky, too ... everything. Not to mention the sauce itself needs to have a good balance of sweet, salty and sour.

So make the recipe exactly as I show you here to start with - you can always tinker with the sauce ratio to better suit your taste next time around. It will not be helpful if you are not precise the first time, because you will have no baseline for modification going forward.

Fry Noodles in HOT oil. I'm talking about 450°F/230°C, or at the very least 430°F/220°C. This is much higher than you'll ever fry most things, but it is what's going to get you noodles that are light, crispy, and not oily - as opposed to dense, hard, and oil-clogged.

I highly recommend you watch the video where I show noodles fried at temperatures ranging from 350°F/175°C to 450°F/230°C, so you can see how the noodles SHOULD behave even if you don't have a thermometer. You'll also see that I'm not kidding that you NEED high temp. (It's also highly satisfying to watch!)

Try to keep your oil below 475°F /245°C to avoid smoking. The noodles will fry up fine at that temp, but the smoking will deteriorate your oil quality faster than necessary. If it starts to smoke, just turn off the heat and keep frying the noodles with the heat off until the temperature comes down.

On that note, I recommend ventilating your place as much as you can so it doesn't smell like a fast food joint for days! #experience

Cook your sauce until it reaches 240°F/115°C (the soft ball stage in candy making). This is perhaps the most important thing, and it is absolutely key for noodles that STAY crispy.

At this temperature, there is no more moisture (water) left in the sauce, and the sugar is at the stage where it is firm but still pliable when cool. If you do not cook all of the water away, the noodles will turn soggy. But if you cook the sauce for too long, the sugar will harden too much when cooled, which is not what we want either.

So a good instant-read thermometer such as this one that I use is super important for this part. While professional mee krob vendors can go by the way the sauce looks and behaves (very thick with slow, small bubbles), they have a LOT of experience that we don't have, and it's definitely not foolproof. Having said that, you can take a look at how the sauce bubbles in the video at 9:20.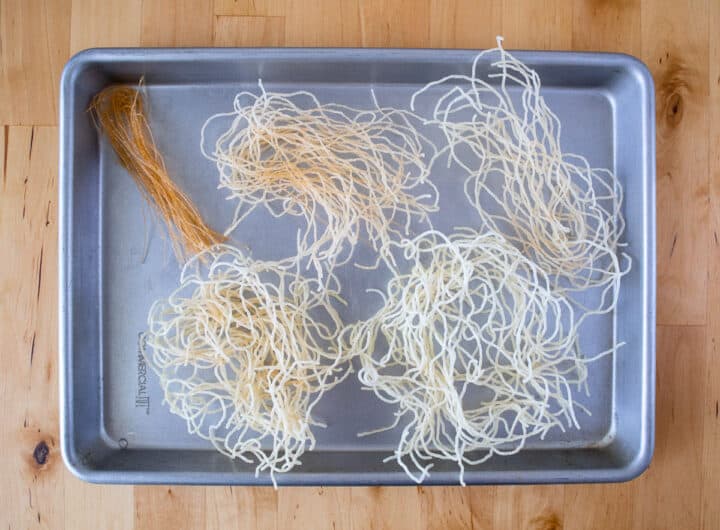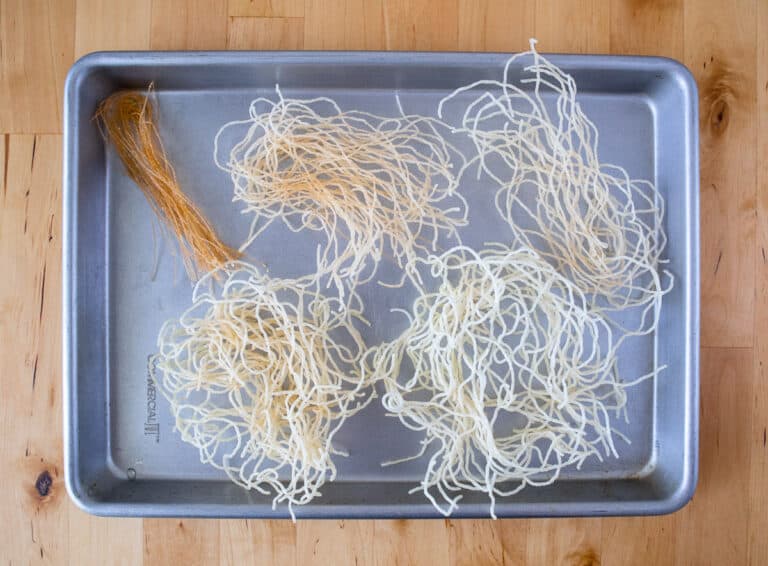 Frequently Asked Questions
The mee krob I had came as a meal at a restaurant, not a snack, is that different?
Not really! You can make the "meal" kind of mee krob by using these same noodles and stir-frying them with other fresh ingredients and garnishes. I'll have a recipe of that coming up soon, so stay tuned!
Can I use different noodles instead of rice noodles?
While you can fry glass noodles (bean threads) and they will puff up similarly, it's not quite the same. I have not tried it in this recipe so I can't say how they will turn out. These thin rice vermicelli are widely available though (and are vegan and gluten-free) so there shouldn't be a need to substitute.
There are different noodles labeled as "rice vermicelli," which one should I get?
The thinnest one. They should look like threads, and the ingredients should only be rice and water. To be sure, get ones from Thailand; I use Erawan brand, but Wai Wai brand is also okay to use.
Can I make mee krob vegetarian or vegan?
Yes. Instead of fish sauce you can use soy sauce, salt, or vegan fish sauce. To make it vegan you can omit the egg and increase the amount of noodles slightly to make up for the volume (I'd say increase it by 5-10 g, but I have not tested this).
How do I store mee krob?
Like any crispy foods, you want to keep these in an airtight container in a dry place to maintain crispiness. You can keep them at room temp, but for places with high humidity, keeping them in the fridge will make them last longer. If you have one of those desiccant packets from another packaged food, throw them into the container as well to help absorb moisture. But let's face it, they're not gonna last that long!

I have not tried freezing these but they'll probably be okay.
Related Recipes
---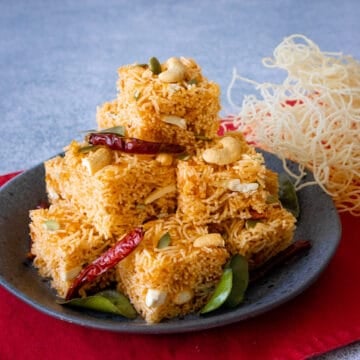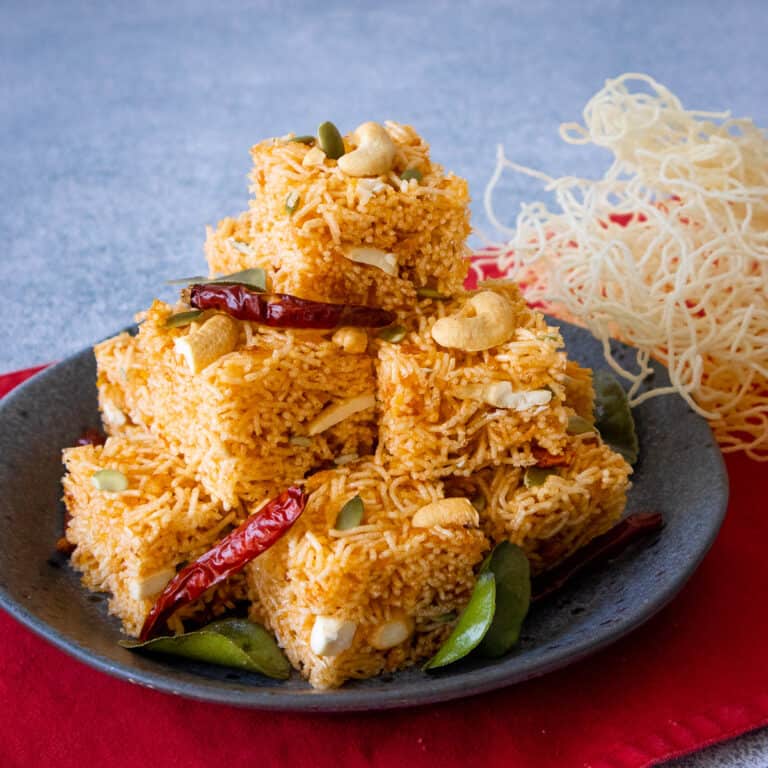 Mee Krob - Sweet & Sour Crispy Noodle Treats
Crispy rice noodles coated in a sweet, sour, umami sauce. It's a popular Thai snack that keeps really well. Gluten-free.
Equipment
An 8- or 9- inch square pan or casserole dish
Ingredients
The Noodles:
Oil for frying

3.2

oz

dry thin rice vermicelli

,

see note 1
The Sauce:
¾

cup

shallots

,

thinly sliced and cut in short pieces

2

tablespoon

neutral oil

1

egg

5.3

oz

palm sugar,

roughly chopped

2

tablespoon

fish sauce

½

teaspoon

table salt

2

tablespoon

tamarind paste

2

tablespoon

lime juice

2

tablespoon

Sriracha hot sauce

,

(see note 2)

Grated zest of a lime
Optional Add-Ins
½

cup

roasted cashews

,

split in half (recommended)

2

tablespoon

roasted pumpkin seeds

A handful of fried dried chilies for garnish

A handful of fried makrut lime leaves for garnish

,

see note 3
Check Out Ingredients and Kitchen Tools I Use
Notes
These are the super thread-thin rice vermicelli; not the thicker kind used in Vietnamese spring rolls. Typically two brands are available, "Wai Wai" and "Erawan", make sure they are made in Thailand to be sure it is the right kind.
I use Thai sriracha (Sriraja Panich brand). If you use the Huy Fong (rooster) brand it will be a little spicier, but still works fine. For less spicy, you can use half ketchup and half sriracha.  
The dried chilies and makrut lime leaves are for garnish, but if you keep them in the mee krob's container for a day or two, the aroma really does infuse into the noodles!
All my recipes come with step-by-step video tutorials with extra tips not mentioned in the blog post, so make sure you watch the video to ensure success. If you enjoy them, consider subscribing to the YouTube Channel to not miss an episode. Thank you!
Subscribe to my YouTube Channel
Instructions
For the noodles:
In a wok or a pot over high heat, add at least 1 ½ inches of frying oil, but leave at least 2 inches of room in the pot to accommodate puffing noodles. If you're also frying the chilies and makrut lime leaves for garnish, heat the oil first to 325°F/160°C. If only frying noodles, heat it to 450°F/230°C. Prepare a large mixing bowl or baking sheet lined with paper towel to put the noodles into after frying.

While the oil heats, pull the rice noodles apart into small bundles, then cut them in half with scissors. The smaller your frying vessel, the smaller the bundles need to be so they have room to expand. (Best to see the video for this part so you know how big the should be and how much they puff up.)

If you're frying makrut lime leaves and dried chilies, make sure they are DRY, and once the oil reaches 325°F/160°C, fry the lime leaves until they stop bubbling, this takes only several seconds. *They may bubble aggressively so stand back a bit. Remove and drain on paper towel. Then fry the dried chilies just until they darken slightly, this also takes only a few seconds. Drain on paper towel.

Once the oil reaches 450°F/230°C, turn the heat down to medium to medium-low and add a small bundle of noodles into the oil; it should puff up immediately into fluffy, airy white noodles. As it puffs up, push the middle down slightly to make sure that everything has had a chance to completely fry. Once the noodles are puffed (this takes literally 2 seconds) remove with a slotted skimmer or tongs, shake off excess oil, and place it in the prepared mixing bowl. Repeat with the remaining noodles.

*Make sure the noodles always puff up immediately; if they're getting slower, the oil temp has dropped too much. If the oil smokes, it's getting too hot; turn off the heat and fry a few bundles of the noodles with the heat off which will help drop the temp more quickly.
For the sauce:
Before you start the sauce, first prepare your mold which can be a cake pan, a casserole dish, or any kind of containers to shape the noodles. This recipe fits a 9-inch square pan perfectly, but you can use multiple containers or even half-fill a bigger pan. Line the bottom of the pan with parchment or foil to help it come out more easily, though this is not necessary as you can cut them right in the pan.

In a large non-reactive wok or skillet, saute the shallots in the oil over medium low heat until soft and caramelized, 5-6 minutes.

*Ideally you want to use a large non-reactive wok (so not carbon steel or cast iron) so you can mix the noodles right in there. If you don't have it, you can make the sauce in a stainless steel skillet, and then toss it with the noodles in a large mixing bowl.

Once the shallots are done, add the egg and scramble into tiny pieces.

Add the palm sugar, fish sauce, tamarind, sriracha, lime juice and lime zest; keep cooking on medium low heat, stirring constantly, until it reaches a temperature of 240°F/115°C. I do not recommend you eyeball this; use a thermometer to be sure otherwise your noodles might not stay crispy after tossing with the sauce. See post above for more details.

Once the sauce is ready, turn the heat down to the lowest heat and add all of the noodles to the wok. Crush the noodles down so that they will fit into the wok, then use 2 spatulas to quickly but thoroughly toss the noodles with the sauce until they are evenly coated. If the pan you're using for the sauce is not big enough, drizzle the sauce over the noodles in a large mixing bowl, then toss.

*IMPORTANT: Keep an eye out for any clumps of sauce and break it apart. These clumps will end up being overpowering bits that are too sweet, and it will take away sauce from the other parts of the noodles. This is another reason why ideally you want to toss noodles in the wok, so we can keep the heat on for a bit to keep the sauce from stiffening as it cools, making it easier to mix.

While still warm, put half of the noodles into the parchment-lined square cake pan or casserole dish and spread it out to fill the pan evenly. Sprinkle half of the cashews and pumpkin seeds over, if using, then spread the remaining noodles on top, followed by the remaining cashews and pumpkin seeds. Then use a measuring cup with a flat bottom to push the noodles down to pack them so they will hold together when cut, but without crushing the noodles.

Let cool completely, then either cut it in the pan or unmold it and cut it on a cutting board. Keep the pieces in an airtight container along with fried lime leaves and chilies, if desired. You can enjoy them now, but if possible wait at least half a day before serving to allow the flavours to settle into the noodles. You can eat the fried chilies if you like it spicy, but do not eat the dried lime leaves, they're just for aroma and garnish!

Storage: They will keep for at least a week in an airtight container at room temperature. Put them in the fridge if you're in a humid climate. See FAQ above for more details.
Watch my videos AD-FREE and get bonus content on Patreon!
Nutrition
Calories:
114
kcal
Carbohydrates:
18
g
Protein:
2
g
Fat:
4
g
Saturated Fat:
1
g
Polyunsaturated Fat:
1
g
Monounsaturated Fat:
3
g
Trans Fat:
1
g
Cholesterol:
10
mg
Sodium:
333
mg
Potassium:
97
mg
Fiber:
1
g
Sugar:
9
g
Vitamin A:
20
IU
Vitamin C:
3
mg
Calcium:
12
mg
Iron:
1
mg
Tried this recipe? Share a pic!
Tag @hotthaikitchen on Instagram and Twitter!