Young jackfruit is having a bit of a moment in the West because it has been adopted as a vegan meat substitute; making it more widely available even at non-Asian stores. In Thailand, young jackfruit has always been used as a vegetable, and this curry is one of the easiest introductions to working with young jackfruit.
This dish belongs to the family of Thai water-based curries, like sour curry and jungle curry, so no coconut milk here. The ribs enrich the broth, the tomatoes provide natural sweetness, and the jackfruit gives a unique texture. It's really different from any other Thai dish you might have had in restaurants, and worth exploring if you love trying new things!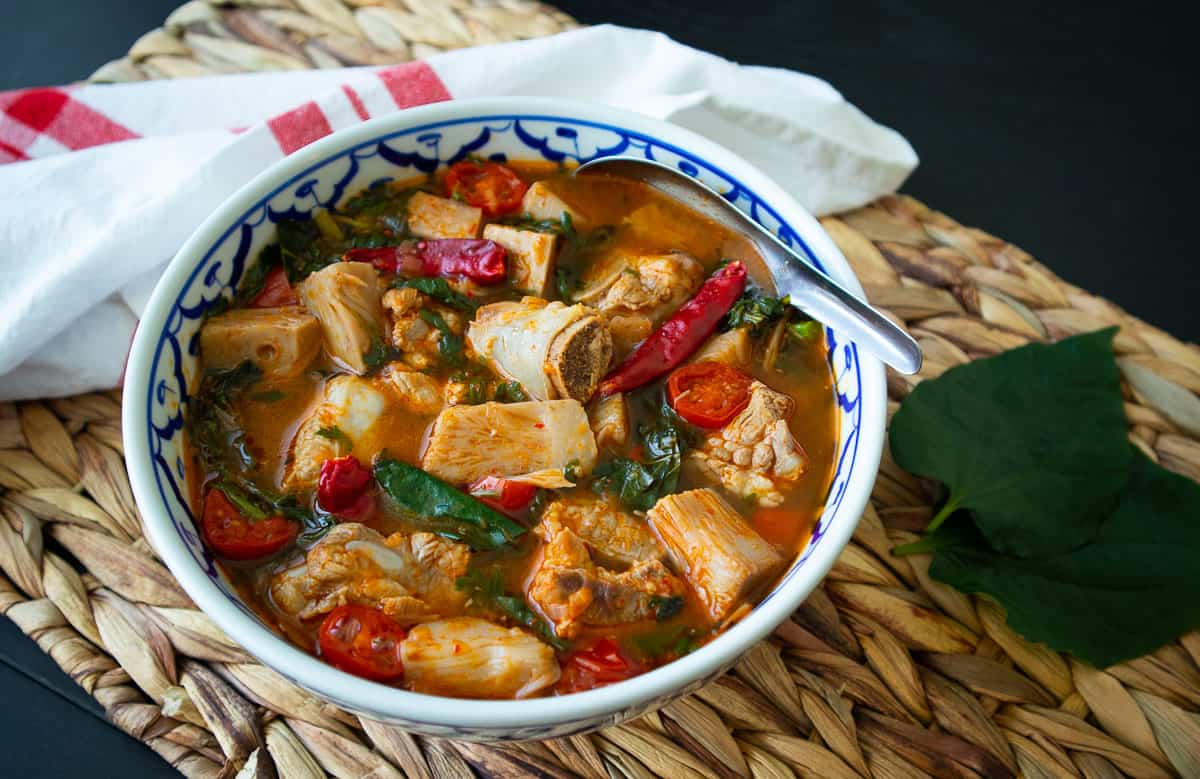 What You'll Need
Here are the ingredients for jackfruit curry. Yes, you will need to make the curry paste yourself because it's so simple they don't bother selling it pre-made!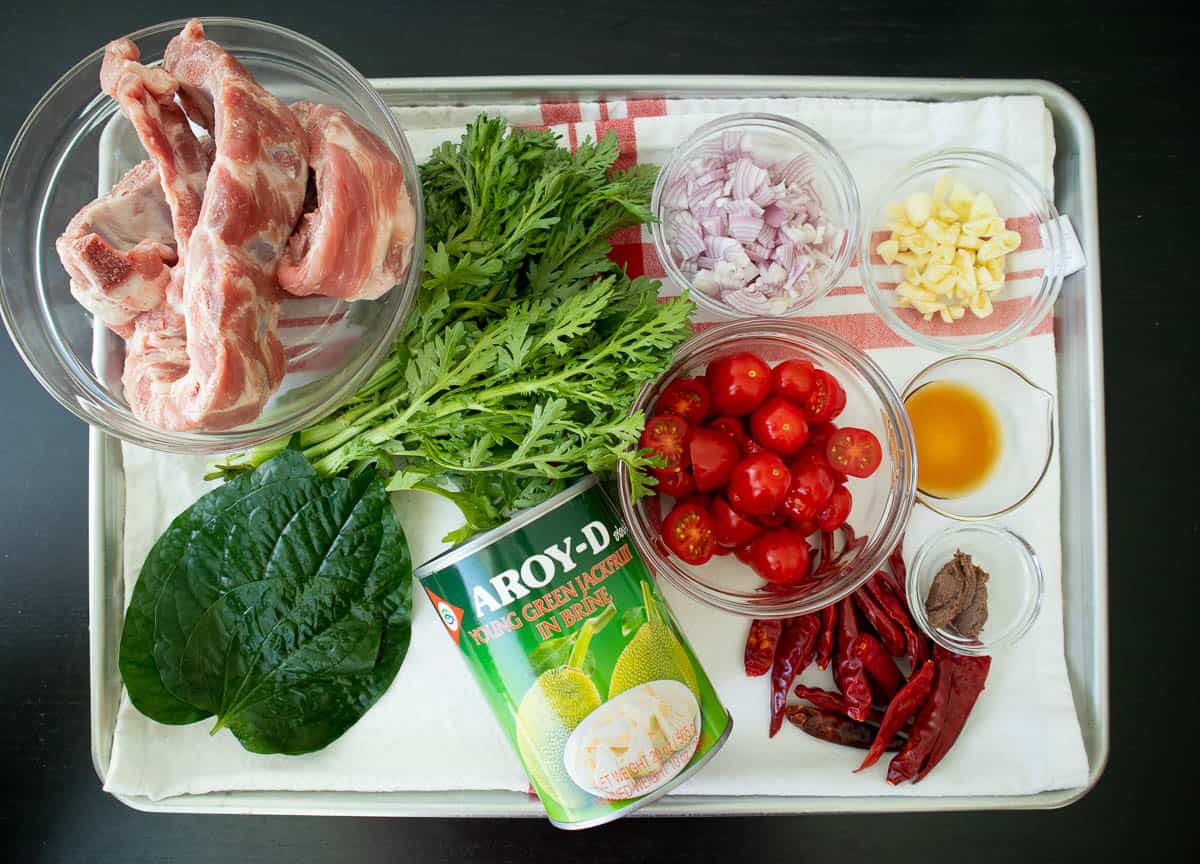 Step-By-Step: How to Make Jackfruit Curry
To ensure success be sure to check out the detailed instructions and full video tutorial in the recipe card below - but here's a bird's eye view of what you'll need to do.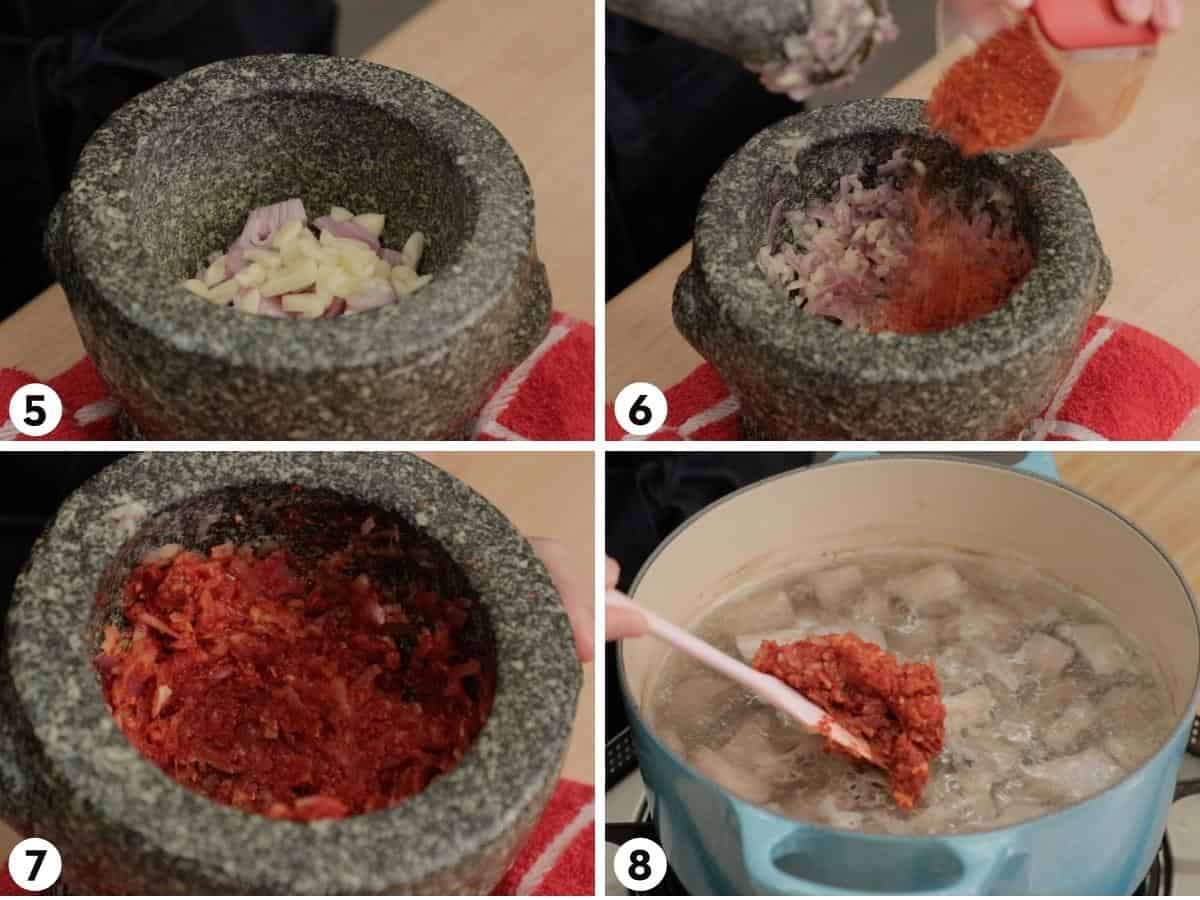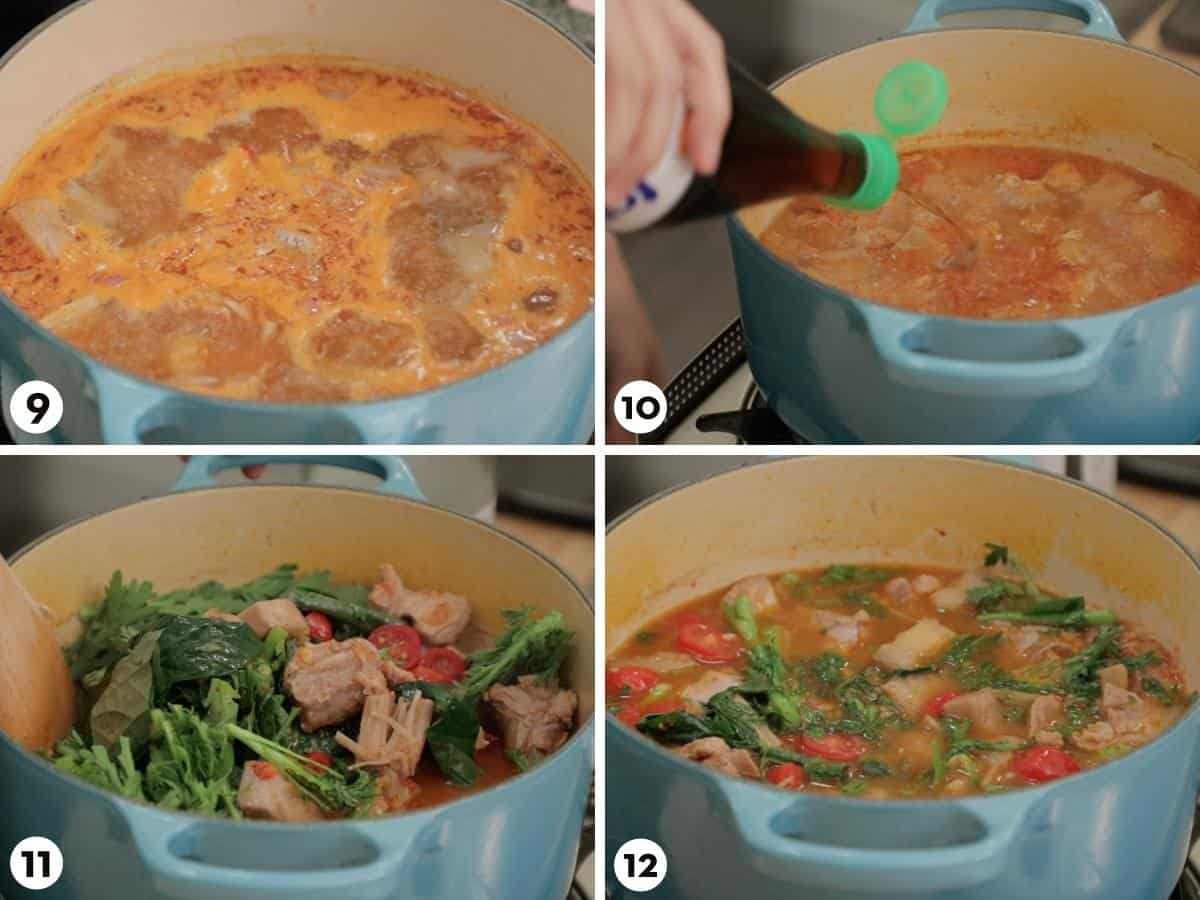 Young Green Jackfruit vs Ripe Yellow Jackfruit
Jackfruit is a tropical tree fruit with blunt, short spikes and can range from large to jaw-dropping enormous!
When the fruit is young, the exterior is green and the flesh is white with a relatively mild flavour. The seeds have not yet become hard so you can cut up the whole fruit and eat everything but the skin. You can find canned young jackfruit packed in brine at most Asian markets.
Once jackfruit is mature and ripe, the flesh becomes bright yellow with a hard brown seed inside each "piece". It also develops a strong aroma and becomes very sweet and super delicious! You might have seen it before in Southeast Asian desserts such as Filipino halo halo or Thai lod chong Singapore. You can buy ripe jackfruit in cans, packed in syrup.
Needless to say, green and yellow jackfruit are vastly different and are not interchangeable in any situation!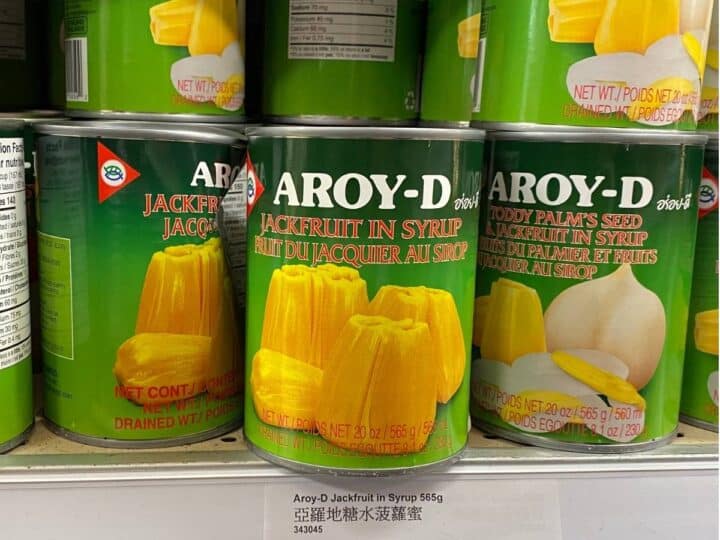 How to Cut Open a Fresh Jackfruit
If you're working with fresh young green jackfruit, it's simple because the whole thing is edible except the skin. So slice off the skin and chop the interior up into small pieces. Some people (like me!) don't like to eat the firmer core, but to not be wasteful I'd use everything. Tip: Oil your knife so the sticky sap doesn't stick to it as much.
But if you have a ripe jackfruit, cutting it open can be a pain and requires some knowledge of jackfruit anatomy so you know which part is edible and which part is not. Here's a video I filmed years ago in Thailand showing you how to cut up a jackfruit from our tree!
FAQs About Ingredients in Jackfruit Curry
I don't eat pork, what can I use instead?
You can use chicken wings. You want lots of bones which are what will make the broth delicious. If you're going to go with boneless meat then you MUST use a good, strong stock instead of water.
What can I use instead of shrimp paste?
You can use 1-2 tablespoons of miso paste or Korean doenjang. The flavours are quite different but at least you will still get the that rich umami which is important. If you want to know more about shrimp paste, check out this video for shrimp paste dip.
What can I substitute for young jackfruit?
Nothing! J/k. Well, not really...it IS jackfruit curry after all. I can't think of any other vegetables that would be similar to jackfruit in terms of texture or flavour, so I'd go with whatever non-leafy veggie you like (green papaya, winter melon or zucchini would be good) and adjust cooking time accordingly.
What can I substitute for wild betel leaves and cha-om?
Sturdy leafy greens such as Chinese broccoli or Swiss chard could work instead of wild betel leaves. Instead of cha-om you can try chrysanthemum greens, asparagus, or any other non-neutral flavoured greens you like.
What kind of dried chilies should I use for Thai curry paste?
You have many options depending on how spicy you want it. If you want mild, go with large dried chilies such as guajillo, puya, or the original Thai spur chilies if you can find them. You can even use Korean red pepper flakes (gochugaru).

For a spicy curry, use small ones like Thai chilies, arbol, or the unnamed dried chilies you can find at most Asian grocery stores (which is what I used in this video). Feel free to add more than the recipe calls for; there is no maximum!

What you might want to do is to combine them to get a customized level of heat: some large ones for flavour and colour, and some small ones for heat. If you can only get spicy ones, you can remove the seeds and/or pith to lessen the heat.
Other Water-Based Curries You Might Like: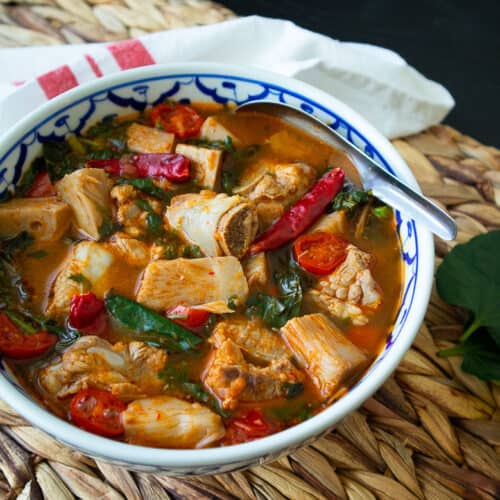 Ribs & Jackfruit Curry with Tomato
This northern Thai dish is a water-based curry. Pork ribs give the broth delicious richness, tomatoes give umami, and young green jackfruit gives it a unique texture. Healthy, easy to make, and gluten free!
Ingredients
Curry paste
0.5

oz

dried red chilies,

see note 1

6

cloves

garlic

½

cup

chopped shallots

2-3

teaspoons

fermented shrimp paste,

see note 2
Jackfruit Curry
1

cup

halved cherry tomatoes

4

cups

water

1

lb

pork spare ribs,

cut Asian style, see note 3

1-2

tablespoon

fish sauce

1

can

young green jackfruit in brine,

20 ounces/550 mL, drained weight is 300g/10.5 oz

20

wild betel leaves or another leafy green,

cut in 1 inch strips, see note 4

1

cup

Cha-om (climbing wattle),

see note 5

Jasmine rice for serving
Check Out Ingredients and Kitchen Tools I Use
Notes
Notes:
You can use any kind of dried red chilies depending on the spiciness you want. For a mild curry you can use large chilies such as guajillo or puya peppers. For more heat use smaller ones such as dried Thai chilies, or do a combination of both for something in between. If you want to reduce the heat of the chilies, do not put less chilies, just remove the seeds/pith as shown in the video. The amount given is the minimum required; you can add more if you like. 
For the shrimp paste, start out with 2 teaspoons and see if you want a little more "funk". If you don't have shrimp paste you can also add 1-2 tablespoons of miso paste instead.
At Asian markets, you can find spare ribs that are cut into short pieces. They may already be cut into individual ribs, or left as long strips which you will have to separate yourself (please see video for cutting demo). You can also use full-sized ribs, but it'll just be a little more clunky to eat.
You may be able to find wild betel leaves at some stores that carry a lot of Thai or Vietnamese produce (it's called la lot in Vietnamese and bai chaploo in Thai). Otherwise sturdy greens such as Chinese broccoli or Swiss chard will also work.
Cha-om or climbing wattle is a Thai vegetable with a unique fragrance. You may be able to find it at some Thai grocery stores as fresh or frozen. You can substitute another non-neutral-flavoured greens such as chrysanthemum greens (called tong ho in Chinese; I use 2 cups of this) or whatever is available to you.
All my recipes come with step-by-step video tutorials with extra tips not mentioned in the blog post, so make sure you watch the video to ensure success. If you enjoy them, consider subscribing to the YouTube Channel to not miss an episode. Thank you!
Subscribe to my YouTube Channel
Instructions
Add the ribs to a large pot, add the water and 1 tablespoon of the fish sauce and bring to a simmer over high heat, then lower the heat to maintain a simmer.

Meanwhile, drain and rinse the jackfruit, cut them into small bite-sized pieces and add them to the pot.

While the ribs cooks, make the curry paste. Grind the dried chilies into a powder in a spice grinder; set aside. In a mortar and pestle, pound the garlic and shallots into a rough paste, adding the chilies once the shallots and garlic start to feel wet. Once you have a rough paste, add the shrimp paste and pound to mix. The result does not need to be super fine.

Skim off any scum from the broth, then add the curry paste. Stir to mix and continue to simmer until the pork is fork tender; between 45 mins to 1 hour total, depending on the thickness of the meat on the ribs.

Once the ribs are tender, add all the greens and tomatoes and let it cook for just 1-2 minutes to wilt the greens and soften the tomatoes. You can add more water if necessary but you don't want too much water here, just enough to keep everything mostly submerged

Taste and adjust seasoning with more fish sauce as needed; and if you want a little more umami funk, you can add more shrimp paste too. There should be enough natural sweetness from the tomatoes and the pork, but if you feel like it's a little one dimensionally salty, you can add a touch of sugar to balance.

Serve with jasmine rice. Enjoy!
Watch my videos AD-FREE and get bonus content on Patreon!
Nutrition
Calories:
411
kcal
Carbohydrates:
15
g
Protein:
23
g
Fat:
29
g
Saturated Fat:
9
g
Polyunsaturated Fat:
5
g
Monounsaturated Fat:
10
g
Trans Fat:
1
g
Cholesterol:
120
mg
Sodium:
729
mg
Potassium:
599
mg
Fiber:
4
g
Sugar:
5
g
Vitamin A:
2020
IU
Vitamin C:
22
mg
Calcium:
84
mg
Iron:
4
mg
Tried this recipe? Share a pic!
Tag @hotthaikitchen on Instagram and Twitter!