This classic Thai dish is called "jungle curry" or gaeng pa because there are so many plants in it that it's like a whole jungle in a bowl! Healthy, herbaceous, and fiercely spicy - this curry packs all the flavours that are iconic to Thailand. It's a water-based curry (no coconut milk) so it makes for a light but satisfying meal. For the curry paste, I've included both the "from-scratch" and "quick-fix" recipes, so you can make it a project or a weeknight meal!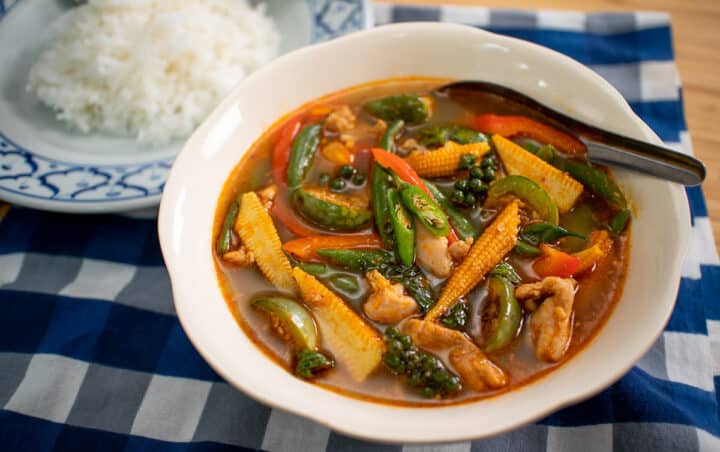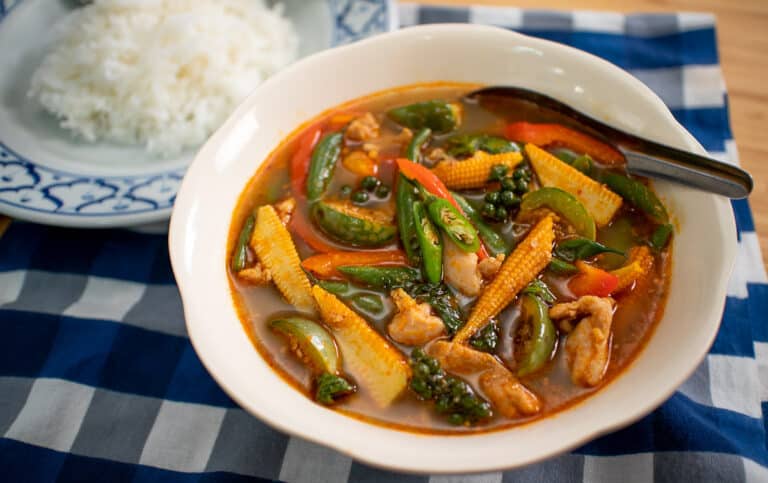 What You'll Need
Here are ingredients you'll need to make jungle curry. Note that for the curry paste I'm showing you is the "quick-fix" version. Please see the listing for the "from-scratch" version in the recipe card below.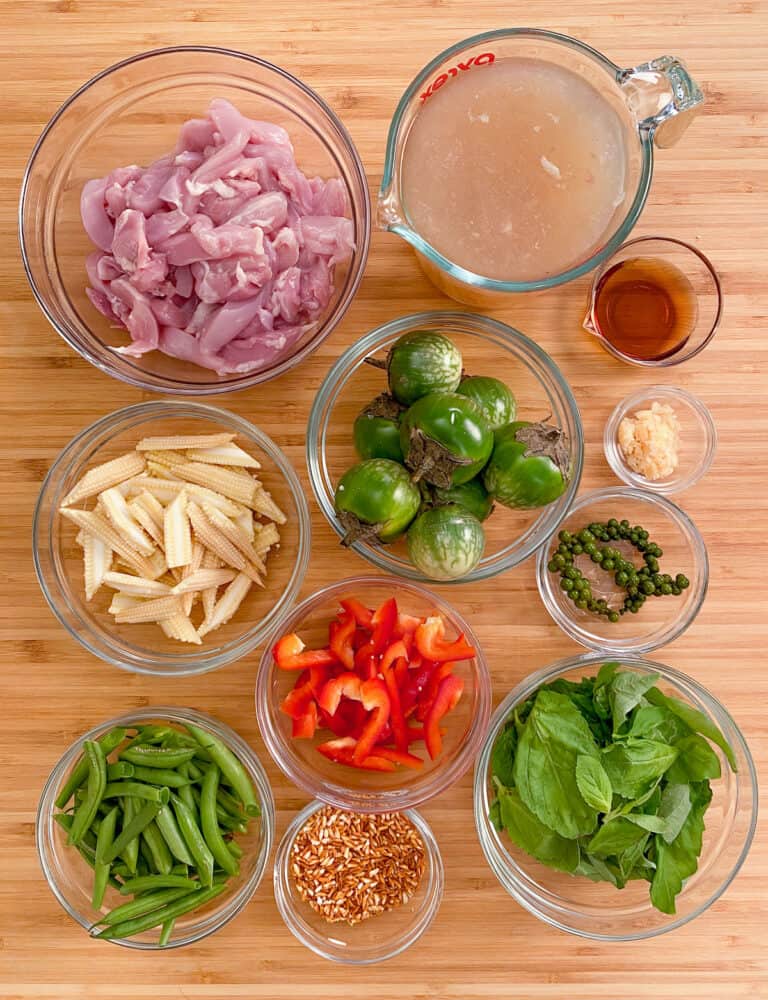 Here are the ingredients for the quick-fix jungle curry paste: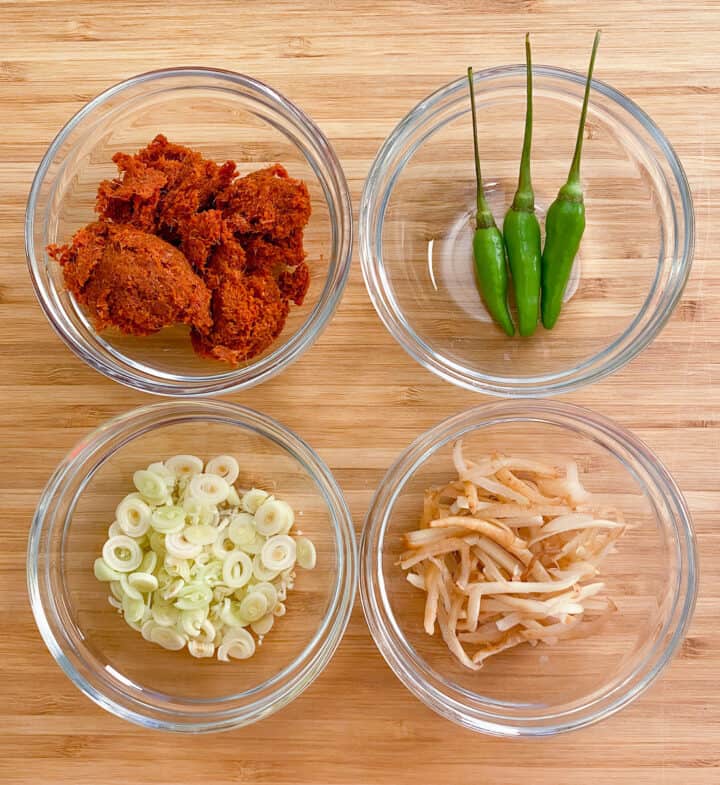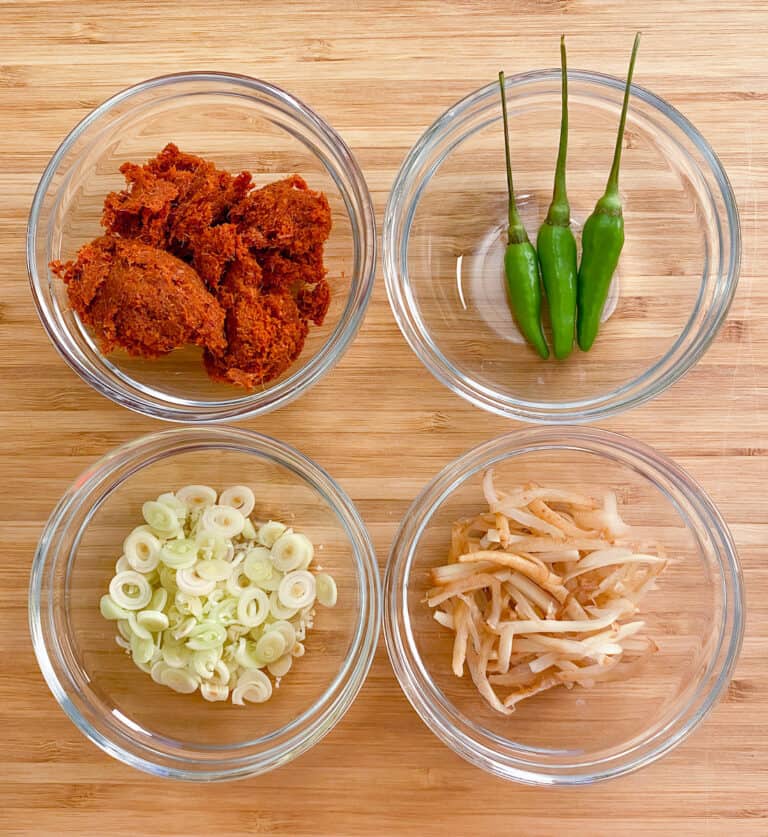 How to Make Jungle Curry Step-By-Step
Be sure to check out the detailed recipe and full video tutorial in the recipe card below - but here's a bird's eye view of what you'll need to do.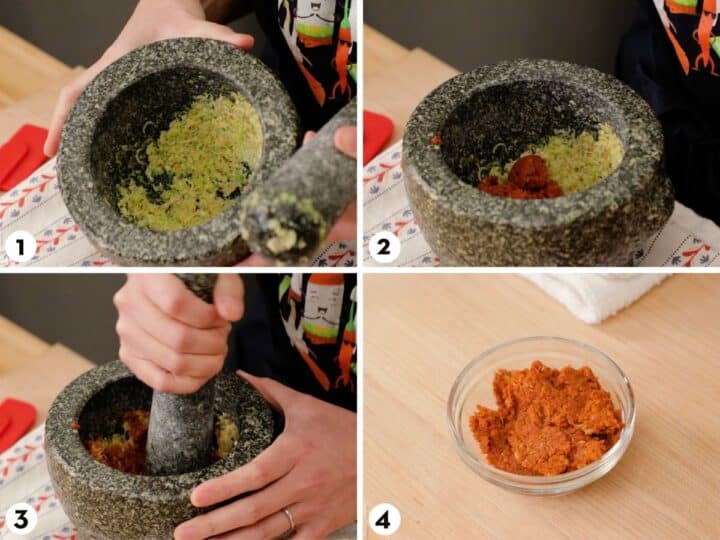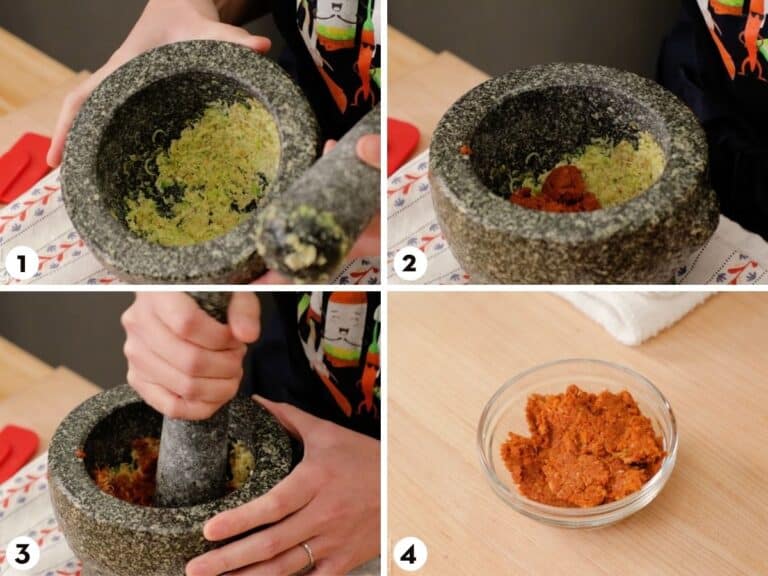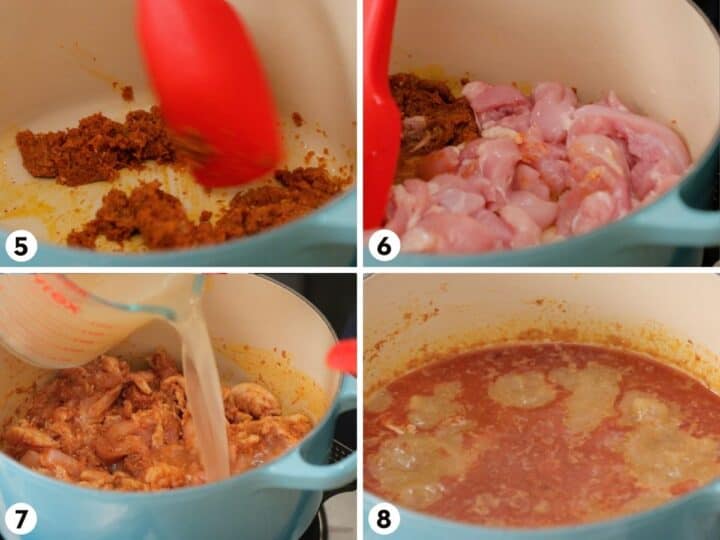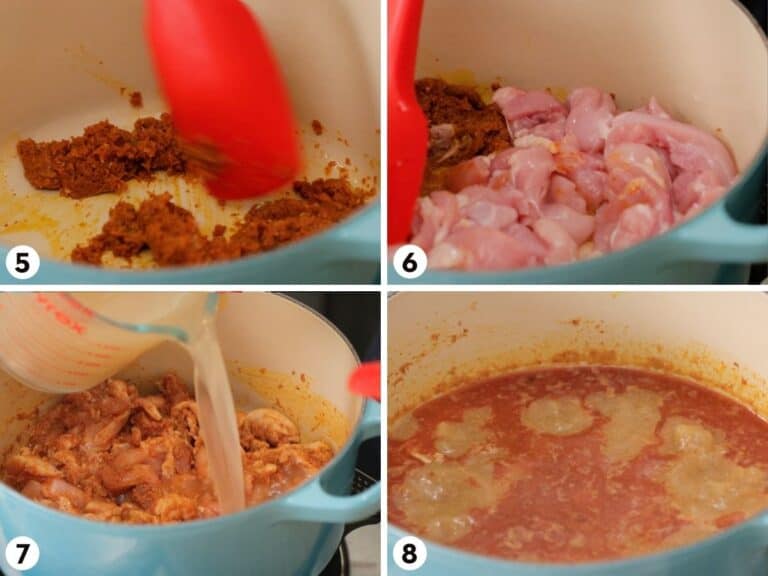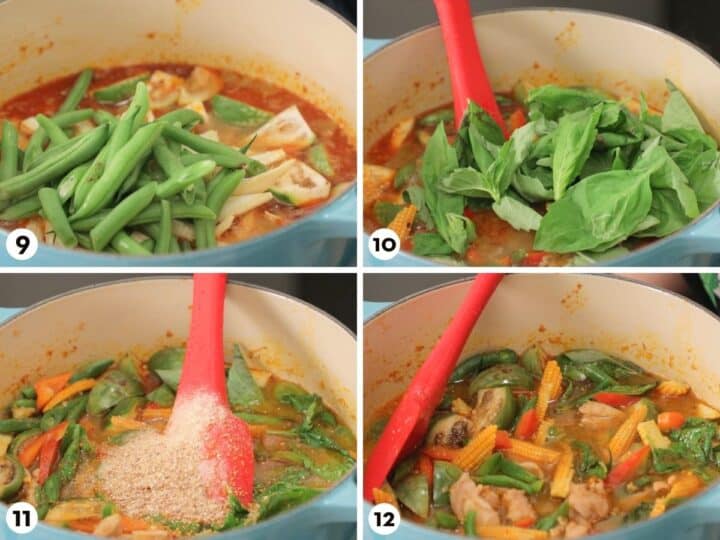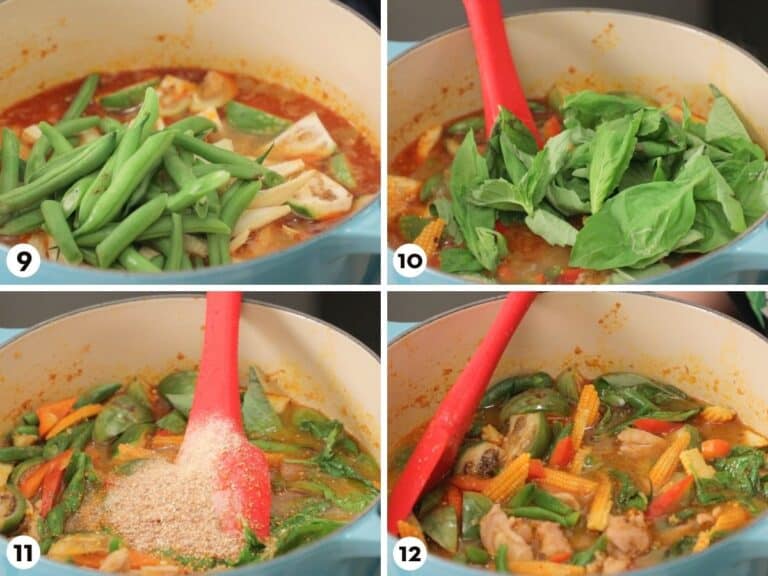 Using Red Curry Paste as a Base
In this video I showed you how to make jungle curry paste the quick way by doctoring store-bought red curry paste. Using red curry paste as a base is a handy technique that I also use in my Instant Pot massaman curry and panang curry recipes.
This works because red curry paste is a "basic" paste, in the sense that it contains all of the ingredients that are common to many other pastes, but nothing more. So we can use it as a shortcut starting point when making more complex pastes.
Some Ingredient Notes:
Jungle curry uses a few ingredients you may have never heard of before, so here's some background on each.
Grachai. This is an aromatic rhizome with a few English names: fingerroot, Chinese keys, and a few more. You won't find any of these English names on the product label at Asian stores though. If you can't find them fresh, look for ones in brine in glass jars (see video). Most of the time these are labeled as "rhizome" (not very descriptive), "pickled galangal" (it's neither galangal nor pickled), or by its Vietnamese name ngải bún. It's also a key ingredient in this rice noodles with fish curry recipe.
Young Green Peppercorns. These are peppercorns in their fresh state before they get turned into the black or white pepper we're used to seeing. They can be found fresh or also brined in a glass jar (see video). Cut them into chunks and add to soups or stir-fries. I don't usually eat them myself, but if you like an extra peppery punch you can break off the peppercorns from the stem and eat - but only 1-2 at a time!
Holy Basil. In Thai this is called gaprao, and is the key ingredient in the famous dish, chicken and basil stir fry or pad gaprao. Sometimes it is written as kaprao, kra pao (wrong), or gra pao (also wrong).
Thai eggplant. These are round, striped, beautiful eggplants that are quite versatile. They are crunchy when raw, and indeed can be eaten raw, but I prefer them cooked. They are usually added to some forms of curry, and is very popular in green curry.
Pea eggplant. I didn't use these in this video because I don't like them, but they're very commonly added to jungle curry so it's an option for you. They pop when you bite them and have a bitter taste (ew) which some people really like.
Frequently Asked Questions About Jungle Curry
What brand is the best red curry paste to use?
I talk extensively about how to pick the best curry paste in this Ultimate Guide to Curry Pastes video so make sure you check this out. But if possible, for jungle curry you want to choose a really basic paste that doesn't contain any cumin or coriander seeds. Sometimes these are listed simply as "spices". It's not a deal breaker, but is something to look for if you have the option. In this video I used Maeploy brand.
Can I substitute other proteins?
YES! Jungle curry can be made using all kinds of protein, just make sure you adjust cooking time accordingly to suit whatever you're using. You can also keep the chicken stock, or change it up to match your protein.
Can I use other vegetables?
Yes, BUT. Unlike the protein, in Thailand you won't see too many different veggies used for gaeng pa. So to stay true to the original, try to use the ones in the recipe. If you have to use others, try to choose ones with mild flavours such as zucchini, Chinese broccoli, or carrots, so that they will not detract from the flavour of the curry.
There are so many hard-to-find herbs in this recipe, do I need them all?
The most important is grachai (fingerroot) because it is a key flavour. If you make it without, it'll still be delicious, but it won't taste exactly as it should. Holy basil is also a key flavour, but regular basil or Thai basil can be used instead. The young peppercorns can be omitted without issues.
Also check out...
---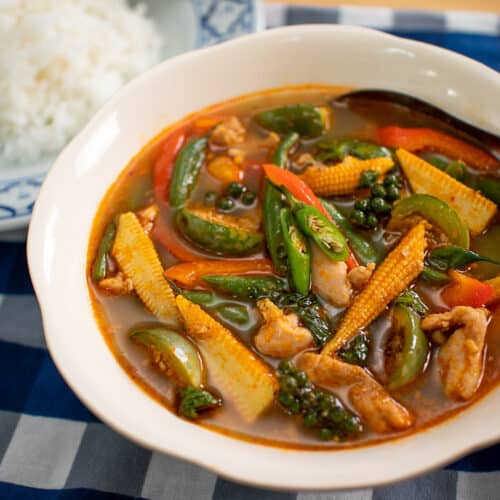 Thai Jungle Curry with Chicken
A water-based curry bursting with so many veggies and herbs it's like a "jungle" in a bowl. With no coconut milk this curry is light and healthy, but still satisfying because of the bold flavours. Oh and it's HOT.
Ingredients
Quick-Fix Jungle Curry Paste
4-5

tablespoon

red curry paste

3-5

green Thai chilies

,

or as many as you can take

2

tablespoon

fingerroot (grachai)

,

chopped

2

tablespoon

lemongrass,

thinly sliced
Jungle Curry
2

tablespoon

neutral oil

12

oz

boneless skinless chicken thigh

,

cut into strips

2½

cups

unsalted chicken stock

1-2

tablespoon

fish sauce

2

teaspoon

finely chopped palm sugar

4.2

oz

long beans

,

2-inch pieces

8

baby corn

,

bite-sized pieces

4

Thai eggplant

,

cut in 4 or 6 wedges

2

stems

young green peppercorns

,

(optional)

¼

cup

julienned fingerroot (grachai)

,

(optional)

2

spur chilies

,

julienned (see note)

1

cup

holy basil leaves

1 ½

tablespoon

toasted rice powder

,

(see note)
Jungle Curry Paste from Scratch
0.7

oz

mild dried chilies

,

such as guajillo or puya

3-5

green Thai chilies

,

or as many as you can handle

1

teaspoon

coarse grain salt

¼

teaspoon

white peppercorns

1

stalk

lemongrass, bottom half only

,

thinly sliced

1

tablespoon

galangal

,

finely chopped

2

tablespoon

fingerroot (grachai)

,

finely chopped

1

teaspoon

makrut lime zest

,

finely chopped

1

teaspoon

cilantro roots or stems

,

finely chopped

3

tablespoon

shallots

,

finely chopped

1

tablespoon

garlic

,

finely chopped

1

teaspoon

fermented shrimp paste (gapi)
Check Out Ingredients and Kitchen Tools I Use
Notes
Spur chilies or prik chee fa are large mild red peppers which we use to add colour to many dishes. You can substitute red bell pepper or any other medium-to-mild red peppers.
To make toasted rice powder, simply toast 1 ½ tablespoon uncooked jasmine or sticky rice in a dry saute pan over high heat, stirring constantly, until it has a deep brown colour. Then grind in a coffee grinder or mortar and pestle.
All my recipes come with step-by-step video tutorials with extra tips not mentioned in the blog post, so make sure you watch the video to ensure success. If you enjoy them, consider subscribing to the YouTube Channel to not miss an episode. Thank you!
Subscribe to my YouTube Channel
Instructions
For the quick-fix jungle curry paste:
If you don't want to make it too spicy, remove the seeds and pith from the green chilies, then pound them in a mortar and pestle until fine. Add grachai and lemongrass and pound into a fine paste.

Add the red curry paste and pound to mix. The curry paste will last in the fridge for a few days and can be frozen for a few months.
For the curry:
In a heavy-bottomed pot, add the oil and the curry paste and saute over medium heat for about 2 minutes.

Add the chicken and toss with the curry paste, then add the stock and simmer gently for 15 minutes or until the chicken is fork tender.

Once the chicken is done, add the sugar and 1 tablespoon of the fish sauce and stir to mix. Add the eggplant, long beans, baby corn, young peppercorns, and makrut lime leaves and simmer for a few more minutes until the vegetables are done to your liking.

Turn off the heat and stir in the holy basil and spur chilies or bell pepper, using just the residual heat to gently cook and wilt them. Taste and adjust seasoning with more fish sauce as needed.

Serve with jasmine rice, enjoy!
For from-scratch jungle curry paste:
Grind the dried chilies into a powder using a coffee grinder.

In a heavy-duty mortar and pestle, add the green chilies, salt, and white peppercorns; pound into a fine paste.

Add the lemongrass, galangal, grachai, makrut lime zest, and cilantro roots; pound into a fine paste.

Add the ground chilies and pound to mix.

Add the shallots and garlic and pound into a fine paste.
Watch my videos AD-FREE and get bonus content on Patreon!
Tried this recipe? Share a pic!
Tag @hotthaikitchen on Instagram and Twitter!