---
Do You Know the Real Pad Thai?
In North America, every Thai restaurant has Pad Thai, and most people think they know what it is. But the truth is that there is so much Westernized Pad Thai out there that I bet few people actually know what real Pad Thai, like ones we have in Thailand, actually tastes like! Well, take it from a Thai person (me), it's supposed to taste like this recipe. Yes, there are many variations of pad thai out there in Thailand, so of course this isn't the only way to do it, but if you want to get to know the basic, original, classic flavour, this is the one.
Why is it not orange?
When I worked as a chef, I had Pad Thai on the menu. A customer called me out one day and asked, "Why is your Pad Thai not orange?" She was clearly disappointed. I explained to her that classic Pad Thai in Thailand is not orange, and that most of the orange Pad Thai in the US has been made that way so that the colour would be more appealing to customers. Some places use ketchup for the colour, others use paprika. Neither of these are Thai ingredients, needless to say. She didn't look convinced, but there was nothing more I could've said.
But there is orange, authentic Pad Thai.
It's just not the "classic" version. As I mentioned, there are many, many variations of pad thai in Thailand, and some are indeed orange. In fact, one of the most famous Pad Thai vendors in Bangkok makes theirs bright orange! That colour, however, comes from shrimp tomalley, not ketchup or paprika. Though popular, it is not considered the classic or original version. Amongst Thai people we call it shrimp tomalley pad thai or "Pad Thai Mun Goong."
If you want to try some an orange, but still authentic Pad Thai, check out my Pad Thai Variation recipe here!
Watch The Full Video Tutorial!
All my recipes come with step-by-step video tutorials with extra tips not mentioned in the blog post, so make sure you watch the video below to ensure success - and if you enjoy the show, please consider subscribing to my YouTube channel. Thank you!
Print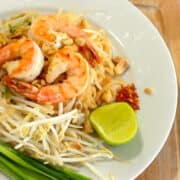 Authentic Classic Pad Thai ผัดไทย
---
The Sauce

Pad Thai
4 ounces

dry rice noodles (choose

one

that is about 2mm wide) (see note)

8

-

10

shrimp, or as many as you'd like, peeled and deveined

1

small head shallot, thinly sliced, about

3 Tbsp

2

cloves garlic, chopped

1 Tbsp

dried shrimp, chopped

1

pc pressed tofu, cut into small pieces (see note)

½ tsp

of chili flakes, or to taste
A scant

¼ cup

of chopped sweet preserved daikon radish (see note)

2

eggs

2.5 cups

bean sprouts

1 cup

garlic chives, cut into

2

" pieces

¼ cup

chopped roasted peanuts

1

lime
Tools needed: A well-seasoned wok, or a large non-stick pan.
---
Instructions
Soak the rice noodles in room temperature water for 1 hour, until the noodles turn from translucent to completely white and are very pliable. Drain and set aside until ready to use. Tip: You can soak the noodles a few days in advance, drain, and store in a sealed container in the fridge until ready to use.
Heat 2 Tbsp of oil over high heat in a wok or a large saute pan. When the pan is very hot, add the shrimp and let sear without moving until they are halfway done. Flip and finish cooking the shrimp on the other side. Remove and set aside.
In the same pan, add another 1-2 tablespoons of oil and turn the heat to medium. Add the shallots, garlic, dried shrimp, preserved radish, pressed tofu, and chili flakes. Cook until the garlic starts to brown slightly.
Add the soaked noodles and the sauce, turn the heat up to high, and keep stirring and tossing until the noodles have absorbed all the sauce.
Once all the sauce has been absorbed, push the noodles to one side of the pan and add the eggs to the empty space. Scramble the eggs gently and let them set about half way. Put the noodles on top of the eggs and let the eggs set completely for another 15 seconds or so. Flip everything over (you can toss them or just use a wok spatula) and toss to break up the eggs.
Add the bean sprouts, garlic chives, and half of the peanuts, turn off the heat, and toss everything to mix. The residual heat of the pan will wild the vegetables just enough.
Plate the noodles, top with the shrimp and sprinkle over the remaining peanuts. Serve with a piece of lime (must-have). You can also serve with extra bean sprouts, garlic chives, and chili flakes if desired. Make sure you squeeze that lime over the noodles before you enjoy!
---
Notes
Tamarind: Do NOT use the black, sticky "tamarind concentrate" that is a product of India as it is a much more concentrated version and cannot be used in the same way in this recipe. Make sure you either make it from pulp as shown here, or buy the brown paste that is a product of Thailand or Vietnam. Keep in mind that different brands of tamarind has different levels of acidity, so you may need to adjust the amount after making it the first time.
Pressed tofu are super firm and do not crumble when tossed. If you can't find it, you can use firm tofu, cut into small pieces and fry them off first to firm them up. 
Sweet preserved radish: if you do note have this, do not worry about it. Just leave it out. But since the preserved radish is salty and sweet, just add a touch extra fish sauce and palm sugar to make up for the flavour. 
Noodles: You can also buy fresh, uncooked rice noodles (see video) that are sold in the refrigerated section. If these are what you use, there is no need to soak them, and you will need to use about 5-6 ounces of noodles. When you cook you need to either 1) blanch them for 20-30 seconds in boiling water and drain well before adding them to the wok, or 2) Add more water to the wok, ¼ cup at a time and check the noodles consistency once all liquid has been absorbed. If they are still too chewy, add a little more water and let it cook longer. 
Keywords: Pad thai, noodles, gluten free, authentic, classic Thai recipe