---
An iconic dish of Northern Thailand, "sai ua" is one of the most flavourful sausages I can think of. The pork is mixed with an aromatic curry paste, grilled, then served with sticky rice and fresh veggies. Yum!
Making sausages doesn't have to be a lot of work, though. Once you make the mixture, if you don't want to go through the process of stuffing the sausages, you can make patties, balls, or make "caseless sausages" I like showed in the video!
MY IMMERSION BLENDER: https://kit.co/hotthaikitchen/kitchen-tools-i-use
You might also like THAI FISH CAKES
Watch The Full Video Tutorial!
All my recipes come with step-by-step video tutorials with extra tips not mentioned in the blog post, so make sure you watch the video below to ensure success - and if you enjoy the show, please consider subscribing to my YouTube channel. Thank you!
Print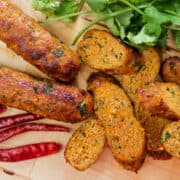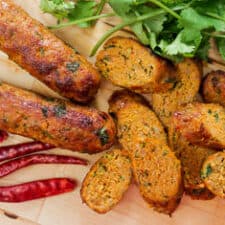 "Sai Ua" Northern Thai Sausage ไส้อั่ว
---
Sai Ua Curry Paste
6

-

8

g dried chilies (see note)

3

slices galangal, chopped

1

stalk lemongrass, bottom half only, thinly sliced

2

inches turmeric root or

1 ½ tsp

turmeric powder

⅓ cup

chopped shallots

4

cloves garlic
Zest from

half a

kaffir lime (totally optional!)

1 tsp

fermented shrimp paste (gapi)

1 Tbsp

fish sauce
The Rest
1

lb ground pork (get fattiest ground pork you can find)

5

kaffir lime leaves, center stems removed, thinly julienned and minced

5

-

6

stems cilantro, finely chopped

1

small green onions, finely chopped
Note:  You can make this as spicy or mild as you like. I used arbol chilies which are medium spicy. You can leave seeds in for extra spice or remove them to lessen the heat. If using Thai smaller dried chilies, be careful as they are very hot! 
---
Instructions
Grind dried chilies in a coffee grinder until fine.
If using an immersion blender, blend all curry paste ingredients together until fine.
If using a mortar and pestle, grind lemongrass, galangal, turmeric and kaffir lime zest (if using) first until fine, adding the dried chilies in once the mixture starts to feel wet. Then add garlic and shallots and pound until fine. Add shrimp paste and pound to mix. Stir fish sauce in at the very end.
Using your hands, and I recommend wearing latex gloves for this part, knead together the pork and the curry paste until thoroughly mixed. Then add cilantro, green onion and kaffir lime leaves and knead it in just until combined.
To make caseless sausages: follow the wrapping method shown in the video and allow the sausages to rest in the fridge for at least 2 hours or preferably overnight. Then gently unpack them onto a foil-lined tray and cook the sausages on the top rack under the broiler until browned on one side, about 4-5 minutes. Then flip the sausage and brown the other side. After this point, there should be a lot of liquid on the pan, so I like to transfer them onto a rack to finish the broiling so the sausages come out dry and well caramelized. Tip: if you have a sensitive smoke alarm consider changing out the foil halfway through as the juices may burn after prolonged broiling! Let the sausages rest for at least 5 minutes before slicing. Alternatively, if you have a baking sheet with drain holes like I had in the video, you can just use that and you don't need to transfer them halfway through, but make sure to oil the tray first to prevent sticking.
To make sausage patties: Let the pork mixture rest in the fridge for at least 2 hours or preferably overnight. When ready to cook, form the patties with your hands. Preheat a skillet over medium heat and add just enough oil to coat the bottom. Pan-fry the patties until well browned on both sides and fully cooked, which should take just few minutes depending on the thickness of the patties.
If making stuffed sausages: Stuff the sausage into the casing and let it rest for at least 2 hours in the fridge or preferably overnight before cooking. Poke lots of little holes in the casing with a toothpick to prevent the sausage from breaking when cooking. Grill or fry the sausages until browned and fully cooked. Let rest for 5 minutes before cutting.
Serve these as appetizers or with the main meal. In Thailand we often serve this with fresh crunchy vegetables and sticky rice. Enjoy!
---
---