---
Salted Egg Yolk: Flavour Of The Year
If you've been to Asia in the past few years you may have come across various things that are "salted egg yolk" flavoured. Potato chips, fried fish skins, and steamed buns are some of the more popular examples. Salted duck egg yolks have always been used in traditional Chinese foods like moon cake and bamboo-leaf wrapped sticky rice, but only recently have they appeared in snacks and other modern culinary creations.
Commercially available salted eggs are always made from duck eggs, and you can buy them in-shell raw, in-shell cooked, or just the yolks alone. (Interestingly you can't buy the whites alone, and it does make me wonder where all the whites go!?) For this recipe you want to buy just the yolks, which are generally available frozen at Asian grocery stores.
Thai Roasted Chili Paste
One of the main ingredients in this dish is Thai roasted chili paste, or chili jam, known in Thai as nam prik pao. You can buy it at some Asian grocery stores, especially ones that stock a lot of Thai ingredients, but you can also make it yourself using this recipe. Commonly available brands are Pantai and Mae Pranom. I'm using the Mae Pranom brand, which I prefer because it is less sweet, but either will work just fine. Note that the Pantai brand labels it "Chili Paste in Soya Bean Oil".
Watch The Full Video Tutorial!
All my recipes come with step-by-step video tutorials with extra tips not mentioned in the blog post, so make sure you watch the video below to ensure success - and if you enjoy the show, please consider subscribing to my YouTube channel. Thank you!
Print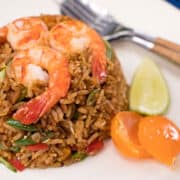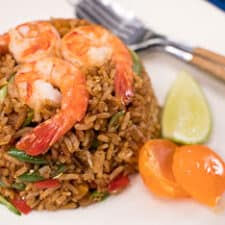 Salted Egg Fried Rice ข้าวผัดไข่เค็ม
---
Cooking oil, as needed

8

-

10

shrimp (or as many as you like)

4

cloves Garlic

2

Thai chilies (optional)

6

salted egg yolks, thawed, roughly chopped 
Water for deglazing the pan, as needed

½ cup

long beans or French green beans, chopped into

1

cm pieces

⅓ cup

diced red bell pepper

2 tsp

fish sauce

2 tsp

soy sauce

1

rounded tablespoon Thai chilli paste, store bought or homemade (see note)

1 tsp

sugar 

350g

cooked jasmine rice

1

egg

2

green onions, chopped

½ cup

cherry tomato halves
Cucumber slices for serving (optional)

Lime wedge for serving
Note: You can make this dish without Thai chili paste, however it will end up being quite different from the dish I made. The flavour will be a lot more subtle and plain since the chili paste has quite a robust flavour. This isn't necessarily a bad thing, but do remember to add another teaspoon of sugar if you choose to omit the chili paste. 
---
Instructions
In a wok or a large frying pan, add just enough oil to coat the bottom and cook off all the shrimp over medium high heat. Remove and set aside.
In the same pan, over medium heat, add chopped garlic and cook for a few minutes just until it starts to turn golden.
Add salted egg yolks and stir until the yolks are partially dissolved but still with lots of chunks. Deglaze with a splash of water as needed to keep the pan moist.
Add long beans, bell pepper, fish sauce, soy sauce, Thai chili paste, and sugar. Toss together until the chili paste is well mixed, adding water a little at a time as needed if it becomes too dry.
Add the rice and toss until the rice is evenly coated in sauce.
Turn off the heat and toss in tomatoes and green onions.
Plate the rice and place the shrimp on top. Serve with cucumber slices and a lime wedge.
---