---
This red sweet chili sauce glistening in bottles is one part of Thai cuisine that has permeated just about every grocery store in North America! Well you'll be happy to know that it is incredibly simple to make, it tastes better when you make it, AND it lasts forever in the fridge. It also makes the perfect edible gift!
Ingredients
Here are all the ingredients you'll need to make homemade Thai sweet chili sauce. It's a really simple list with mostly staples!
Mild to medium red chilies. These make up the bulk of the sauce, and we want to be able to use a lot of it for maximum chili flavour, so we have to choose something mild so as to not make the sauce too spicy. Traditionally, spur chilies or prik chee fa are used, but anything mild will work. If nothing else, red bell pepper will be fine.
Thai chilies. These are the small spicy chilies that we use to add heat to our sauce. Add as many as you like depending on how spicy you want the sauce to be.
Garlic
Sugar
White vinegar
Salt. I like to keep it simple with salt, but you can try adding soy sauce or fish sauce instead.

Tapioca starch

. This is added to thicken the sauce so that it will adhere to food better. Tapioca starch is traditionally used as it cooks up clear, so your sauce will remain clear and beautiful, but cornstarch will also be fine as a substitute.
How to Make Thai Sweet Chili Sauce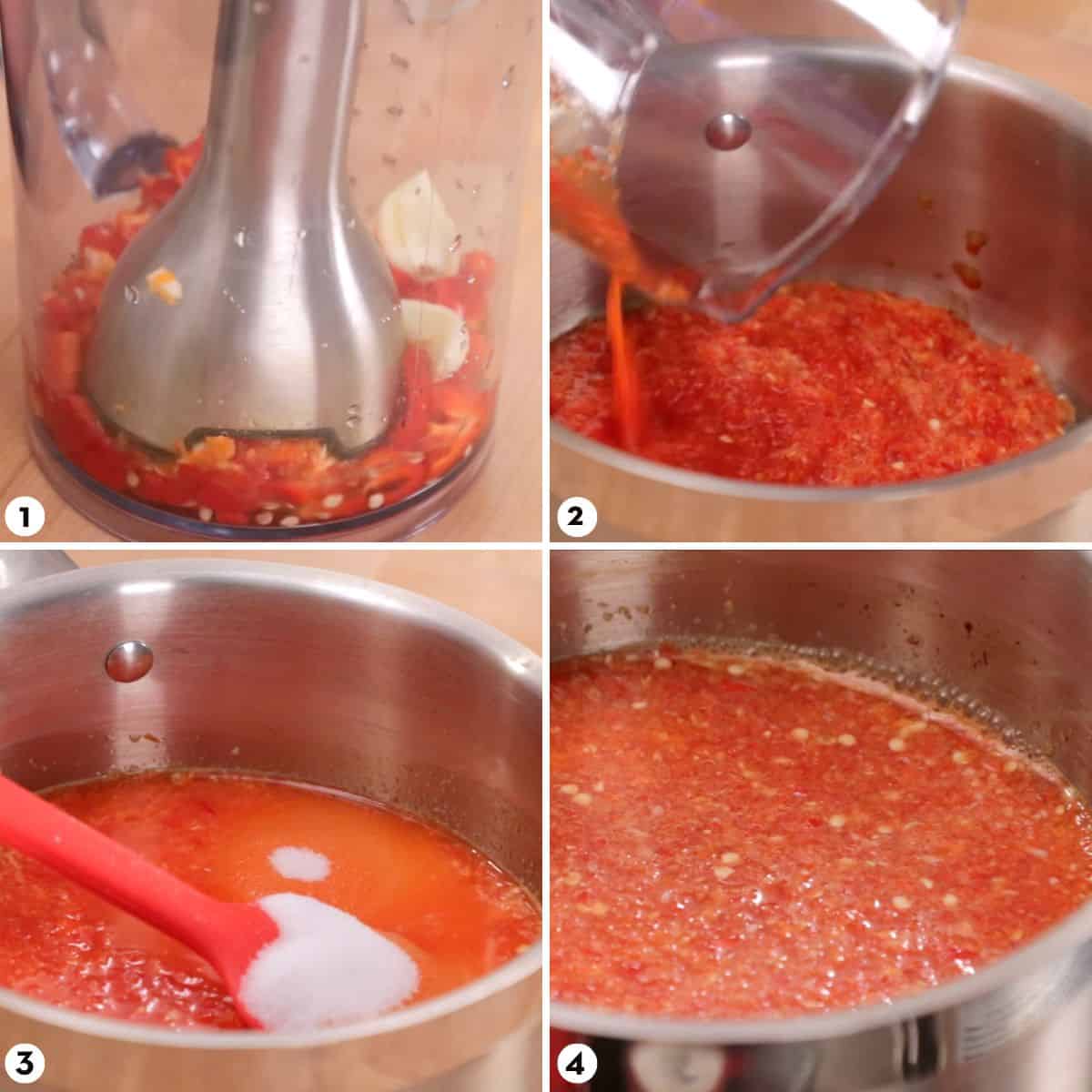 Blend both chilies, garlic, and water until it looks slushy but not smooth.
Transfer into a heavy bottomed pot.
Add sugar, vinegar and salt and stir to mix.
Simmer the mixture for 5 minutes over medium heat. Keep a wet pastry brush handy and if the sides of the pot starts to brown, brush it off with some water to prevent it from burning.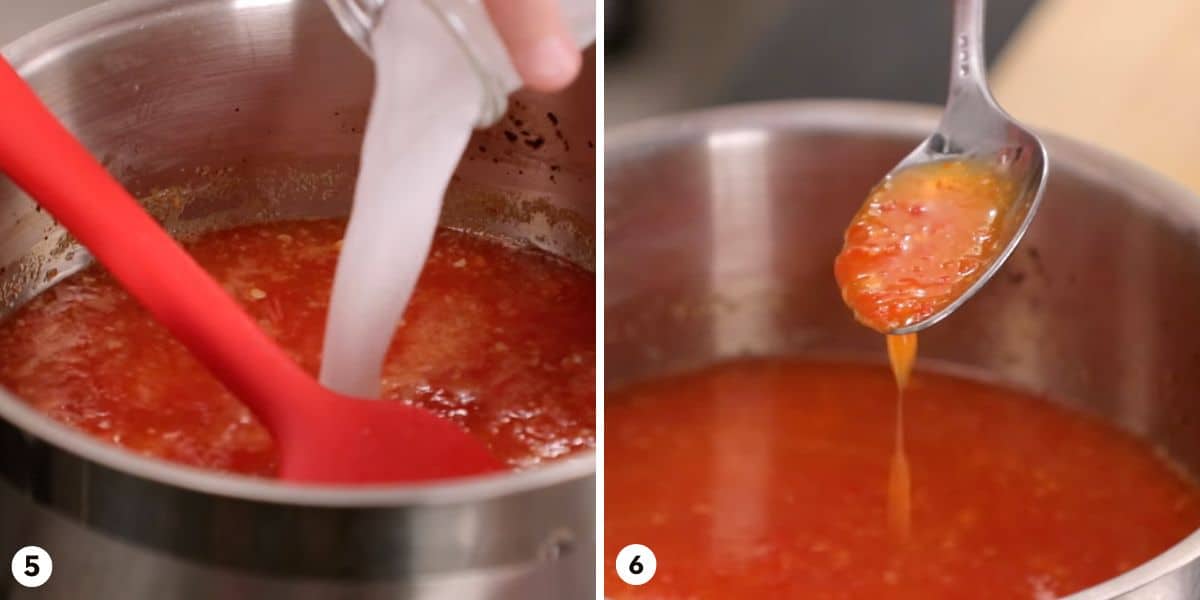 Dissolve tapioca starch or cornstarch in water and stir the slurry into the sauce.
Keep stirring until it comes to a boil, then remove from heat. It will thicken further as it cools.
Recipe Tips
When simmering the sauce, be careful not to let stuff sides of the pot burn. To prevent this, keep a wet pastry crush handy and brush off anything that starts to brown. Also, using a small burner will prevent the sides from heating up excessively.
When choosing chilies, while red bell pepper works, if you have the option, choose a red pepper with a thinner pulp which will be less watery. I'm using a "long red pepper," pic below.
Thai sweet chili sauce will keep indefinitely in the fridge; there is no need to freeze. You can also can it to make it shelf stable.
This sauce makes a great homemade gift! Put them in mason jars, put a label and a maybe a bow on them, and anyone would be delighted to receive it!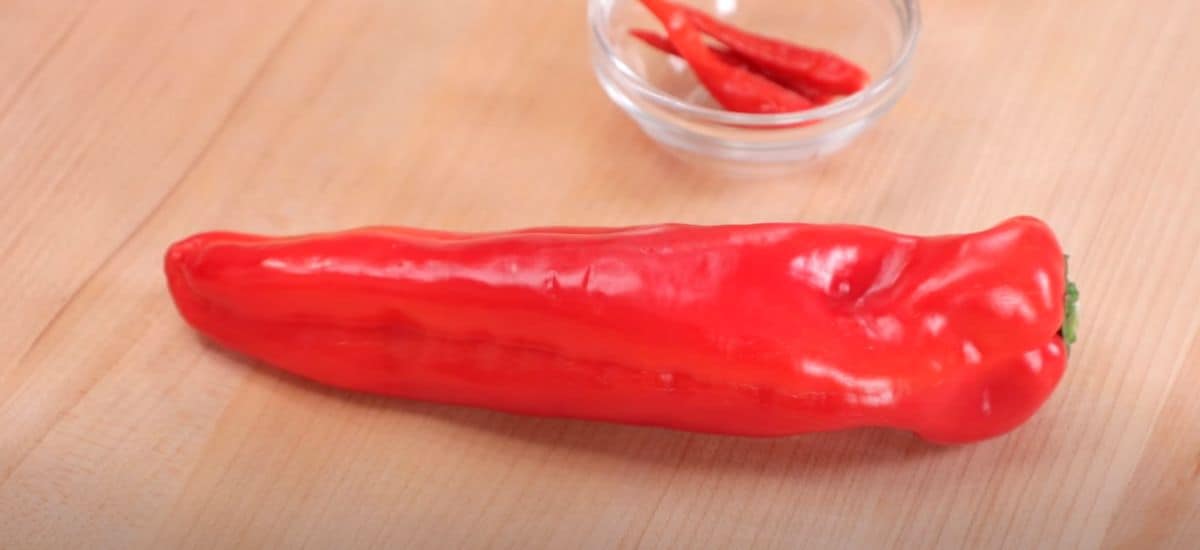 Serving Suggestions
So now that you have the sauce, what can you use it for?? To give you a clue, in Thai this sauce is called nam jim gai, which literally means "dipping sauce for chicken". So fried chicken and grilled chicken are both good candidates.
It's also our standard dipping sauce for all things deep fried such as egg rolls and fried wontons. This is because the sauce is sweet and sour, and most fried foods are primarily salty, so the combination works perfectly to balance all the flavours.
Here are a few deep fried recipes you can check out: Green curry spring rolls, crispy vegetarian spring rolls, Thai fish cakes, or crispy fried wontons.
FAQ
How spicy is Thai sweet chili sauce
Usually, Thai sweet chili sauce is quite mild. What you buy from stores is probably kid-friendly. When you make it yourself, however, feel free to make it a little spicier if that's your thing, and in Thailand, they can be up to "medium" spicy. Adding 1-3 Thai chilies per recipe is a good start.
How to store Thai sweet chili sauce
Keep this sauce in the fridge and it will last a very long time because of the high sugar and vinegar content. In fact, I've never seen this sauce go bad in my fridge, even after several months. Some separation might occur - a layer of water might collect on the top - this is normal and you can just stir it back together.
Is sweet chili sauce gluten-free?
Yes. This recipe is gluten-free, and most store bought ones are also gluten free.
Watch The Full Video Tutorial!
All my recipes come with step-by-step video tutorials with extra tips not mentioned in the blog post, so make sure you watch the video below to ensure success - and if you enjoy the show, please consider subscribing to my YouTube channel. Thank you!
---
Print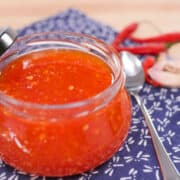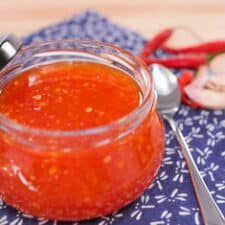 Thai Sweet Chili Sauce (perfect for fried foods) น้ำจิ้มไก่
---
1 cup

medium/mild red chilies, chopped

1

-

3

Thai chilies, or to taste

8

cloves garlic, smashed

1 cup

sugar

⅓ cup

water

¾ cup

white vinegar

1½

  teaspoon fine grain salt

1 Tbsp

tapioca starch dissolved in 3 tablespoon water (or use cornstarch)
---
Instructions
Blend both chilies, garlic, and water until it looks slushy but not smooth—stop blending as soon as you don't see any more big chunks.

Transfer into a heavy bottomed pot. Add sugar, vinegar and salt and stir to mix.

Bring the mixture to a simmer, stirring in the beginning just until all the sugar is dissolved. Let simmer for 5 minutes. Keep a wet pastry brush handy and if the sides of the pot starts to brown, brush it off with some water to prevent it from burning. 

Once it is done simmering, add tapioca slurry while stirring, and keep stirring until it comes to a boil.

Remove from heat, taste and adjust seasoning as needed. Transfer into a jar and let cool. This will keep in the fridge for many months (I've yet to see it go bad!).

Serve with fried chicken, spring rolls, or any deep fried foods.
Become a Patreon Member and Get Exclusive Content & Rewards!
---
Notes
Note: In Thailand we traditionally use spur chilies, also known as "prik chee fa", but you can use any mild-to-medium red chili pepper that you can find. We basically need this for the bulk of the chili flavour and colour, so as long as it's not too spicy!
Keywords: sweet chili sauce, dipping sauce, chili sauce, deep fried