My goal for this recipe is to prove to you that Thai fried chicken is the best in the world, no exaggeration 😉. Specifically, Hat Yai style fried chicken; Hat Yai being my hometown in southern Thailand. I've had fried chicken from all over the world, and I still haven't experienced one better than ours. Read on, then try the recipe (it's really quite easy) and see if you agree!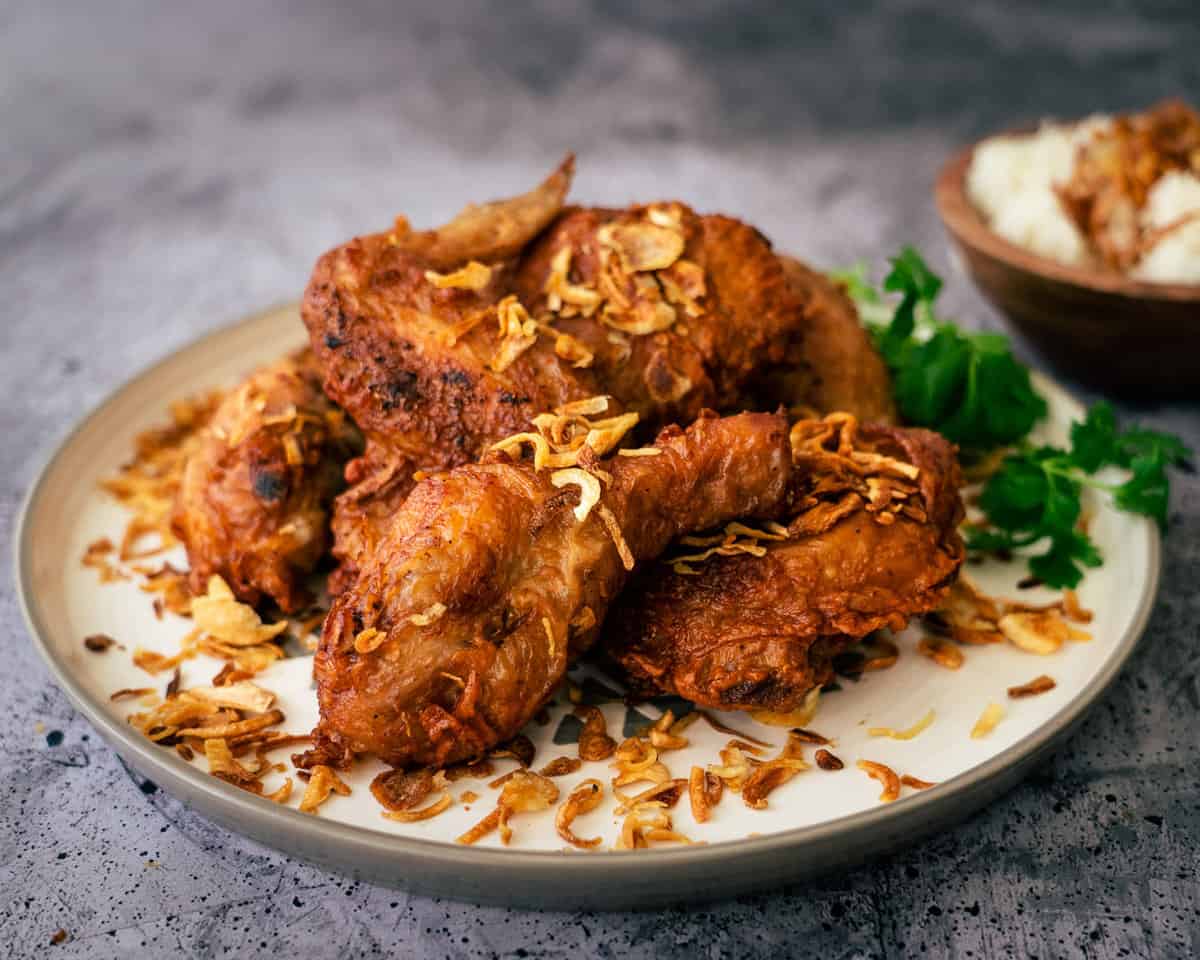 What is Thai Fried Chicken?
While this particular style of fried chicken originated from Hat Yai, it's now made all over Thailand because it's that good, (and therefore I'm simply calling them Thai fried chicken going forward). It's so popular that Lays Thailand now makes "Hat Yai Fried Chicken" flavour potato chips!
Thai fried chicken has a few unique features:
The marinade/brine - a unique combination of Thai ingredients give them a distinct flavour; and in my version, the added water acts as a brine, which flavours the meat all throughout, so the meat and the crust are flavourful.
The crust - unlike American style fried chicken, these do not have a thick, chunky, craggly crust. It's a thin and crispy crust that enhances, but doesn't overpower, the meat's wonderful flavour.
The fried shallots - these sweet, crispy flakes of fried shallots compliment the chicken, sweetens the sticky rice, and takes the dish to the next level. You can make uber tasty Thai fried chicken without the shallots, but you cannot call it Hat Yai fried chicken without them.
Ingredients
Here are all the ingredients you'll need for Thai fried chicken. As you can see, it's really all quite basic, but the result will surprise you.
Note: Some people add spices like cumin and coriander seeds to their Hat Yai fried chicken marinade, but the version that I grew up with doesn't have any spices, which I prefer (biased, I know). I also find this simpler version to be a better "everyday" fried chicken that can go with any side dish, Thai or not.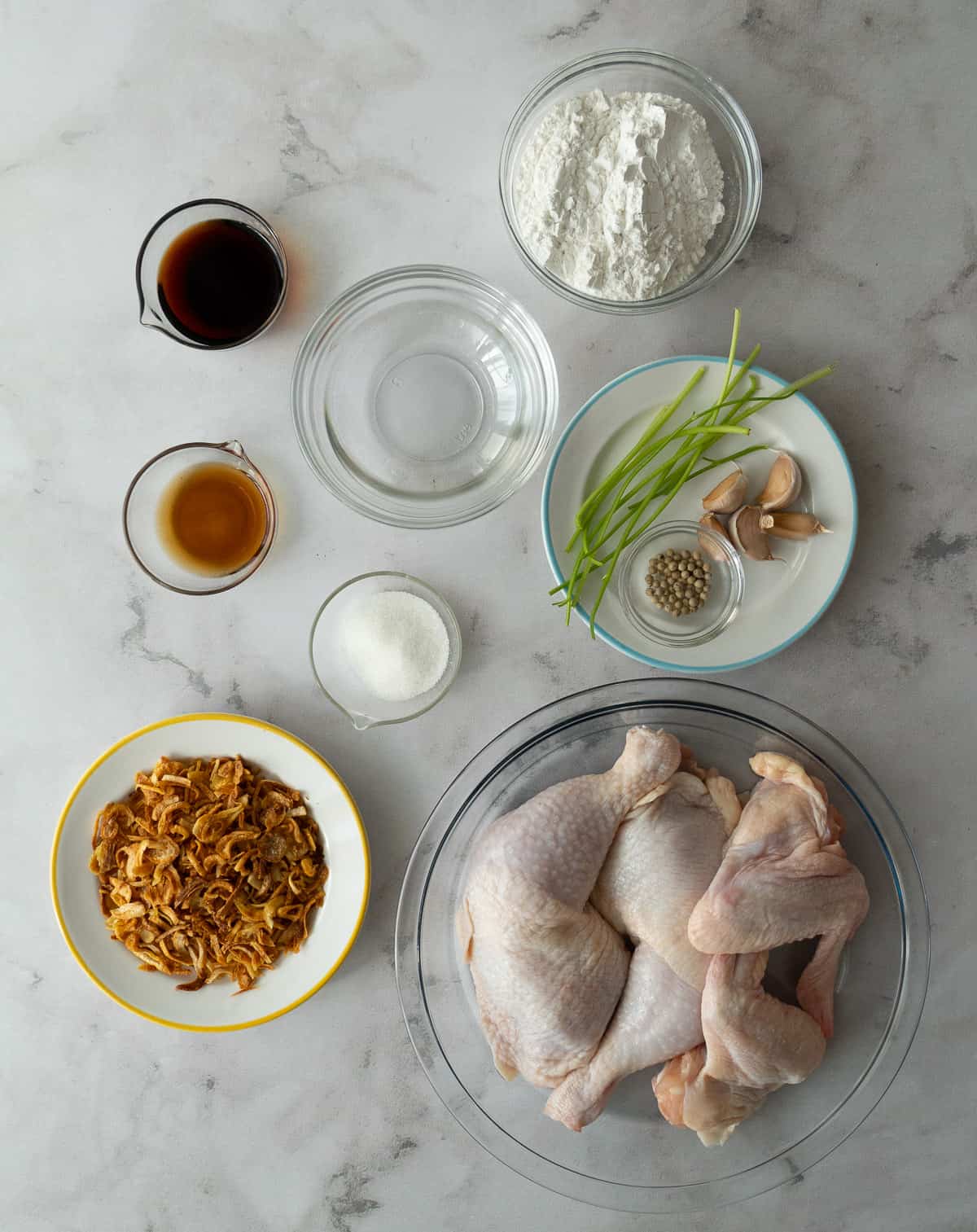 Bone-in skin-on chicken - I only use thighs, drumsticks and wings. You can use breasts if you like them, but many chicken vendors in Thailand only sell dark meat because breasts can easily become dry. If buying wings, get whole rather than split wings for the more authentic Thai look.
Garlic
Cilantro stems or roots
White or black peppercorns
Sugar
Soy sauce - This is one recipe where I strongly recommend getting Thai Healthy Boy Brand soy sauce; either the mushroom flavoured or the regular one. But if you can't find it, other kinds of light or regular soy sauce will work.
Fish sauce
Water
Rice flour
Crispy fried shallots - homemade or store bought. If using store bought the shallots can be a little stale, so please see my trick for refreshing and improving them in the recipe card. If making your own, check out this in-depth guide to making fried shallots to ensure success!
Sticky rice for serving - this is optional but recommended for the Thai experience. Here are 7 different ways to cook sticky rice.
How to Make Thai Fried Chicken (Hat Yai Style)
Here's a bird's eye view of the process, but please watch the full video tutorial to ensure success before you start!
Prepping the Chicken Marinade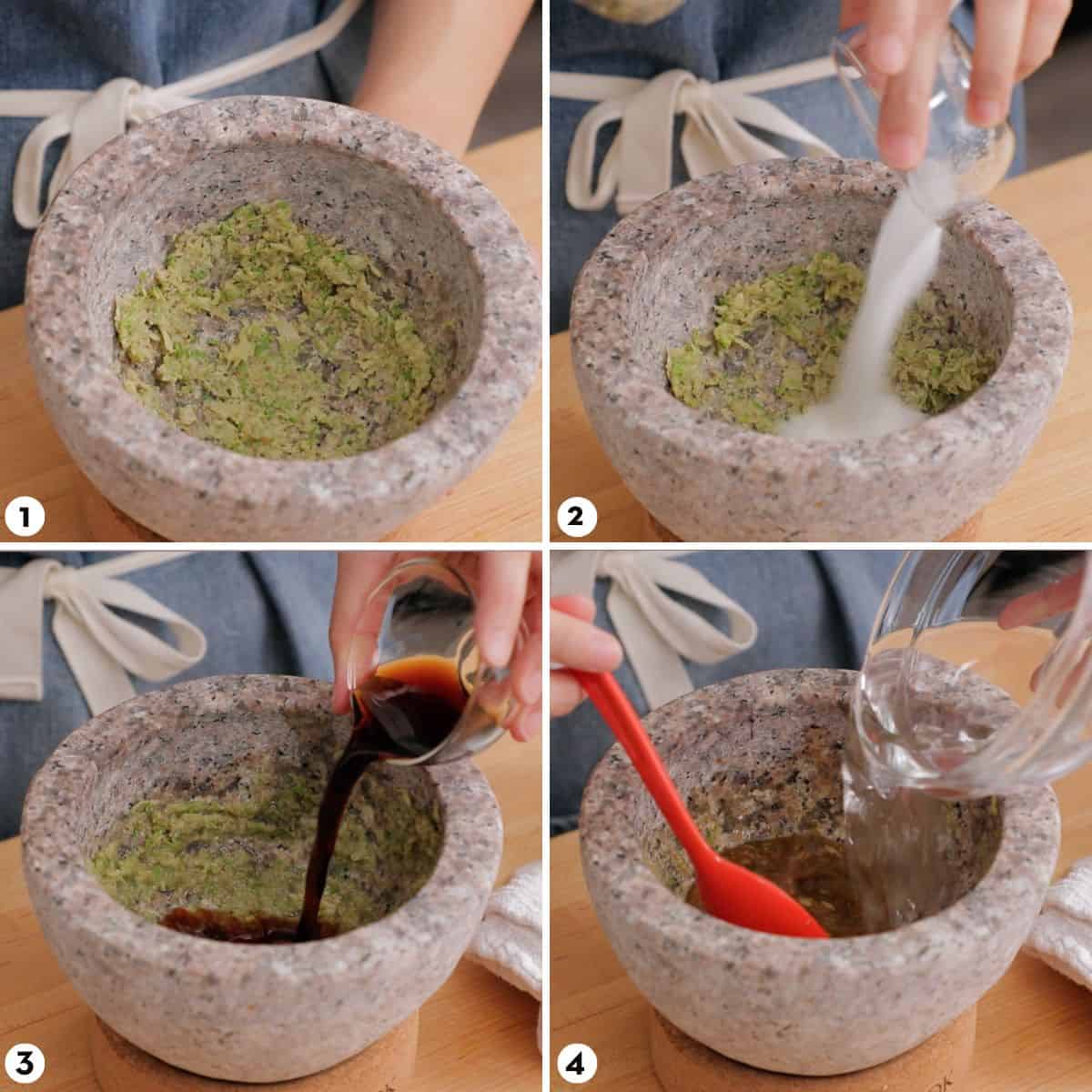 Pound peppercorns, garlic and cilantro stems until fine.
Add sugar and swirl with the pestle to dissolve the sugar and grind the herbs further.
Add soy sauce and fish sauce.
Add the water and mix.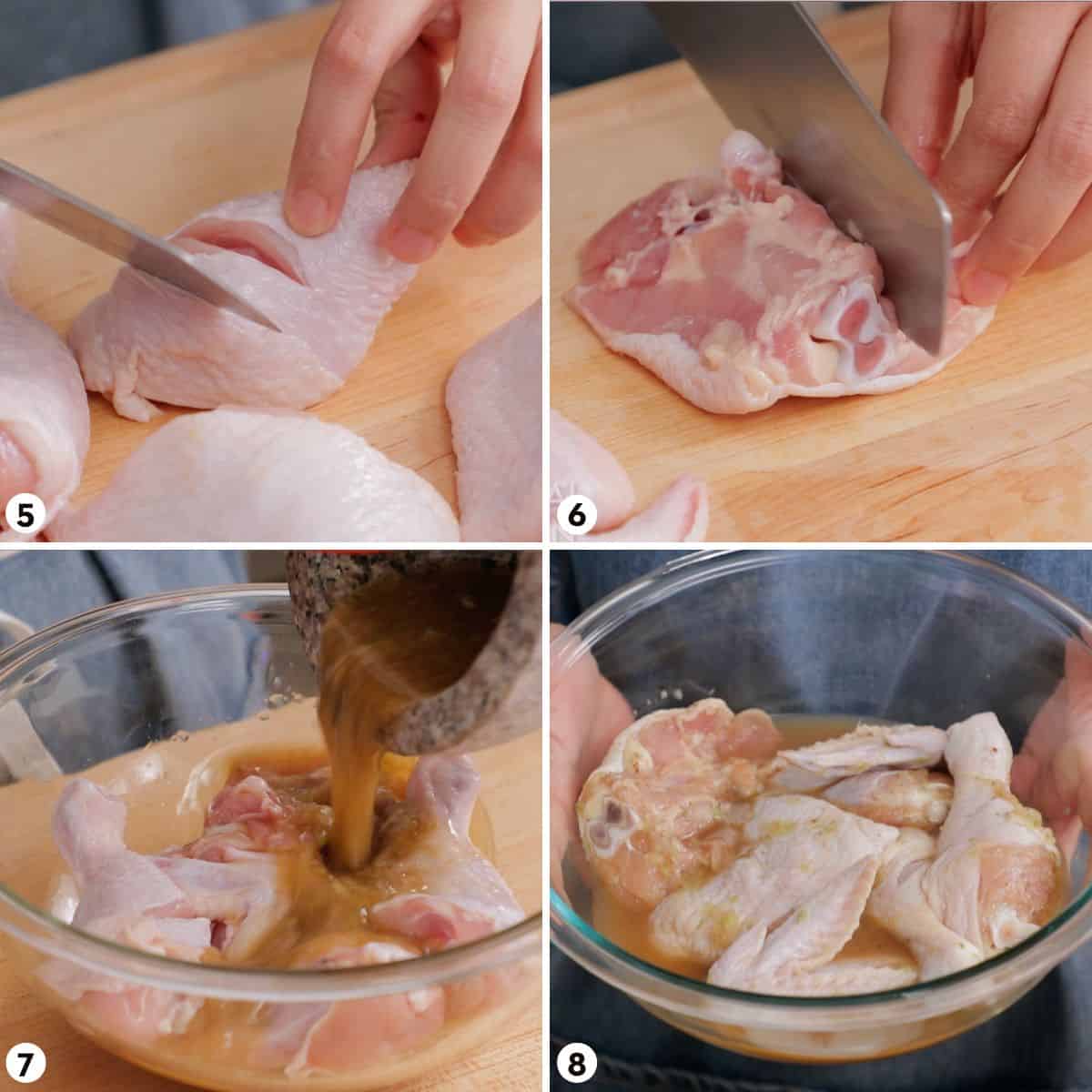 For drumsticks, make two incision into the thickest part of the meat, one on each side of the leg.
For thighs, make two incisions on either side of the bone.
Pour the marinade onto the chicken and mix well.
Allow to marinate for at least 4 hours, (preferably overnight), flipping halfway though. Bring the chicken out at least 30 minutes before frying.
Frying the Chicken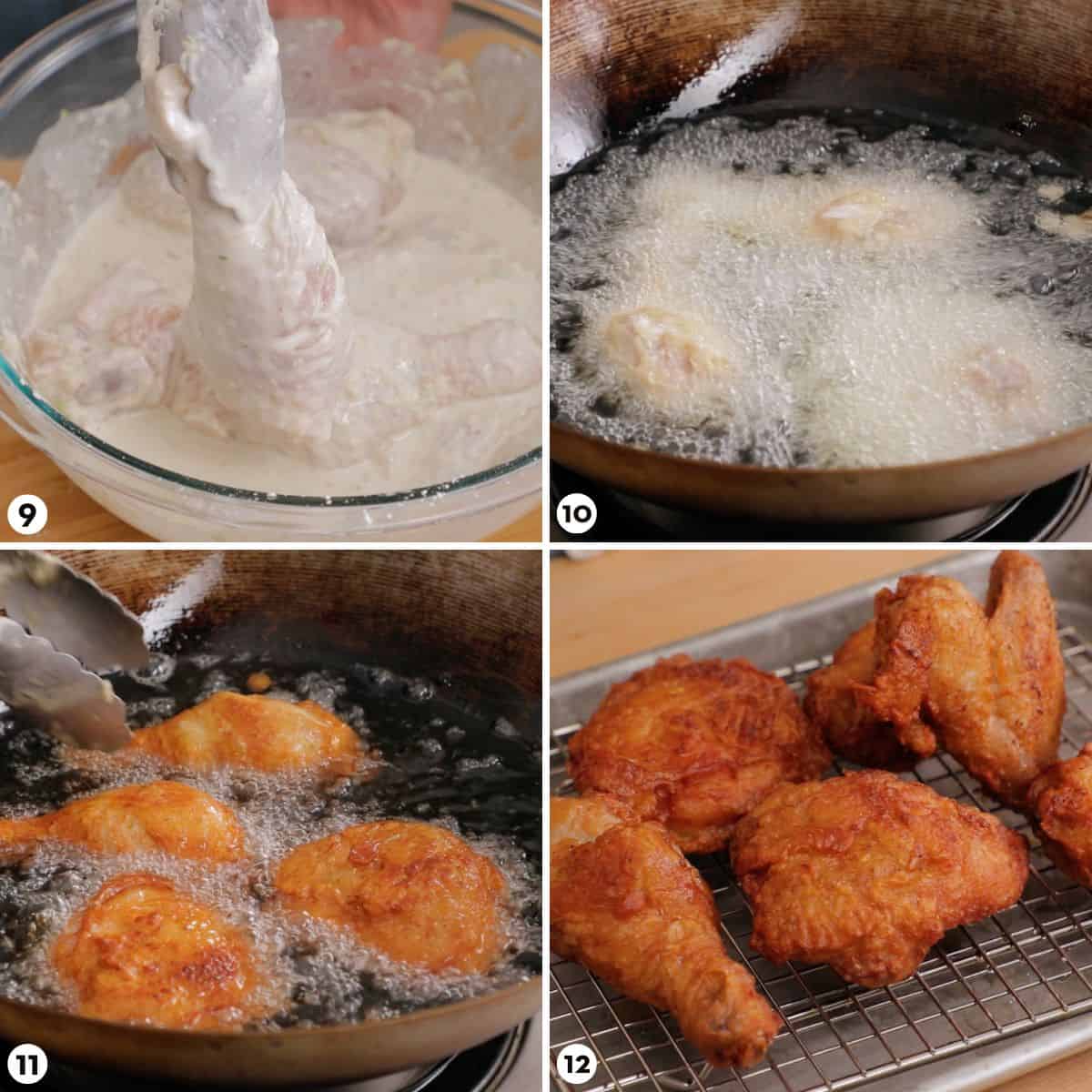 Add rice flour to the chicken (still in the marinade) until you have a thin batter that thoroughly but lightly coats the chicken.
In a wok or a large heavy-bottomed pot heat about 2 inches of oil to 375°F (190°C) and add as many pieces of chicken as will fit without crowding.
Let the temperature drop to about 300°F ( 150°C) and adjust the heat to maintain it there. Flip the chicken regularly until well browned, and remove them when the internal temperature reaches 175°F (79°C) for dark meat and wings, and 155°F (68°C) for breast.
Allow to cool for 5-10 minutes before eating!
To Make the Crispy Fried Shallots
Making homemade fried shallots isn't hard, but you can absolutely use store bought to save time if you'd prefer. But if buying, make sure you use my trick below for refreshing them and they will be 10x better than right out of the bag!
Note: Making fried shallots can be a bit tricky, so below is just an overview of the process - but be sure to watch the video tutorial for details to ensure success, or check out this post for an in-depth discussion on fried shallots!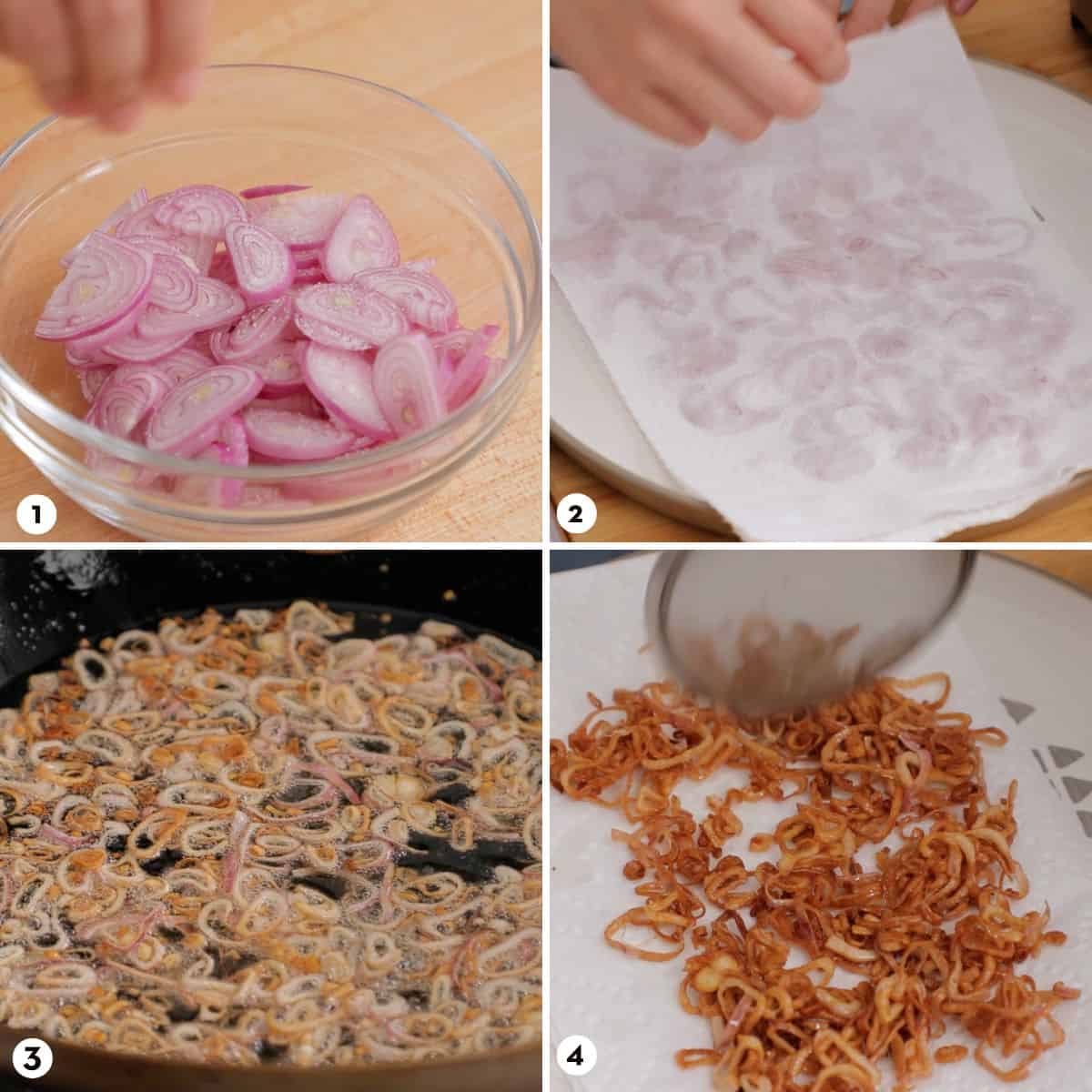 Salt the shallots lightly and toss to mix. Let sit for 10 minutes to allow the salt to draw out the water.
Spread the shallots out onto paper towel, and press another piece on top to dry them.
Fry on low heat, stirring frequently, until golden brown and the bubbling has mostly subsided.
Scoop them out and drain on paper towel.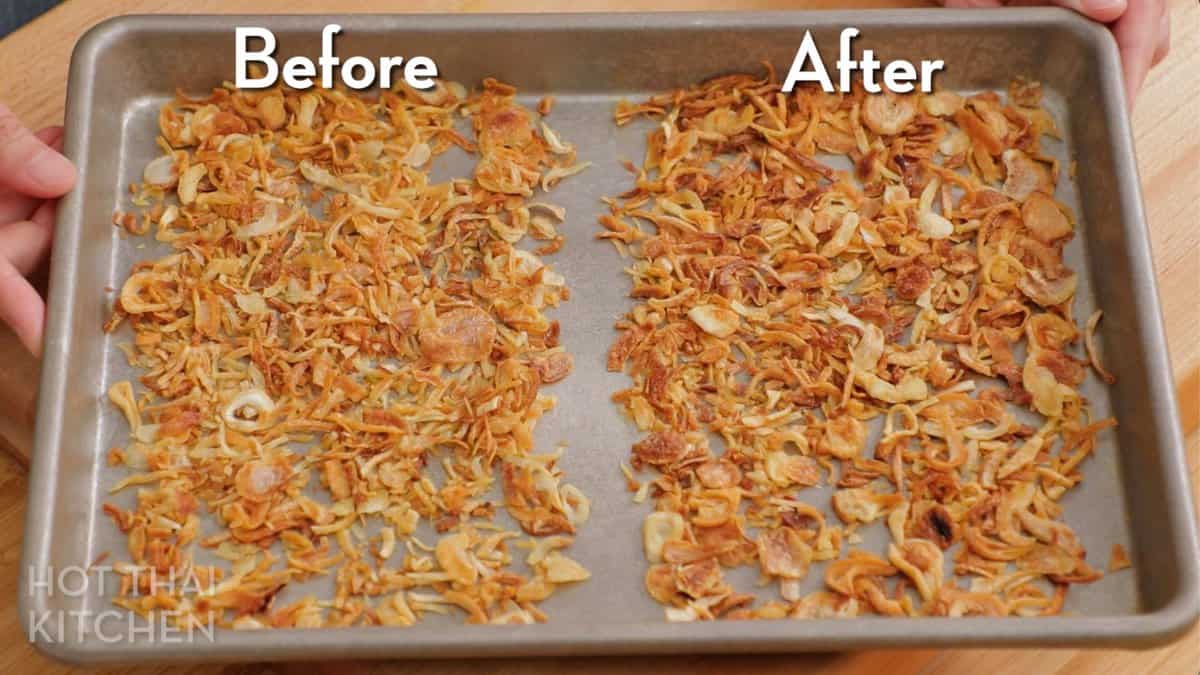 Recipe Tips
Here are a few tips for success!
If using store-bought fried shallots, they are usually a bit stale as they were fried long ago. Refresh them by baking them in a 300°F (150°C) oven for 5 minutes. They will be crispier and ever so slightly darker, and 10x more delicious!
If making your own fried shallots, fry them in the same oil that you use to fry the chicken, so the chicken picks up some shallot flavour in the oil.
Pull the chicken from the fridge at least 30 minutes and up to 90 minutes from the fridge before frying. If they go into the oil fridge-cold they will take a very long time to cook and you'll risk overcooking the exterior.
Choose smaller chicken. Factory-farmed chicken these days can be massive, and in N. America they're much bigger than Thai chickens! If possible, choose smaller chicken and you'll be rewarded with a higher crust-to-meat ratio, and it'll take less time to fry. If the thighs are very big, consider trimming some meat off the sides and frying these off as snacks.
Best Sides for Thai Fried Chicken
You can eat Thai fried chicken with anything you normally love with fried chicken, but for the authentic Thai experience, the following are the classic side dishes.
Thai Sticky Rice
Sticky rice is an absolute must-have whenever Thai people eat fried chicken. While we eat jasmine rice with most meals, the heft and chewiness of sticky rice can better hold up to big pieces of meat than the lighter and fluffier jasmine rice.
It's theoretically optional, but you will never find a fried chicken vendor in Thailand, Hat Yai or otherwise, that doesn't also sell sticky rice. Here are 7 different ways to cook Thai sticky rice!
Green Papaya Salad
Thai cuisine is all about balance, and to balance the salt and fat in fried meats, we turn to green papaya salad or som tum. This is THE salad Thai people eat with any kind of grilled and fried meats.
If green papaya isn't available, replace the green papaya with a coleslaw mix of cabbage and carrots. Or try a similar recipe, like this Thai corn and cucumber salad, that uses a similar dressing and technique.
Before you start, be sure to watch the video tutorial to ensure success! I always include little tips and tricks not mentioned in the blog post. You can also watch it on my YouTube channel!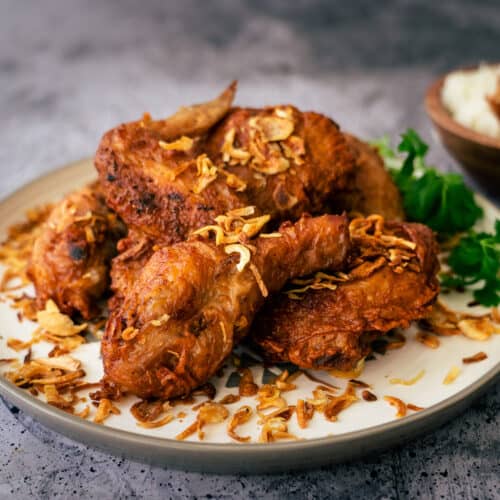 Thai Fried Chicken - Hat Yai Style
Hat Yai fried chicken started out in southern Thailand, but has become beloved all over the country. With a light and crisp crust, flavourful marinade, and crispy fried shallots, these are easily the best fried chicken in the world.
Ingredients
1 ½

lb

bone-in, skin-on chicken

,

(see note 1)

5

cloves

garlic

8

cilantro stems

,

chopped

¾

teaspoon

white peppercorns

,

or black

2 ½

teaspoon

sugar

1

tablespoon

fish sauce

½

cup

water

1

cup

rice flour

Oil for frying

,

(see note 3)

Fried shallots

,

store bought or recipe below (see note 4)

Sticky rice,

for serving (optional)

Sweet chili sauce,

for dipping (optional, see note 5)
Fried shallots
3

heads

shallots

,

or however much you want

a pinch

salt
Check Out Ingredients and Kitchen Tools I Use
Notes
I prefer drumsticks, thighs and wings only, but you can also do breasts if you like them. 

Non-Thai soy sauce is okay to use too, but for the true taste of Thai fried chicken, Thai soy sauce is recommended. 

Canola oil, peanut oil or any neutral-flavoured vegetable oil will work. 

I recommend refreshing store bought shallots by spreading them out onto a baking sheet and baking them in a 300°F (150°C) oven for 4-5 minutes. This makes them crispier!

In Thailand people often serve sweet chili sauce with fried chicken so the sweet-and-sour flavour can balance the fat and salt. You can buy it or use my easy sweet chili sauce recipe. This chicken is so good I don't think it needs any sauce, but if you already have some, give it a try!
All my recipes come with step-by-step video tutorials with extra tips not mentioned in the blog post, so make sure you watch the video to ensure success. If you enjoy them, consider subscribing to the YouTube Channel to not miss an episode. Thank you!
Subscribe to my YouTube Channel
Instructions
To prep the chicken:
For drumsticks, score the thickest part of the meat on either side of the chicken, about 1 cm deep, to help the marinade penetrate and to help it cook faster. 

For thighs, trim off any hanging excess skin, then flip the chicken so the meat side is up, then make a 1 cm incision on either side of the bone (this is the thickest part of the meat).

1 ½ lb bone-in, skin-on chicken
For the marinade:
Pound white peppercorns until fine, then add garlic and cilantro stems and pound into a fine paste. Add sugar and swirl the pestle around to help further grind the herbs.

5 cloves garlic,

8 cilantro stems,

¾ teaspoon white peppercorns,

2 ½ teaspoon sugar

Add fish sauce, soy sauce, and water and stir to mix; then pour into a large zip-top bag or a mixing bowl. Add the chicken, mix well, and let marinate for at least 4 hours, preferably overnight. Flip the chicken half way through.

2 tablespoon Thai soy sauce,

1 tablespoon fish sauce,

½ cup water
For the fried shallots:
Slice shallots evenly, crosswise, into 2mm thick pieces and place them in a bowl. Add a pinch of salt and give it all a toss to mix, then let it sit for about 10 mins. The salt will draw out moisture from the shallots during this time. 

3 heads shallots,

a pinch salt

Spread the shallots out on a paper-towel-lined plate and press another piece of paper towel on top to dry off the drawn out moisture. This helps the shallots crisp up faster, and the salt also seasons them.

Add about 2 inches of frying oil in a wok or a large pot (this will also be for your chicken), then add one test piece of shallot into the oil. Turn the heat on high and keep an eye on it.

Once the test shallot has a constant stream of bubbles coming out, turn the heat down to low and add the remaining shallots, stirring them frequently as they fry, (about 5-8 minutes). Meanwhile prepare a large plate or baking sheet lined with double layer of paper towel. and scoop them out with a wire skimmer once they are golden and the bubbles have mostly subsided . 

Once the shallots are golden, scoop them out with a mesh skimmer and drain them on the paper towel. They will darken more after the leave the oil, so take them out a little early. Use this same oil to fry the chicken.
To fry the chicken:
Heat 2 inches of oil in a wok or a large pot to 375°F (190°C) on medium heat. Meanwhile, if the chicken is in a bag, transfer them into a large mixing bowl and add about ¾ cup of the rice flour and mix until there are no more lumps (your hands are best for this, but tongs are fine too). Add more rice flour as needed to get a thin batter that thinly, but thoroughly, coats the chicken. If the batter has become too thick, add a little water at a time to thin out. 

Oil for frying,

1 cup rice flour

Once the oil is ready, add half of the chicken (or all of it if you've got the pan space) and allow the oil temp to drop to about 300°F/150°C - and from this point on, adjust the heat to maintain the temperature at 300°F/150°C. 

Fry the chicken, flipping them every 1-2 minutes until dark meat reaches 175°F/79°C internal temp, and breast (if using) reaches 155°F/68°C. The chicken should have a deep brown colour. Drums and thighs should take 10-12 minutes, and whole wings about 6-8 minutes; but timing will vary depending on the size of the chicken and how cold they were to start. 

Let the chicken cool for 5-10 minutes before eating so as to not burn yourself with incredible juiciness! Serve with sticky rice and fried shallots. I like to put the shallots on the sticky rice, but if not serving sticky rice you can just eat it along with the chicken.
Watch my videos AD-FREE and get bonus content on Patreon!
Tried this recipe? Share a pic!
Tag @hotthaikitchen on Instagram and Twitter!
You might also like...