Canadian + Thai = Delicious
This is a mashup of Thai and Canadian flavours that work beautifully, and happens to be easy and quick, perfect for when you're busy with all your other Thanksgiving prep! Fish sauce is full of umami, which gives depth and complexity to these vegetables. The sweetness from the maple syrup helps soften the slight bitterness inherent to Brussels sprouts (also known as Brussel Sprouts), and balances the saltiness of the fish sauce.
The fried garlic is optional, but really recommended, and the golden sprinkles really up the presentation game. You can also make the fried garlic a few days ahead and store in the fridge. If not, a little bit of granulated garlic added along with other seasonings will do the trick!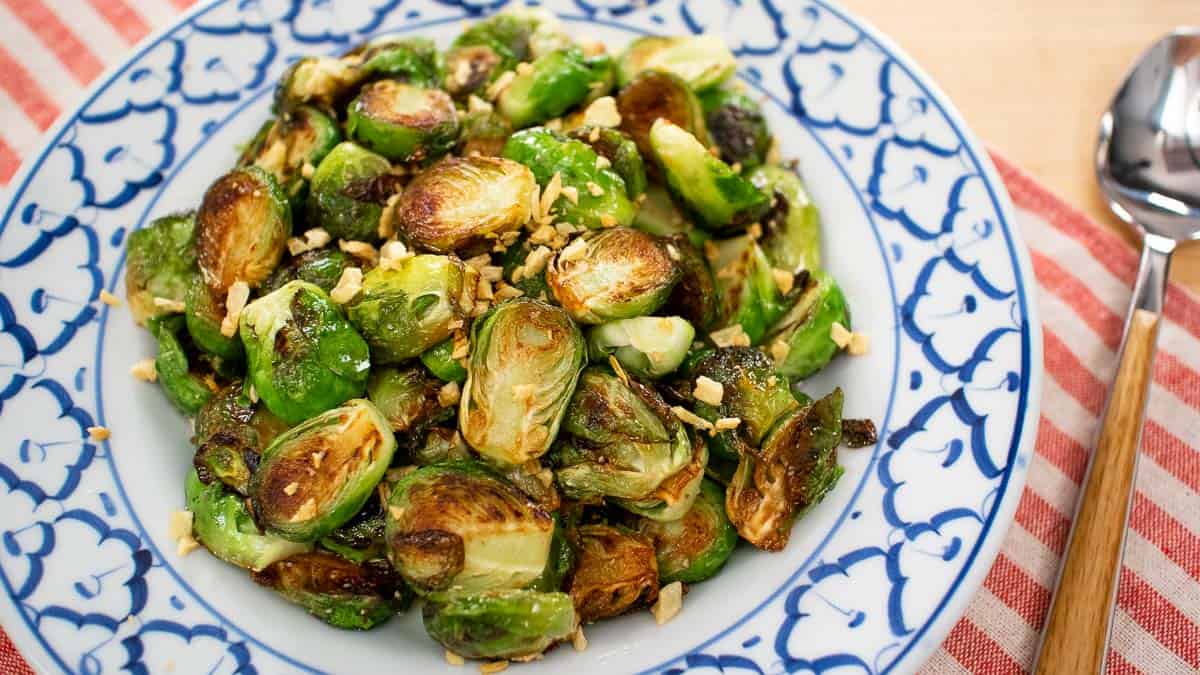 Pan-Searing Brussels Sprouts is the BEST Way (if you don't have a lot to cook)
I learned this technique from America's Test Kitchen, and I will not cook Brussels sprouts any other way again. Pan searing allows them to fry and brown beautifully while still keeping the al dente texture that I like. If you oven roast them, they will be soft all the way through by the time this level of browning is achieved.
It only takes 5 minutes per batch, and for 1 lb of sprouts you will need to do 2 batches if you have a 12-inch skillet. Because of the batch size limitation it's not ideal if you have a ton of sprouts to cook, so in that case I would consider oven roasting and then tossing them in the seasoning as per the recipe. Due to the pandemic this year though, most of us are not going to having large gatherings, so 1 lb is going to be enough for most of us!
Some Useful Links
Watch The Full Video Tutorial!
All my recipes come with step-by-step video tutorials with extra tips not mentioned in the blog post, so make sure you watch the video below to ensure success! And if you enjoy the show, please consider subscribing to my YouTube channel. Thank you!
---
Print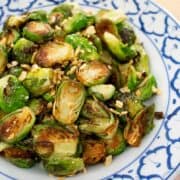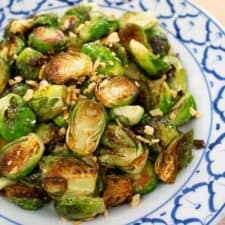 Maple Fish Sauce Brussels Sprouts
Author:

Pailin Chongchitnant

Prep Time:

15 minutes

Cook Time:

20 minutes

Total Time:

35 minutes

Yield:

4 servings

Diet:

Gluten Free
---
Description
These brussels sprouts are browned to perfection with no oven required! The sweetness of maple syrup and umami of fish sauce combine to make the perfect side to your Thanksgiving feast, Christmas dinner, or any meal on any regular day.
---
Neutral flavoured oil, as needed

1

lb (450 g) Brussels sprouts (trimmed weight)

4 tsp

(20 ml) fish sauce

1 Tbsp

(15 ml) maple syrup

¼ tsp

white or black pepper
Fried garlic (optional) or sub ¼ teaspoon granulated garlic
Fried Garlic
5

-

6

cloves garlic, chopped

4 Tbsp

(60 ml) neutral flavoured oil
---
Instructions
For The Fried Garlic:
In a small pot or a round-bottomed wok set over medium low heat, add the oil and one little piece of chopped garlic as a "heat tester". Once the tester garlic starts to bubble, add the rest of the garlic. There should be enough oil to just cover the garlic; if not, add more oil.
Fry the garlic, stirring frequently, until golden (not browned) and the bubbling has subsided.
Either strain the garlic through a metal sieve or use a fine mesh skimmer to remove it from the oil, then put the garlic on a paper towel lined plate to absorb excess oil. Keep the oil for frying the Brussels sprouts.
For the Brussels Sprouts
In a large skillet (the biggest one you have) add just enough oil to completely coat the bottom. Place the Brussels sprouts, cut side down, and fill the pan completely while making sure all pieces are making full contact with the pan. You will need to do this in 2 batches if using a 12 inch skillet.
Turn heat on medium high and let them cook without stirring until well browned on the bottom side, about 4 minutes. (A mesh splash guard would come in handy here.) Flip the sprouts and cook the other side for just one more minute. I recommend tossing the pan for faster flipping, then go back and turn over any that did not cooperate.
Remove the sprouts from pan with tongs, leaving the oil behind, and put them in a bowl for now. Make sure there are no stray bits of sprouts left in the pan, then add more oil and repeat with the second batch.
Once the second batch is done, put the first batch back into the pan, toss just for 10-15 seconds to heat the first batch of sprouts. (Note: In the video, as you saw, we had a bit of smoke alarm drama to deal with (!!!) so I removed the second batch of sprouts from the pan and didn't turn the heat back on to finish. You do not need to remove the second batch of sprouts from pan; just add the first batch back in and toss with seasoning. And ideally your pan would be hotter than mine when you add the seasoning so the sauce will cook a bit.)
Turn off the heat and immediately add fish sauce, maple syrup, and white pepper and toss well to thoroughly coat all pieces with the sauce.
Support the Show on Patreon and get Bonus Content!
---
Keywords: Vegetables, side dish, thanksgiving, holiday, gluten free, healthy, easy,