---
This incredibly simple 4-ingredient cabbage recipe has gained much popularity in Thailand because it is such a delicious side vegetable to go with just about any Thai meal! The humble cabbage transforms into a garlicky, umami dish with just one seasoning ingredient. Hard to believe how good this is given how few ingredients there are, but it's such a useful dish to have in your repertoire because you can cook it up in an instant on a busy weeknight!
Watch The Full Video Tutorial!
All my recipes come with step-by-step video tutorials with extra tips not mentioned in the blog post, so make sure you watch the video below to ensure success - and if you enjoy the show, please consider subscribing to my YouTube channel. Thank you!
---
Print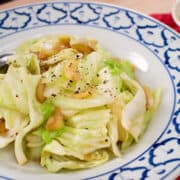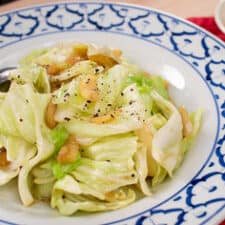 Garlicky Cabbage & Fish Sauce Side Dish กะหล่ำปลีผัดนำ้ปลา
---
---
Instructions
Heat a wok over medium heat and add just a little oil to coat the bottom.
Add the garlic right away (no need to wait for the oil to get hot) and keep stirring the garlic until the edges start to turn golden.
Toss in the cabbage, then turn the heat up to high and toss to get the leaves coated in oil.
Drizzle the fish sauce over the cabbage, add the pepper if using, then keep tossing for 1-2 more minutes, or until the cabbage is done to your liking.
Remove from heat, plate, and garnish with an extra sprinkling of pepper if desired.
Serve immediately. Enjoy!
---
Notes
I prefer Asian style cabbage with more delicate leaves. These are the cabbage heads that look more squat and flat than the more common round ones. But the regular round one will work just fine.