This recipe has quickly become my favourite vegan dish. Glass noodles cooked in a clay pot (which you don't really need) in an umami-loaded sauce, lots of ginger, and topped with mushrooms and veggies - or really, anything you want. Apart from being super tasty, it's easy, healthy, and quick ... what else could you ask for?
This is my vegan take on the more traditional dish: Ginger Shrimp & Glass Noodles Goong Ob Woonsen. Be sure to check that one out if you love shrimp!
This post is sponsored by Pine Brand Glass Noodles.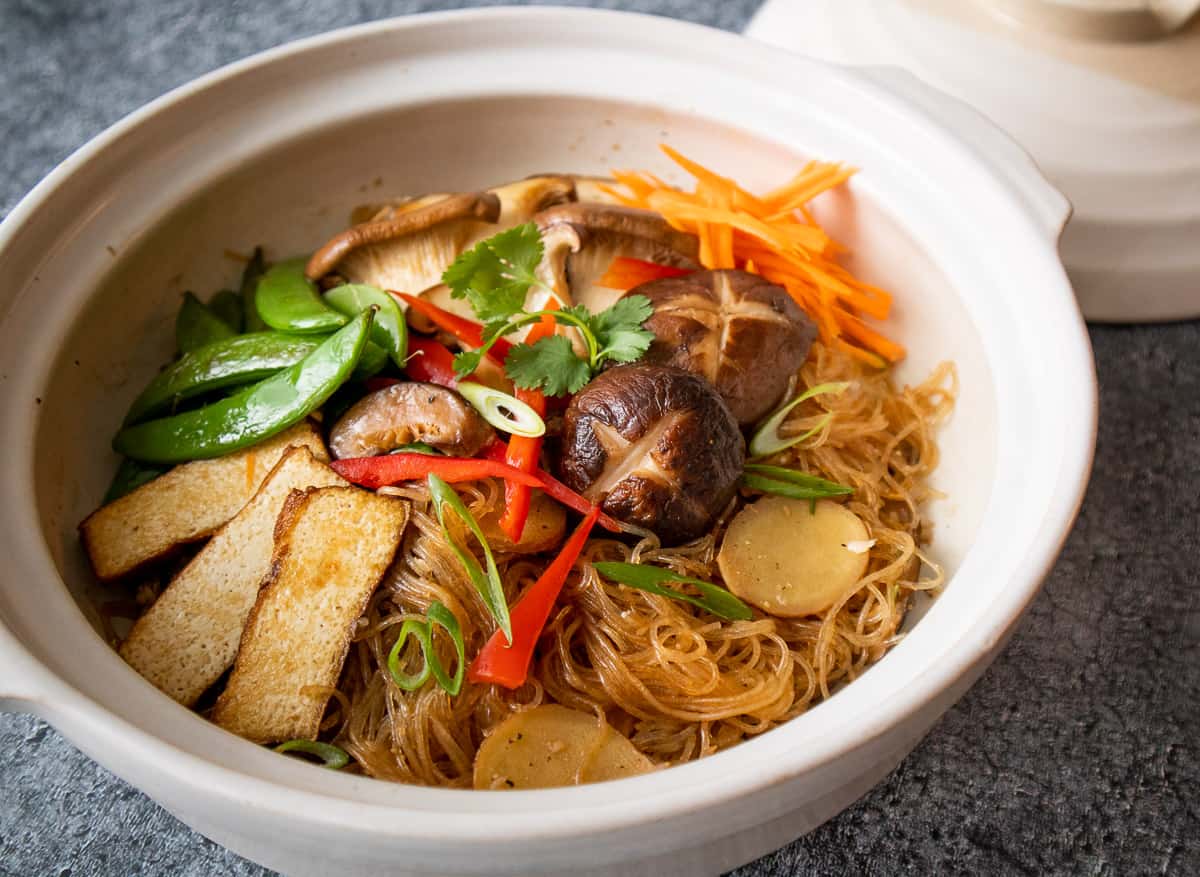 What You'll Need:
Here are all the ingredients for the recipe. The fresh mushrooms and veggies are used as toppings and you can substitute with whatever you prefer. However, I recommend including some kind of mushrooms as they provide a chewy, substantial texture.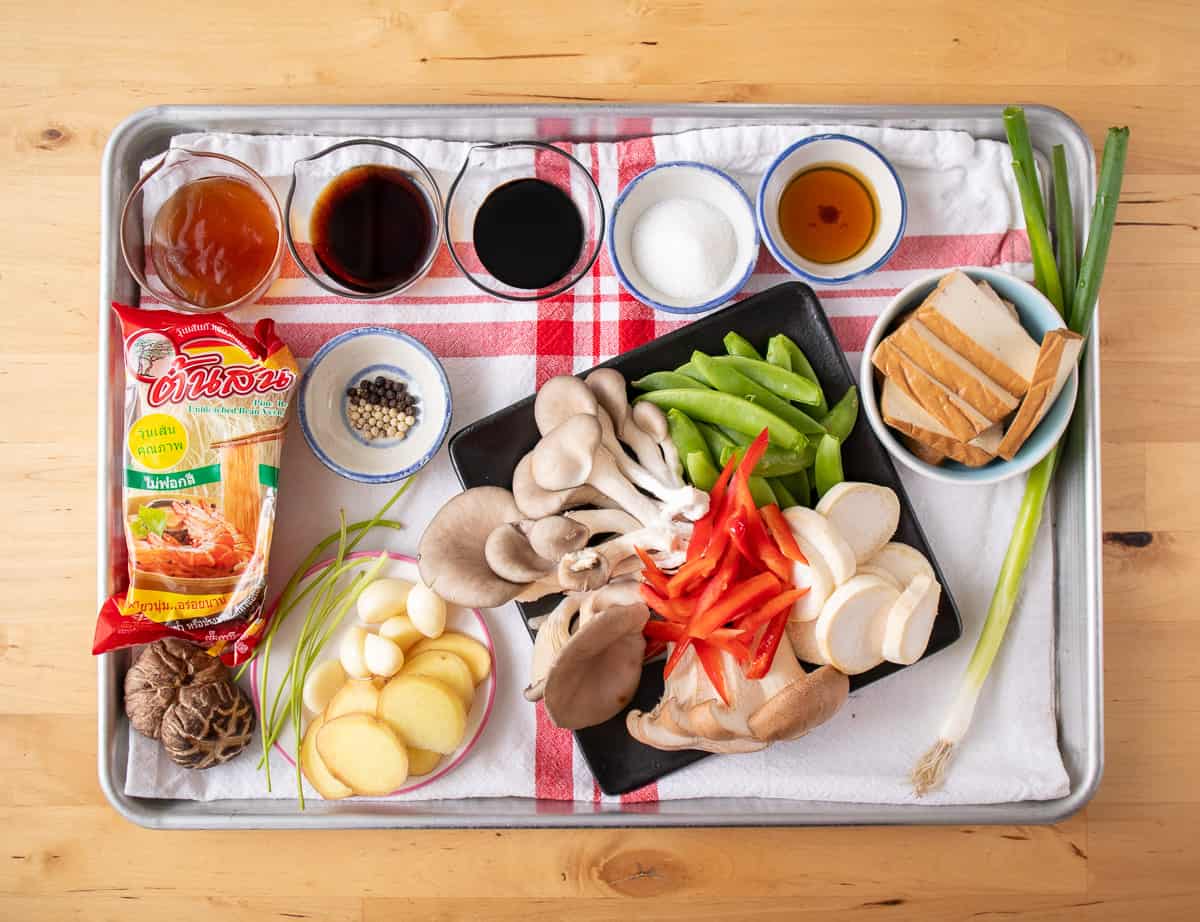 Step-By-Step:
Here's a bird's eye view of the process, but be sure to check out the full video tutorial in the recipe card below to ensure success!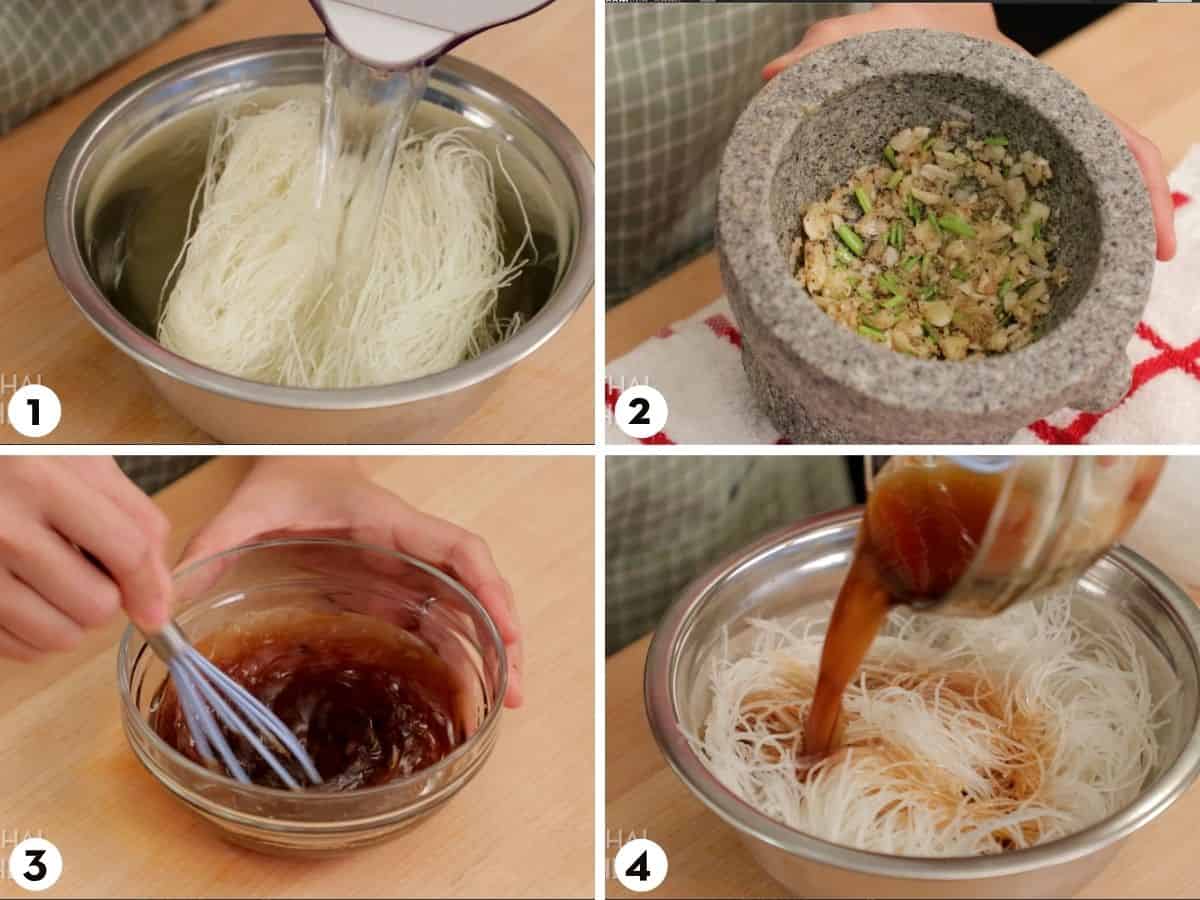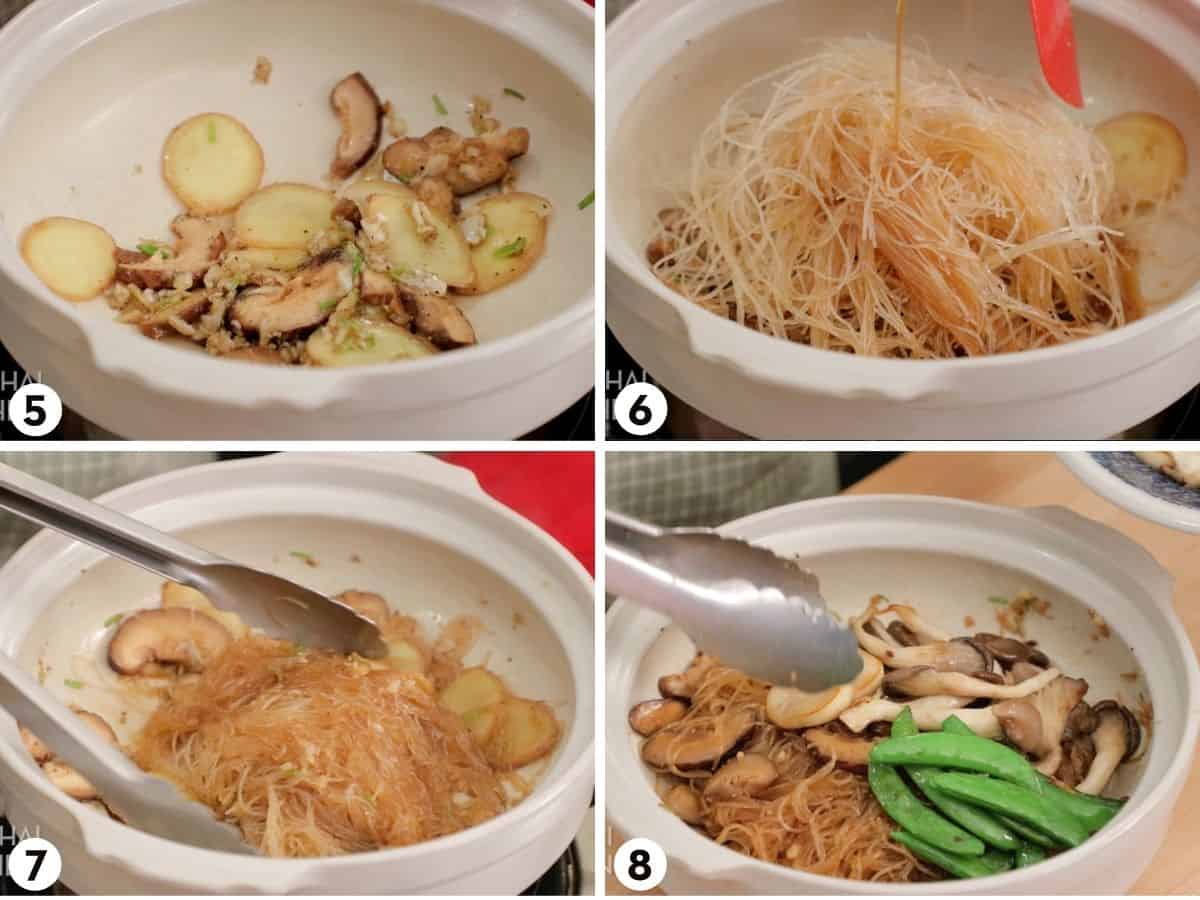 No, you don't need a clay pot.
Traditionally "ob woonsen" is served in the pot that it is cooked in. Originally these used to be clay pots, but most restaurants now use an aluminum version.
The clay pot doesn't actually make any difference to the flavour, but it makes for a more exciting presentation. A heavy-bottomed pot will also work, or a nice enameled cast iron pot (like a Le Creuset). And if it's not pretty, you can always transfer it into a serving bowl!
The secret ingredient you can't skip
Dried shiitake mushrooms. Yes! It looks like one of those things you can skip with no major consequence, but this is how our vegan noodles have so much umami. Dried shiitake mushrooms are loaded with natural glutamates, and they have long been used as a "secret weapon" in Asian vegan dishes.
The mushrooms' soaking liquid is used in the sauce, then the mushrooms themselves get sliced up and tossed in - and trust me, these will be your favourite thing in the dish. Dried mushrooms have a satisfying chew, and they soak up sauce really well, so they become a burst of flavour in each bite.
What are glass noodles?
Thai glass noodles or woonsen are versatile, neutral flavoured noodles made from mung bean starch. They're also sometimes labelled as "bean threads" or "bean vermicelli." They are gluten-free and low GI.
The best quality glass noodles are made from 100% mung bean starch. Some cheaper glass noodles have pea starch and/or potato starch mixed in to cut cost, but this yields a texture that isn't quite as chewy and elastic as pure mung bean starch noodles. Pine Brand is one that is pure, and has been my family's go-to brand in Thailand for years.
*Thai glass noodles are not to be confused with Korean glass noodles that are used in the popular dish japchae. Korean glass noodles are thicker and are made from sweet potato starch. The two cannot be used interchangeably.
What else can you do with glass noodles?
Tons! Glass noodles are THE most versatile noodles that we use in Thai cuisine. You name it, we put glass noodles in it. Soups, salads, stir fries, spring rolls - even stuffed in chicken wings. No other noodles have this big of a resume!
They're also really quick to prepare; just a 7-minute soak in room temp water and they're ready to be used in the recipe. Once soaked, they only take a few minutes to cook.
More glass noodle recipes I think you'll like:
Frequently Asked Questions:
What is vegetarian oyster sauce?
Vegetarian oyster sauce is made primarily from soy sauce, with thickeners and seasonings to mimic the flavour and consistency of oyster sauce. The brand I use and like is Healthy Boy, a Thai brand which labels the sauce as "Mushroom Vegetarian Sauce," but I have seen other brands label it as "Vegetarian Stir-Fry Sauce."

Needless to say, you can use regular oyster sauce for this recipe.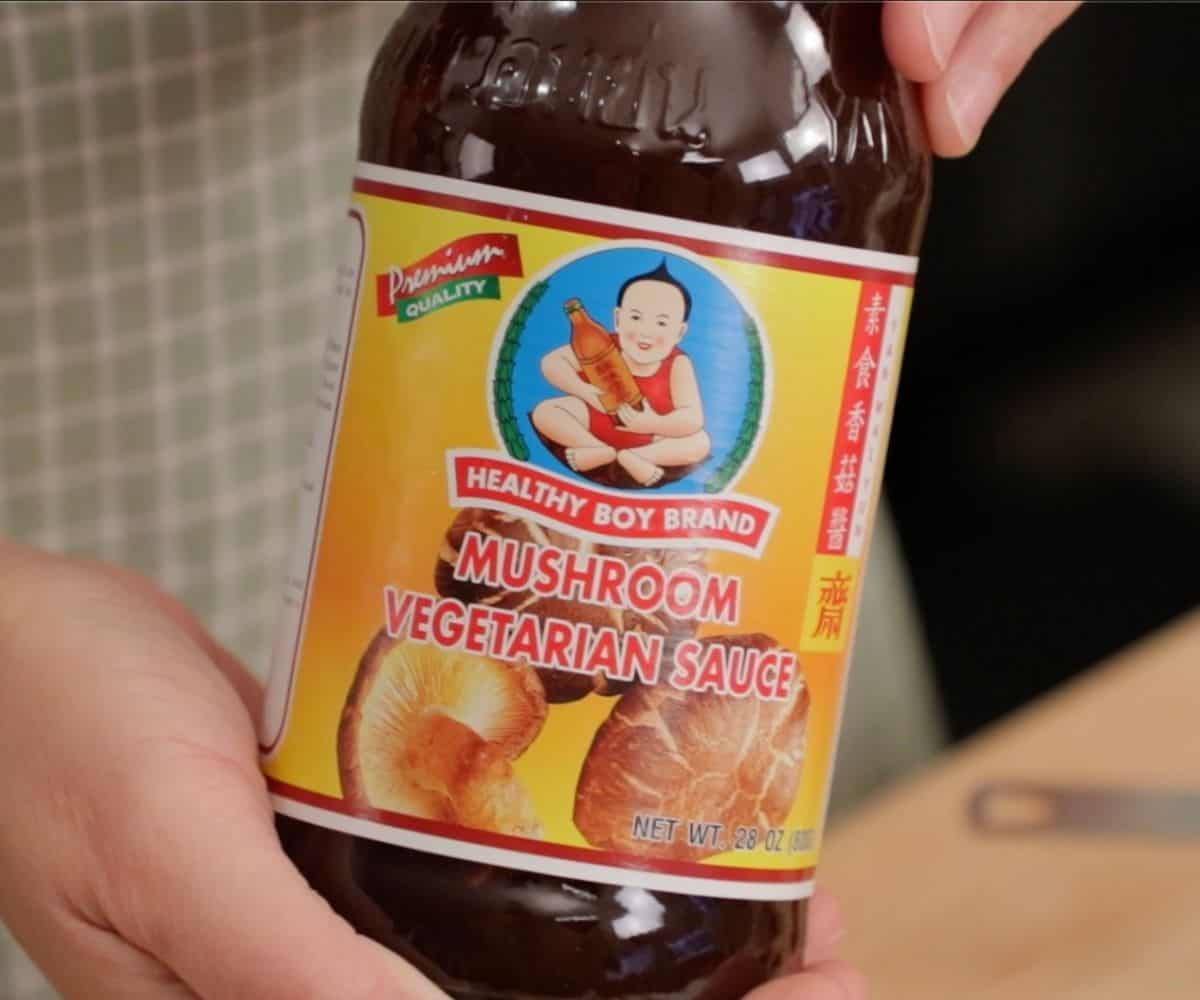 What is "black soy sauce"?
Black soy sauce is the Thai version of dark soy sauce. It's not very salty and is used mainly to add a delicious-looking brown colour to food. It has a strong molasses-y flavour, so it's usually used sparingly.

Chinese dark soy sauce is a great substitute, but it is saltier than the Thai version; so if using more than just a dash or two, you may want to reduce other salty ingredients slightly. Tasting and adjusting is key.
What are some good options for toppings?
I recommend going with mushrooms that have a good chew to them, so anything except button mushrooms generally work; this will be the "meaty" component.

Some crunchy vegetables will add freshness, such as sugar snap peas, celery, or bell peppers.

I also like to add pressed tofu; which for this recipe I buy the marinated kind, but the plain one will work as well since the noodles are quite flavourful. You can also get extra firm tofu, but be sure to fry them first to get a crust on them.
Did you say...serve the noodles with rice?
Yes! This is carb-on-carb at its best. The traditional shrimp ob woonsen is served with rice, and this vegan one is great with rice too. However, with all the veggies we've got going on, this is fantastic on its own as well.

If you will be serving this with rice, you might find that it needs an extra teaspoon of soy sauce, and you'll want to season your toppings quite well. But it's always wise to err on the side of less salt to start, as you can add more if it needs it.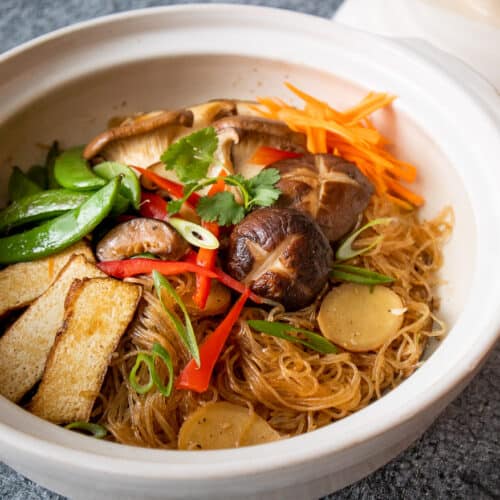 Claypot Glass Noodles (Vegan) - Pak Ob Woonsen
Glass noodles cooked in a clay pot with ginger and an umami-loaded sauce, topped with mushrooms and veggies of your choice. Quick, easy, vegan, and delicious!
Equipment
A clay pot or a heavy-bottomed pot with lid
Ingredients
2

pc

medium sized dried shiitake mushrooms (10 g)

,

rehydrated (see note)

1

Tbsp

+ 2 tsp soy sauce

,

(see note)

2

Tbsp

vegetarian oyster sauce

,

or use regular oyster sauce

¼ - ½

tsp

black or dark soy sauce

1

Tbsp

sugar

2

tsp

toasted sesame oil

½

cup

shiitake mushroom soaking water

2.8

oz

dry glass noodles

¼

tsp

black peppercorns

¼

tsp

white peppercorns

6

cloves

garlic

8

cilantro stems or 3 cilantro roots

,

chopped

15

thin slices

ginger

1

Tbsp

vegetable oil

8

oz

mixed mushrooms or vegetables of your choice

,

see note

4

oz

marinated pressed tofu

,

optional

1

green onion

,

chopped, or a handful Chinese celery leaves

Jasmine rice for serving

,

optional
Check Out Ingredients and Kitchen Tools I Use
Notes
Soak the dried shiitake mushrooms in about 1 cup of hot water for about 30 minutes or until they fully rehydrate. Timing will depend on the size. Save the soaking water for the sauce.
If you are serving with rice carb-on-carb style as is traditionally done, you may want to up the soy sauce to 2 Tbsp; but it's always wise to err on the side of less salty and add later on.  *If using the scaling function, use the metric amount, as the app cannot convert "1 Tbsp + 2 tsp" properly.
For toppings you can use anything you like but I recommend including some Asian mushrooms as they provide a nice chew. Oyster, shimeji, or enoki are all good options. Some crunchy vegetables are also good, such as sugar snap peas, carrots, or bell peppers.
All my recipes come with step-by-step video tutorials with extra tips not mentioned in the blog post, so make sure you watch the video to ensure success. If you enjoy them, consider subscribing to the YouTube Channel to not miss an episode. Thank you!
Subscribe to my YouTube Channel
Instructions
Soak the glass noodles in room temp water for 7-10 mins until soft and pliable.

Remove the dried shiitake mushroom from the soaking water and squeeze out the excess water, reserving the water for the sauce. Slice off the mushroom stems and thinly slice the caps.

2 pc medium sized dried shiitake mushrooms (10 g)

Pound peppercorns in a mortar and pestle until fine, then add the garlic and cilantro stems and pound into a very rough paste.

2 Tbsp vegetarian oyster sauce

,

¼ - ½ tsp black or dark soy sauce

,

1 Tbsp sugar

,

2 tsp toasted sesame oil

Make the sauce by combining the soy sauce, oyster sauce, black soy sauce, sesame oil, sugar, and ½ cup (120 ml) of the mushroom soaking water (keep the rest of the water). Stir until the sugar is dissolved.

Drain the noodles and cut with scissors into roughly 3-inch sections, then add to the sauce and toss to mix (it won't really cling to the noodles as the sauce is quite watery, but that's okay).

Put a clay pot or a heavy-bottomed pot on medium heat and add the oil, the garlic paste, ginger, and sliced shiitake mushrooms. Saute for 2-3 minutes until aromatic and the smallest bits of garlic starts to turn golden.

½ cup shiitake mushroom soaking water

,

2.8 oz dry glass noodles

Add the noodles and the sauce and toss to mix with the herbs, scraping the bottom of the pot to make sure nothing is stuck. Close the lid and turn the heat down to low. Once you can hear bubbling resume, start the timer for 3 minutes.

After 3 minutes, open the pot and give the noodles a thorough tossing to distribute the sauce, then if you want the colour to be darker you can add a bit more black/dark soy sauce. Close the lid and cook for another 2 mins. *Be sure to keep the heat low to prevent the noodles from scorching.

Open the lid again and taste to check the doneness of the noodles, if you want the noodles to be softer, add a splash of the remaining mushroom soaking water (2-3 tablespoons at a time), then toss and keep it cooking for 1-2 minutes more. Glass noodles are surprisingly resilient to overcooking, so don't be afraid to add more water if needed.

Once the noodles are done, take it off the heat and close the lid to keep warm while you cook your toppings.

In a large skillet over medium high heat, add just enough oil to thinly coat the bottom. Once hot, add the tofu slices and sear until browned on both sides. Remove the tofu, then add the mushrooms with a small pinch of salt and sear briefly until browned and cooked through. Repeat with any other toppings that need to be cooked.

¼ tsp black peppercorns

,

¼ tsp white peppercorns

To serve: reheat the noodles briefly if needed, then top with the tofu, mushrooms and vegetables. Sprinkle green onions on top and serve it right in the pot! *The ginger slices are not meant to be eaten so you can remove them before serving if you wish, or just tell your guests.
Watch my videos AD-FREE and get bonus content on Patreon!
Nutrition
Calories:
185
kcal
Carbohydrates:
29
g
Protein:
5
g
Fat:
6
g
Saturated Fat:
3
g
Polyunsaturated Fat:
1
g
Monounsaturated Fat:
1
g
Sodium:
536
mg
Potassium:
352
mg
Fiber:
2
g
Sugar:
4
g
Vitamin A:
59
IU
Vitamin C:
2
mg
Calcium:
32
mg
Iron:
2
mg
Tried this recipe? Share a pic!
Tag @hotthaikitchen on Instagram and Twitter!