Whether you're a vegetarian, vegan or neither, this is going to be one of the best spring rolls you've ever had. Bold claim, I know; but with the perfect seasoning, and a generous amount of flavourful ingredients (plus one special one!), you won't even need a dipping sauce. They can also be made in advance and frozen, just fry them up when you're ready to eat!
This post is sponsored by Pine Brand Glass Noodles.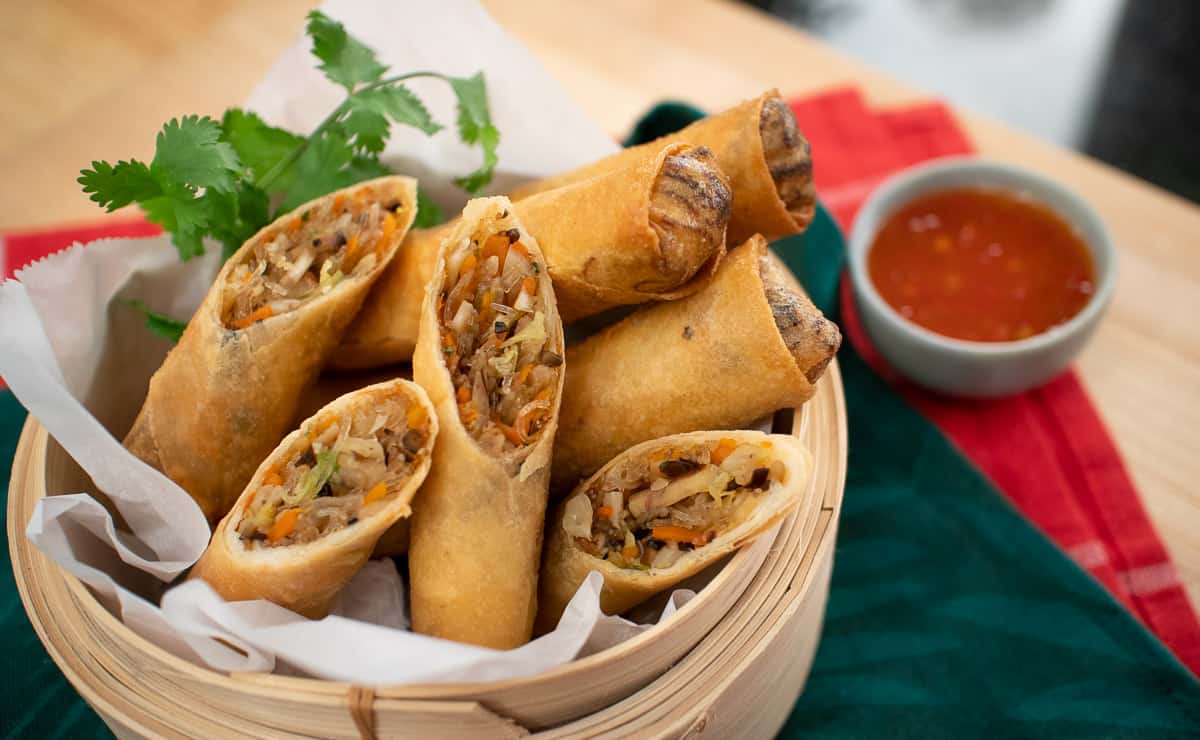 Why These Are 100x Better Than Takeout
Actually flavourful filling. Too many takeout spring rolls are filled with bland noodles and measly shreds of carrots and cabbage. Not these. The filling is packed with tons of veggies and are so perfectly seasoned I sometimes just eat the filling straight up. This is a vegan filling that super tasty, but if you eat meat also check out these classic pork spring rolls and green curry spring rolls as well!
Dipping sauce not necessary. Most takeout spring rolls are nothing without the sauce. Not these. The sweet-tart sweet chili sauce recipe adds a nice contrast, but these are so flavourful that you can do without.
Secret ingredient: Taro root! Taro and deep fried foods are a match made in heaven. It adds a unique aroma and a slight creaminess that makes these feel substantial even without any meat.
Umami and texture. Two types of mushrooms add umami and lots of texture to keep things interesting.
Ingredients for Veggie Spring Rolls + Important Notes
Glass noodles. The best quality glass noodles are made from 100% mung bean starch, such as Pine Brand (our sponsor!). The noodles have a nicer chewy texture, and are more resistant to overcooking and tearing than ones made with a mixture of starches. Here are some of my other glass noodles recipes.
Dried shiitake mushrooms. Use dried, not fresh, as they have more umami and are chewier. Not to mention the soaking water is very flavourful and is used as part of the recipe.
Dried black fungus mushrooms. Also known as wood ear or cloud ear mushrooms, they provide a lovely crunchy texture. You can get them julienned or whole at most Asian grocery stores, but they can be omitted if not available. Also try using them in this ginger chicken stir-fry recipe!
Taro root. Taro is a root vegetable that cooks up creamy similar to russet potato, but with a unique flavour and aroma that work in both savoury and sweet dishes. If you can, choose the larger taro root, which are creamier, rather than the small hairy ones. Asian stores often sell them pre-cut into chunks. Make sure you wear gloves when peeling taro btw as they can irritate your skin. If you've got taro leftover, use it in this Filipino sour soup recipe (sinigang) or Thai black sticky rice pudding.
Neutral oil for cooking the filling
Garlic
White or black pepper
Julienned cabbage
Julienned carrots
Sugar
Salt
Cilantro stems
Green onions
8-inch spring roll wrappers for standard size, or 6-inch wrappers for mini spring rolls
All-purpose flour or an egg for sealing the wrapper
Vegetable oil for frying
Sweet chili sauce, for dipping, store bought or homemade (it's very easy to make!)


How to Make Vegetable Spring Rolls
Check out detailed recipes in the recipe card below, but here's a bird's eye view of what you'll need to do.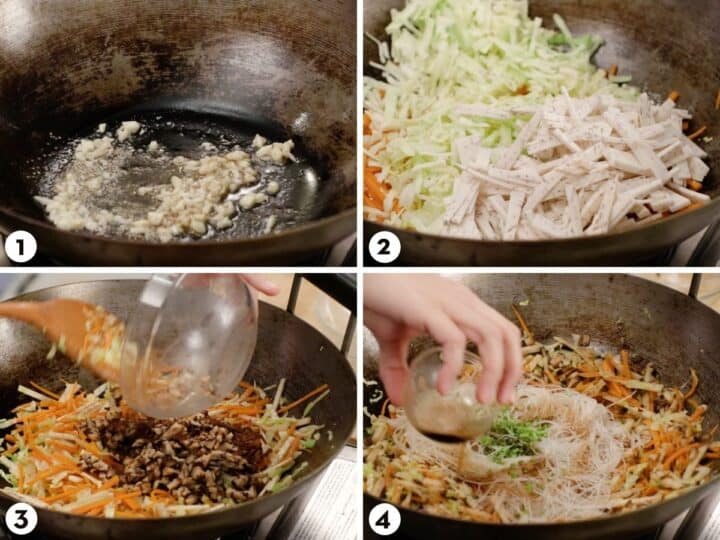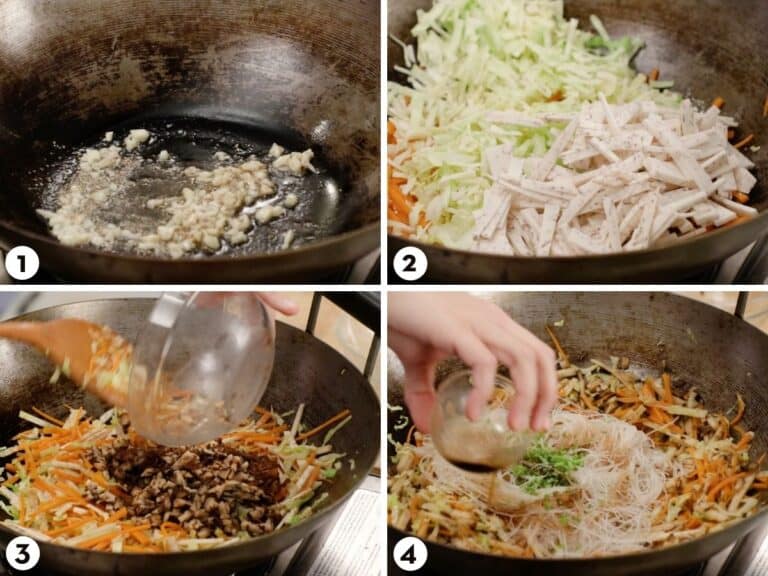 Saute garlic and pepper in oil until golden and aromatic.
Add carrots, cabbage and taro.
Add rehydrated shiitake mushroom and cook until veggies are done.
Add the glass noodles, cilantro stems and seasonings.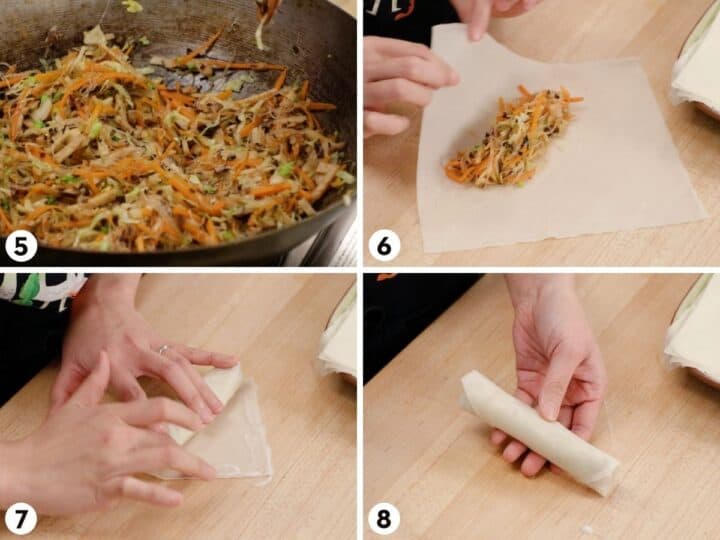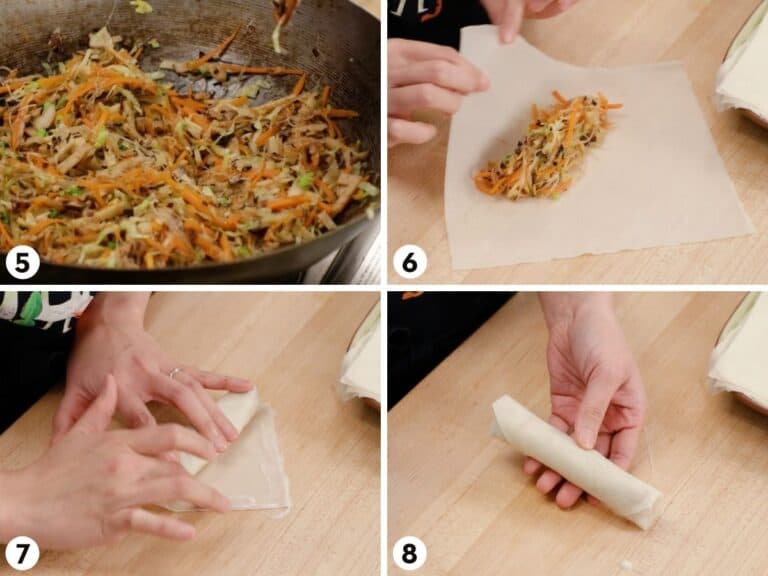 Stir fry the filling until the noodles are fully cooked. Let cool to lukewarm.
Wrap the spring rolls using a little more than ¼ cup of filling per an 8-inch wrapper (see the video tutorial for a demo on how to wrap spring rolls).
Use a flour slurry or a beaten egg as the glue to seal the wrapper.
Ready to fry or freeze!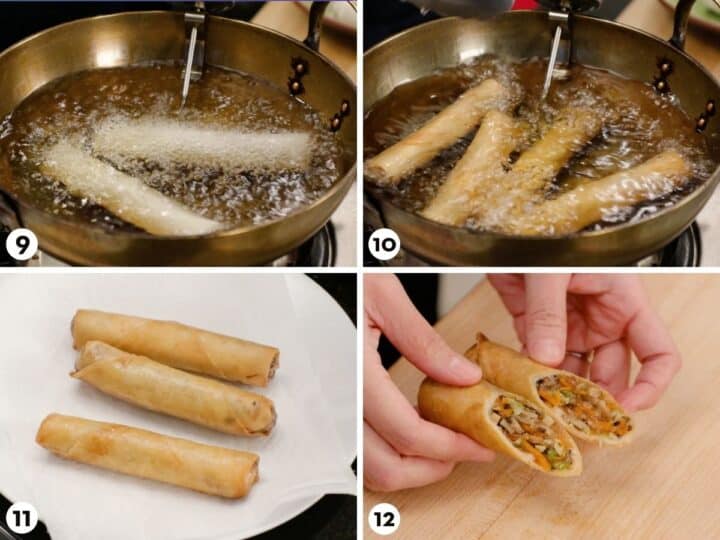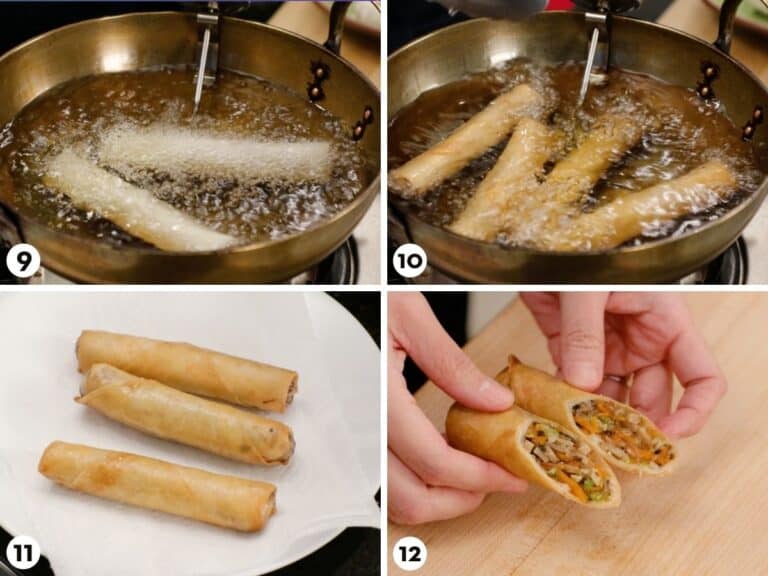 Fry spring rolls at 350°F (175°C) for about 5 mins, or 7-8 minutes if frying from frozen.
They should be a deep golden brown and the bubbles should only be coming out the ends, not from the surface of the spring rolls
Drain on paper towel or a rack and let cool for a few minutes before cutting and eating.
Cut them on a diagonal for a pro look!
Storing Leftovers
You can freeze uncooked spring rolls in a freezer bag for a few months, and fry them directly from frozen whenever you're ready to eat for fresh-like-new crispiness. They will take just a few minutes longer to fry.
If you have leftover cooked spring rolls, just keep them in the fridge and they will last up to a week. To reheat, you can bake them in a 350°F (180°F) oven for 8-10 minutes until the outside is crispy and the inside is heated through. They can also be reheated in toaster ovens and the air fryer.
Frequently Asked Questions About Spring Rolls
Can they be made in advance and frozen?
Yes! That's what most restaurants do. Make a whole bunch and freeze in a freezer bag for up to a few months. Fry them from frozen and they will take a few minutes longer, about 7-8 minutes.
Can they be baked?
Yes, you can also bake these. Brush them generously with oil then bake them on a rack in a 425°F (220 °C) oven, convection if possible, for about 25 minutes. They won't look as good and will be a bit drier, but they will still be crispy.
Can they be done in an air-fryer?
Yes, though I have never done it myself. Other sources say to brush them with oil and air fry them for 7-8 minutes at 350°F. 
Can I make these without the taro?
Yes, if you don't have access to taro or don't like them, you can omit them and add a little more of each of the other veggies to make up for the volume. You can also substitute kabocha squash or another type of squash for a similar creamy texture.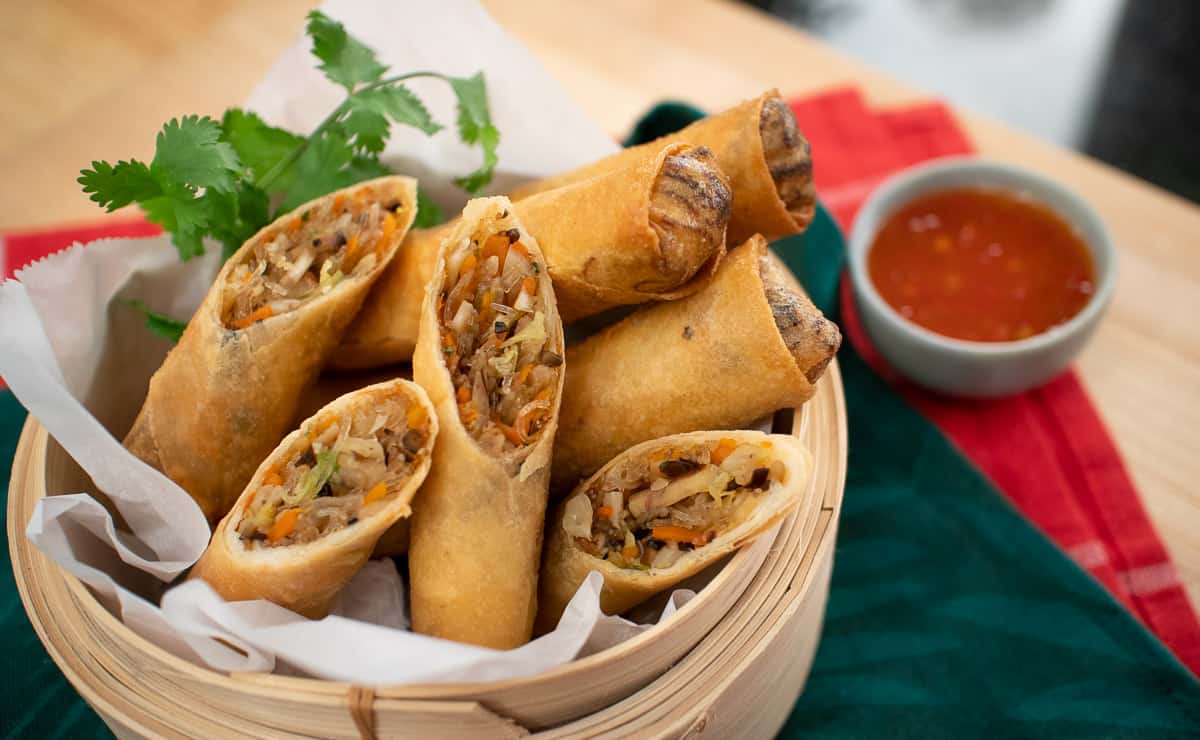 Ultimate Crispy Veggie Spring Rolls
These vegan spring rolls are made special with the addition of taro. They're so flavourful no sauce is required, but to take it to the next level serve with Thai sweet chili sauce! 
Ingredients
0.5

oz

(about 4 medium pc) dried shiitake mushrooms, rehydrated

,

see note

0.25

oz

dried black fungus mushrooms

,

rehydrated, see note

1.4

oz

dry glass noodles (1 small pack)

2

tablespoon

neutral oil

4

cloves

garlic

,

minced

½-1

teaspoon

ground white or black pepper

,

see note

5.3

oz

(2 cups) finely julienned taro root

5.3

oz

(1¾ cups) finely julienned cabbage

4.3

oz

(1 cup) packed julienned carrots

2

tablespoon

soy sauce

1

tablespoon

sugar

¼

teaspoon

table salt

8-10

cilantro stems

,

finely chopped

2

green onions

,

chopped

12-14

pieces

large 8-inch spring roll wrappers or 24 pieces 6-inch ones.

1

tablespoon

all-purpose flour or 1 egg for sealing the wrapper

Vegetable oil for frying

Sweet Chili Sauce,

for dipping, store bought or homemade
Notes: 
You can soak the shiitake and black fungus together in hot off-the-boil water for about 15 minutes. If you have at least 2 hours you can soak them in room temp water. Wash mushrooms before soaking.

If you're serving kids 1 teaspoon of pepper might be a bit much so I'd use only ½ tsp.
Check Out Ingredients and Kitchen Tools I Use
All my recipes come with step-by-step video tutorials with extra tips not mentioned in the blog post, so make sure you watch the video to ensure success. If you enjoy them, consider subscribing to the YouTube Channel to not miss an episode. Thank you!
Subscribe to my YouTube Channel
Instructions
Remove mushrooms from the soaking water squeezing out excess water from the shiitake mushrooms (and do not throw away the soaking water). 

Soak glass noodles in the mushroom water, adding more tap water as needed to submerge the noodles. Soak for 7-10 minutes until softened.

While the noodles soak, remove the stems from the shiitake mushrooms and finely chop the caps. Finely dice the black fungus; if you find any hard parts (that's the root end) cut around them and discard. Place the mushrooms in a large bowl together with the taro, cabbage and carrots. 

Once noodles are done, drain the water but do not throw it away (yes, we're STILL going to use this!). Don't toss the noodles so that the strands remain in alignment for easy cutting. Use scissors to cut the noodles into 2-inch pieces.

In a wok or a large non-stick saute pan, add the oil, garlic, pepper and saute for about 2 minutes over medium heat or until the garlic starts to turn golden.

Turn the heat up to medium high and add the mushrooms, taro, cabbage, carrot and 1 tablespoon of the soy sauce; cook for 3-4 minutes until the taro is done. You can tell that the taro is getting close to done when some of the pieces start to break; you can then taste to see if they're cooked through.

Add the glass noodles, cilantro stems, the remaining soy sauce, sugar, and about ¼ cup of the mushroom soaking water. Toss until the noodles are fully cooked, adding a splash more of the mushroom water if needed.

Toss in the green onions and remove from heat. Taste the filling and add the salt if it needs it. (I find it usually does need the extra salt, but it's always good to taste first).

Transfer the filling into a large, shallow bowl and spread it out so it can cool quickly. 

While the filling is cooling, peel the wrappers apart so it will be easier when you wrap. (Spring roll wrappers tend to stick together a bit right out of the package.)

For the spring roll wrapper glue, you can use a beaten egg, or for a vegan glue, mix the all-purpose flour with an equal amount of water so you have a thick but spreadable paste.

To wrap, follow the instructions in the video. Use a little more than ¼ cup of filling per roll if using a large (8-inch) wrapper. At this point you can freeze the spring rolls and fry them directly from frozen.

Heat 2-3 inches of oil in a wok or a pot to 350 F. Add the spring rolls, a few at a time so as to not crowd the pot. Fry on medium heat for about 5-6 minutes until golden brown and crispy. You can tell that the surface are crispy when the bubbles are only coming out of the ends, not the surface (more on this in the video). If they are frozen they may take 7-8 minutes.

You can also bake them: Brush them generously with oil all over and bake (better if you have a rack) at 425°F (convection if you have it) for about 25 minutes or until they're golden and crispy. If you don't have a rack, flip them over half way through so they brown evenly. If after 25 minutes you still want them to be more brown, you can put them under the broiler for a minute or so per side; watch them carefully!  (They will be lighter in colour than the deep fried ones but will still be crispy.)

For air-frying: I have not done this personally, but other sources say to brush them with oil and air fry them for 7-8 minutes at 350°F. 
Watch my videos AD-FREE and get bonus content on Patreon!
Tried this recipe? Share a pic!
Tag @hotthaikitchen on Instagram and Twitter!
Also check out...