---
Watch The Full Video Tutorial!
All my recipes come with step-by-step video tutorials with extra tips not mentioned in the blog post, so make sure you watch the video below to ensure success - and if you enjoy the show, please consider subscribing to my YouTube channel. Thank you!
Print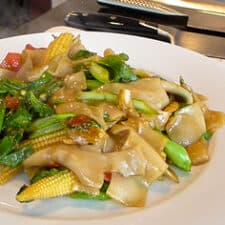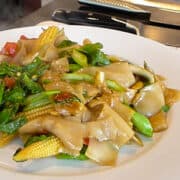 Drunken Noodles ผัดขี้เมา (pad kee mao)
---
8 oz

flat, wide rice noodles (can use pre-cut, cut your own from a noodle sheet as shown in the video, or make your own)

3

-

4

cloves garlic

1

-

3

Thai chilies, to taste*

1

spur chilies (prik chee fah), cut into chunks, or any mild, red chili peppers (optional)

4 oz

protein of choice, cut into bite sized pieces (optional)

5

pc baby corn, cut each one into

3

2

stalks Chinese broccoli, cut into

1

-

2

" pieces

2 Tbsp

base stir fry sauce (see recipe below)

1 tsp

black soy sauce

1.5 tsp

sugar

½ cup

holy basil leaves, or sub Italian basil**
Base Stir-Fry Sauce
(*The sauce recipe is enough for 4 servings, use only 2 Tbsp of the sauce per serving)
¼ cup

oyster sauce

2 Tbsp

light soy sauce

1 Tbsp

Golden Mountain or Maggi

2 tsp

fish sauce
Vegetarian Base Stir-Fry  Sauce
¼ cup

light soy sauce

2 Tbsp

Golden Mountain or Maggi
*Thai chilies keep very well in the freezer, and they also become easier to break down once thawed.
**Choose holy basil with small to medium leaves (leaves should be about 1-1.5" long) as they are younger and more fragrant than larger, older leaves. If using Italian basil, chop the leaves roughly as they tend to be quite large. You may also use Thai basil, which many restaurants use, but Italian basil has a more similar fragrance to holy basil.
---
Instructions
 

Mix the base stir-fry sauce ingredients in a small bowl and stir well to combine. This will keep well in the fridge more months, and it's great for all sorts of stir fries, including fried rice!
Put garlic and both types of chilies into a mortar, and pound to a rough paste, making sure that the Thai chilies are all mushed up.
In a large saute pan or a wok, heat about 2 Tbsp of vegetable oil over high heat, tilt the pan to coat the bottom. Add the chill/garlic mixture and stir until the small pieces of garlic starts to turn golden brown.
Add protein, if using, and cook until half way done.
Add vegetables, toss in the pan quickly to wilt.
Add noodles, 2 Tbsp of the stir-fry sauce, and sugar then toss to combine and let the noodles spread apart.
Add the black soy sauce, and toss again to coat. Let the noodles sit in the pan and absorb the sauce, flipping it once or twice.
When the sauce is all absorbed, turn the heat off, and add the basil. Toss just to wilt the basil, plate.
Serve with the Standard Thai Condiment for noodles!
---