In Thailand, satay or สะเต๊ะ refers to small skewers of meat marinated in spices and served with peanut sauce. While nowadays we mostly make pork satay, when it was first introduced to Thailand it was also made from beef. The accompanying peanut sauce is an authentic Thai recipe (no peanut butter!) that you'll want to put on everything. Satay is easy and kid-friendly, and my only tip is to get help with the skewering!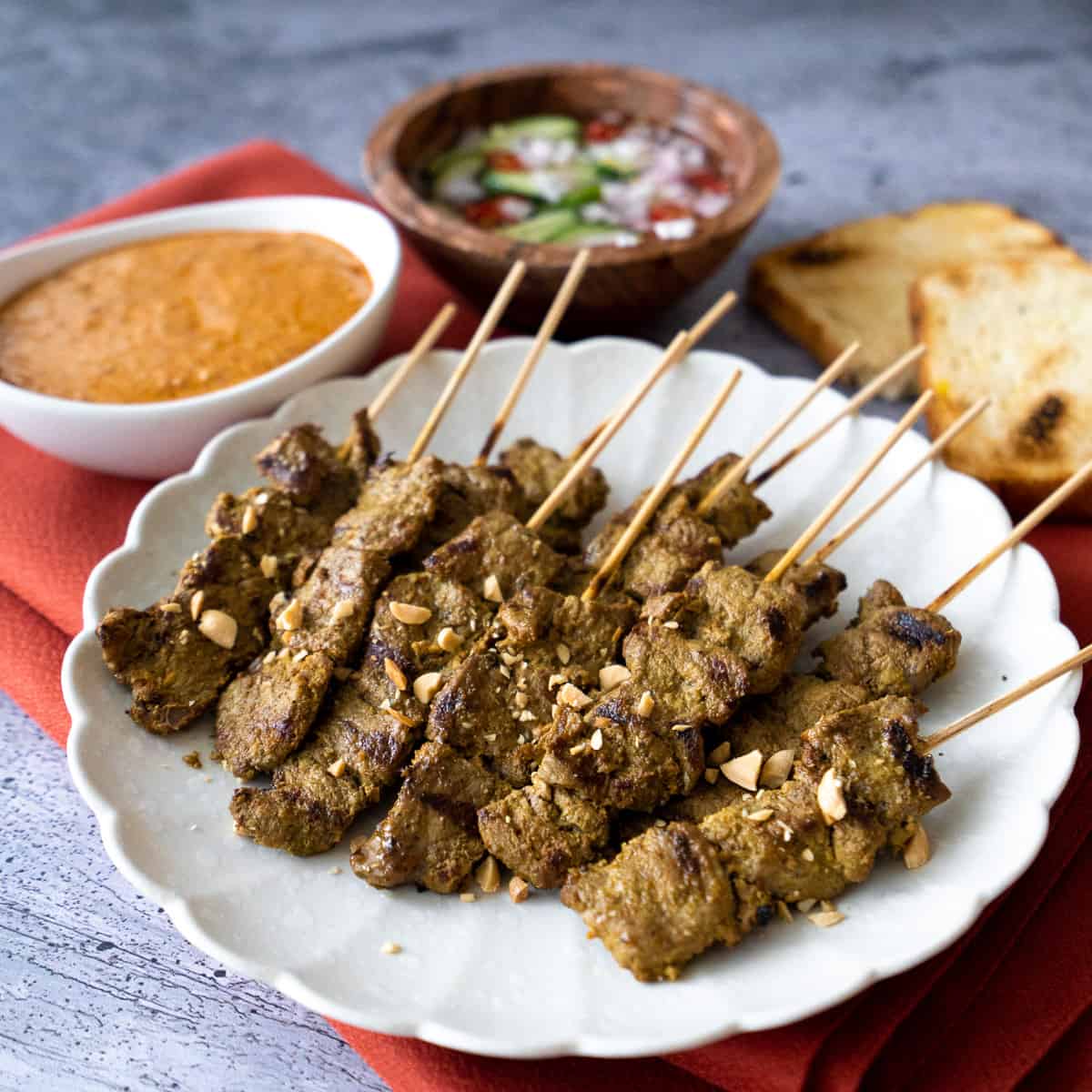 The Origin of Satay in Thailand
Satay came to Thailand via Indonesia, which is where these skewered grilled meats originated. Because Indonesia is a predominantly Muslim country, the original satays were made from non-pork meats such as beef, lamb, or goat.
Once they arrived in Thailand, however, Thai people changed the meat to pork; which is much more common and accessible. Our satays are 95% pork today, but you can find a few chicken or beef options, especially in Muslim neighborhoods.
The Thai peanut sauce has also changed to better match the Thai palate. It is intensely flavoured with curry paste, and made creamy with coconut milk. If you love peanut sauce, also try this Thai-Muslim salad with a peanut dressing!
Ingredients
There are two main parts to beef satay: The marinated beef and the peanut sauce. If you want to serve it the way satays are served in Thailand, you'll also need to make a quick pickle and some toast!
Satay Marinade Ingredients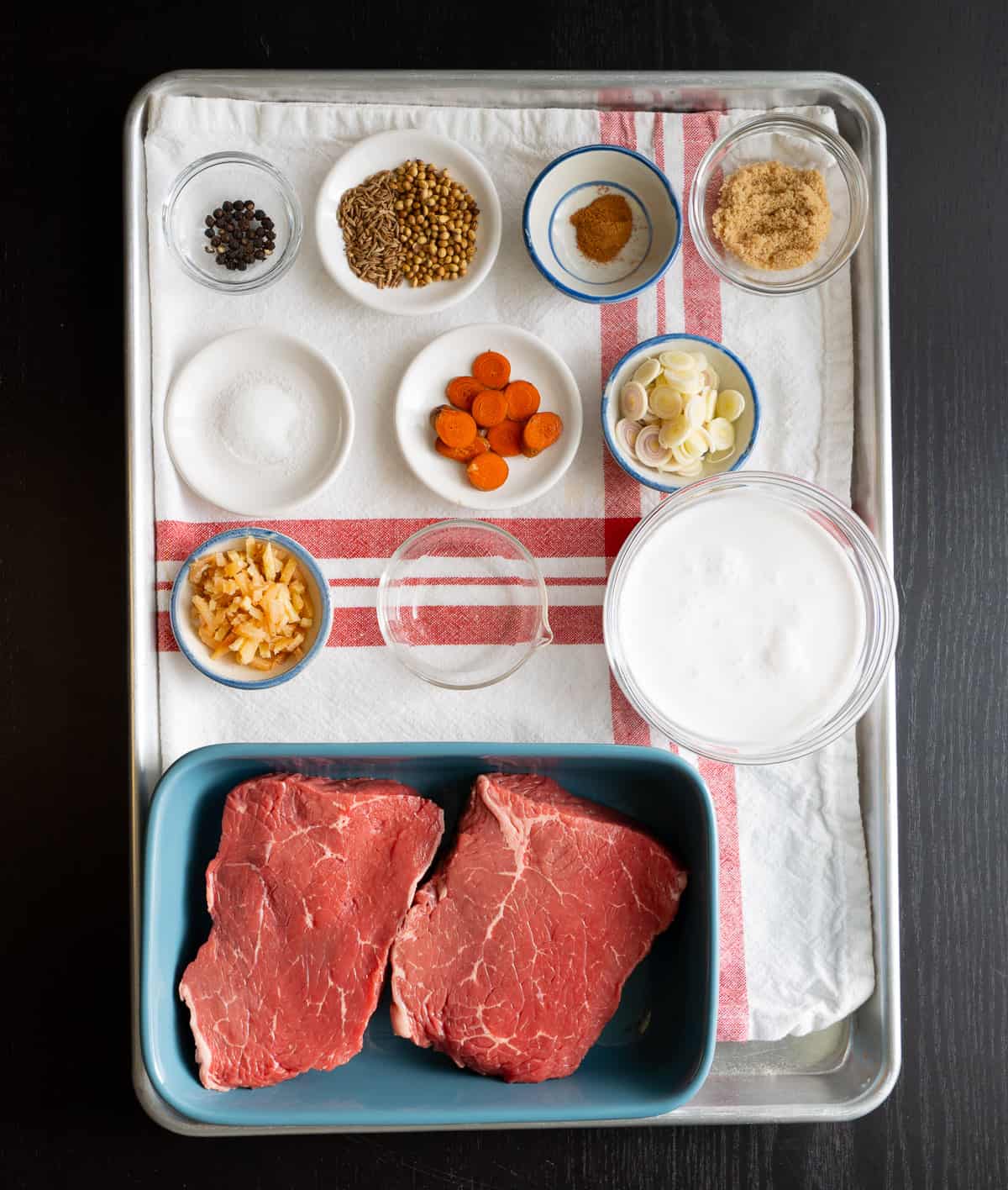 beef, top sirloin steak or another tender cut
coriander seeds, toasted
cumin seeds, toasted
black peppercorns
lemongrass, thinly sliced
galangal, chopped (optional)
fresh turmeric or turmeric powder
ground cinnamon
brown or white sugar
salt
white vinegar
coconut milk
Thai Peanut Sauce Ingredients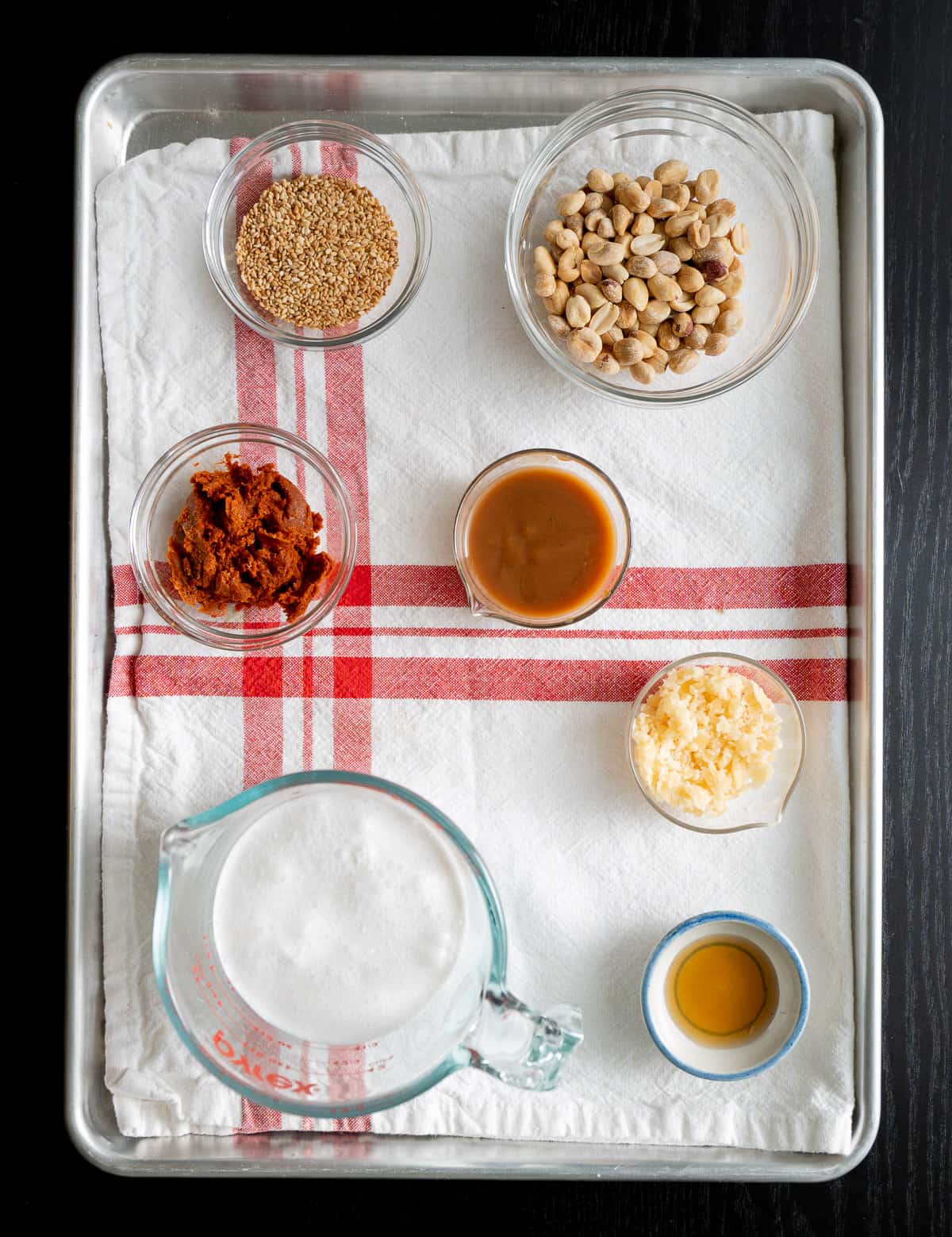 Thai red curry paste
roasted peanuts
toasted white sesame seeds (optional)
fish sauce
palm sugar or brown sugar
tamarind paste, store bought or homemade
Quick Cucumber Pickle (optional, but recommended)
cucumber
shallots
Thai chilies or jalapenos
white vinegar
sugar
salt
We also usually serve satay with some white toast, so add that to the list if you want the "full meal deal."
How to Make Beef Satay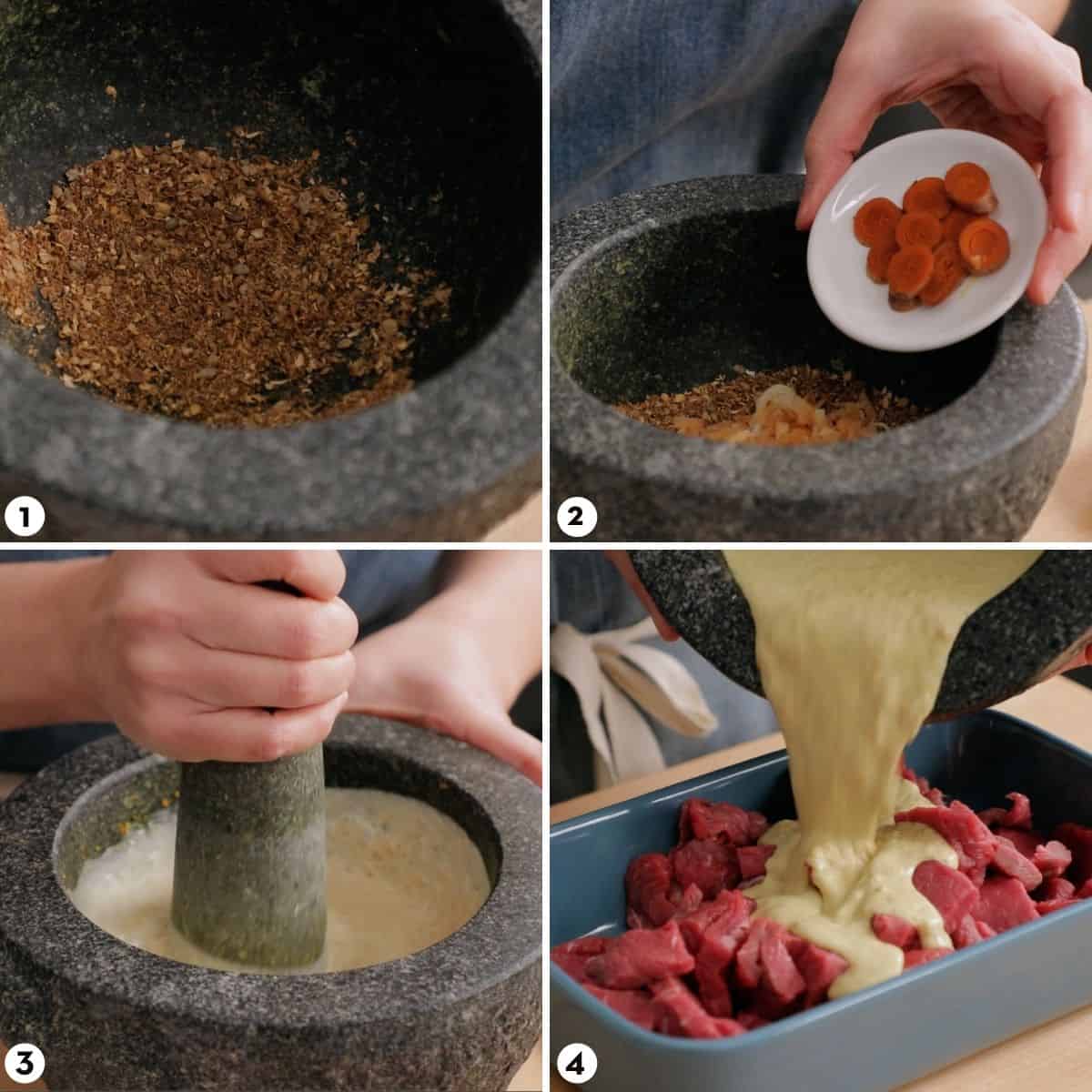 Grind the dry spices into a powder.
Add lemongrass, galangal and turmeric and pound into a paste.
Add the cinnamon, brown sugar, salt, vinegar, and coconut milk and mix.
Marinate the beef for at least 1 hour.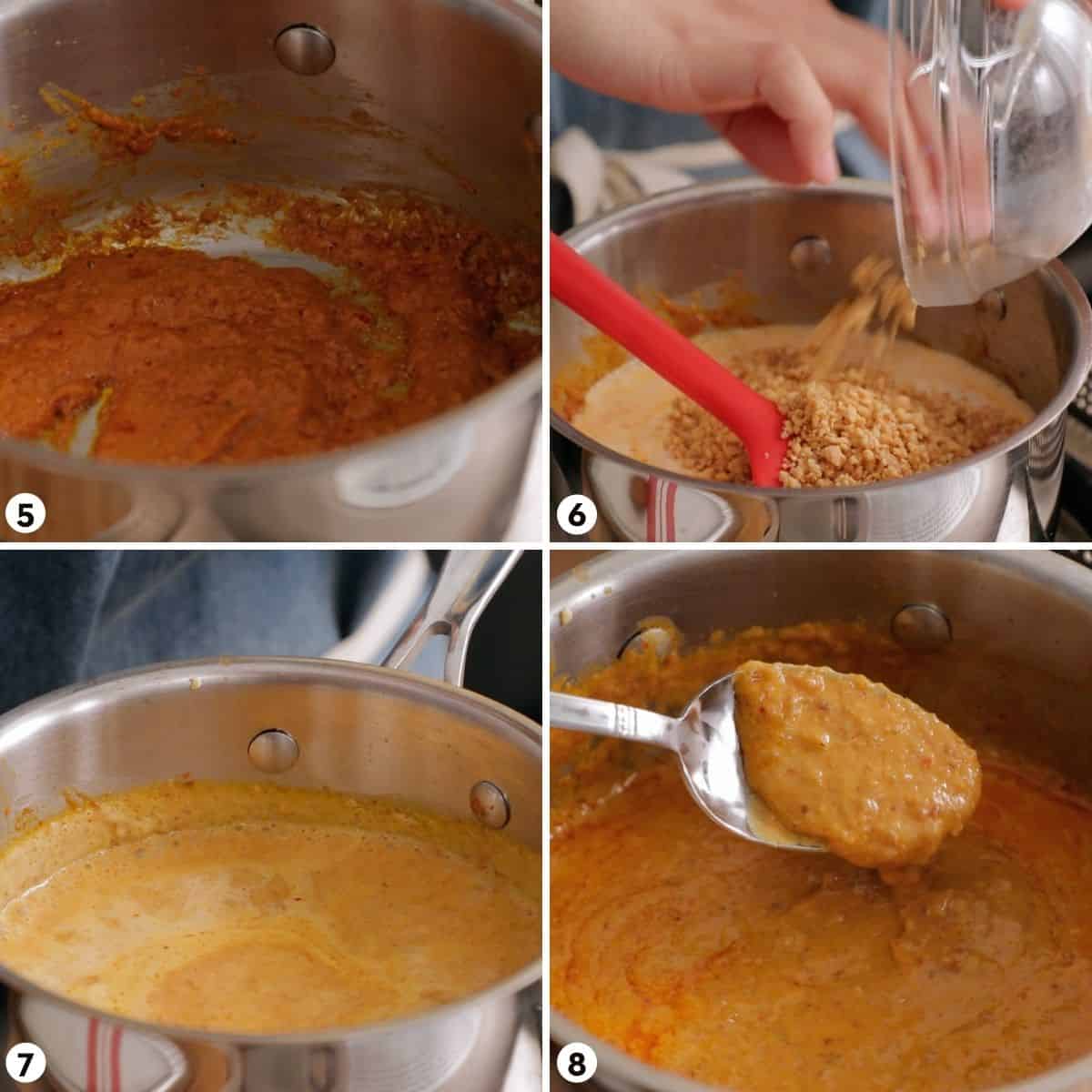 Make the peanut sauce by sauteing the curry paste with some coconut milk until thick.
Add the remaining coconut milk, peanuts, and all seasonings.
Simmer and reduce for 5 minutes, stirring frequently.
The end result should be thick and luscious.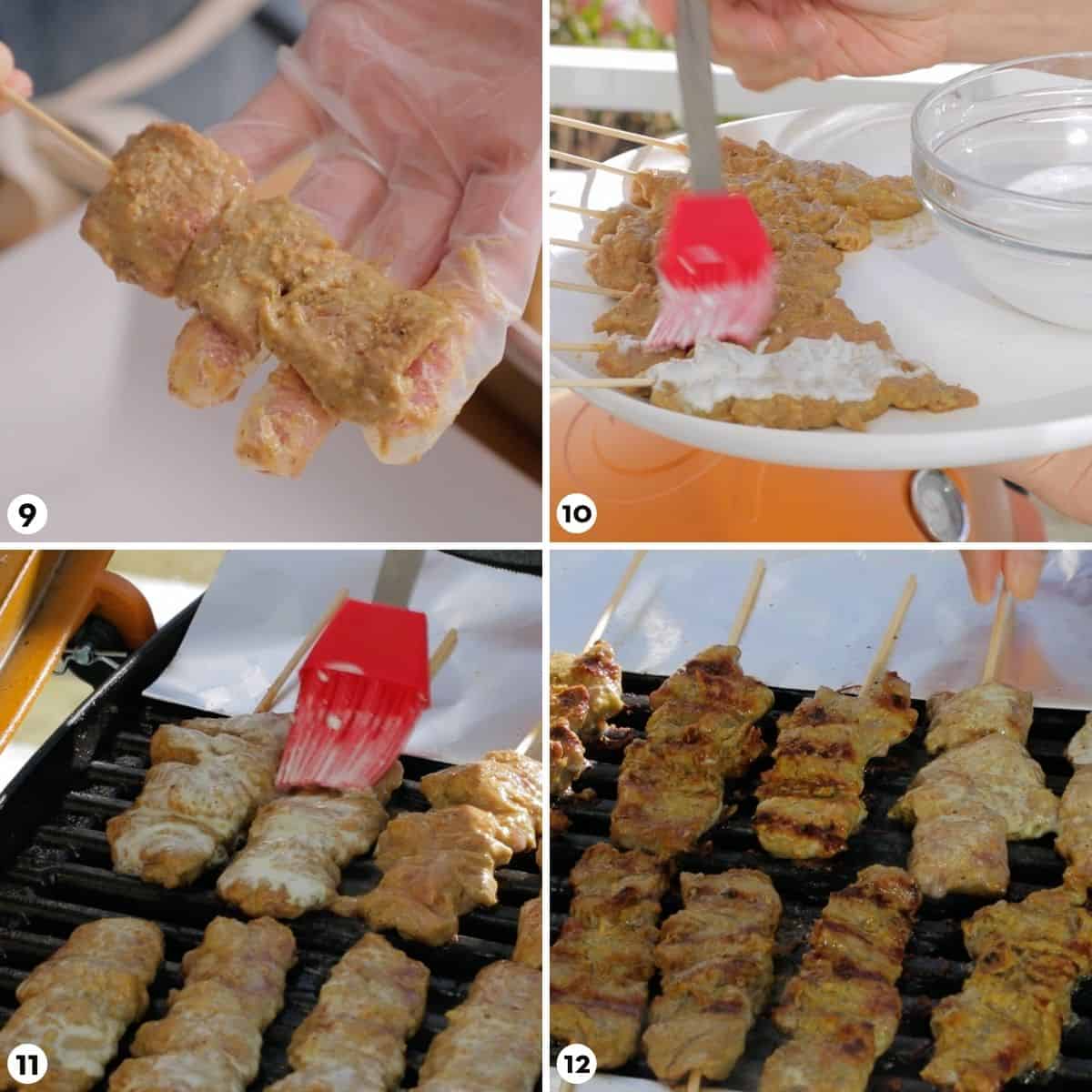 Skewer the beef onto bamboo skewers.
Brush one side with coconut milk.
Place the coconut milk side down on the grill and brush the other side with coconut milk.
Grill for a few minutes just until cooked through.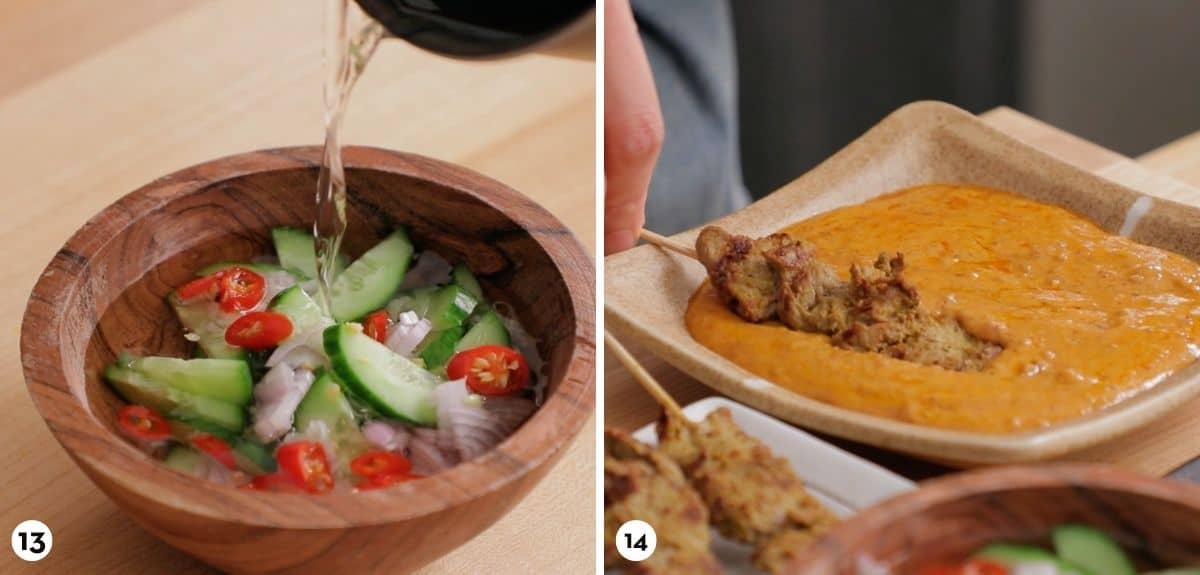 For the quick pickle: Dissolve the sugar and salt in the vinegar and pour over cucumber, shallots and chilies.
Serve the peanut sauce in a shallow dish so you can dip the whole skewer!
2 Pro Tips for Beef Satay
1. How to prevent skewers from burning without soaking
You might have been taught, as I was, to soak skewers in water to prevent them from burning on the grill. After forgetting to soak skewers too many times, I came up with a method that works so much better that I no longer soak them: place a double layer of foil under the skewer handles.
Simply fold a piece of foil in half to make a strip about 4 inches wide. Place it on the grill and rest the skewer handles on it. No planning required, and it works even better than soaking as soaked skewers can still burn if grilled long enough. With this, you might even be able to use your hand to quickly flip the skewers, because the foil will shield you from the heat!
But...how do street vendors do it in Thailand? No, they don't use foil, but they use a long thin charcoal grill and place the handles off the edge so they're not directly heated. This doesn't work well with gas barbecues where heating elements are located towards the center, but if you're using charcoal, it's something you can try.
2. How to Ensure Tender Beef Skewers
When you're cutting thin slices of beef from a steak, take a moment to look at the direction of "the grain" or the muscle fibers.
For many steaks, the meat grain runs vertically, and if you slice right-to-left, you'll end up with longer muscle fibers and chewier pieces. What you'll want to do in this case is cut it into 1-inch thick pieces, or whatever width you want the pieces to be, then flip it sideways before thinly slicing it. It'll be much easier to understand this by watching the video tutorial. This way, you're getting thin muscle fibers, which means more tender beef.
For some cuts, such as flank or skirt, the grain runs horizontally, so in that case you just need to make sure that you're cutting perpendicular to the grain.
Because our satays are very thin, cutting against the grain is not always necessary if the steak you're using is tender, but for some tougher, leaner cuts (such as flank) this can make a big difference.
A Tool for Navigating Beef Cuts
There are sooo many cuts of beef on the market, that it's impossible to remember which cut is good for what. If you've ever wanted to try a new cut but not sure what to do with it, check this out. Canada Beef, our sponsor for this post, has launched the Canadian Beef Information Gateway which breaks down over 70 cuts of beef, complete with info on how to best cook them and new recipes you can try out.
Check it out and you'll be amazed! Access the Gateway here or scan the QR code below!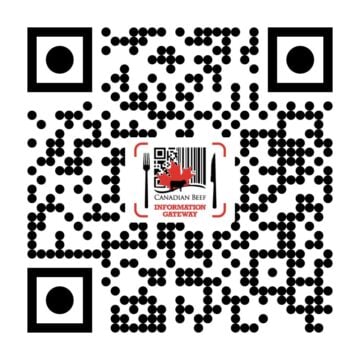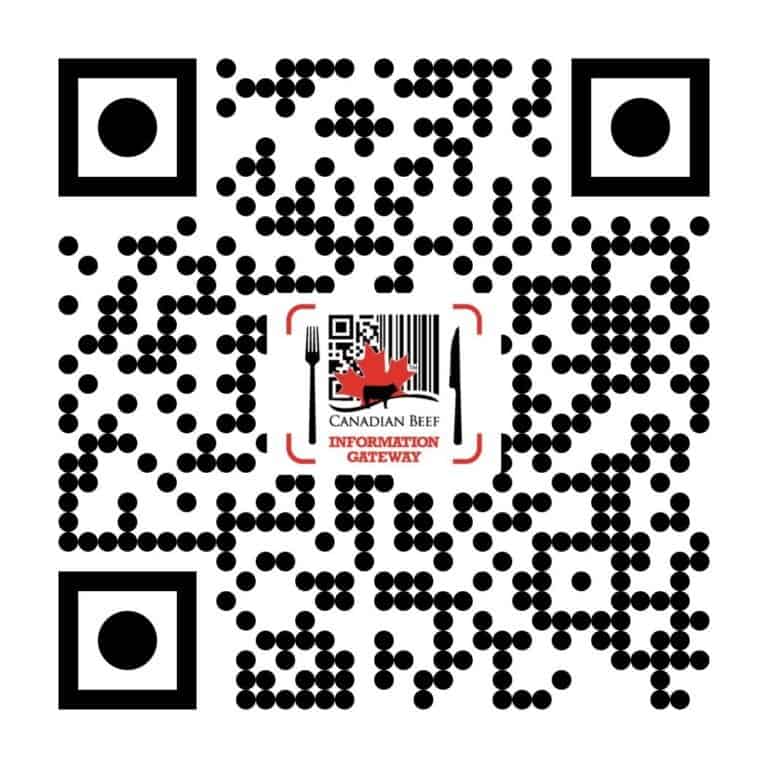 Other Thai Recipes for the Grill
Before you start, be sure to watch the video tutorial to ensure success! I always include little tips and tricks not mentioned in the blog post. You can also watch it on my YouTube channel!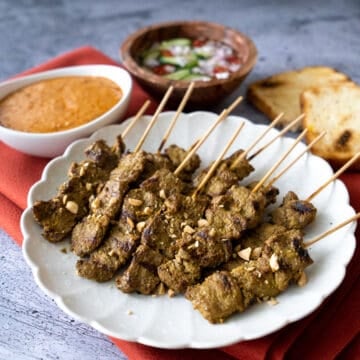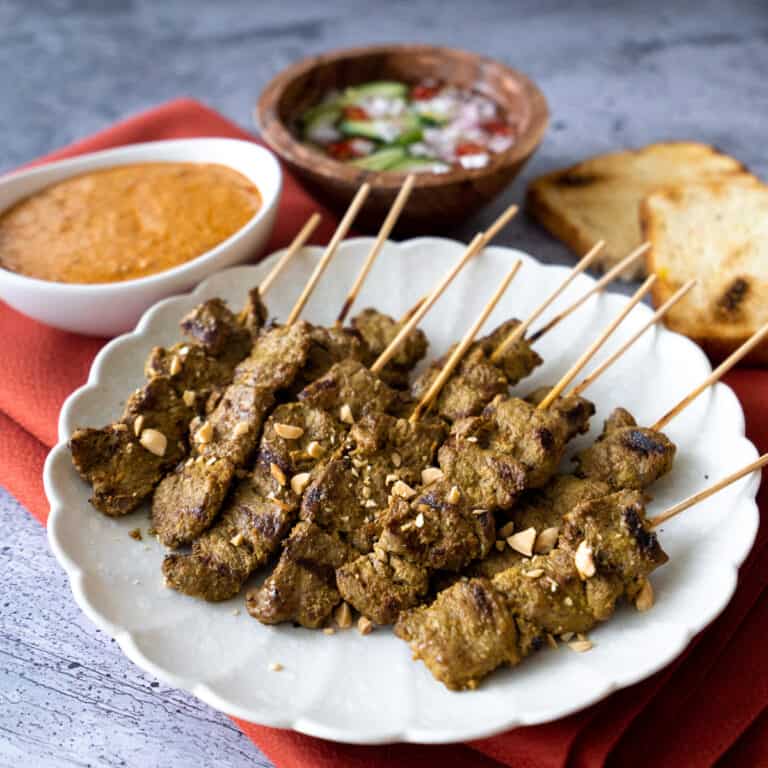 Beef Satay with Thai Peanut Sauce
Marinated skewered beef, basted with coconut milk on the grill for moist tenderness. Served with an authentic Thai peanut sauce that you'll want to put on everything!
Ingredients
1

lb

beef top sirloin

¼

cup

coconut milk for basting

30

6-inch bamboo skewers

,

see note 1

4

slices

white bread

,

optional, for serving
Marinade
1 ½

teaspoons

coriander seeds

,

toasted

1

teaspoon

cumin seeds

,

toasted

½

teaspoon

black peppercorns

2

tablespoons

lemongrass,

thinly sliced

2

tablespoons

galangal, chopped

,

(optional)

1

inch piece

fresh turmeric

,

see note 2

¼

teaspoon

ground cinnamon

2

teaspoons

brown sugar

,

or granulated sugar

½

teaspoon

table salt

1

tablespoon

white vinegar

⅔

cup

coconut milk
Ajaad - Quick Cucumber Pickle (Optional)
½

cup

quartered and sliced cucumber

1

tablespoon

thinly sliced shallots

8

slices

Thai chilies or jalapenos

,

or to taste

½

cup

white vinegar

¼

cup

granulated sugar

⅛

teaspoons

table salt
Check Out Ingredients and Kitchen Tools I Use
Notes
Typically Thai satay is sliced thinly so small, thin skewers should be used otherwise you'll have trouble skewering through the beef. The amount of skewers provided is just a rough estimate.

For every 1-inch of fresh turmeric, you can substitute ½ teaspoon (2.5 ml) turmeric powder.
All my recipes come with step-by-step video tutorials with extra tips not mentioned in the blog post, so make sure you watch the video to ensure success. If you enjoy them, consider subscribing to the YouTube Channel to not miss an episode. Thank you!
Subscribe to my YouTube Channel
Instructions
Cut the beef into ¼-inch thick slices against the grain, then cut each slice down into small, bite-sized pieces. Place into a mixing bowl.

To make the marinade: Grind coriander seeds, cumin seeds, and black peppercorns in a mortar and pestle until very fine, then add lemongrass, galangal and fresh turmeric (if using); pound into a fine paste. Add the turmeric powder (if using), cinnamon, sugar, salt, vinegar, and coconut milk; stir to mix well.

1 ½ teaspoons coriander seeds,

1 teaspoon cumin seeds,

½ teaspoon black peppercorns,

2 tablespoons lemongrass,

2 tablespoons galangal, chopped,

1 inch piece fresh turmeric,

¼ teaspoon ground cinnamon,

2 teaspoons brown sugar,

½ teaspoon table salt,

1 tablespoon white vinegar,

⅔ cup coconut milk

Pour the marinade over the beef and massage it with your hands, making sure that no pieces of meat are stuck together. Cover and refrigerate for at least 1 hour and up to overnight.

Meanwhile, make the peanut sauce. Using a food processor or mortar and pestle, grind the peanuts and sesame seeds into a fine meal, being careful not to over grind them into nut butter.

½ cup roasted peanuts,

2 tablespoons toasted white sesame seeds

In a small pot over medium heat, bring about ¼ cup (60 ml) of the coconut milk to a boil. Turn the heat to medium-low, then add the red curry paste and stir to mix well. Keep cooking for about 2 minutes until it is very thick, and coconut oil starts to separate from the paste.

1¼ cup coconut milk,

2 tablespoons red curry paste

Stir in the rest of the coconut milk, ground peanuts, ground sesame seeds (if using), fish sauce, palm sugar and tamarind paste. Simmer for about 5 minutes until it has thickened into a dip-like consistency, stirring frequently to prevent the bottom from scorching.

1¼ cup coconut milk,

1 teaspoon fish sauce,

2 tablespoons finely chopped palm sugar,

2 tablespoons tamarind paste

Taste and adjust seasoning with more sugar, fish sauce, and tamarind paste as needed.

To make the pickling liquid for the ajaad: In a small pot over medium heat, combine vinegar, sugar, and salt; cook just until the sugar is completely dissolved. Allow to cool completely.

½ cup white vinegar,

¼ cup granulated sugar,

⅛ teaspoons table salt

Skewer the beef onto bamboo skewers, making sure the skewer goes through the beef so the bamboo isn't exposed, and do not let the tip of the skewer be exposed either. Put 3 pieces on each skewer, and lay them flat on a plate.

Oil and preheat the grill to medium. Tear off 2 pieces of aluminum foil, each 8-inch wide, and fold them in half lengthwise so that you have a long rectangle about 4 inches wide. Place this onto the grill, and this is where the handles of the skewers will rest to prevent them from burning.

Brush the top side of the skewers with coconut milk, then place them on the grill, coconut-nut-milk-side down. Brush the other side of the skewers with coconut milk and grill for a minute or so just until it has nice grill marks and is about halfway cooked. Flip the skewers and grill the other side just until done. These are small and thin skewers and should only take 2-3 minutes to cook, and you do not need to cover them. If you have space on the grill, you can grill your bread along with the skewers, otherwise you can grill them after.

¼ cup coconut milk for basting,

4 slices white bread

When ready to serve, finish the ajaad by placing the cucumber, shallots, and chilies into a small bowl then pour the cooled vinegar mixture over them. (Tip: You don't want to combine the cucumber with the pickling liquid longer than about 10 minutes before serving to preserve the crunch and freshness of the cucumber.) Pour the peanut sauce onto a plate with a little depth, which will allow people to dip the whole skewer in one go. Serve the beef satay on a platter alongside the peanut sauce, ajaad, and toast.

½ cup quartered and sliced cucumber,

1 tablespoon thinly sliced shallots,

8 slices Thai chilies or jalapenos
Watch my videos AD-FREE and get bonus content on Patreon!
Tried this recipe? Share a pic!
Tag @hotthaikitchen on Instagram and Twitter!