---
After many requests, I finally got a pressure cooker! An Instant Pot to be exact. In this video I show you how you how to make this delicious Thai Massaman curry that would normally take 3 hours to make, but we can do it in just 1 hour in the Instant Pot or another pressure cooker you have. Follow this recipe, or use this video as a guideline for how you can take a Thai curry recipe that you already have, and modify it to work with an Instant Pot.
Check out the Instant Pot I use on Amazon
---
How to Modify Regular Recipes for the Instant Pot or Pressure Cooker
There are a few questions you need to ask yourself when attempting to use a regular recipe in a pressure cooker:
Is it worth doing it in the Instant Pot at all?
The instant pot promises that food will be done quickly—it can cut cooking time by hours! But...if the original recipe doesn't take hours to cook to begin with...the how much time does it really save?
Remember that before the Instant Pot can get to pressure cooking the food, it has to spend time preheating AND releasing pressure. A "quick release" of pressure lets you open the pot in 1-2 minutes, but it's not something you can always do, and a "natural release" of pressure takes at least 10 minutes. So you must factor these into the "cooking time" of your food as well. See video at 8:22 when I talk about a "quick release" VS the "natural release" of pressure.
Not to mention...not all parts of the recipe can be done under pressure (see below) so don't forget to take that into consideration too.
ALSO, if reducing liquid until thick is part of the recipe, you're still gonna need to do that stove top because a pressure cooker is a closed environment and water does not evaporate during cooking.
What part of this recipe can be cooked under pressure? And what parts cannot?
For this recipe, I chose to cook only the beef under pressure, which is the part that takes a long time. But I finish the vegetables, potato and onions, at the end on regular "saute" mode. Yes, there are some recipes that say you can put all the veggies and meat into the instant pot and be done with it in one go, but I am particular with the doneness of my veggies, and I do not want my potatoes to become too mushy, so I choose not to do that. This depends on what vegetables you're using, and whether or not you care about how soft they are.
Also remember that vegetables don't generally take that long to cook so it's not like you're spending that much more time. Totally worth it for well-cooked vegetables, I think.
How much liquid do I need to reduce?
As I mentioned earlier, the pressure cooker is a closed environment, so whatever liquid is there to start will still be there when it's done. This includes liquid from meats that will inevitably come out during the cooking process. This is not the case when you cook stovetop, as liquid is constantly evaporating. So you have to generally reduce the amount of liquid used in the recipe in order for it to not come out too watery. In Thai curry recipes, conveniently there is usually water or stock added to thin out the sauce, so I find it works well to simply omit that and use only coconut milk.
However, reducing liquids CAN result in flavour problems because if the liquid called for is not water, say coconut milk or chicken stock, then reducing it will also reduce flavour/fat/richness or whatever that liquid provides. So alternatively you can spend time reducing it after it is done cooking under pressure. So if that's what needs to happen, factor it into your plan.
What types of food is good to cook in an Instant Pot?
Generally, pressure cookers are great for anything that needs to stew or braise for a long time. Beef stew, short ribs, pulled pork...slow cooking meats basically.
Making stocks (bone broths) is also great in the Instant Pot. A bonus is that the scum tends to just end up sticking to the sides of the pot...so you don't have to skim!
What doesn't benefit much from pressure cooking?
These are just my thoughts so far:
Things that take less than 30 mins to cook. I generally don't find vegetables to be great candidates, as they don't take much time to cook, and they become mushy easily.
Recipes that need to reduce and concentrate a lot, like some tomato sauce recipes
Foods that require precise doneness (anything that overcooks easily like chicken breasts). Because you can't check doneness while you cook, and you can't stop the cooking immediately as it take time to release the pressure whether you do a "quick release" (still takes a minute or two) or "natural release" (at least 10 mins).
Some recipes with multiple steps that can't be done under pressure. You might still save time even with multiple extra steps outside of the IP, like this massaman curry recipe is a great example of that, just don't forget to factor these steps into your planning.
*Extra Goodies for Patreon Members: In this episode's "Show After The Show" I share some of my other experience using the Instant Pot. Click here to find out more about becoming a Patreon member!
Watch The Full Video Tutorial!
All my recipes come with step-by-step video tutorials with extra tips not mentioned in the blog post, so make sure you watch the video below to ensure success - and if you enjoy the show, please consider subscribing to my YouTube channel. Thank you!
---
Print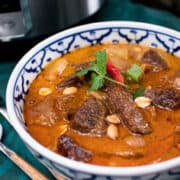 Instant Pot Massaman Beef Curry แกงมัสมั่นเนื้อหม้ออัดแรงดัน
---
1 ½

lb beef chuck, cut into

2

-inch cubes

2 ½ cup

coconut milk

4

-

6

tablespoon massaman curry paste (store bought, homemade or "semi homemade" as per recipe below)

2

-

3

tablespoon fish sauce

3 Tbsp

palm sugar, chopped

2

-

3

tablespoon tamarind juice

1

medium potato (~300g), cut into big chunks

Half a large onion, cut into ½-inch strips

¼ cup

roasted peanuts

Jasmine rice for serving
Quick Semi-Homemade Massaman Curry Paste
50g

store bought red curry paste (see note)

1 tsp

toasted coriander seeds, or ground

1

 tsp toasted cumin seeds, or ground

1 tsp

ground cinnamon

¼ tsp

ground cloves

⅛ tsp

ground nutmeg

¼ tsp

ground cardamom, or

2

whole pieces

Optional: 1 teaspoon fermented shrimp paste (gapi), only if your paste doesn't already contain it
---
Instructions
Important Safety Note: https://www.hippressurecooking.com/consumer-alert-food-explosion-after-pressure-release/
For the curry paste:
Grind all whole spices into a powder either in a mortar and pestle or in a coffee grinder.

Mix together curry paste, ground spices, and fermented shrimp paste, if using.
For the curry:
In a large skillet, add just enough oil to coat the bottom and heat over medium high heat until hot. Add beef in one layer and without crowding the pan, and let sear until the bottom is well browned. Flip beef and brown the other side. Pay attention to the heat and make sure the browned bits on the pan are not burned.

Turn heat off, and remove beef from the pan.

Turn heat back on to medium, add just enough water to coat the bottom of the pan and scrape all the browned bits off into the water.

 

Keep this pan juice for added flavour. Note: If you have burned the stuff that's stuck on the pan, do not deglaze it and just discard.
In sauté mode, medium heat, add ½ cup coconut milk and bring to a boil.
Add curry paste and stir to mix well. Turn heat to low, and let the mixture thicken, stirring frequently, until very thick or until coconut oil separates from the paste (this may not happen if you use canned coconut milk).
Add remaining coconut milk and stir to mix. Add seared beef, deglazed pan juice, 2 tablespoon fish sauce, palm sugar and tamarind. Stir to mix well.

Close Instant Pot and set it to "Pressure Cook" mode using high pressure for 30 minutes.

Once the timer goes off, put a cold wet towel on top of the metal part of the lid and let it cool for at least 10 minutes or until the pressure valve falls down. Note: If you are making a larger amount than this recipe, your cool down time will also increase.

Before you open lid, always press the quick release button to make sure any remaining pressure is released. This is especially important if the valve has not fallen back down, because that means there is definitely still pressure inside that needs to be released before opening. 

Open Instant Pot, check that the beef is tender by piercing it with a fork—it should easily go through.

Add potato, onions, peanuts, and simmer on sauté mode for 10-15 mins or just until potatoes are done.
Taste and adjust seasoning with

 

more fish sauce or tamarind as needed.

Enjoy!
---
Notes
You can To make this extra quick, you can skip the searing step and add the beef to the instant pot directly. However, the searing adds really nice beefy flavour, so do it if you have time!