Nam Jim Jeaw is the Thai "universal" dipping sauce for any kind of grilled or roasted meats. BBQ chicken, grilled steaks, roasted pork belly, even grilled fish, can all benefit from a little jeaw dip. It's also the perfect way to spice up your leftover roast!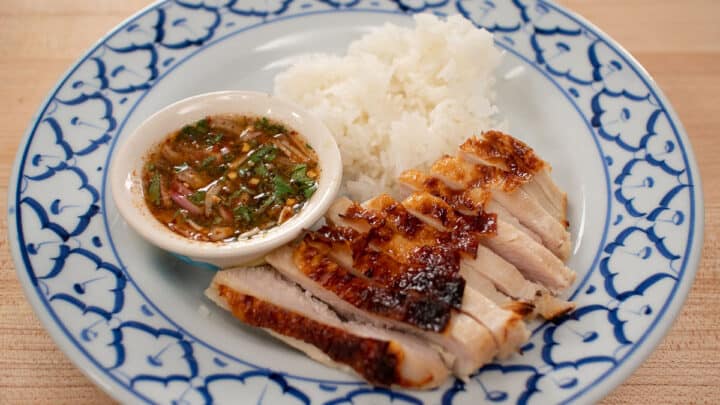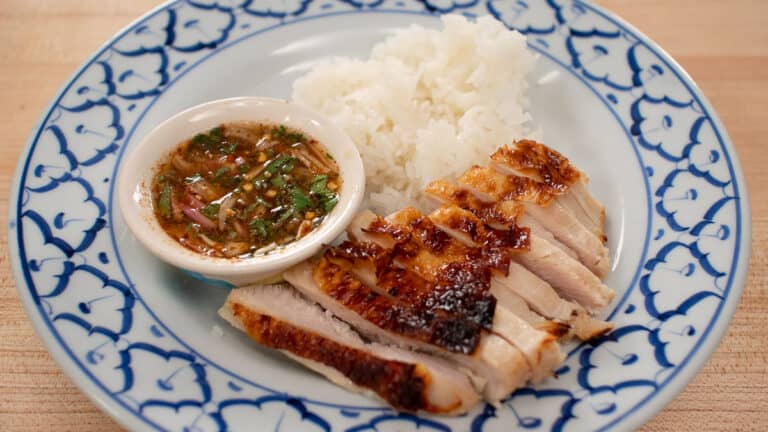 Even though jeaw is native to "Isaan" or the northeastern part of Thailand, it is so popular that it is enjoyed all over the country.
The recipe below is a very basic jeaw, and you can absolutely change up the flavour by making it sweeter with more sugar, or add some tamarind paste for a thicker consistency. Check out some of my meat recipes that are traditionally served with nam jim jeaw:
Watch The Full Video Tutorial!
This recipe is part of the 4 Ways to Thai Up Your Leftovers article. Be sure to check that post out for 3 other leftover ideas!
All my recipes come with step-by-step video tutorials with extra tips not mentioned in the blog post, so make sure you watch the video below to ensure success! And if you enjoy the show, please consider subscribing to my YouTube channel. Thank you!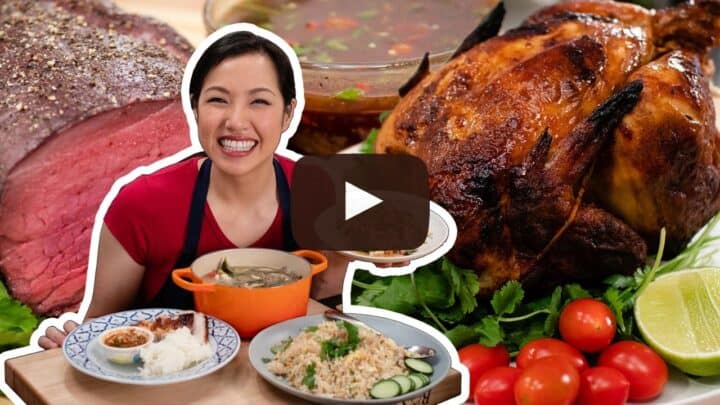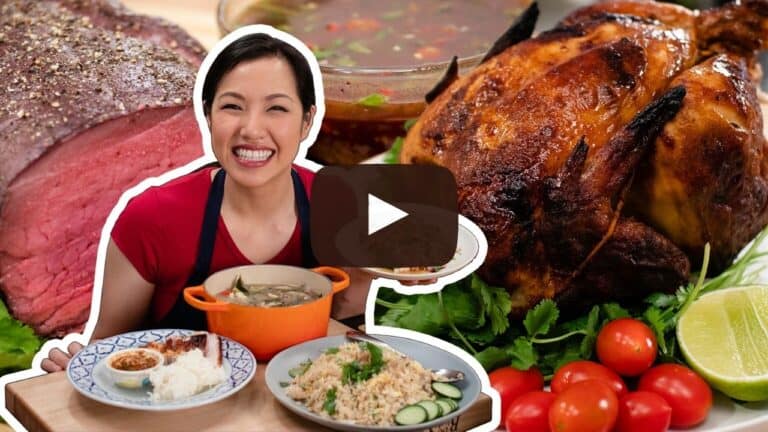 ---
Print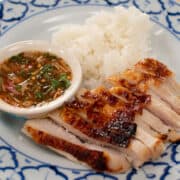 Nam Jim Jeaw - Thai Dipping Sauce for Roasted and Grilled Meats
Author:

Pailin Chongchitnant

Prep Time:

5 mins

Cook Time:

5 mins

Total Time:

10 minutes

Yield:

2 servings
---
Description
If you have a roast that you're happy with, and want to eat it again as-is but want a bit of a different sauce on it (or maybe you ran out of gravy!), this is the perfect dipping sauce that will go with turkey, chicken, and especially roast beef!
---
Makes enough for about 300g (10oz) of leftover meat, but feel free to adjust if you're a "heavy dipper".
1 Tbsp

uncooked white rice

1 Tbsp

finely chopped palm sugar or light brown sugar

1 Tbsp

lime juice (or use

2 tsp

tamarind paste and

2 tsp

lime juice for a thicker sauce)

1 Tbsp

fish sauce

1

heaping tablespoon thinly julienned shallots

¼ tsp

roasted chili flakes, or whatever spicy chili powder you (see note)
Chopped cilantro or mint, or another fresh herb, optional
Note: Make roasted chili flakes by baking dried chilies in a 300°F (150°C) oven for 5-7 minutes or until dark and smokey. Then grind it in a spice grinder. 
---
Instructions
Make toasted rice powder: In a dry saute pan, add the rice and cook over medium high heat, stirring constantly until the rice has a deep brown colour. Remove from heat and grind into a powder in a mortar and pestle or using a coffee grinder.
Using a mortar and pestle, add the palm sugar and pound to break up any lumps into a powder. Add fish sauce and lime juice, and swirl to dissolve the sugar. Stir in shallots and chili flakes.
When ready to serve, stir in toasted rice powder and fresh herbs. 
---
Keywords: dipping sauce, gluten free, leftover