---
I love Indonesian food. I find the flavours similar to that of Thai cuisine yet distinct and wonderful in its own way. Nasi goreng is a simple fried rice that you can often find on the streets of Indonesia, but it is also really easy to make at home. What I love about it is the rich flavour from the sweet soy sauce and also the fun fixings that are placed around the plate—pickles, shrimp crackers, fried shallots, fried egg, fresh veggies...the options are endless! There are lots of variations on nasi goreng, and it's a great way to use up any end bits of vegetables or leftover meat. Let me know what you like on your nasi goreng!
Tip: There are lots of little components, but most of them can be made in advance. Shrimp crackers and fried shallots can be made up to a week in advance, stored in an airtight container. Pickles can (obviously) be made far in advance as well.
Watch The Full Video Tutorial!
All my recipes come with step-by-step video tutorials with extra tips not mentioned in the blog post, so make sure you watch the video below to ensure success - and if you enjoy the show, please consider subscribing to my YouTube channel. Thank you!
Print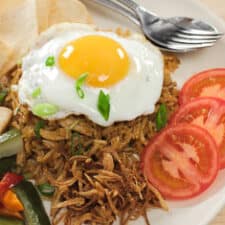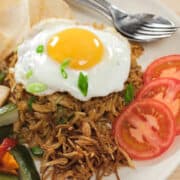 Nasi Goreng - Indonesian Fried Rice
---
1

head shallot, roughly chopped

3

cloves garlic

1

-

1½

tsp shrimp paste (depending how strong of a shrimp paste flavour you like)

1 Tbsp

+

1 tsp

kecap manis

1 Tbsp

fish sauce

1 Tbsp

sambal oelek

400g

cooked jasmine rice, cold if possible

¼ tsp

salt

1

green onion, chopped
Optional: any protein/vegetables you want to add (see note)
Note: I've given instructions for using leftover, cooked protein. If you're using raw protein, I would just cook it first, take it out of the pan, and then add it back in when you add the rice. 
Fixins
Sunny side up eggs, 1 per person

Shrimp crackers (krupuk)

Fried shallots (see instructions below, or check out this detailed guide to perfect fried shallots)

Fresh tomato and/or cucumber slices

Pickled cucumber & carrots (see recipe below)
Indonesian Pickled Cucumber and Carrots (Acar)
1 cup

carrot, cut into

1.5

-inch sticks

1 cup

cucumber, 1.5-inch sticks

½

head shallot, sliced

2

cloves garlic, smashed

Any kind of fresh chilies, to taste (optional)

¾ cup

white vinegar 

¼ cup

sugar

¼ tsp

salt
---
Instructions
For pickles: In a small pot combine vinegar, sugar, salt, garlic, shallots and chilies; bring to a boil. Meanwhile, place carrots and cucumber into a glass jar or another container that is heat-proof and acid-safe. Pour the boiled pickling liquid over the vegetables, making sure everything is submerged. Close the container jar, and once it is cooled to room temperature, it is ready to use. Store in the fridge.
For Fried Shallots: Thinly slice shallots lengthwise and spread them out on a piece of paper towel. Sprinkle salt over them and let sit for at least 10 minutes to let the salt draw out the moisture. Once the moisture has been drawn out, pat the shallots dry with a double layer of paper towel. Fry them on LOW heat in a small pot or a round-bottomed wok, with just enough oil to submerge them. Once they turn a deep golden colour, and the bubbling has subsided, fish them out with a mesh skimmer and drain them on paper towel. The may take 7-10 minutes depending on your heat and how much you are frying. They will darken a bit more once you've taken them out, so be careful not to let them get too dark. They also burn quickly so do not walk away!
For Shrimp Crackers: If you wish, break the dry shrimp crackers into 2-3 pieces as they expand a lot once fried. Heat about 1 inch of oil to 375°F and fry the crackers, no more than 3 at a time. Once they puff and expand, which only take a few seconds, they are done. If you want a darker colour you can keep them in a few seconds longer. Let drain on paper towel. Store in an air-tight container once cooled completely. Note: While you're frying, keep the heat low because, unlike most other foods, these crackers do not lower the oil temperature much when they're fried, so the oil can quickly get too hot if the heat is too high. 
For the fried rice:
Pound garlic, shallots, and shrimp paste in a mortar and pestle into a rough paste.
In a small bowl, combine kecap manis, fish sauce, and sambal oelek; stir to combine.
Fry the eggs sunny side up, or to your liking, and set aside.
In a wok, add a little vegetable oil and saute the herb paste until aromatic. If adding meat or vegetables, add them at this point and toss just to heat them through. Add rice, then pour the sauce mixture over the rice and add the salt. Turn the heat up to high and toss, breaking up rice lumps by pressing them down with a spatula. Once there are no more lumps and the rice grains are dry and evenly coated in the sauce, turn off the heat and toss in half of the green onions.  
Plate the rice, and arrange all the fixins around/on the rice. Top with the remaining green onions.
---