---
We do a lot of dessert soups in Thailand (and there is more on this in my cookbook). There are both hot and cold soups, and this is one of my favourite cold ones! Tapioca pearls, melon, coconut...may not be a combination you've seen before, but trust me, it is a must try! If you don't like cantaloupe or honeydew melon, mango is also delish!
It's a magical combination of aromas: the sweet ripe melons, coconut water, coconut milk and pandan leaves. I especially love the way the tapioca pearls slip and slide in your mouth, which makes it so fun to eat! Cold, refreshing, light, and just mildly sweet, this is the perfect summer dessert, or a light and sweet ending after a big meal!
Watch The Full Video Tutorial!
All my recipes come with step-by-step video tutorials with extra tips not mentioned in the blog post, so make sure you watch the video below to ensure success - and if you enjoy the show, please consider subscribing to my YouTube channel. Thank you!
Print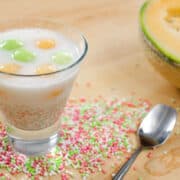 Tapioca Melon Dessert Soup สาคูแคนตาลูป
---
⅓ cup

small tapioca pearls

¾ cup

coconut water

⅓ cup

coconut milk

⅓ cup

whole milk

3 Tbsp

sugar, or to taste (note)

5

-inches pandan leaf (optional)

Half a cantaloupe and/or honeydew melon, or try mangoes! 
Note: The amount of sugar you need will depend on the sweetness of your coconut water, the sweetness of the melons, and also your preference, so adjust accordingly. I add 3 Tbsp to mine, and my coconut water and melons were both quite sweet. 
---
Instructions
Make the broth: Combine coconut water, coconut milk, milk, sugar and pandan leaf in a small pot. Bring to a boil, then remove from heat. Let it cool at room temperature until it's lukewarm, then chill in the fridge until cold. Tip: If you're in a rush to cool it, sit the pot in an ice water bath!
Scoop the melons using a small melon baller, or simply cut them into 1-centimeter dice. Chill the melons in the fridge.
Cook the tapioca: Bring big pot of water to a FULL boil. Sprinkle the tapioca pearls into the boiling water and stir until the water comes back to a full boil again. Once the water is fully boiling again and the tapioca pearls are dancing away in the water, you can stop stirring and let them boil for about 12 minutes, until you can just see a tiny white dot in the center of the pearls. (Some pearls will have larger white dots, that's okay, as long as most of them only have a tiny dot inside.)
Fish the pearls out using a fine mesh skimmer and dunk them immediately in a bowl of cold water to stop the cooking. Drain into a sieve and them rinse under cold water until tapioca is completely cool. Drain well and divide into serving bowls.
When ready to serve, add melon balls to each serving bowl and cover with the coconut broth. Serve cold. Enjoy!
Do-ahead tips: You can make the components ahead of time, but don't combine them until ready to serve, or at most within the hour or serving; the tapioca will continue absorbing the broth. The cooked tapioca pearls will last in the fridge for 2-3 days, but the texture is best (most bouncy and soft) the first day it is made, so I recommend boiling it the day you want to serve it. You can always make the broth and scoop the melons in advance! 
---