---
Sweet, creamy roasted kabocha squash glazed with soy sauce caramel, topped with roasted garlic, and drizzled with Thai basil oil. It's much easier and simpler than it sounds, I promise! It's a great side dish that adds subtle Asian flavours into your Christmas or Thanksgiving table.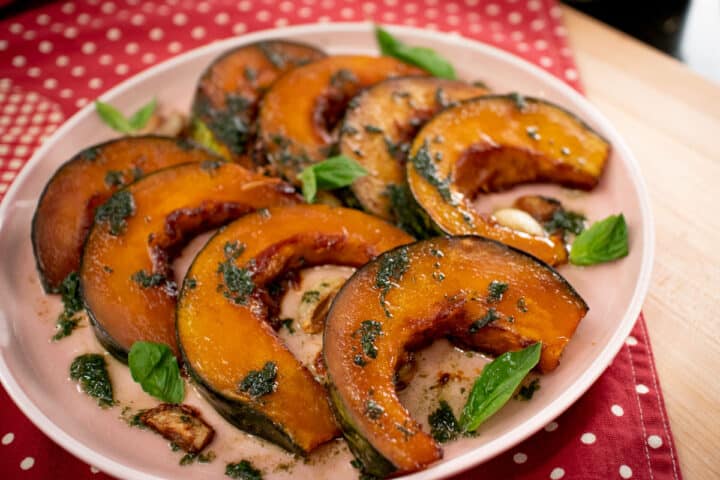 This dish was inspired by a traditional Thai classic, kabocha squash with Thai basil stir-fry which was one of my favourites growing up. The combination of creamy kabocha squash, a salty-sweet-umami sauce, and Thai basil is one of the best I can think of. So I wanted to take this combo and present it as a vegetable side dish that would work with any traditional holiday meals; and the results were fantastic!
Can I Use Another Squash?
Yes. While kabocha is my favourite as it tends to be the sweetest AND you don't have to peel it since the skin is edible, any other creamy-fleshed squash will work: acorn, butternut, kuri, or even sweet potatoes. But keep in mind that some types of squash, like butternut, have to be peeled.
Also, different squashes vary in cooking time, so be prepared to adjust as you go.
Soy Sauce or Fish Sauce?
Originally I did this recipe using fish sauce, but I wanted to explore the possibility of making this vegan. Turns out not only does soy sauce taste delicious, it creates a darker glaze that looks scrumptious, AND it doesn't make your house smell like fish for a period of time!
*Check out this video for the complete guide to Thai sauces.
How About Miso Caramel Glaze?
You can absolutely use miso and I think it would be awesome, though I personally haven't tried it. A few modifications though as miso is a dry chunky paste: after caramelizing the sugar, I would add WATER to dissolve the sugar, then stir in about 1 tablespoon of miso paste once the sizzling has subsided.
Can I Add Butter?
Butter is such an integral part of the holidays, isn't it? So if you want to enrich this dish, brush some melted butter right when the squash comes out of the oven. Butter burns easily so it's best to add it at the end (despite me suggesting adding it to the glaze in the video!).
The Process in a Nutshell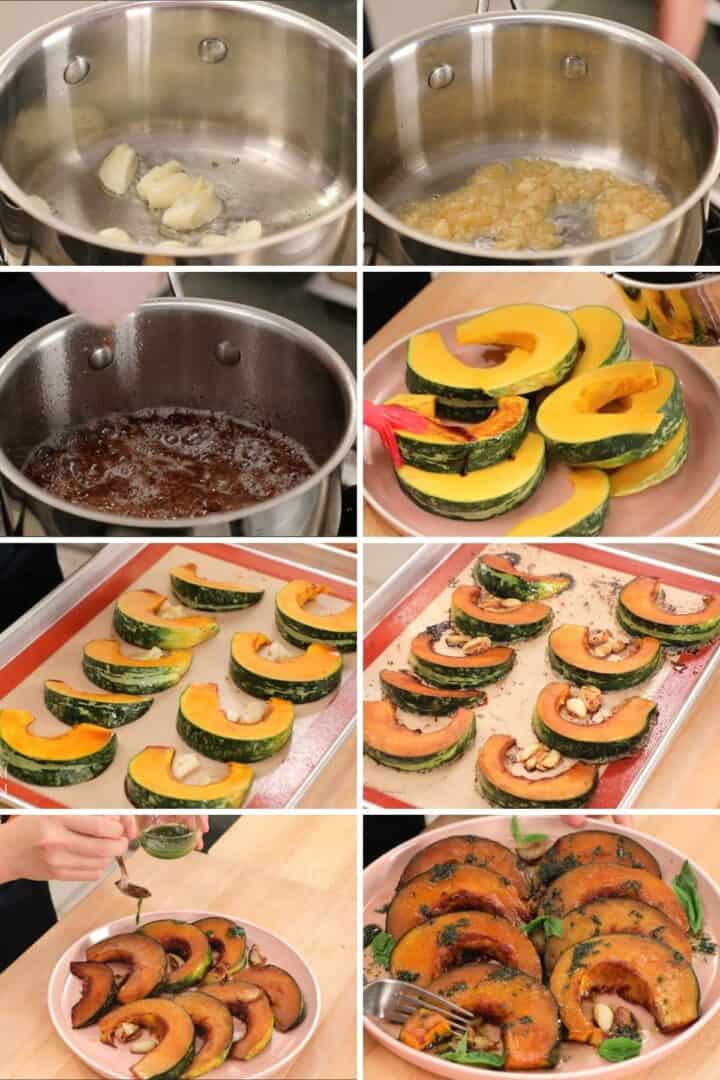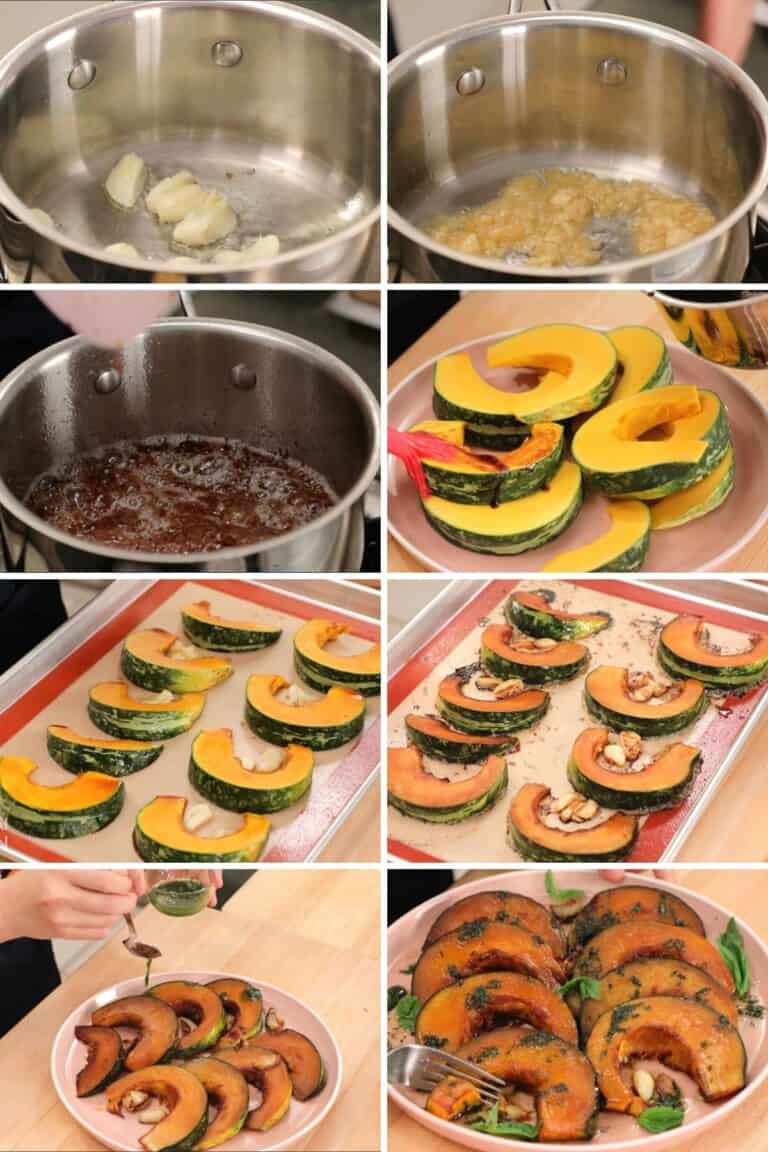 Can I Make This Even Simpler?
Yes! There are so many things going on when cooking for the holidays, so here are a few ideas for making this go faster.
Skip the caramelizing sugar. Palm sugar is flavourful to start so it'll still be delicious. Once the sugar is melted, off the heat and add your sauce right away. It will take less time, it won't splatter much, and you won't need to thin out the glaze.
Use store-bought pesto instead of making basil oil. Don't skip the basil because it's really important to the overall flavour of the dish. But store-bought pesto will do in a pinch.* This recipe is nut- and dairy-free, but most store bought pesto contains cheese and nuts.
Make Ahead Tips
Roast the kabocha squash and garlic 1-2 days ahead and keep the extra glaze in a separate container (no need to refrigerate the glaze).
On serving day, reheat in a 350°F (175°C) oven for about 10 minutes.
Make the basil oil while they reheat.
Brush the extra glaze on them right before serving so they glisten for the table!
Watch The Full Video Tutorial!
All my recipes come with step-by-step video tutorials with extra tips not mentioned in the blog post, so make sure you watch the video to ensure success! And if you enjoy the show, please consider subscribing to my YouTube channel. Thank you!
---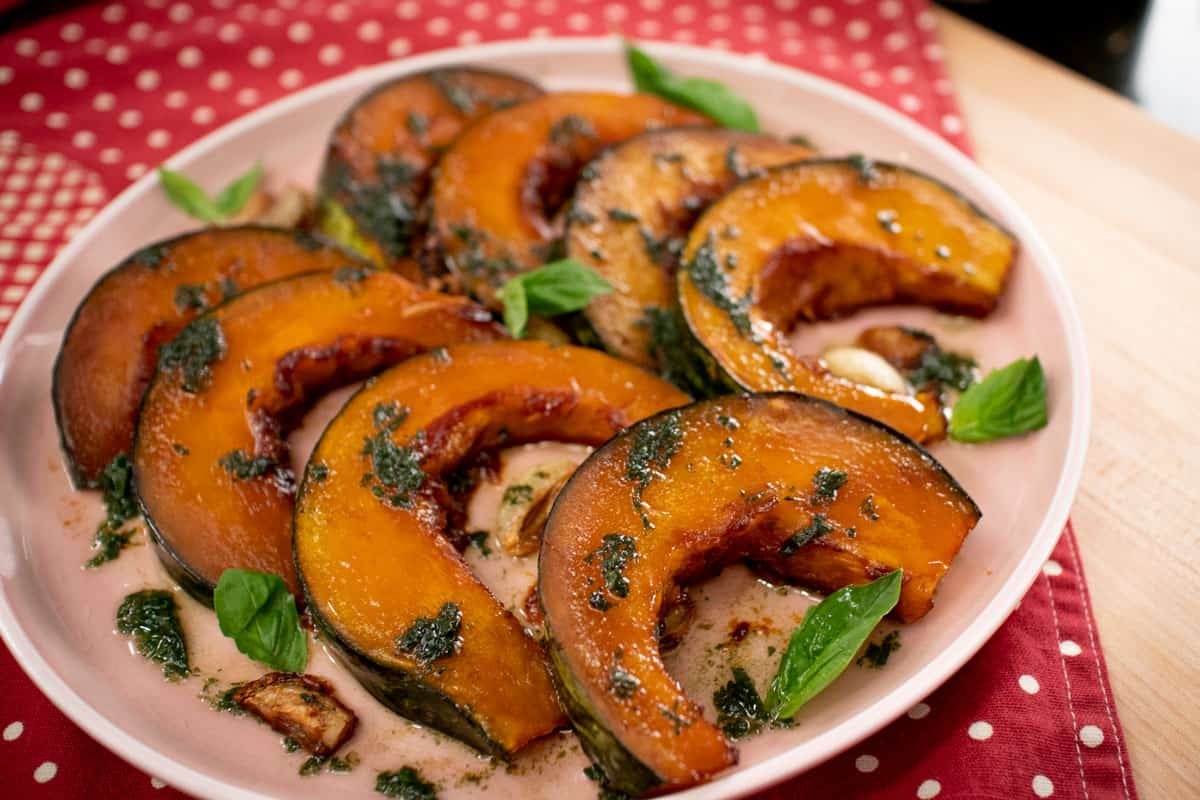 Soy Caramel Roasted Kabocha Squash
A Thai-inspired veggie side dish for the holiday season or any time of year. The soy caramel glaze can be modified by using fish sauce or miso instead of soy sauce, and you can change up the squash too. This is also vegan and gluten-free if using gluten-free soy sauce. Be sure to watch the full video tutorial above before you start!
Ingredients
1.5

lb

Kabocha squash (about half a medium squash)

2

tablespoon

vegetable oil

3

tablespoon

palm sugar,

chopped

1

tablespoon

+ 1 teaspoon soy sauce or fish sauce

5-6

garlic cloves

,

or as much as you'd like

¼

teaspoon

ground black or white pepper
Thai Basil oil
¼

cup

finely julienned Thai or regular basil

3

tablespoon

neutral flavoured oil

A pinch of salt
Check Out Ingredients and Kitchen Tools I Use
Notes
If you chose to caramelize the sugar, then when you add the soy sauce it will splatter aggressively and you will likely need to add water to thin out the glaze. If you don't want to deal with the splattering, or if your palm sugar is already quite dark already, you can just add the soy sauce as soon as the sugar is melted, and you may not need to thin out the glaze at all.
All my recipes come with step-by-step video tutorials with extra tips not mentioned in the blog post, so make sure you watch the video to ensure success. If you enjoy them, consider subscribing to the YouTube Channel to not miss an episode. Thank you!
Subscribe to my YouTube Channel
Instructions
Preheat the oven to 425°F (220°C).

Scoop out the seeds and fiber from the cavity of the squash with a spoon, then cut into 1-inch wedges (no need to peel it, and watch the video for safe cutting techniques). Place the squash on a large plate.

Prep the garlic:

Cut the root end off the garlic and crush the cloves with the flat of your knife until the cloves are broken into big chunks. Remove the peel, and tear apart or chop any chunks that are too big.

Make the glaze:

In a small pot, add the oil and garlic and turn heat on to medium low. Once the garlic is bubbling, cook for about 2 minutes, stirring frequently, until they start to turn golden. Turn off the heat and remove from the oil.  Be sure to remove ALL the little bits of garlic otherwise they will burn in the next step.

To the same pot, add palm sugar and cook until it melts. If you want (see note), keep the sugar cooking a bit longer until the colour darkens slightly (not too much, see video for guide) and then turn off the heat.

 Add soy sauce, (it will splatter vigorously so stand back), and once the splattering settles you can stir to mix. If it is thick, add about 1 tablespoon of water to thin out the glaze so it can be easily brushed onto the squash. Add the pepper, then throw the garlic chunks back in to coat in the glaze.

 Brush this glaze over the squash on both sides, then place them on a parchment-lined baking sheet in one layer. Be careful to get as little glaze as possible on the baking sheet cuz it'll just burn in the oven.

Put the garlic chunks inside the curve of the squash pieces, shaking off excess glaze before placing them down—this will protect them from over-browning.

Roast for 10 mins, then take the squash out and brush with more glaze on both sides; then roast them for another 10-15 minutes or until fork-tender. If the garlic is starting to get too dark, you can take them out first. To check for doneness, pierce the thickest piece with a fork and it should go right through without resistance.

While the squash roasts, make the basil oil: Add the basil, a pinch of salt and oil into a mortar and pestle and grind to bruise and blend the basil with the oil. You can also just blend everything in a small food processor, but you may need to make a bit more basil oil than you need to make it blend effectively.

Assemble

Place the squash on a serving platter in one layer and scatter the garlic pieces on top. Brush or drizzle the remaining glaze on the squash, then drizzle with basil oil. Serve warm or room temperature.
Watch my videos AD-FREE and get bonus content on Patreon!
Tried this recipe? Share a pic!
Tag @hotthaikitchen on Instagram and Twitter!