---
"Swimming Rama" is a dish that is becoming hard to find in Thailand, but is still served in many Thai restaurants overseas. Started by Chinese immigrants in Bangkok, swimming rama is made up of a bed of blanched morning glory or water spinach, topped with tender slices of pork or chicken, with a peanut sauce poured on top. In Thailand this is often served as a "single-dish meal," which means that all the good stuff gets poured over rice!
I have to admit that I'm making a bit of a luxurious version here (because I can!) with lots of coconut milk, herbs, and peanuts, so it's extra rich. If you get this on the streets of Thailand, the gravy may be diluted with stock, and then thickened with starch.
You CAN make this vegetarian friendly by omitting the meat altogether or substituting tofu or mushrooms for the meat. The sauce can be made far in advance and kept in the fridge for days, so this really can be a quick weeknight meal!
RELATED VIDEOS:
Watch The Full Video Tutorial!
All my recipes come with step-by-step video tutorials with extra tips not mentioned in the blog post, so make sure you watch the video below to ensure success - and if you enjoy the show, please consider subscribing to my YouTube channel. Thank you!
---
Print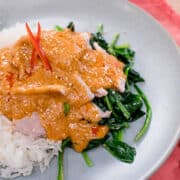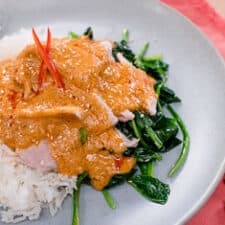 "Swimming Rama" Thai Peanut Sauce w/ Spinach & Pork พระรามลงสรง
---
Serves 4
300g

pork loin or chicken breast, thinly sliced

1 Tbsp

fish sauce

3 Tbsp

water
2 teaspoon oil

2 tablespoon cornstarch


-

2

-

2½

tablespoon red curry paste

1½ cup

coconut milk

2 Tbsp

chopped palm sugar

1

-

2

teaspoon fish sauce

2

-

3

tablespoon tamarind juice

⅓ cup

roasted peanuts, unsalted (see note 1)

1 ½ Tbsp

toasted white sesame seeds (see note 2)

1

lb morning glory or spinach
Optional condiment: Thai chili paste (see note 3)
---
Instructions
Marinate the meat:
I

n a bowl, toss the pork or chicken with fish sauce, water and oil. Add cornstarch and toss well to mix; let marinate for at least 20 minutes or until all the water has been absorbed into the meat.
Make the sauce:
Reduce ½ cup coconut milk in a pot over medium heat until very thick.

Add curry paste and stir to break it apart. If you have a hard time getting the curry paste clumps to loosen, you can add a splash of coconut milk to help it along. Keep stirring until coconut oil starts separating away from the paste and the paste is sizzling.

Add the remaining coconut milk, fish sauce, palm sugar and tamarind and bring it to a simmer.

Meanwhile, place the peanuts and sesame seeds into a food processor and blitz until they turn into a coarse meal. You can also pound them in a mortar and pestle.

Stir the peanut mixture into the sauce and let it simmer gently for 20 minutes to allow the flavours to fully develop. 

Once the sauce is done simmering, you can add more water if the sauce is too thick. It should be rich but can still pour easily without being gloppy. Taste and adjust seasoning as needed.
Assembly:
Blanch the vegetables: bring a large pot of water to a boil and drizzle a little neutral flavoured oil into the water.

Add the vegetables all at once into the water and let it cook for 10-15 seconds just until they wilt, then immediately fish them out using a big mesh skimmer (do not drain the water as you will need it to cook the meat). Shake as much of the water out of the vegetables as possible and place in to a bowl and cover to keep warm.

Blanch the meat: If you have a big skimmer with large holes (similar to what I have in the video) place the meat into the skimmer and dunk it in the boiling water for 20-30 seconds, stirring it around to separate the pieces, then lift it out as soon as it's cooked. Do not use a fine sieve for this as you want all the cornstarch bits to fall through. If you don't have a skimmer, just dump the meat into the water, stir it around to separate the pieces, and when cooked drain into a colander.

Place a portion of rice on the plate, then arrange the vegetables either on top or beside the rice. Place the meat on the veg, and pour the sauce over the meat. Serve with a dollop of chili paste if you'd like, and sprinkle a little extra sesame seeds or crushed peanuts on top if desired. Enjoy!
---
Notes
I highly recommend buying raw peanuts and roasting them yourself in the oven. It makes a big difference in the flavour. Simply spread them on a baking sheet and bake in a 350°F oven for 13-18 minutes (depending on the size of your peanuts). Stir them half-way through and watch them carefully towards the end cuz they burn quick!
To toast raw sesame seeds, add them to a dry saute pan and move them around constantly over medium high heat until golden brown. Remove from pan immediately onto a plate to cool.
I forgot to mention this in the video but some people like to serve a little dollop of Thai chili paste on the side for extra seasoning. I don't usually bother since I find this sauce is plenty flavourful on its own and I find the chili paste (at least the one I have at home) a bit overpowering, but I would encourage you to try it out to see if you like it. Or if you have another chili paste in the fridge you want to try it with, go for it!