---
Don't just make a vegan curry, make an AWESOME vegan curry! In this video I share with you my tricks and tips on how to maximize the umami in red curry without a drop of fish sauce!
You all know I love my meat and fish sauce, but I absolutely LOVED this curry and I did not miss the meat at all, and it's because of the little decisions you make along the way, and also one secret ingredient!
RELATED VIDEOS:
How to Make Red Curry Paste (part of the red curry chicken recipe)
The Best Coconut Milk to Buy
Watch The Full Video Tutorial!
All my recipes come with step-by-step video tutorials with extra tips not mentioned in the blog post, so make sure you watch the video below to ensure success - and if you enjoy the show, please consider subscribing to my YouTube channel. Thank you!
---
Print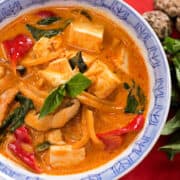 Vegan Red Curry แกงเผ็ดมังสวิรัติ
---
2 cups

hot water

6

-

8

pc dried shiitake mushrooms

1 cup

bamboo shoots, canned, strips or sticks

2 cups

coconut milk

3

-

5

tablespoon red curry paste (make your own with this recipe and omit shrimp paste, or choose one with no shrimp paste if buying)

1

heaping tablespoon tomato paste

1 Tbsp

soy sauce

½ Tbsp

Golden Mountain Sauce

2

Tbsb palm sugar, chopped

6

-

7

kaffir lime leaves

300 g

medium firm tofu (smooth variety if possible)

A handful red peppers for colour (optional)

1

big handful Thai basil
---
Instructions
Soak shiitake mushrooms in hot water for at least 30 minutes or until the mushrooms are fully hydrated. Remove from water (reserve the water) and squeeze out water from the mushrooms. Slice off the stems and discard, and cut the cap into ¼-inch slices.
Rinse bamboo shoots well, then boil in water for 5 minutes. Drain and rinse. This will remove the odour from the bamboo which some find unpleasant.
Add ¾ cup of the coconut milk into a heavy bottomed pot and reduce over medium heat until thick and the coconut oil starts separating from the coconut milk. If using canned coconut milk, this may not happen, in which case just proceed with the recipe.
Add curry paste and stir to break it up and mix with coconut milk, then and tomato paste and keep stirring until the oil starts to sizzle around the edges of the paste.
Add remaining coconut milk and 1 cup of mushroom water and bring to a boil. Add soy sauce, Golden Mountain sauce and palm sugar and stir to dissolve the sugar.  Add bamboo shoots, mushrooms, and tear in kaffir lime leaves and stir. Then gently add the tofu pieces and push them down so they are submerged, being careful not to break the tofu. Simmer for at least 10 minutes, if it looks a little thick, you can add more mushroom water. Add red peppers and cook for 1 minute. Stir in Thai basil and remove from heat. Serve with jasmine rice. Enjoy!
---
Keywords: vegan, curry, red curry, mushroom, tofu, vegetarian