Yellow curry is one of the most popular dishes of Thai cuisine. While using store bought curry paste is totally fine (and most Thai people do it!), making your own yellow curry paste can be a really satisfying cooking project. Once you've got the paste, you can use it in my yellow curry chicken, yellow curry beef, or even in a vegetable dish such as this quick cauliflower curry!
Ingredients
Here are ingredients you'll need and some helpful info. For amounts and instructions, see the recipe card below!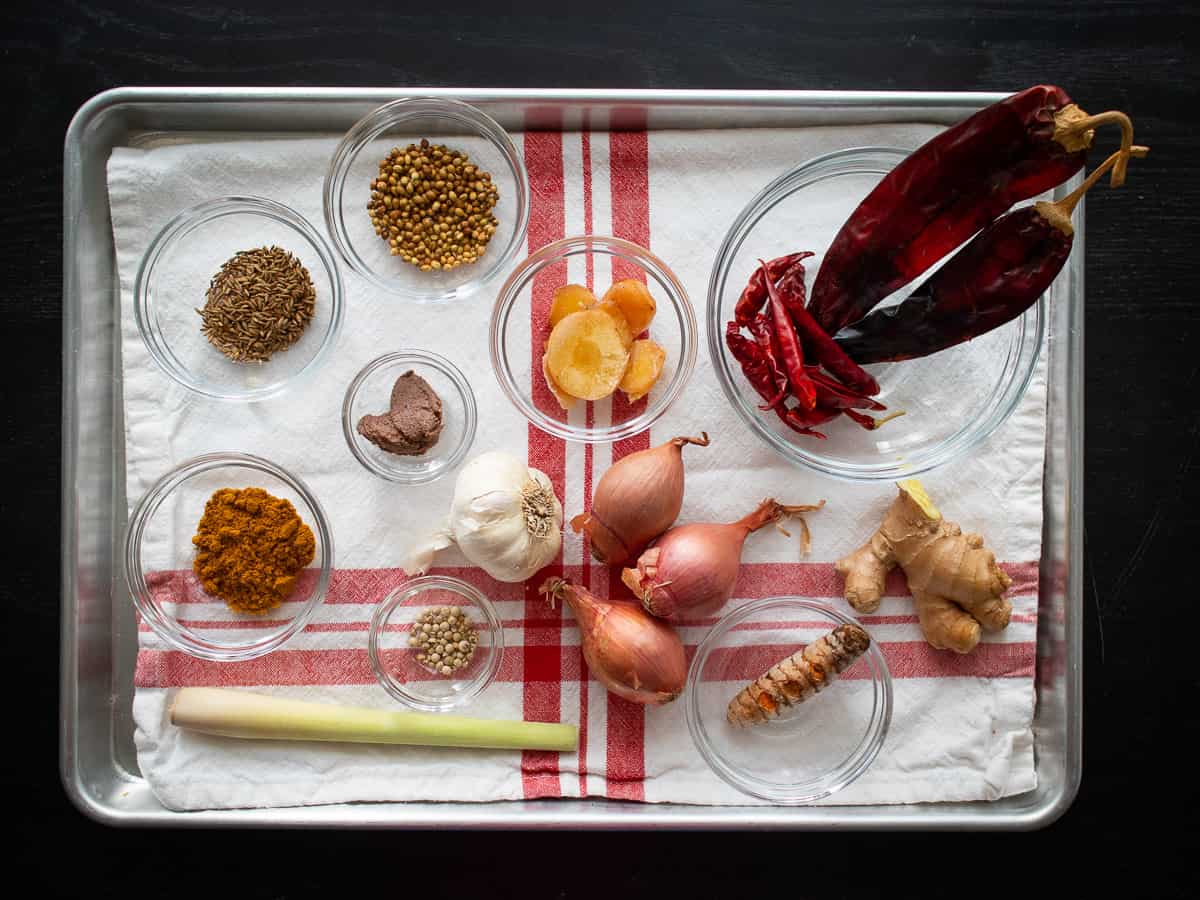 Mild dried red chilies, I usually use guajillo peppers which can be found at Latin American stores. Korean gochugaru will work in a pinch. In Thailand, they would use dried spur chilies which are very hard to find here.
Spicy dried chilies (optional). Yellow curries can be quite mild, but if you want to add some heat, add any kind of smaller spicier dried chilies such as Thai or chiles de arbol.
Coriander seeds, toasted
Cumin seeds, toasted
White peppercorns, black will also work.
Salt, if pounding curry paste by hand, coarse salt is preferable as the abrasion helps breakdown the herbs.
Curry powder. There's no need to look for "Thai curry powder" as this is an ingredient that came to us by way of India! Any curry powder you have at your local store will work, as long as you like how it smells! Personally love the Japanese S&B brand curry powder.
Lemongrass, bottom half only, which is where most of the flavours are. You can save the tops and freeze them and add to stock or soups, anywhere that would benefit from a subtle lemony aroma.
Ginger
Galangal
Fresh turmeric. I prefer fresh here as I think it tastes better, and they are quite available these days especially at healthy grocery stores. But if you only have turmeric powder it will also work.
Garlic
Shallots, finely chopped
Fermented shrimp paste, called gapi in Thai, this funky paste adds umami and is traditional in Thai curries. Omit if vegetarian, or substitute miso paste.
How to Make Yellow Curry Paste
Here's how to make the yellow curry paste by hand, with the help of a coffee grinder for dry spices. I highly recommend reading my notes on tools for making Thai curry paste below before you start.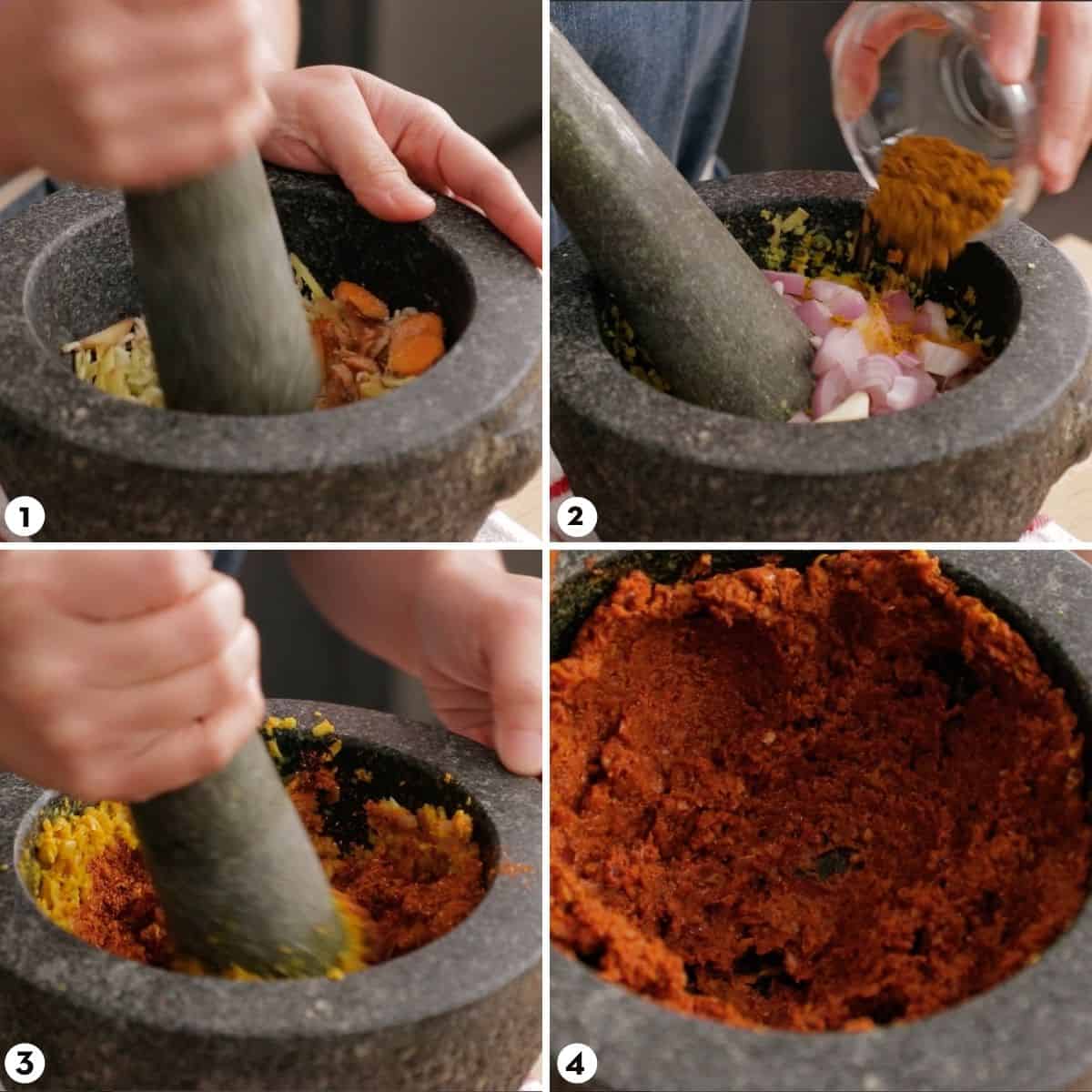 Pound the lemongrass, galangal, ginger and turmeric into a fine paste.
Grind all of the dried spices, including dried chilies, in a coffee grinder, then add to the mortar along with the garlic and shallots.
Pound into a fine paste and then add shrimp paste and pound to mix.
The yellow curry paste paste is now ready to use, or it can be frozen.
Tools for making curry paste
Here are my thoughts on various tools to make curry paste.
Using a coffee grinder/spice grinder for dry ingredients is the most significant time-saving step, so do this regardless of what tools you use to grind the fresh herbs.
To save time, a good immersion blender works perfectly and is how I normally make curry paste. See my massaman curry paste video on how to use it.
If using a mortar and pestle, you should use a heavy-duty granite set that is large enough for the amount of paste (5-6 inch internal diameter and above is ideal). It's a royal pain to try to do this in a cute little thing!
I don't recommend using a food processor for this, as it doesn't get the paste fine enough, and it requires you to make quite a large amount.
A blender is not ideal as it requires you to add quite a bit of liquid to the paste. This is not the end of the world, but you'll have to account for this extra liquid for when you make the curry. If you're confident in making these adjustments, go for it.
How to Freeze Extra Curry Paste
Yellow curry paste, as with all other curry pastes, freeze exceptionally well. Freeze in a freezer bag and flatten it so that it will be quick to thaw, and remove as much air as possible. If you don't want to use freezer bags, mason jars will work.
Tip: If you are freezing multiple portions of curry paste in the same bag, after flattening the paste, use the back of a knife to push down on the bag to create separation "lines" between portions. It'll make it easier to take out one portion at a time.
How to Use Yellow Curry Paste
Of course you're thinking about making a yellow curry, so this yellow curry chicken or yellow curry beef are probably what you'll make first. But, there's more you can do!
You can use Thai curry pastes in many ways. Try stir frying with it in this cauliflower curry stir fry recipe, or try substituting it for the curry paste in this Thai sausage recipe. Also check out my video on 5 ways to use curry paste (besides making a curry!)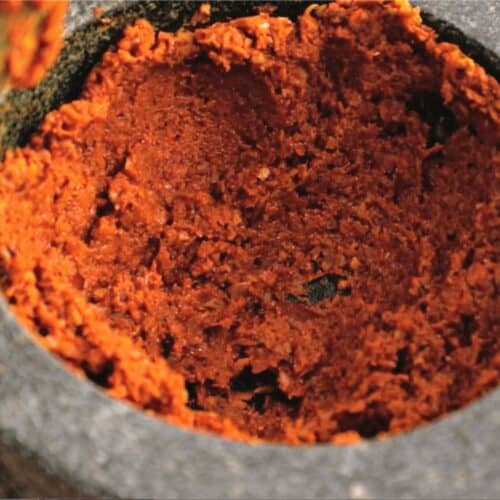 Yellow Curry Paste Recipe
This homemade Thai yellow curry paste is mild but flavourful. The recipe makes enough for 2 batches of a 4 serving curry, and any extra can be frozen.
Ingredients
0.7

oz

mild dried chilies

,

cut into ½-inch chunks (see note 1)

1

tablespoon

coriander seeds

,

toasted

1½

teaspoon

cumin seeds

,

toasted

½

teaspoon

white peppercorns

1

teaspoon

salt

1

tablespoon

curry powder

,

(see note 2)

1

stalk

lemongrass,

bottom half only, finely chopped

2

tablespoon

ginger

,

finely chopped

2

tablespoon

galangal

,

finely chopped

1

tablespoon

fresh turmeric

,

finely chopped

6

cloves

garlic

,

finely chopped

½

cup

shallots

,

finely chopped

2

teaspoon

fermented shrimp paste

,

omit if vegetarian
Check Out Ingredients and Kitchen Tools I Use
Notes
Though yellow curry is usually on the milder side, you can make the curry spicier by replacing some of the mild dried chilies with hotter ones, such as chiles de arbol or Thai chilies. 
Any curry powder available at your local store will work, as long as you like the way it smells; it does not need to be a Thai brand. 
All my recipes come with step-by-step video tutorials with extra tips not mentioned in the blog post, so make sure you watch the video to ensure success. If you enjoy them, consider subscribing to the YouTube Channel to not miss an episode. Thank you!
Subscribe to my YouTube Channel
Instructions
Add the chilies to a coffee or spice grinder and grind into a powder.

0.7 oz mild dried chilies

In a stone mortar and pestle, add coriander seeds, cumin seeds, and white peppercorns; grind into a powder. Remove and set aside in a bowl; add curry powder to this bowl.

1 tablespoon coriander seeds,

1½ teaspoon cumin seeds,

½ teaspoon white peppercorns,

1 tablespoon curry powder

Add lemongrass, galangal, ginger, turmeric and salt to the mortar and pound into a paste. When the mixture feels too wet, add the dry spices to help absorb the liquid and continue to pound into a fine paste.

1 stalk lemongrass,

2 tablespoon ginger,

2 tablespoon galangal,

1 tablespoon fresh turmeric,

1 teaspoon salt

Add ground chilies, shallots, and garlic; pound into a fine paste. Add shrimp paste and pound to mix.

6 cloves garlic,

½ cup shallots,

2 teaspoon fermented shrimp paste
Watch my videos AD-FREE and get bonus content on Patreon!
Tried this recipe? Share a pic!
Tag @hotthaikitchen on Instagram and Twitter!