This ice cream recipe is as old-school as it gets. It's something I grew up with, and ice cream made and served this way is harder to find nowadays. The flavour of the ice cream itself is pure; with nothing but coconut milk, coconut water, palm sugar and pandan leaf - preserving the original, authentic taste. It also happens to be vegan. We serve it with sticky rice inside a fluffy bun, with some fun toppings, just like they do on the street!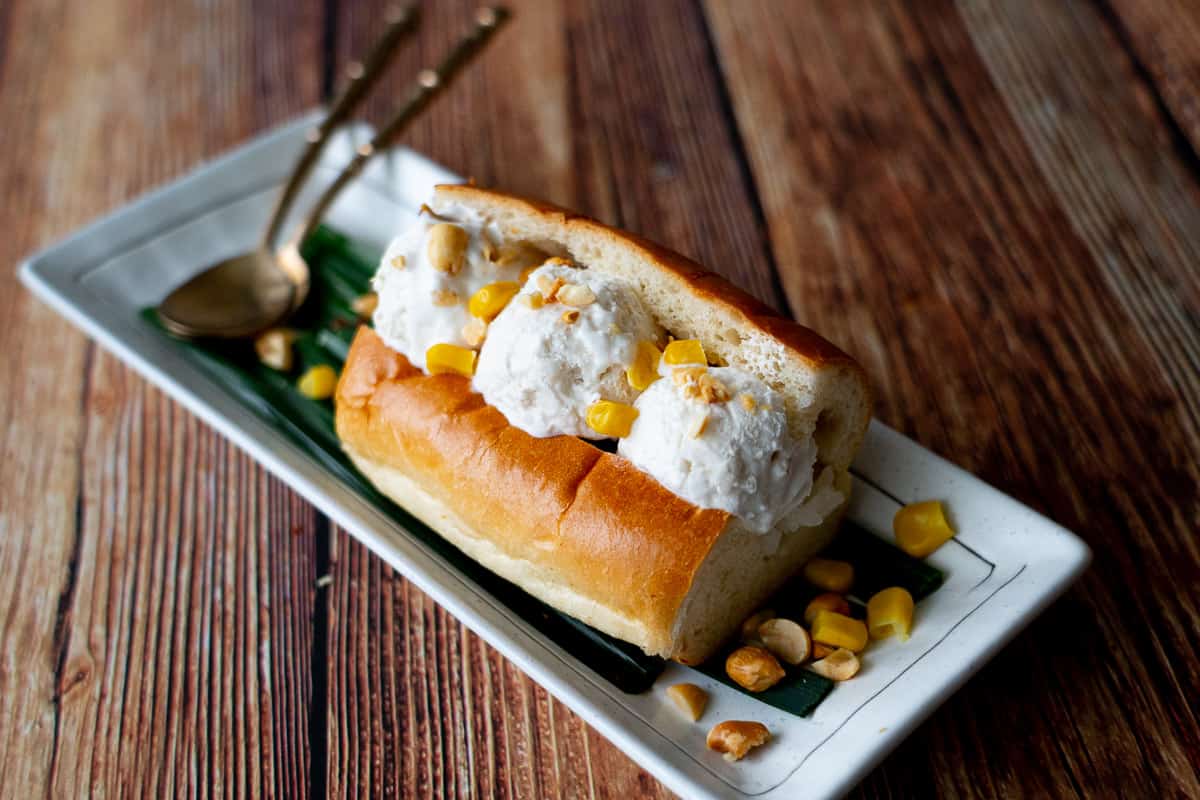 My Quest for Real Coconut Ice Cream
Growing up in Thailand, coconut ice cream was THE base flavour. It was our "vanilla"; our default. It tasted of nothing but pure coconutty goodness. As sweets in Thailand became modernized, milk and dairy products became "trendy." So ice cream vendors started incorporating dairy, making it taste more like Western ice cream because that was the cool thing to do.
Fast forward to my years in Canada, and I've started seeing coconut ice cream in stores over the past few years. "Dairy free" they all say. But still somehow it doesn't taste much like real coconut - and what's with the added vanilla and guar gum? I soon realized that its real purpose is not to be coconut ice cream, but to be a vegan substitute to regular vanilla ice cream. Not what I was looking for.
I realized that the only way to have the true stuff of my childhood is to make it. And turns out ... it's much simpler than I would have thought. Several years ago I shared my first coconut ice cream recipe, which is wonderfully light thanks to a generous amount of coconut water. It has a sorbet feel to it, perfect for the summer. But this time, I wanted something richer and creamier for when I'm feeling more indulgent. This is it.
Ingredients: Very few, but very important
There are only 4 basic ingredients; plus the pandan leaves which are optional but nice to have. Because of the simplicity of this recipe, it is extremely important that you use good quality ingredients; especially the coconut milk. Here are a few pointers: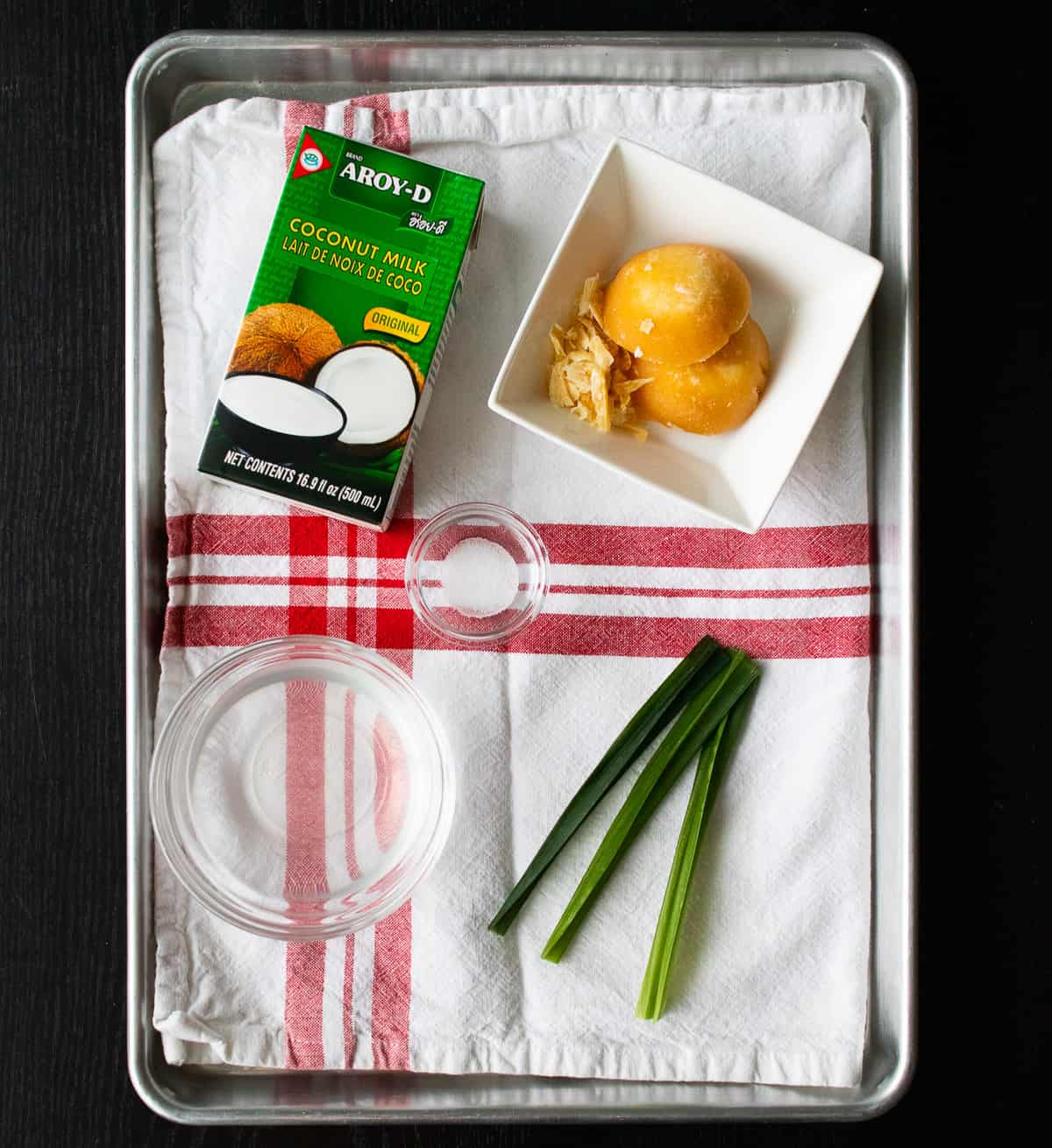 Step-By-Step:
Here's a bird's eye view of the process, but be sure to check out the full video tutorial in the recipe card below to ensure success!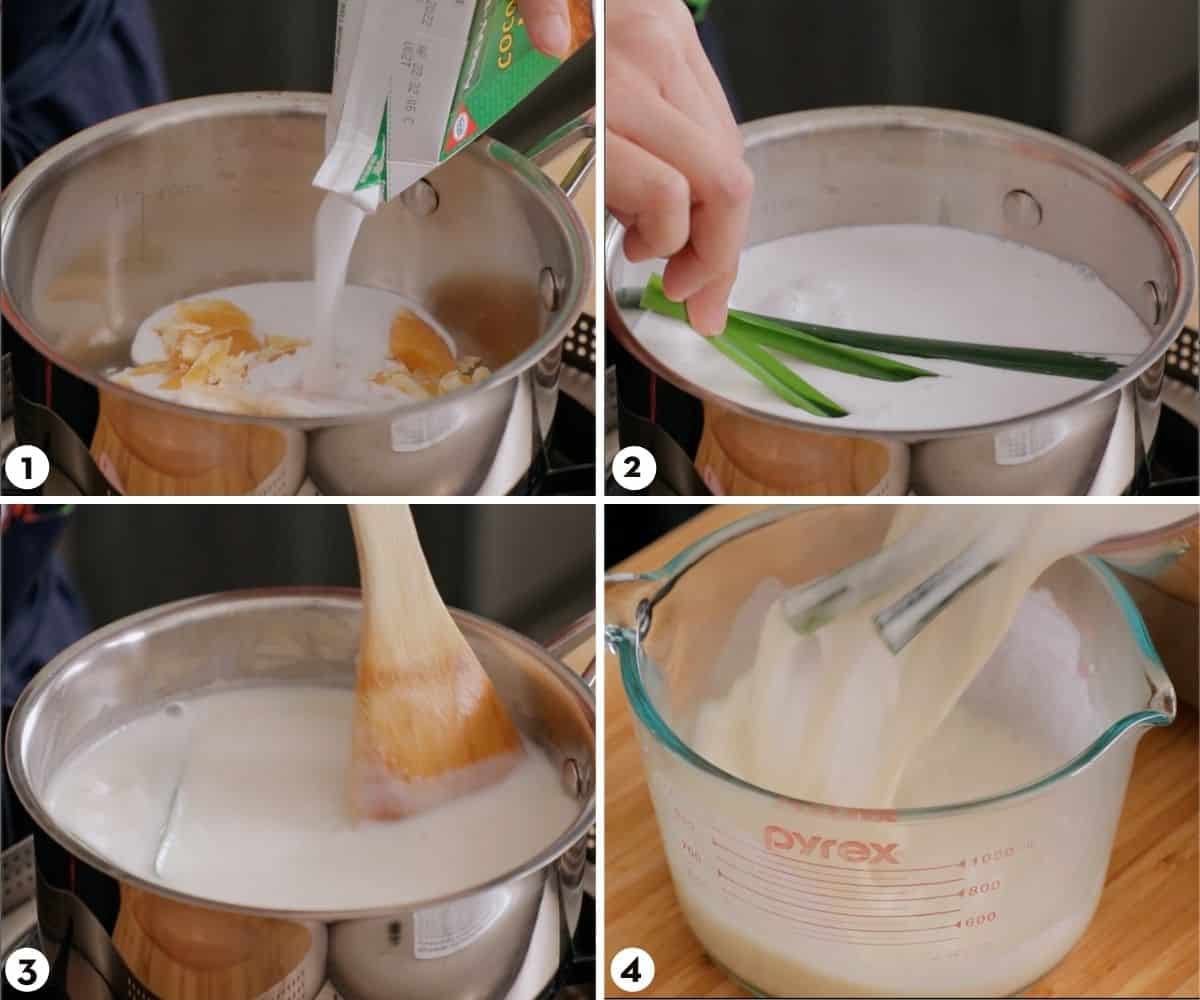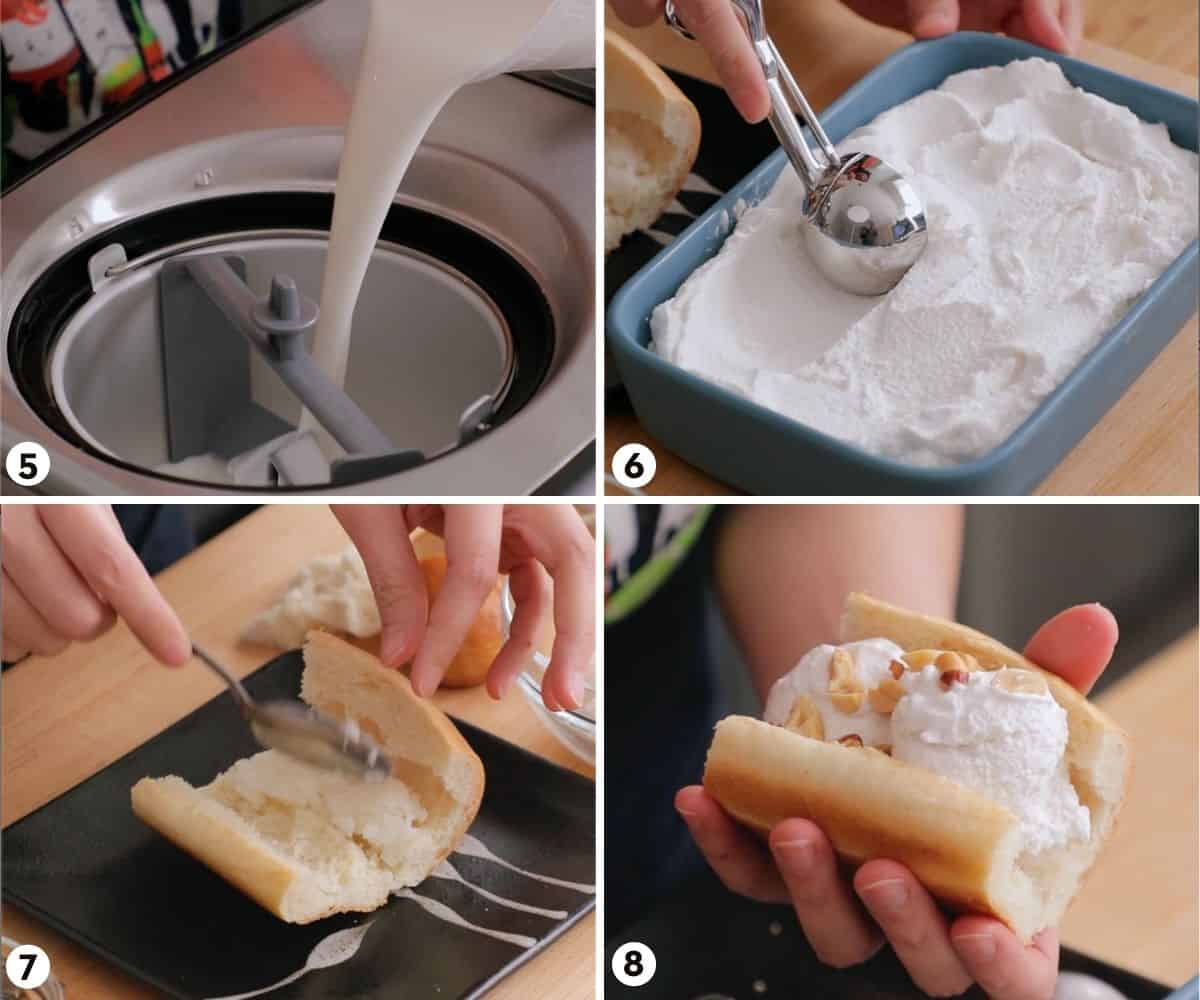 How to eat ice cream, Thai street style
Cup VS cone? No, cup VS bun!
Though not always available, most traditional, old-style ice cream vendors give you the option to have your ice cream in a fluffy bun, similar to a hot dog bun. You can use any fluffy buns or rolls for this, though ideally from an Asian bakery where the buns tend to be fluffier and softer.
If not serving in a bun, you can also cut up some fluffy bread cubes and use them as toppings. Makes it easier to eat!
Sticky rice
My favourite part of eating ice cream Thai style is the sticky rice! It is optional, but I highly recommend it. It's easy to make but it takes a bit of time. The good news is it's the same sticky rice that we use for mango and sticky rice or durian and sticky rice, so you can get 2 desserts out of 1!
Sweet sticky rice also goes well with many ice cream flavours, even non-Asian ones! So make a bunch and try it with any other ice cream you have! Sticky rice also freezes well, so you can make a bunch; and more on how to freeze sticky rice in the FAQ below.
I've included how to make the coconut sticky rice in the recipe card below, but check out this video for 7 different ways to make sticky rice to see all your options in terms of equipment. However, for making sweet coconut sticky rice I don't recommend using one of the no-soak methods, as they tend to yield softer rice, that then might become mushy when mixed with the coconut milk.
Toppings
As with any ice cream, toppings are optional, but where you get to have some fun! I show a few toppings below, but feel free to experiment with other things. I'd say the roasted peanuts (or some sort of crunchy nuts/seeds) are a must, but the rest are all optional.
Roasted peanuts. A must!!! To me, it's not the same without the peanuts. If you can, roast them from raw, as it does make a biiiiiig difference. I always roast mine from raw for all kinds of cooking. Simply spread them out on a sheet pan and roast in a 350°F oven for 15-20 minutes, stirring halfway through. Timing will depend on the size of the peanuts.
Toasted mung beans. A good substitute for peanuts for those who are allergic; see how to make them in the mango and sticky rice recipe.
Sweet corn.
Pineapple, canned or fresh.
Taro or sweet potato. In Thailand they usually simmer the sweet potato cubes in syrup to sweeten them, but I think simply cubed and steamed is fine for either of these.
Attap palm seeds. Not super common but I love these. They come in cans at some SE Asian markets. Simply rinse them in water to remove the gooey syrup before using.
Nata de coco. If you like jelly-like toppings, these are great and available at most Asian markets where they're sold in glass jars. You can use them straight out of the jar.
Pro Tip: Creamiest Ice Cream
The faster ice cream freezes, the creamier, less icy it will be. So make sure you pre-freeze the container you'll use to freeze the ice cream, and if you can, use something wide and flat to maximize surface area.

Also, note that if you decide to reduce sugar or coconut milk in the recipe, it will result in ice cream that is harder and is less creamy, because sugar and fat helps keep ice cream soft when frozen.
Frequently Asked Questions
I don't have an ice cream machine, what can I use instead?
For the best result you want an ice cream machine for this. Here's a highly-rated, inexpensive one, and here's the one I use. While there is a way to "hack it," it is rather tedious and the result will be icy and not as creamy. But check out this article if you want to give it a try.
How do I store the leftover sticky rice?
You can freeze the sticky rice and reheat whenever you want some ice cream Thai style; it doesn't even have to be with coconut ice cream! But it's important to freeze the rice in portions, otherwise it'll be stuck together in one big block and impossible to break apart. So make little 1-serving clumps then freeze them in a freezer bag or container, making sure they don't get squished back together during freezing.

To reheat, cover the rice with a damp paper towel and microwave for 20-30 seconds. Take it out and stir it to even out any cold spots, then microwave again for another 20 seconds or so until the rice is steaming hot. This timing is for small amounts; if you're reheating a lot, it make take a lot more time of course. Keep in mind the rice will not regain its sticky and soft texture if it's just warmed. It needs to be steaming hot, and then allowed to cool back down to room temp before putting ice cream on it.
No machine? Try these no-churn ice cream recipes!
Before you start, be sure to watch the video tutorial to ensure success! I always include little tips and tricks not mentioned in the blog post. The video is in the recipe card below, but you can also watch it on YouTube!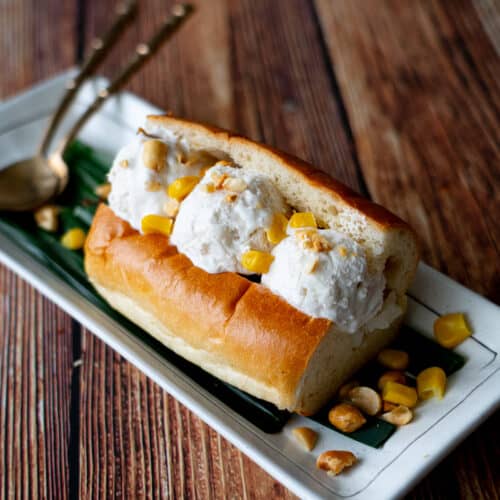 Thai Coconut Ice Cream Sundae
Authentic coconut ice cream that really lets the flavour of coconut shine. Enjoy this vegan ice cream just like on the streets of Thailand by serving with sticky rice inside a fluffy bun! Be sure to plan ahead and make the ice cream base 1 day before serving, and if making sticky rice, soak it at least 3 hours in advance.
Ingredients
For the Ice cream:
16.5

fl oz

good coconut milk

4

fl oz

coconut water

4.2

oz

chopped palm sugar

⅛

rounded teaspoon

table salt

,

Half a pandan leaf

,

optional
For serving (all optional, see more options in blog post)
Freshly roasted peanuts

,

highly recommended, see note

Coconut sticky rice

,

recipe follows

Fluffy bun

,

hot dog bun, dinner roll, or thick-sliced white sandwich bread

Sweet corn
Sweet Sticky Rice (any leftover can be enjoyed with mangoes!)
1

cup

Thai glutinous rice

⅔

cup

coconut milk

⅓

cup

sugar

½

teaspoon

table salt
Check Out Ingredients and Kitchen Tools I Use
Notes
It makes all the difference to buy raw peanuts and roast them yourself. Roast them in the oven at 350°F for 15-20 minutes depending on the size, stirring them half way through. If you can, buy peanuts with skin on; it's a lot of work to remove the skins afterwards but for reasons I can't explain they roast up tastier!
All my recipes come with step-by-step video tutorials with extra tips not mentioned in the blog post, so make sure you watch the video to ensure success. If you enjoy them, consider subscribing to the YouTube Channel to not miss an episode. Thank you!
Subscribe to my YouTube Channel
Instructions
For the ice cream:
Place the coconut milk, coconut water, palm sugar, salt and pandan leaf (if using) into a pot and bring to a boil. If not using pandan leaf, you can cook just until the sugar is dissolved without having to bring it to a boil.

16.5 fl oz good coconut milk,

4 fl oz coconut water,

4.2 oz chopped palm sugar,

⅛ rounded teaspoon table salt,

Half a pandan leaf

Allow the mixture to cool to room temp, then put it in the fridge until completely chilled, preferably overnight. Also place the container you will use to store the ice cream in the freezer, preferably something shallow and wide for faster freezing.

Churn the ice cream in your machine, following the manufacturer's instructions. Transfer the ice cream into the pre-chilled container and freeze for at least another 2 hours to firm up before serving.
For the sweet sticky rice:
Wash the sticky rice 4-5 times until the water runs clear and place into a heatproof mixing bowl. Pour hot off-the-boil water into the rice until it is about 1-1.5 inch above the rice. Give it a stir and soak for 20 minutes - do not oversoak. Once the rice is done soaking, pour off most of the soaking water and rinse the rice under cold tap water and drain well.

(If you prefer, you can also soak the rice in room temp water for at least 3 hours and up to overnight; no need to rinse after a cold-water soak.)

1 cup Thai glutinous rice

Fill a steamer pot with about 2 inches of water and bring the water to a boil over high heat. Wet a clean muslin or thin tea towel that you'll use to wrap the rice to prevent the rice from sticking, and then line the steamer rack with the wet cloth (do this off the heat).

Place the rice into the steamer rack and fold the edges of the cloth over it, and steam over the boiling water for 20-25 minutes or until the rice is cooked through and no longer crunchy in the middle.

While the rice steams, make the coconut syrup by combining the coconut milk, sugar and salt in a small pot and bring to a simmer, stirring to dissolve the sugar. Remove from heat and cover while you wait for the rice.

⅔ cup coconut milk,

⅓ cup sugar,

½ teaspoon table salt

Place the cooked rice in a heatproof mixing bowl and pour the coconut syrup over; stir to mix well making sure there are no rice clumps. Cover and let rest for 20 minutes, then come back to give it a stir, folding the bottom up to the top, and let sit for another 20 minutes before serving.

To store extra sticky rice, separate the rice into 1-portion sized clumps and freeze them. When you want to use them, take out the number of clumps you want, cover in a moist paper towel and microwave for about 30 seconds or until steaming hot and soft. Allow to cool to room temp or lukewarm before putting ice cream on it!
To serve
You can serve the ice cream in a bowl by placing a little sticky rice in the bottom and then top this with the ice cream and toppings. To serve in a bun, place the sticky rice in the bottom of the bun and top with the ice cream and toppings. Enjoy!

Freshly roasted peanuts,

Fluffy bun,

Sweet corn,

Coconut sticky rice
Watch my videos AD-FREE and get bonus content on Patreon!
Tried this recipe? Share a pic!
Tag @hotthaikitchen on Instagram and Twitter!