---
Another Thai breakfast video! Kao Tom is such a classic breakfast dish in Thailand. You can think of this as the Thai sister of congee which is of Chinese origin. Instead of being porridge-like, it's more of a soup. Jasmine rice is added to flavourful broth, and it's one of the most comforting dishes. It's a great breakfast in the winter too!
To put this together quickly in the morning: Make the broth and whatever protein you like in advanced and keep them in the fridge. Have some cooked jasmine rice in the fridge, too. Comes time to eat, bring the broth to a boil, add the rice and protein and let it heat up thoroughly. Et voila!
P.S. I'm using shrimp but you can use any protein you like for this.
Watch The Full Video Tutorial!
All my recipes come with step-by-step video tutorials with extra tips not mentioned in the blog post, so make sure you watch the video below to ensure success - and if you enjoy the show, please consider subscribing to my YouTube channel. Thank you!
---
Print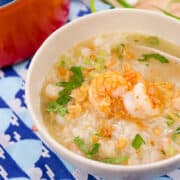 Thai Breakfast Rice Soup with Shrimp (Kao Tom Goong)
---
3 cups

pork stock or chicken stock, unsalted (homemade is best, here's a recipe!)

3

cloves garlic

¼ tsp

white peppercorns

6

cilantro stems or

2

cilantro roots

~150g shrimp, cut into small chunks, plus a few extra whole ones for garnish if you so desire

1 Tbsp

fish sauce

½ Tbsp

soy sauce

3 cups

cooked jasmine rice (this amount is flexible depending on whether you like thick or brothy soup)
Condiments
Fried garlic & oil (see instructions)

Green onion and/or c

ilantro

Chinese preserved cabbage (optional)

Extra ground white pepper if needed
---
Instructions
Pound white peppercorns until fine, then add garlic and cilantro stem/roots and pound until fine. Add half of this paste to your small pieces of shrimp and mix well. 

Saute the small pieces of shrimp in a pan with a little bit of oil just until it's cooked through. Deglaze the pan with some stock as needed and scrape any bits of herb stuck to the bottom. Remove from pan and set aside.

If using whole garnish shrimp, sear the whole shrimp over medium high heat until browned and cooked through, set aside. 

Bring the stock to a boil in a pot, add the other half of the herb paste and simmer for one minute.

Season with fish sauce and soy sauce, then taste and adjust seasoning.

When ready to serve, bring the broth to a boil then add the rice and the shrimp. Bring the soup back to a simmer, and immediately turn off the heat (if you let this simmer for a long time the rice will swell up and absorb too much stock). Serve immediately, if you let this sit, the rice will continue to absorb liquid. Ladle into a bowl, and top with all the condiments as desired. Enjoy!
To make fried garlic and garlic oil
Chop a head of garlic into small pieces and fry them in neutral-flavoured oil. Use just enough oil to cover the garlic.
Use very low heat to fry, keeping the bubbling gentle and stirring frequently, until golden and crispy.
Strain the garlic from the oil and keep the two separate. You can keep these in the fridge and add them to anything for extra garlic flavour!
---
Keywords: breakfast, porridge, rice soup, gluten free, congee