Laab ลาบ is one of the most iconic dishes in Thai cuisine that is popular in many Thai restaurants around the world. To me, it represents one of the best parts about Thai food - spicy, bright flavours loaded with fresh herbs. It is also one of the easiest Thai dishes you can make at home, making it very beginner and weeknight friendly!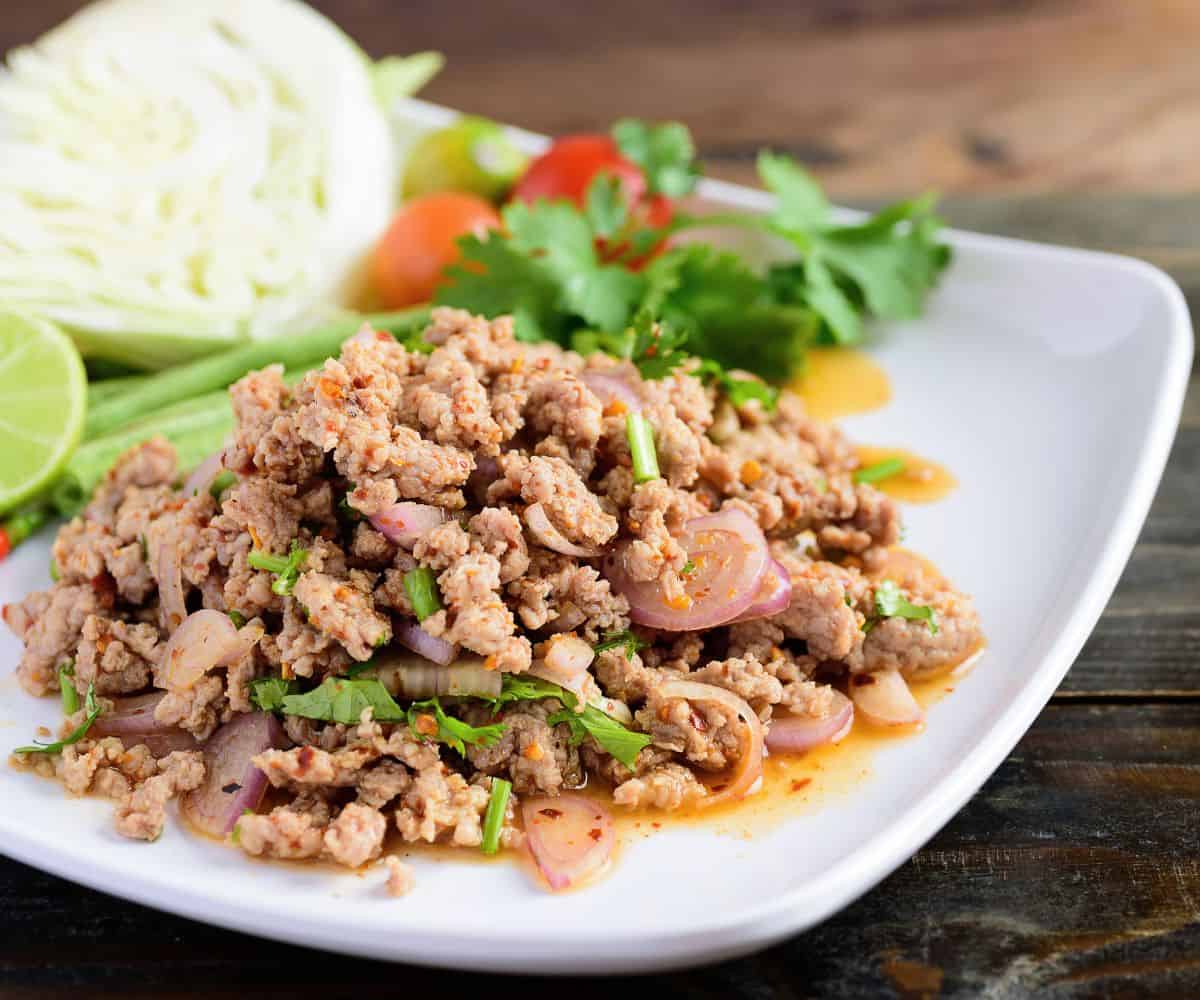 What is laab? Is it the same as larb?
While most people, and many Thai restaurants, call this dish larb, the correct pronunciation and the way it should be written is laab. The R is not pronounced.
"Larb" is the most popular way Thai restaurants write out the dish on menus because when Thai people speak Thai-accented English, we don't pronounce the R (we pronounce "car" as "ka," for example).
Anyway, LAAB is a ground meat salad that hails from the northeast region of Thailand known as Isaan. It is typically made of ground meat and lots of fresh herbs such as mint, cilantro, and green onions. It is dressed with lime juice, fish sauce, dried chili flakes, and most important ingredient of all: toasted rice powder.
Because laab is mostly meat, it is served with a lot of raw vegetables such as cabbage, lettuce leaves, cucumber and long beans. It is also always served with sticky rice.
This recipe is for laab moo, made with ground pork which is the most popular version in Thailand, but you can substitute another kind of ground meat, more details in the ingredients section below.
Watch The Full Video Tutorial!
All my recipes come with step-by-step video tutorials, and if it's your first time making laab, recommend watching it to ensure success! If you enjoy the show, please consider subscribing to my YouTube channel. Thank you!
*This is an old video and I spelled the dish as larb back then. I (and you) know better now 😉.
Ingredients
Here are all the ingredients you'll need to make this recipe. For amounts, check out the full recipe card below.
White glutinous rice or jasmine rice, uncooked. This is for making the most important ingredient in this whole thing: toasted rice powder or kao kua. It is not laab without kao kua. Glutinous rice is traditional since the northeast of Thailand eats a lot of sticky rice (glutinous rice), but jasmine rice works fine and I even find it to be more fragrant.
Ground pork. Lean ground pork is fine, but if you can, get regular ground pork as the fat will keep everything moist, especially since there is no added fat in the dressing. You can sub ground turkey, ground chicken (use chicken thighs for best results), or ground beef, but again, don't go for lean if possible. Here's my chicken laab (laab gai) recipe. For a vegan version, see my corn and tofu laab recipe here
Shallots, red onion will also work if shallots are not available
Fresh mint leaves, another must-have ingredient without which it is not laab!
Cilantro, if you're a cilantro hater, leaving it out is fine.
Green onion
Sawtooth coriander, also known as culantro. This is harder to find and is optional. You can also add more cilantro or mint.
Fish sauce, see my post here about how to choose good fish sauce.
Lime juice
Chili flakes, you can add as much as you want but laab is supposed to be spicy! In Thailand we toast our chili flakes to get them smokey, which you can do simply by toasting it in a dry skillet over medium heat until it darkens and smells smokey. Chili powder will also work in a pinch. Red pepper flakes in Western grocery stores are usually too mild, so I suggest visiting an Asian market and get some chili flakes with some heat. Or get dried spicy chiles such as chile de arbol, and grind it up yourself.
Sticky rice for serving. Here's a post with 7 different ways to make sticky rice, but my favourite method is this hot soak method.
Fresh raw vegetables for serving such as lettuce, cabbage, long beans and cucumber.
How to Make Laab
Here are all the steps to make this recipe. If this is your first time, I highly recommend watching the video tutorial to ensure success!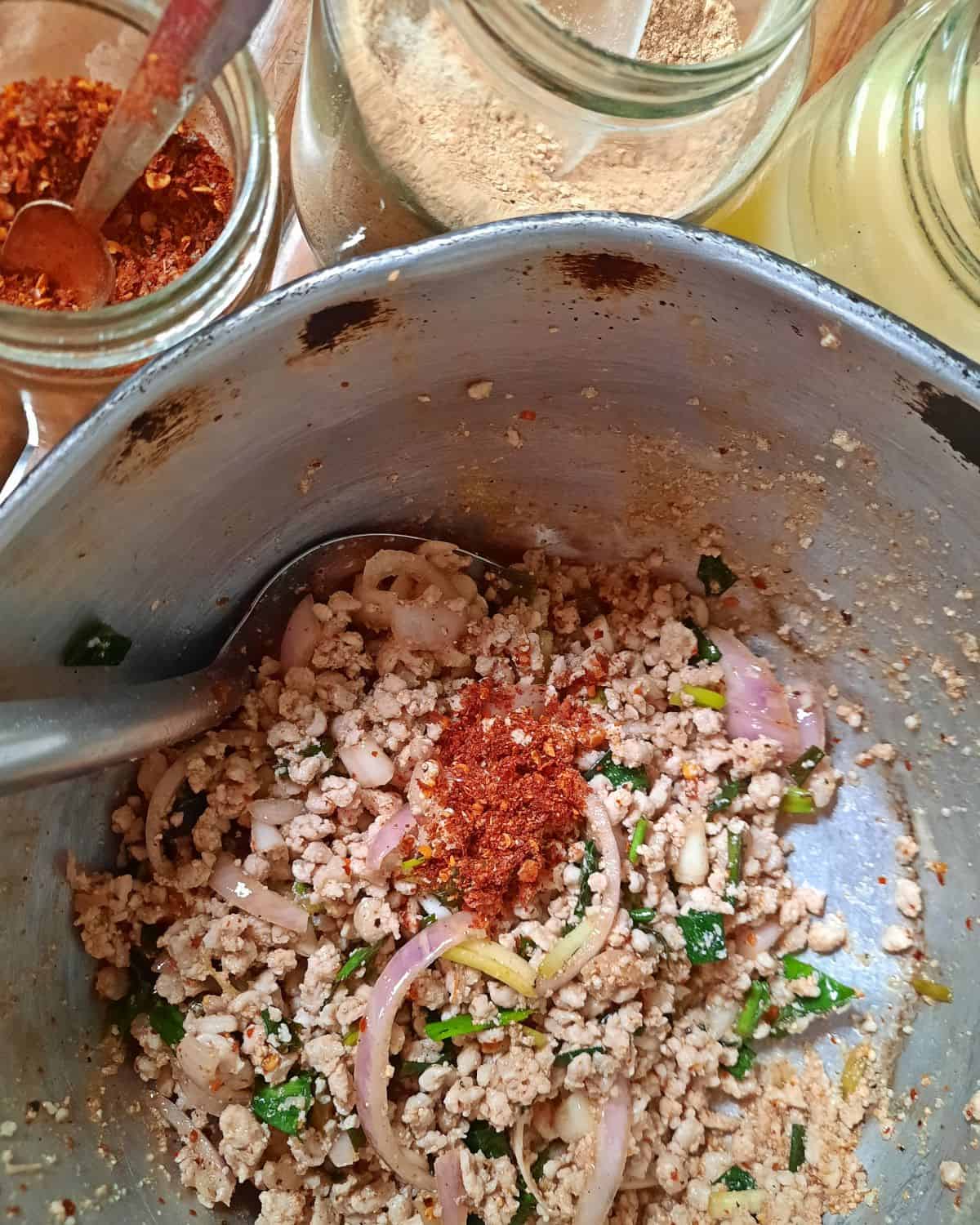 Make toasted rice powder: Place the raw rice in a dry skillet pan and cook over medium high heat, moving it constantly, until a deep brown colour develops. Don't stop at golden brown, for the best flavour you want it dark brown!
Grind the rice with a coffee or spice grinder, or in a mortar and pestle into a coarse powder.
Add 2 tablespoon water to a medium pot over high heat, then add the pork and stir it constantly to break it up. Once it's cooked, remove from heat.
Using the pot as your mixing bowl, add shallots into the pork and stir to break up the rings and lightly cook the shallots.
Add the fish sauce, lime juice, the toasted rice powder, chili flakes, cilantro, sawtooth coriander and green onion into the pot and stir to mix. Taste and adjust seasoning as needed, which may vary because the amount of pork juice that remains in the pot will vary. If you feel like it's a little bit too strong (too tart, too salty) you can add just a pinch of sugar to balance, but do not make it sweet. Remember, there will be sticky rice to balance it all later!
When ready to serve, stir in the fresh mint leaves. (I like to leave the mint out until serving time because they turn black when exposed to heat)
Garnish with some mint leaves and more chili flakes. Serve with some fresh crunchy vegetables and sticky rice!
How to Eat Laab Like a Thai
A plate of authentic Thai laab arrives, and it comes with a side of sticky rice and a bunch of raw vegetables...and at this point most first timers stammer a bit because they don't know what to do with it all. Do you put the laab on the rice? Should you eat the laab and the veg together in the same bite? Or separately? Totally understandable! Let me explain.
Typically laab is served family style, meaning a few people are sharing one plate. But everyone should have their own sticky rice, so start by putting some of that on your personal plate. You then scoop some of the laab and a few pieces of veg onto your own plate as well. Then there are a couple of ways to go about it:
I usually take a bit of laab and follow it up with a bite of sticky rice, so both the rice AND the laab are in my mouth at the same time. And I munch on the vegetables in between as sort of a palate cleanser.
I will also sometimes use leafy veg such as lettuce or cabbage as a "spoon" and put the laab on it. Kind of like a lettuce wrap. You can do the same with slices of cucumber.
You can also use sticky rice to sop up the laab juices, which is the best part!
Finally, these are just suggestions. Feel free to eat it however you like 🙂
For more on Thai dining etiquette, check out my video for How To Eat Thai Food Correctly.
FAQ
What's the difference between this laab and northern laab?
This recipe is laab isaan or northeastern Thai laab. But if you've been to northern Thailand, you might have had a dish also called laab that tastes quite different from this one.
Northern laab, or laab neua or laab kua, is a traditional dish of northern Thailand that also involves ground pork, but instead of being a salad, it is closer to a stir fry. It is loaded with a ton of dry spices, and those spices are the key ingredients of northern laab. I can't get some of those spices here in Canada, which is why I don't yet have a recipe for it!
Can laab be made vegetarian or vegan?
I have a delicious recipe for a vegan laab here that uses pressed tofu and sweet corn, and soy sauce instead of fish sauce. Even hardcore meat eaters in your life, such as my husband, will enjoy it!
Print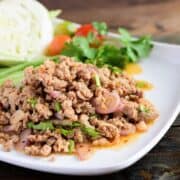 Thai Pork Laab (Larb) Recipe
Author:

Pailin Chongchitnant

Prep Time:

15 mins

Cook Time:

12 mins

Total Time:

27 minutes

Yield:

Serves 2
---
Description
An iconic salad of ground meat from northeastern Thailand. The flavours of laab is fresh, bright and spicy. Super Thai food beginner-friendly and very quick and easy to make! 
---
1.5 Tbsp

white glutinous rice or jasmine rice *

2 Tbsp

water

250 g

/9 oz ground pork (preferably not lean)

3 Tbsp

finely sliced shallot

¼ cup

mint leaves, rough chopped if leaves are large

2 Tbsp

chopped cilantro

1

small green onion, chopped

2

-

3

 leaves sawtooth coriander, rough chopped

2 Tbsp

fish sauce

2

 Tbsp lime juice

1

-

2

teaspoon chili flakes, or to taste
Serve with sticky rice (see recipe) and fresh crunchy vegetables such as long beans, cabbage and cucumber.
Recipe Notes:
* This makes a little bit more than you might need, but it's nice to have extra in case you feel like you want to add more at the end. You can keep any extra for about a week in a tightly sealed container or ziplock bag.
** If you cannot find sawtooth coriander (also known as culantro), you can leave it out.
---
Instructions
Make toasted rice powder: Put glutinous white rice or jasmine rice in a dry sauté pan and cook over medium high heat, moving it constantly, until a deep brown colour develops. Grind with a coffee grinder or in a mortar and pestle into a sand-like texture.
In a medium pot, add the water and bring to a boil over high heat. Then add the ground pork and stir to break it up until it is fully cooked. Remove from the heat.
Using the pot as your mixing bowl, add shallots into the pork and stir to break up the rings and lightly wilt the shallots.
Add the fish sauce, lime juice, 1.5 tablespoon of the toasted ground rice, and the chili powder and stir to mix. Then add the fresh herb: cilantro, sawtooth coriander (if using), green onions and mint. (Tip: If not serving right away, leave the mint leaves until serving time as they tend to turn black when exposed to warm food for a long time.
Taste and adjust to your liking with more fish sauce and lime juice as needed. If it feels a little too salty or acidic, you can add a pinch of sugar to help balance the salt and the acid.
Feel free to garnish with some mint leaves and fried dried chilies. Serve with some fresh crunchy vegetables and sticky rice.
---