---
Watch The Full Video Tutorial!
All my recipes come with step-by-step video tutorials with extra tips not mentioned in the blog post, so make sure you watch the video below to ensure success - and if you enjoy the show, please consider subscribing to my YouTube channel. Thank you!
Print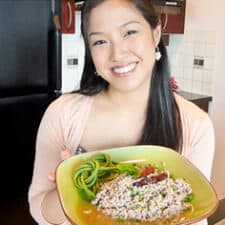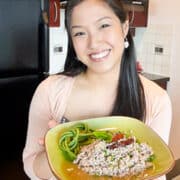 Laab ลาบหมู (ground pork and mint salad)
---
1.5 Tbsp

white glutinous rice or jasmine rice *

2 Tbsp

water

250 g

/9 oz ground meat or crumbled firm tofu

3 Tbsp

finely sliced shallot

¼ cup

mint, rough chopped if leaves are large

2 Tbsp

cilantro, rough chopped

1 Tbsp

green onion, chopped

2

-

3

 leaves sawtooth coriander, rough chopped

2 Tbsp

fish sauce

2

 Tbsp lime juice
Chili flakes to taste
Serve with sticky rice (see recipe) and fresh crunchy vegetables such as long beans, cabbage and cucumber.
Recipe Notes:
* This makes a little bit more than you might need, but it's nice to have extra in case you feel like you want to add more at the end. You can keep any extra for about a week in a tightly sealed container or ziplock bag.
** If you cannot find sawtooth coriander (also known as culantro), you can leave it out.
---
Instructions
Make toasted rice powder: Put glutinous white rice or jasmine rice in a dry sauté pan and cook over medium high heat, moving it constantly, until a deep brown colour develops. Grind with a coffee grinder or in a mortar and pestle into a sand-like texture.
Cook the pork in a small pan with 2 Tbsp water, stirring constantly until it's fully cooked. Remove from heat.
Using the pot as your mixing bowl, add shallots into the pork and stir to break up the rings and lightly wilt the shallots.
Add the fish sauce, lime juice, 1.5 Tbsp of the toasted ground rice, chili powder, mint, cilantro, sawtooth coriander and green onion into the pot and stir to mix. Taste and adjust to your liking.
Feel free to garnish with some mint leaves and fried dried chilies. Serve with some fresh crunchy vegetables and sticky rice, see recipe!
---