---
What is a Laab?
In its most classic form, laab is a spicy and tart northeastern Thai salad made from ground meat, toasted rice powder, and lots of fresh herbs. Traditionally laab is meat-based, but because it's got such a delicious flavour, nowadays people make laab out of just about anything. So this dish is more of a modern variation of laab, and it's not the most common one, though you can find it at many restaurants in Thailand that serve Northeastern food.
If you want to check out other kinds of "non-traditional laab" see my recipes for Laab Omelette, Laab Salmon, Laab Burger and Laab Meatballs.
Is it a Laab? Or larb? Or laap?
This popular dish goes by many English spellings: laab, larb, or laap are a few common ones you see on Thai restaurant menus. Spell it how you want, but for the love of god do NOT pronounce the "r" (I'm looking at us North American English speakers here). Makes me cringe every time I hear someone say "laRRRRb". Writing out Thai words in English is a challenge because English has such limited consonants and vowels compared to Thai, this is why people will be looking for a dish on my website and they can't find it because they spell it differently!
Bonus content for Patreon members: For this episode I share with you other types of unconventional laab that you can find in Thailand. Click here to learn more about becoming a Patreon member.
Watch The Full Video Tutorial!
All my recipes come with step-by-step video tutorials with extra tips not mentioned in the blog post, so make sure you watch the video below to ensure success - and if you enjoy the show, please consider subscribing to my YouTube channel. Thank you!
Print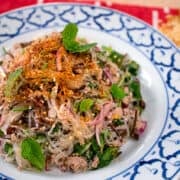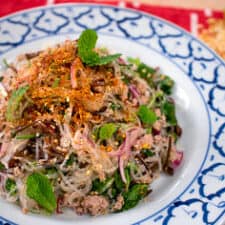 Spicy Glass Noodle Salad with Mint (laab woonsen)
---
40 g

dry glass noodles (see note)

15 g

dried black fungus mushroom, aka wood ear or cloud ear mushrooms

3 Tbsp

uncooked jasmine or sticky rice

200g

ground pork or chicken, preferably not lean

1

head shallots, thinly sliced

1 ½ Tbsp

fish Sauce

2 Tbsp

fresh lime Juice
Roasted chili flakes, to taste (see note)

½ cup

chopped cilantro

1

green onion, chopped

½ cup

mint leaves, roughly chop large leaves
Ingredients & Kitchen Tools I Use
Notes:
Glass noodles are often labeled "bean threads" or "bean vermicelli" because they're made from mung bean starch. Best quality ones are made from 100% mung bean starch (like one I used in the video), though it is not necessary if you can't find them.
Roasted chili flakes give smokiness in addition to spiciness, though you can just use regular chili flakes as well. To make roasted chili flakes, toast some Thai dried chilies in a dry saute pan, stirring constantly, until the darken slightly and develop a smokey flavour. Grind with a coffee grinder.
---
Instructions
Soak dried mushrooms in hot water for 10-15 minutes until the soften.
In a separate bowl, soak glass noodles in room temp water for 10 minutes.
Meanwhile, make toasted rice powder: In a dry skillet, toast uncooked rice over high heat, stirring constantly, until it has a deep golden brown colour. Remove from pan, then pound in a mortar and pestle or grind in a coffee grinder into a powder. Be sure not to grind it so fine that it's like flour, you want a bit of grittiness.
Once noodles are done soaking, drain and use scissors to cut into shorter, easier to eat pieces (I make about 3-4 cuts).
Once mushrooms are done soaking, drain and cut into thin ribbons, removing any hard "core" pieces you find.
Bring 2-inches of water to a boil in a small pot, add noodles and mushrooms and cook 2-3 minutes until noodles are done. Drain noodles, but use the pot to catch about 1 tablespoon of the cooking water (if you don't know what I mean, watch the video for this part, and see note below)
Place the drained noodles in a mixing bowl.
Put the pot with that little bit of water back on medium high heat, then add ground pork and cook, stirring constantly, until done. Add cooked pork to noodles along with all the juices.
While noodles are still hot, toss in shallots so the heat can help wilt the shallots slightly. Then add fish sauce, lime juice, chili flakes and toss well.
Add toasted rice powder and all fresh herbs, toss well, then taste and adjust seasoning as needed.
Serve immediately.
---
Notes
I use some of the noodle cooking water to cook the pork, but this is done simply for convenience since the water is already hot, so it will take no time to heat back up. You can also just add fresh water to the pot if you forget to do this, because unlike pasta cooking water, the cooking water from glass noodles are tasteless and starchless, so it really doesn't add anything in terms of flavour.