When It's Okay to Use Canned
I do not like canned pineapple. Generally I find them flavourless. So when I want pineapple, I will usually spend the time to cut up a whole one. However, I ended up with canned pineapple out of panic (see video intro for the story!), so I had to come up with a way to use it in a way that will still be delicious.
Then it occurred to me that a pineapple curry is the best place for it, because the flavour of the curry is so strong that the pineapple does not need to be perfect for it to end up as a delicious dish!
The Most Important Step: Squeeze the Pineapple!
The one step that might be surprising, but is SO important, is for you to squeeze the pineapple pieces (whether you use fresh or canned). This is a key step that will "de-saturate" the pineapple pieces from their juice, making room for curry sauce to penetrate and mingle so that it doesn't feel like you're eating a curry and then suddenly interrupted by a bite of pineapple! This is key to creating a "cohesive" flavour in the dish. I believe one reason that many people dislike pineapple in savoury dishes is because it doesn't feel like the sweet-tart pineapple belongs in the otherwise savoury food.
More Easy Thai Curry Recipes
This is a curry I consider weeknight-friendly because it's so fast and easy, with very minimal chopping since the pineapple comes pre-cut. And if you're into "quick" also check out how to make panang curry because that is another really quick and easy curry, with no pesky vegetables to chop, and it's incredibly delicious!
If you're an Instant Pot user, try this Instant Pot Massaman Curry that makes a weeknight meal out of something that would normally take many hours!
For something unusual? Into food mashups? You've got to try these epic red curry tacos. The flavours coming from them is INCREDIBLE, and you can even make it without going to the Asian grocery store!
Watch The Full Video Tutorial!
All my recipes come with step-by-step video tutorials with extra tips not mentioned in the blog post, so make sure you watch the video to ensure success! And if you enjoy the show, please consider subscribing to my YouTube channel. Thank you!
Print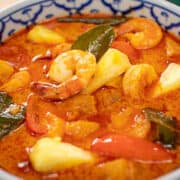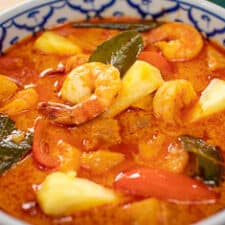 Thai Pineapple Curry with Shrimp
---
1

can pineapple chunks, packed in juice NOT in syrup (or about

1¾ cups

fresh pineapple)

4

-

5

tablespoon red curry paste (or to taste)

1½ cups

coconut milk

½ cup

water or unsalted chicken stock

2 Tbsp

dried shrimp (optional), finely chopped or ground into a fluff in a coffee grinder

7

-

8

makrut lime leaves (kaffir lime)

1

-

2

tablespoon fish sauce

2

-

3

teaspoon chopped palm sugar (or brown or white sugar)
About

1 Tbsp

cooking tamarind (what is tamarind and how to make it?)
Half a red bell pepper, julienned

350g

medium sized shrimp, peeled and deveined
Jasmine rice for serving
---
Instructions
Drain pineapple from the juice and place the chunks in a mixing bowl. (You can discard the juice or mix it with some soda water for a sparkling treat!)
Take 2-3 pieces of pineapple at a time in your hand and squeeze the juice out of them. Do not drain this juice; just leave it in the bowl. Do this for all the pineapple pieces; you want the pineapple to give up the juice so they can absorb the curry sauce.
In a medium pot, bring ½ cup coconut milk to a boil over medium heat, then add red curry paste and stir to mix with the coconut milk. Reduce the heat to medium low and keep cooking, stirring frequently, until the paste is very thick and you may start to see coconut oil separating out of the paste. Once the oil has started to appear, keep stirring the paste for a few more minutes, deglazing with a little bit of coconut milk if it's sticking too much to the bottom of the pot.
Add the rest of the coconut milk, pineapple and the juice you squeezed out, dried shrimp, and ½ cup of water or stock. Tear up makrut lime leaves into big chunks, twisting as you tear to bruise the leaves and allow the aromatic oils to come out, and add them to the pot. Simmer on medium low heat for at least 5 minutes to allow flavours to mingle.
Add fish sauce, sugar, and tamarind to taste; how much you need will depend on the flavour of the pineapple, so add less and then taste and adjust as needed. You want the curry sauce to have just a little bit of sweetness and tartness to match the pineapple.
Add bell peppers and cook for 1 minute.
Add shrimp and cook for 1 minute or just until fully cooked, then remove from heat.
Taste and adjust final seasoning (pro tip: you can never taste too many times when you cook!) and serve with jasmine rice. Enjoy!
---