---
This salad is a specialty of Muslim Thai cuisine. With the spicy and rich peanut dressing, it's one of my favourite ways to eat veggies! The dressing will keep for at least a week in the fridge, and it will also double as a dipping sauce for meats or tofu.
Watch The Full Video Tutorial!
All my recipes come with step-by-step video tutorials with extra tips not mentioned in the blog post, so make sure you watch the video below to ensure success - and if you enjoy the show, please consider subscribing to my YouTube channel. Thank you!
Print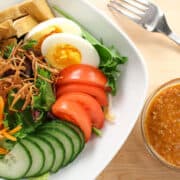 Thai Peanut Salad Dressing สลัดแขก Salad Kaeg
---
Peanut Dressing
6

-

7

large dried chilies, seeds removed

⅓ cup

chopped shallots

7

-

8

cloves garlic

½ tsp

ground coriander

1 cup

coconut milk

½ cup

water

½ cup

roasted peanuts (it's best to buy raw peanuts and roast them yourself because the flavour is so much better! I'm including roasting instructions below.)

4

-

6

tablespoon tamarind juice (tamarind concentrate)

3 Tbsp

palm sugar, finely chopped, packed

¾ tsp

salt (you can also use fish sauce if not making this vegetarian)
Options for the Salad
Note: These are all classic components of a salad kaeg, but feel free to change things up! My only tip is that because the dressing is rich, make sure you have some sturdy veggies in the mix.
Greens: any kind you like, but I recommend including sturdy leaves such as iceberg lettuce and baby spinach in the mix. Delicate greens alone will not hold up well under the rich dressing.
Cucumber
Tomatoes or cherry tomatoes
Carrots
Boiled eggs (boil for 9 minutes for large eggs)
Fried firm tofu (fry in 350°F oil until golden brown)
Potato chips or fried potato sticks
Fried shallots (you can buy fried shallots from Asian grocery store, but I much prefer making my own. See instructions in my fried chicken recipe here)
---
Instructions
To roast peanuts: Preheat the oven to 350°F (180°C). Place peanuts on a baking sheet and spread them out into one layer and roast for 15-20 minutes. After 10 minutes, stir the peanuts around. Check them often once they are close to finish, they burn fast! Remove from oven after they have turned golden brown. Once they are cool, grind them into a coarse meal (not peanut butter!) in a mortar and pestle or a food processor.
Note: If you have extra roasted peanuts, store them in the fridge to prevent them from going rancid. For even longer storage, put them in the freezer.
Make the curry paste: Cut chilies into chunks with scissors and remove all the seeds. Grind into a powder in a coffee grinder. In a mortar and pestle, pound together shallots, garlic, ground chilies and coriander into a paste (does not have to be super fine).
Make the dressing: In a small pot, add ¼ cup of the coconut milk and bring to a boil. Add the curry paste and cook, stirring constantly, until it is reduced and thick. Once it is thick, continue to cook the paste for one more minute. Add the remaining coconut milk, water, ground roasted peanuts, tamarind, palm sugar, and salt. Simmer the dressing for 30 minutes over low heat, scraping the bottom frequently to prevent it from scorching (I forgot to mention this in the video!). 
Taste and adjust seasoning as needed, making sure it's got a strong flavour since it will be served with lots of veggies. Let the dressing cool down slightly before pouring over the salad, but it should still be warm. Note: I made the dressing quite thick in the video because I like the richness of a thick dressing, but in Thailand, some people make the dressing quite thin so that you can toss the salad in it. If you prefer a thinner dressing, you can just add more water or more coconut milk to achieve a desired consistency, and you may have to increase the amount of seasoning accordingly.  
---