---
Dry Tom Yum is on Netflix
This is a luxurious recipe that is incredibly simple and delicious. I was reminded of it because it was talked about in a Netflix documentary "Street Food" in the Bangkok episode. The episode featured Jay Fai, a street food vendor who started incorporating expensive seafood into otherwise common everyday dishes, and she became globally known after she earned a Michelin Star for her humble establishment. Dry tom yum is one of the dishes that she makes.
The documentary implied that she invented the dish...but I actually don't know if that is true. This is a dish that has been around for a long time, made by many people, and I am not aware of any evidence that she was the one who invented it. It's not even a dish associated with her, or anyone in particular. Perhaps she was the one who popularized it? Note, however, that Jay Fai did not claim that she invented it; it was implied by one of the people interviewed.
What is a "dry" dish?
In Thailand there are many dishes that has "dry" in its name, or in Thai, hang. These dishes are typically derived from a normally soupy dish, and have been modified so that the soup part is gone. A classic example is a "dry noodle soup" which sounds like an oxymoron, but basically you can order most types of noodle soups in Thailand without the broth, and the noodles are instead tossed in the seasoning. It actually makes it much easier to make at home, check out this "dry wonton noodles" recipe here.
So as you probably know, Tom Yum is originally a soup, and a dry tom yum is basically the stir-fried version of it. Plain and simple. It uses all of the same herbs and seasonings, minus the broth. So what you end up with is a tom yum flavoured sauce that is light and herbaceous and just delightful to pour over some jasmine rice.
Watch The Full Video Tutorial!
All my recipes come with step-by-step video tutorials with extra tips not mentioned in the blog post, so make sure you watch the video below to ensure success - and if you enjoy the show, please consider subscribing to my YouTube channel. Thank you!
Print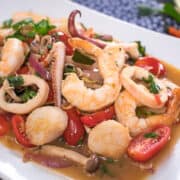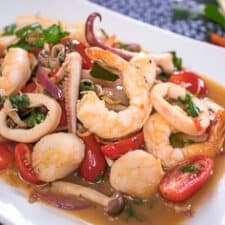 Dry Tom Yum Seafood ต้มยำทะเลแห้ง
---
350 g

mixed seafood of your choice (I use shrimp, scallops, and squid, see note)

1

stalk lemongrass, bottom half only, very thinly sliced

5

thin slices galangal, finely julienned

5

kaffir lime leaves, torn into chunks

1

large head shallot, julienned

3

-

5

Thai chilies, finely chopped (remove seeds for less heat)

2 Tbsp

water or stock

2 Tbsp

fish sauce

1 Tbsp

finely chopped palm sugar or

1 Tbsp

Thai chili paste (see note)

100 g

shimeji, oyster or straw mushrooms

1 cup

cherry tomato halves

2 Tbsp

lime juice

A handful chopped cilantro
Shop Ingredients & Kitchen Tools I Use
Notes:
Check out this video for how to clean and prep a whole squid.
Using Thai chili paste will make a dish that has a more robust flavour, while using palm sugar will give you a lighter, more refreshing dish. Either is delicious. I prefer to use palm sugar because I want the subtle, sweet flavours of the scallops to come through. But if you're looking to replicate the flavour or tom yum goong soup that usually has chili paste, then I would add it. 
---
Instructions
Pre-cook the seafood first by sauteing or searing in the wok with a little oil just until done, then remove from wok and set aside. Tips: Cook each type of seafood separately. If using scallops, cook only until medium doneness rather than well-done for best texture. If using squid, cook them last as they can release a lot of water when cooked, And be careful not to overcook squid; they should take no more than 1 minute.

In the same wok you cooked the seafood, add a little extra oil, then add lemongrass, galangal, lime leaves, chilies and shallots. Saute over medium heat for about 1 minute.

Deglaze with a splash of water, then add fish sauce and palm sugar or chili paste. Stir briefly to dissolve the sugar.

Turn heat to high, then add mushrooms and toss briefly.

Add the cooked seafood back in the pan along with tomatoes and toss just to mix then turn off the heat.

Add lime juice and cilantro, and stir to mix. 

Serve with jasmine rice, enjoy!
---