---
Noodle soups are all over the streets of Thailand, but did you know that for most of those noodle soups, you can order the "dry" version where the noodles don't come with a broth? Instead of the broth, the steaming noodles get tossed in a flavourful seasoning sauce, but they are still topped with the same yummy toppings of your favourite noodle soup.
In this video, I'm showing you a recipe for "Bamee Hang" which is one of the most popular types that people order dry. And now that there's no broth to worry about, it is SO much faster to put together as you'll see! In this video I used Chinese BBQ pork and wontons as my protein which is very common, but you can just do one or the other as well!
If you want to make your own BBQ pork, check out my char siu recipe here for a fantastic version that you can use in this dish or eat it on its own!
Watch The Full Video Tutorial!
All my recipes come with step-by-step video tutorials with extra tips not mentioned in the blog post, so make sure you watch the video below to ensure success - and if you enjoy the show, please consider subscribing to my YouTube channel. Thank you!
Print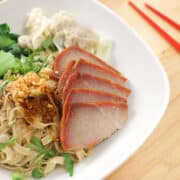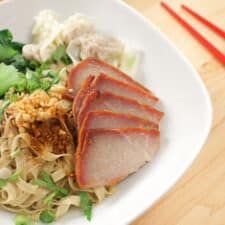 Street Noodles w/ BBQ Pork & Wontons บะหมี่แห้ง
---
85 g

egg noodles (this makes

1

generous potion, see note)
Noodle Seasoning (for 85 g noodles)
1 tsp

garlic oil

½ tsp

soy sauce

½ tsp

Golden Mountain Sauce
Scant

1 tsp

fish sauce

A dash black soy sauce (optional)

1 tsp

sugar

1 tsp

white vinegar
Note: Use thin delicate egg noodles (sometimes labeled "wonton noodles"). Don't use the thick, chewy noodles that are meant for ramen.
Toppings options:
Chinese BBQ pork, store bought, or use this recipe
Wontons (see recipe here)

Baby bok choy or other greens of your choice

Green onion and/or cilantro, chopped

Ground white pepper

Chili powder or chili flakes
Fried garlic (see this recipe @8:51)
---
Instructions
Combine all noodle seasoning ingredients in a mixing bowl, set aside.
Bring a large pot of water to a boil, blanch the bok choy for 30 seconds. Remove with a skimmer and set aside.
Boil the wontons, if using, until they are fully cooked. Remove with a skimmer and place in a bowl. Toss with a bit of garlic oil to prevent them from sticking to each other.
Blanch the noodles until cooked through (this takes less than 1 minute if using the wonton noodles), drain the noodles well and place them directly into the seasoning bowl. Immediately toss the noodles in the seasoning, be very thorough with the tossing to make sure the sauce is evenly absorbed. Place noodles in a serving bowl.
Place the pork, wonton, and bok choy around the noodles and top with fried garlic, white pepper, chili powder, and chopped cilantro and/or green onions. Serve immediately, enjoy!
---