Picking a favourite dish is usually hard, but not this time ... this is easily my favourite Thai salad of all time. The tart and refreshing dressing together with the creamy egg yolks make for an incredible combination that's unlike any other salad. In this recipe you'll also learn how to fry an egg the Thai way; that is with bubbly crispy edges. It's all gluten-free and comes together in less than 30 minutes!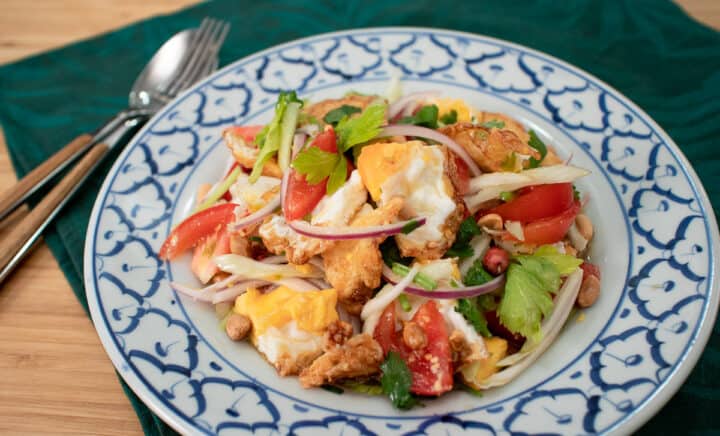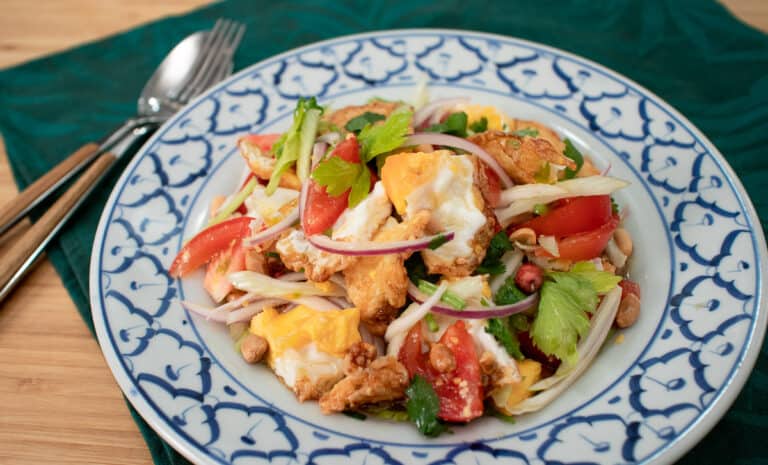 Yum Kai Dao in Thailand
This is a very basic dish in Thailand; the kind you'd find in any food court or made at home, but not in nice sit-down restaurants. I had this often in my school cafeteria and it was always a treat whenever it was offered. So if you make it less spicy, it can be a very kid-friendly dish as well.
Even though it is a salad, as with all salads in Thai cuisine it's not served as an appetizer or a side dish, but served together with the rest of the meal (if there are other dishes), and always with jasmine rice. The dressing is tart, spicy, and very flavourful, and definitely needs the jasmine rice to absorb and mellow out the flavour.
What You'll Need
Here's what you'll need. Simple, straight forward ingredients - and you might already have everything right now without making a special trip!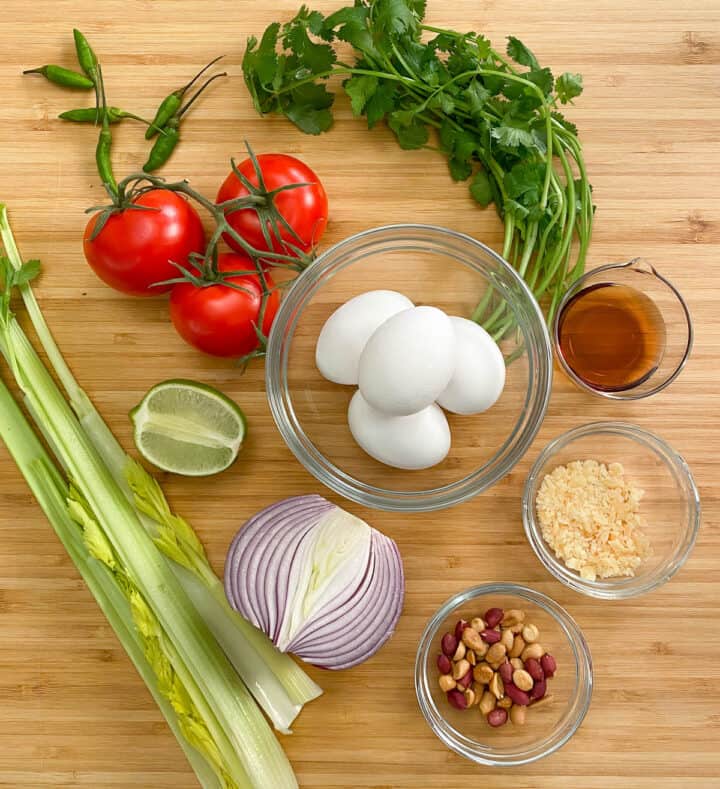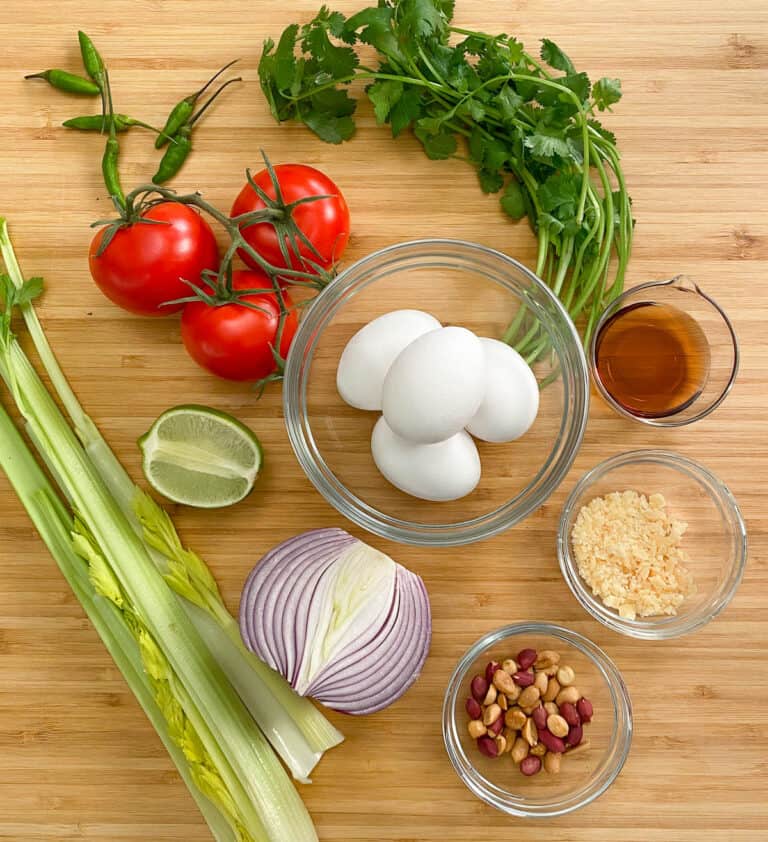 How to Make Fried Egg Salad Step-By-Step
Be sure to check out the detailed recipe and full video tutorial in the recipe card below - but here's a bird's eye view of what you'll need to do.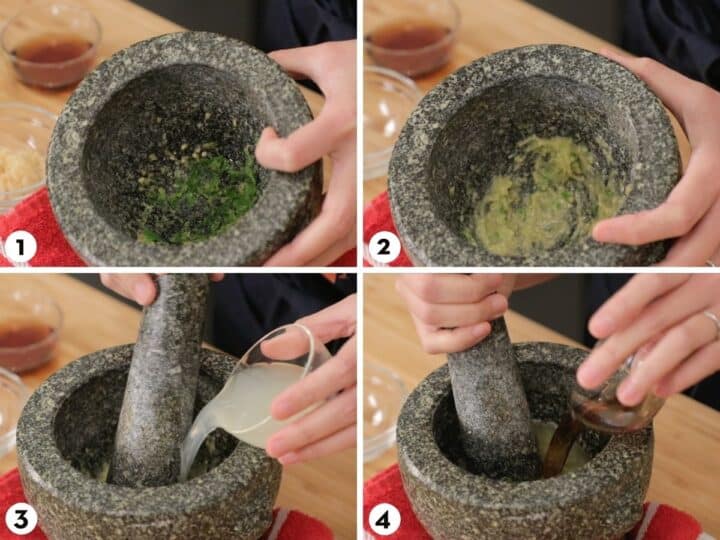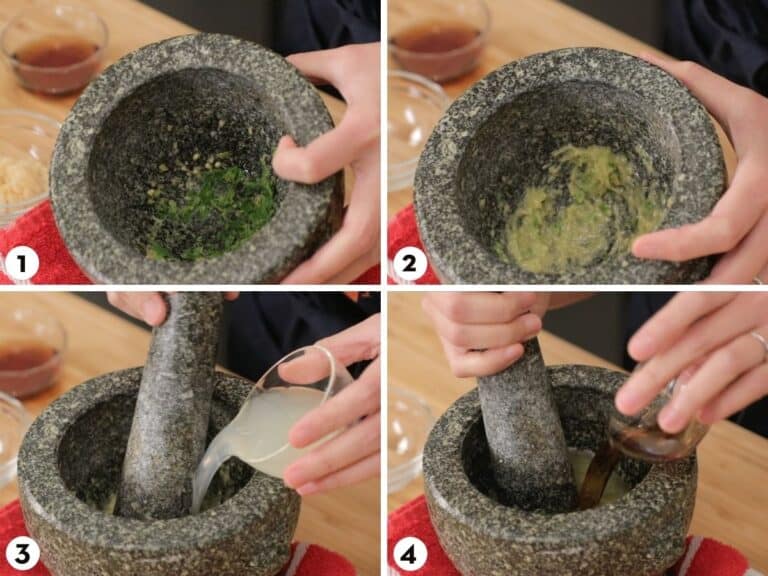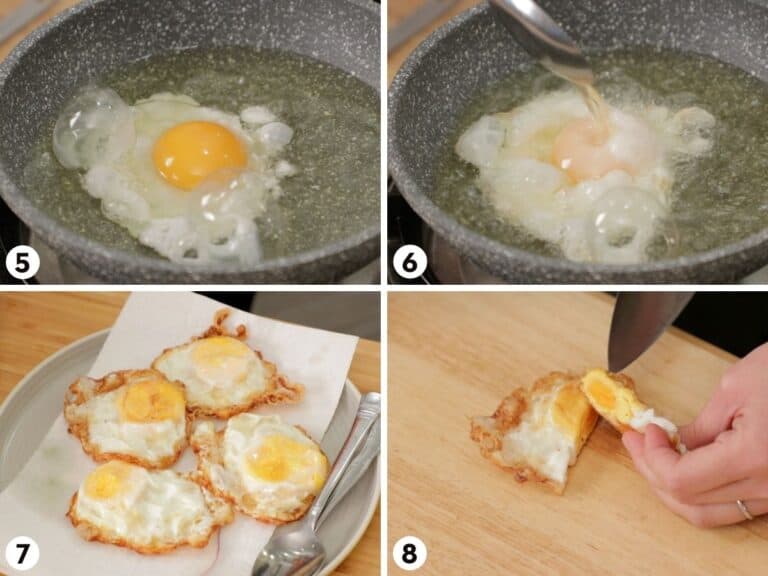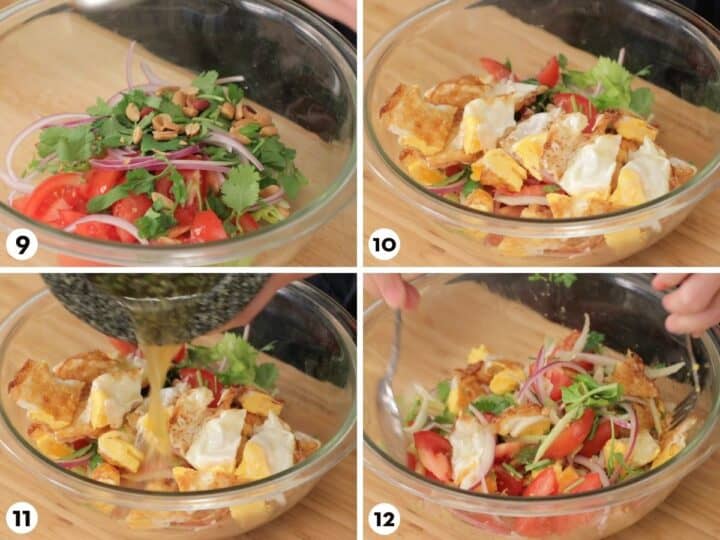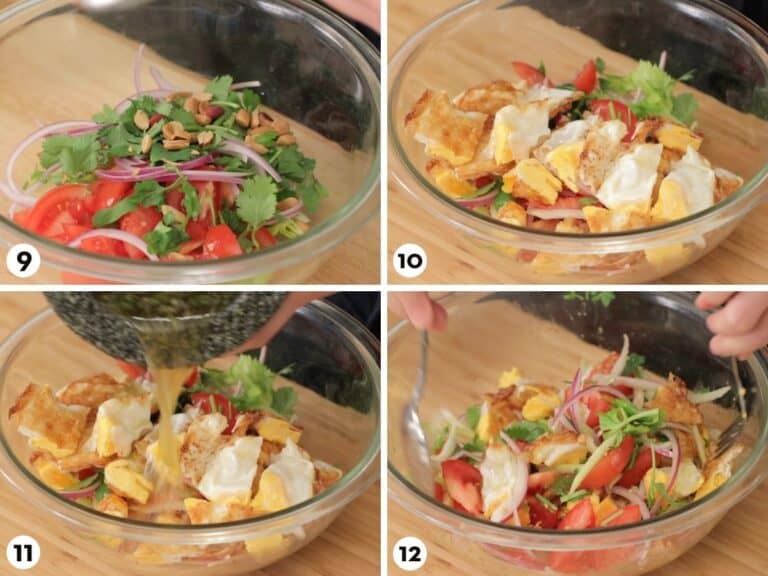 The Secrets to Crispy, Bubbly Fried Eggs
The hardest part of this recipe is making the perfect fried eggs. And no, this recipe is totally NOT the same if you were to use Western-style fried eggs. Trust me on this. Below are some tips to ensure success.
PS. If you have extra eggs to fry, try Pad Gapro - Thai Holy Basil Stir-Fry which is another dish that it traditionally served with crispy fried eggs.
Use older eggs if possible. Older eggs have looser, thinner whites which spread out more and create more bubbly, lacy edges. Not a deal breaker, but this is a great recipe for those eggs you've had around for a few weeks.
Don't use cold eggs. If you put cold eggs into the oil, the oil temp will drop quickly and you won't get those bubbles. If you keep eggs in the fridge, then simply let them sit in a big bowl of hot tap water while you prep (though not so hot that they will cook!) and that should do it.
Don't skimp on the oil. You might look at the amount of oil and think "too much!" But you really need the egg to "float" in the oil in order to get those crispy edges. If you have a rounded wok, you will need even less oil to get that depth. And no, the eggs will not become oily. Eggs do not absorb oil as much as people think they do.
Make sure the oil is hot but not smoking. To get those bubbles, the oil needs to be hot enough. To test oil temp, drop in a piece of onion or any vegetable scraps, and it should bubble vigorously in the oil.
To prevent the eggs from sticking. If you have a non-stick pan, use it. If you are using a stainless steel pan, however, here are some pro-tips to prevent sticking: get the pan hot BEFORE you add the oil. To test, sprinkle a few drops of water into the pan and they should roll around instantly.
What if the egg still sticks?? Don't attempt to move it until it's done or you might break the yolk. It might even release by itself eventually, and if not, the yolk will be firm enough that it won't break while you pry it off with a spatula.
Some Ingredient Notes:
This is one of the few recipes where I do not recommend substitutions because it's such a simple dish, and every ingredient plays an important role. But there is SOME wiggle room.
Chinese celery. We only have Chinese celery in Thailand, which is the skinny, leafy cousin of the Western celery, but with similar flavour. I don't like to buy Chinese celery from my Asian market because they sell them in such large amounts, so I just use regular celery plus some leaves from the center. If you have extra Chinese celery, try using them in: Steamed Fish with Garlic and Lime and Stir-Fried "Sukiyaki".
Palm sugar. If you don't have palm sugar, you can sub an equal amount of light brown sugar. To learn more about palm sugar and how to choose a good quality one, watch my Ultimate Guide to Palm Sugar video!
Fish sauce. If you have premium fish sauce, this would be a good time to use it. Definitely don't use low quality fish sauce for this one! To learn more about the differences between fish sauce quality and how you can tell which one to buy, watch my Fish Sauce Tasting & FAQ video!
Frequently Asked Questions About Fried Egg Salad
Can I use less oil to fry the eggs?
Not if you want the crispy edges - which for this recipe is key. The eggs need to be able to float in the oil in order to have room to develop those bubbles.
Can I substitute fish sauce to make this vegetarian?
You can use good quality soy sauce instead in equal amounts. The flavour will be quite different though.
I have a peanut allergy, what can I use instead?
Cashews or any other crunchy nuts and seeds you can eat. It's not crucial but I really like having that nuttiness to contrast the brightness of the dish.
Can I make this recipe in advance?
The dressing can be made and the veggies cut in advance and kept for up to 1 day in the fridge. I would fry the eggs as close to serving time as possible though and then toss the salad just before serving.
Also check out...
---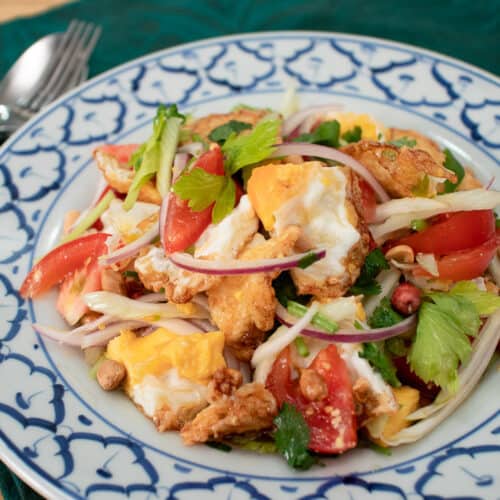 Crispy Fried Egg Salad (Yum Kai Dao)
Fried eggs with crispy, bubbly edges tossed with a tart, spicy and refreshing dressing. It's my favourite Thai salad EVER!
Ingredients
Dressing:
1-2

Thai chilies

,

see note

1 ½

tablespoon

palm sugar

3

tablespoon

lime juice

2

tablespoon

+ 1 teaspoon fish sauce

,

see note
Salad:
Neutral oil for frying

,

as needed

4

eggs

,

room temp

¼

small red or yellow onion

,

julienned

2

stalks

,

celery plus a handful of leaves

½

cup

tomatoes

,

cut in wedges

½

cup

chopped cilantro

¼

cup

roasted peanuts

,

roughly chopped or lightly crushed
Check Out Ingredients and Kitchen Tools I Use
Notes
I used green chilies in the video because I didn't have any red ones, but you should use red chilies for this if you can.

If using the scaling function, please use the metric units or scale it manually as the program cannot scale "2 tablespoon + 1 tsp" automatically.
All my recipes come with step-by-step video tutorials with extra tips not mentioned in the blog post, so make sure you watch the video to ensure success. If you enjoy them, consider subscribing to the YouTube Channel to not miss an episode. Thank you!
Subscribe to my YouTube Channel
Instructions
For the dressing:
Add the chilies to a mortar and pestle and pound until fine. Add the palm sugar and pound to dissolve into a thick paste. Add the lime juice and fish sauce and stir to combine.
For the fried eggs:
In a wok or an small non-stick frying pan, add about a quarter inch of oil. Heat the oil over medium high heat until very hot (you can add a little piece of onion as a heat tester, and once it's bubbling excitedly, the oil is ready to go.)

Crack one egg into the oil, and if your oil is hot enough the egg white should start to bubble right away. Use a spoon to baste the top of the egg with oil as it fries, and keep going for about 2 minutes or until the yolk is set and the white is bubbly and browned around the edges.

*You don't want the yolk runny for this because we will be cutting the egg into pieces. I like the yolk to be set, but not completely well done. Traditionally it is cooked well done.

Remove the egg from the pan and let it drain on a paper towel lined plate. Repeat with the remaining eggs.
Assembly:
Combine all the vegetables in a mixing bowl.

Cut the eggs into six wedges, centred around the yolk so that there is a little bit of yolk in every piece.

Add the eggs to the vegetables and pour the dressing over. Toss gently just to mix and plate. Top with roasted peanuts and serve with jasmine rice. Enjoy!
Watch my videos AD-FREE and get bonus content on Patreon!
Tried this recipe? Share a pic!
Tag @hotthaikitchen on Instagram and Twitter!