---
I really surprised myself how well this dish turned out! I made a vegan version of laab, a northeastern Thai salad normally made with ground meat, using leftover pressed tofu and corn, and it turned out so well I had to share it!
It's perfect as an appetizer, served with some lettuce leaves and eaten as a lettuce wrap. Or for a more traditional accompaniment you can serve it with sticky rice or jasmine rice. It's also low carb and super healthy for those of you who might be on an "eat healthy" new year resolution!
What is Laab?
Laab is a quintessential dish of northeastern Thailand, a region known as Isaan. It's a homey salad made typically from ground meat, seasoned with lime juice, fish sauce, lots of herbs, and the defining ingredient, toasted rice powder. I always say "you can laab anything" and it's true! It's a flavour that amazingly works with all sorts of ingredients.
If you search the website for laab you will see many, many varieties - the classic Laab Gai (chicken), Laab Woonsen (glass noodles), Laab Salmon, Laab Kai Jiew (omelette salad), Laab Tod (meatballs), Laab Moo (pork), and of course the Epic Laab Burger - however, this is the first vegan version that I have created a video for.
Is it Laab? Or is it Larb?
Laab is sometimes written as "larb" in English, but in Thai you don't pronounce the R so I prefer to spell it with a double A. For those of you who speak with American or Canadian accent, please do not pronounce it as if it were an English word; in other words it is not laRRRRb. It actually drives me a bit crazy when I hear it. In the movie Spiderman Homecoming, there is a scene where Peter Parker and Aunt May are eating Thai food, and they said laRRRb repeatedly and I just about died in the theatre in frustration, lol!! Of course you're not at fault if that's how your local Thai restaurant spells it. But now you know better.
Watch The Full Video Tutorial!
All my recipes come with step-by-step video tutorials with extra tips not mentioned in the blog post, so make sure you watch the video below to ensure success - and if you enjoy the show, please consider subscribing to my YouTube channel. Thank you!
Print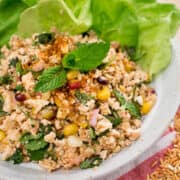 ---
2 Tbsp

uncooked jasmine rice or sticky rice (for toasted rice powder)

1

kaffir lime leave (optional, for toasted rice powder)

2

pc pressed tofu (170g)

½ cup

cooked corn kernels (see note)

1½

  tablespoon soy sauce

½ Tbsp

Golden Mountain Sauce

3 Tbsp

lime juice

Roasted chili flakes, to taste, or use any chili flakes you have

3 Tbsp

thinly sliced shallots

2

-inch piece lemongrass, very thinly sliced (optional)

3

Kaffir lime leaves (optional)

¼ cup

mint leaves, torn into small pieces if large

6

-

7

sprigs cilantro, chopped 

Lettuce or cabbage leaves for serving, optional

Jasmine rice or sticky rice for serving, optional
Note: In the video I used waxy corn which is less sweet and chewier and denser than regular sweet corn. If you're also using waxy corn they take a lot longer to cook, about 45 minutes.
---
Instructions
To make toasted rice powder: In a dry saute pan, add the rice and the kaffir lime leaf, if using, and stir constantly over high heat until the rice has a deep brown colour (see video for colour). Remove from heat immediately and transfer into a mortar and pestle or a coffee grinder. Grind until fine (yes, grind the lime leaf too), but if using a coffee grinder, be careful not to over-grind—you don't want it to look like flour, you still want a bit of grittiness to it.

Crumble the tofu into small pieces with your hands.

In a medium pot, add about 2 tablespoon of water then turn the heat on high. Add tofu and corn and stir until hot.

Turn off the heat then add shallots, lemongrass, kaffir lime leaves, and chilies; stir to mix well.

Add soy sauce, Golden Mountain Sauce and lime juice.

When ready to serve stir in toasted rice powder, mint and cilantro. (Don't add these too far in advance as the rice will absorb the liquid and make it dry, and the herbs will wilt.)

Serve with lettuce leaves and eat like a bite-sized lettuce wrap, or serve with jasmine or sticky rice as part of a meal.
---