---
Watch The Full Video Tutorial!
All my recipes come with step-by-step video tutorials with extra tips not mentioned in the blog post, so make sure you watch the video below to ensure success - and if you enjoy the show, please consider subscribing to my YouTube channel. Thank you!
Print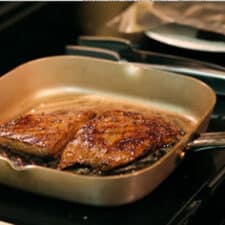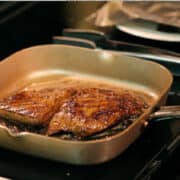 Thai-Style Grilled Steak เนื้อย่าง (neua yang)
---
1.5 lb steak of your choice, cut into 3 8-oz pieces*
Marinade
3 Tbsp

soy sauce (sometimes I use

1 Tbsp

oyster sauce and

2 Tbsp

soy sauce)

1 Tbsp

Thai black soy sauce, you can also substitute dark soy sauce

1 Tbsp

sugar

1 Tbsp

lime juice

⅛ tsp

black pepper

⅛ tsp

white pepper

1 tsp

grated garlic, about

1

large clove or

2

smaller ones.

2 Tbsp

vegetable oil
After you've made the steak, here are 3 ways you can dress it up:  Yum Neua, Nam Tok, and Crying Tiger.
Recipe Notes:
*Any cut of beef will work with this recipe, but my favourite cut for the grill is bavette steak, also known as flap meat, flap steak, or sirloin flap. Other flavourful cuts for the grill are flank, skirt, flat iron, and hanger steak.
---
Instructions
Mix all marinade ingredients together and stir well.
Put the steaks and the marinade into a large Ziploc bag and seal the bag, getting as much air out as possible. Give the meat a nice Thai massage 🙂 to make sure it's thoroughly coated with the marinade.
Let marinade in the fridge for 3 hour. One hour before cooking, pull the steaks from the fridge and let sit at room temperature.
Preheat and oil the grill (or grill pan) on high, and place the steak down at the first sign of smoke. Immediately turn heat down to medium to medium high once the steak goes down.
For nice crosshatch grill marks, first place the steak pointing at 10 o'clock. Once it has developed nice grill marks, turn the steak so that it is pointing at 2 o'clock. If you have room, every time you move the steak, move it to a previously empty spot on the grill because it's hotter and will give nicer grill marks. Flip the steak and repeat the 10 o'clock - 2 o'clock method on the other side.
For a more evenly cooked steak (but less grill marks) flip the steak back and forth every minute throughout the cooking process.
Cook the steak to your preferred "doneness", my flank steak took about 6 minutes for medium "doneness", but the time depends on how hot your grill is. Let rest for 5-10 minutes before cutting.
---