If you've ever had seafood in Thailand, you were definitely also served a small bowl of spicy, tart sauce. This is nam jim seafood, literally "seafood dipping sauce," and for Thai people, it is the absolute best condiment for seafood, and we will not settle for anything else!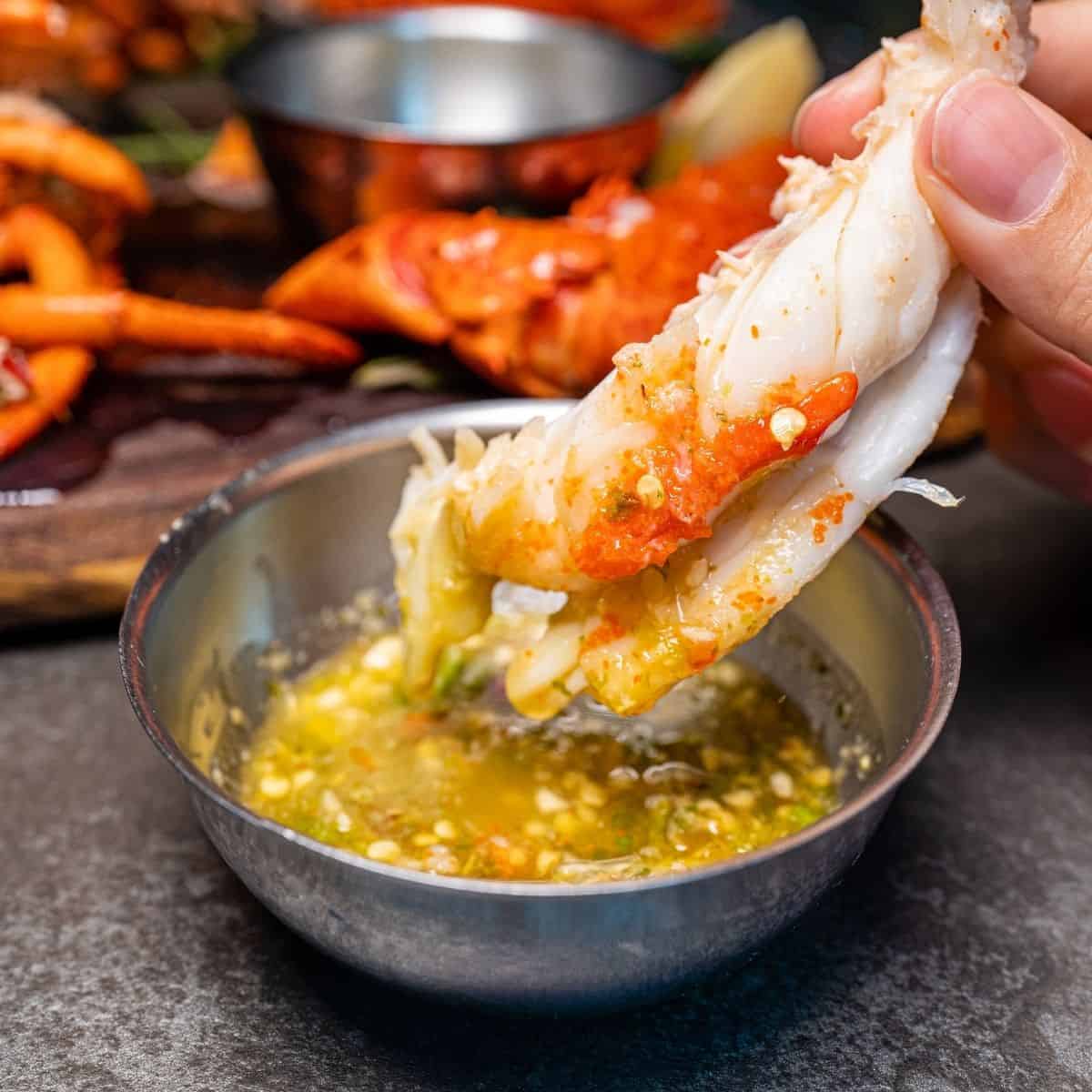 It is SO loved that some Thai people...myself included...have been known to bring our own nam jim seafood to Western seafood restaurants. Sounds a bit much? But once you start having seafood with this sauce, you'll understand why we can never go back!
What is Nam Jim Seafood?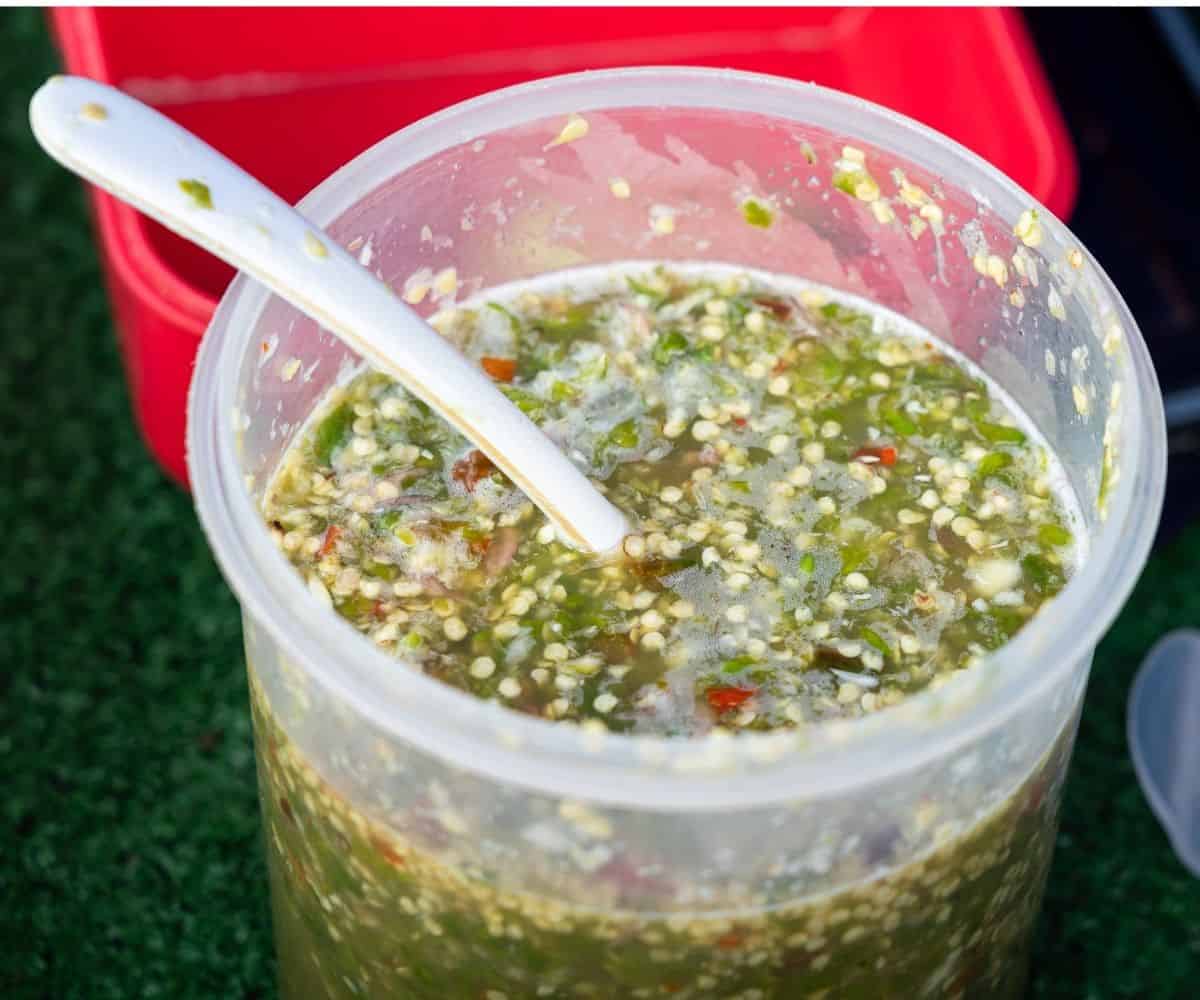 If you spend enough time around Thai food in Thailand you may notice that Thai people love our sauces. Eating grilled meat? Here's some nam jim jaew. Fried foods? Here's nam jim gai (sweet chili sauce). Fried eggs? Gotta have some prik nam pla (aka the sauce that makes everything better). And of course when it comes to seafood, we have nam jim seafood.
Nam jim seafood is made primarily from garlic, chilies, lime juice, fish sauce and cilantro. Its main flavour is sour and garlicky, which brightens and balances the sweetness of fresh seafood perfectly.
It's a sauce that knows no borders, so you will find nam jim seafood served in all parts of Thailand, though naturally you'll see it more in regions along the coast simply because more seafood is consumed there.
It's so popular that you can even find prepared versions of it sold in bottles in the supermarket, though these are not as good and are only meant for people living in dorms and kitchen-less condos, because for most people with a kitchen, it is such a quick and easy sauce to make, and it uses very basic, staple ingredients.
What to serve with nam jim seafood?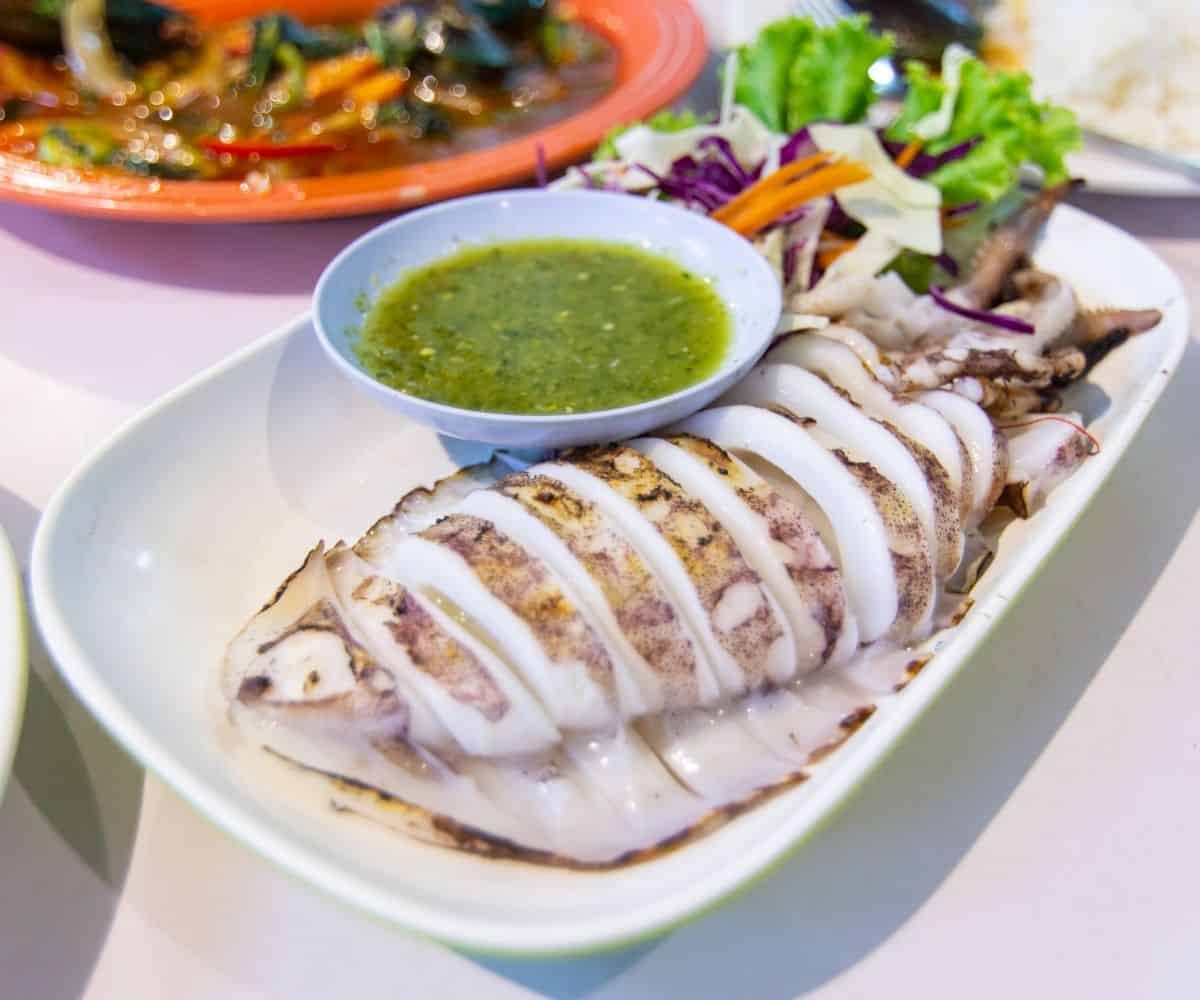 Well, seafood of course, but what kind? Here are some situations when nam jim seafood is served:
In cases where the seafood is fully integrated into a dish or are in small pieces, such as this curry crab stir fry, or small shrimp in fried rice or pad thai, then the sauce is not necessary.
Ingredients
This is a very simple recipe with few ingredients. For amounts, check out the full recipe card below.
Thai chilies, green chilis tend to be more popular because some people like to keep the colour green, but red chilies will also work. Green chilies have a slightly grassier flavour, and red chilies are fruitier. Other types of hot chili peppers will also work.
Garlic.
Cilantro stems, chopped. Traditionally this is made using cilantro roots with some of the stems attached, but since roots are hard to find, the stems will do just fine.
Fish sauce. See my post here about how to choose good fish sauce
Lime juice. Fresh lime juice is very important in this, so don't use bottled!
Palm sugar. Palm sugar gives it an extra touch of complexity, but white sugar or light brown sugar will also work here. Read more about palm sugar here.
How to Make Thai Seafood Sauce
Here are all the steps to make this recipe. If this is your first time, I highly recommend watching the video tutorial to ensure success.
Method 1: Mortar and Pestle, good for small amounts.
In a mortar and pestle, pound garlic and chilies to a fine paste.
Add the palm sugar and pound until dissolved into a thick paste.
Add cilantro roots or stems and pound into a paste.
Add fish sauce and lime juice then swirl the pestle until the sugar has fully dissolved into the liquid.
Taste and adjust seasoning as needed. Feel free to add more sugar if it feels too tart, or add more cilantro stem/leaves if you want something more mellow.
Method 2: Blender, good for large amounts.
Place all ingredients into a blender (immersion blender works fine) and blend briefly on medium speed just until ingredients are no longer in big pieces, but you do not want it completely smooth. So don't use the high speed on the Vitamix!
Taste and adjust seasoning as needed. Feel free to add more sugar if it feels too tart, or add more cilantro stem/leaves if you want something more mellow.
*A food processor may also work for large amounts for the blade to work properly. If using, process the garlic, chilies, cilantro roots and palm sugar into a paste, then add all the liquids and process briefly just to mix well.
Storage and Advance Prep
You can make nam jim seafood well in advance and keep it in the fridge. Refrigerated and tightly sealed, it will last in your fridge for at least a week, but the colour may start to look a little dodgy after a few days.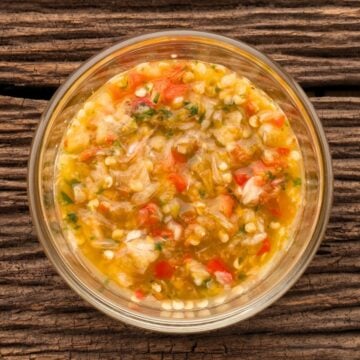 Thai Seafood Sauce (nam jim seafood)
The ultimate condiment for seafood that Thai people cannot live without. This spicy, garlicky, tart sauce is a must have for any Thai seafood meal. You'll go back to butter and tartar sauce again!
Ingredients
2-5

Thai chilies

,

to taste

4

cloves

garlic

5-6

cilantro stems

,

chopped

2

tablespoon

fish sauce

3

tablespoon

lime juice

2

teaspoon

finely chopped palm sugar

,

or white or light brown sugar
Check Out Ingredients and Kitchen Tools I Use
All my recipes come with step-by-step video tutorials with extra tips not mentioned in the blog post, so make sure you watch the video to ensure success. If you enjoy them, consider subscribing to the YouTube Channel to not miss an episode. Thank you!
Subscribe to my YouTube Channel
Instructions
If using a mortar and pestle:
In a mortar and pestle, pound garlic and chilies into a paste.

4 cloves garlic,

2-5 Thai chilies

Add the palm sugar and pound until dissolved.

2 teaspoon finely chopped palm sugar

Add cilantro stems and pound into a paste.

Add fish sauce and lime juice; swirl the pestle to mix. Store in the fridge in a tightly sealed container.

2 tablespoon fish sauce,

3 tablespoon lime juice
If using a blender (for making large enough amount to blend)
Combine all ingredients in the blender and blend on medium speed just until there are no more big chunks. You do not want to completely liquefy it; you want to see some visible chili seeds and little bits.
Watch my videos AD-FREE and get bonus content on Patreon!
Tried this recipe? Share a pic!
Tag @hotthaikitchen on Instagram and Twitter!