Tomatoes and eggs. That's basically it for this dish. But the seemingly simple combination, with the right technique, yields the most comforting and tasty dish. I've tried various cooking methods to arrive at the one that yields perfectly cooked luscious eggs, tender tomatoes, and just the right amount of juiciness to moisten your rice. And it takes less than 5 minutes from start to finish!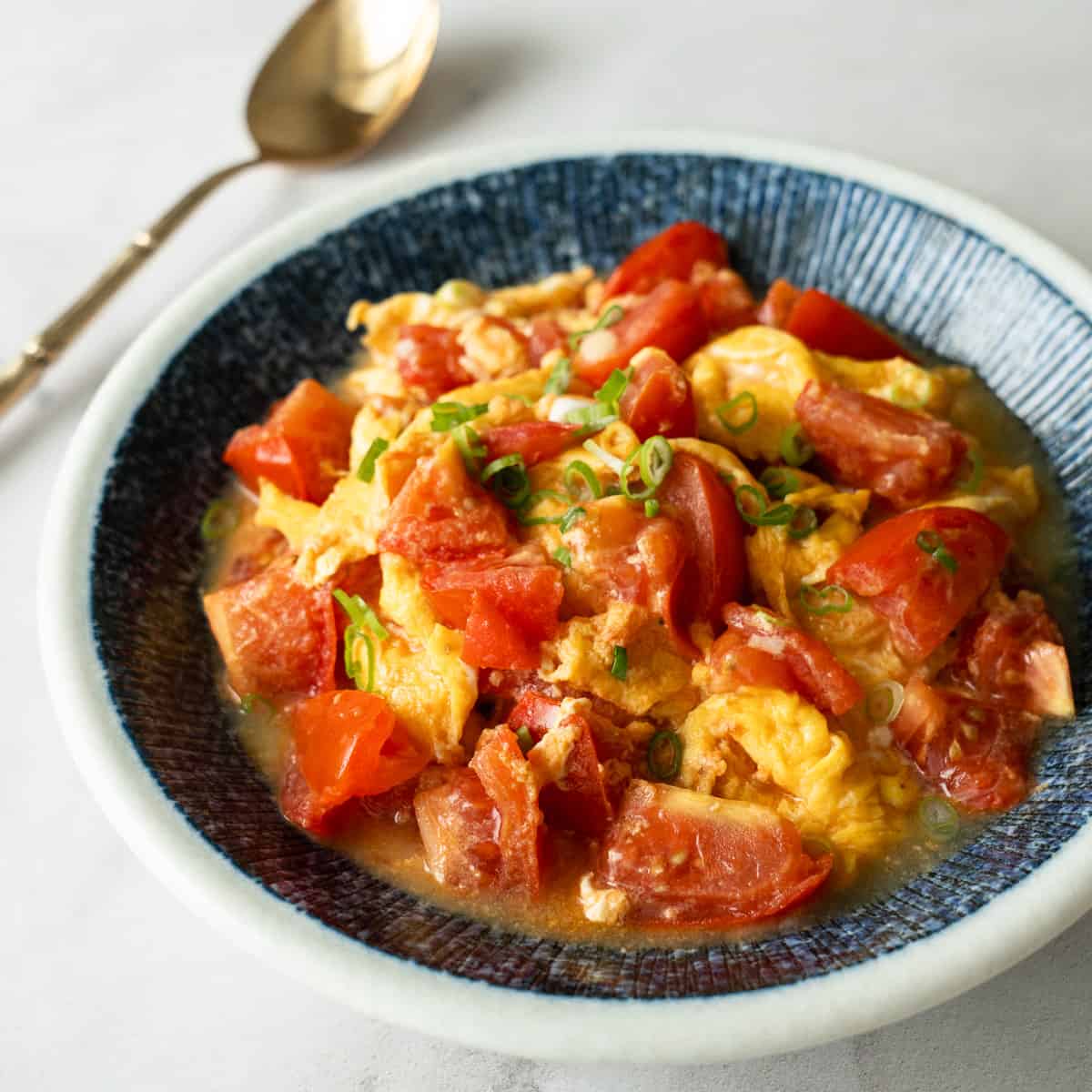 Ingredients You'll Need
Here are all the ingredients you'll need. Super simple! But as with all simple dishes, it relies heavily on the quality of ingredients, so choose the best eggs and ripe tomatoes for this one!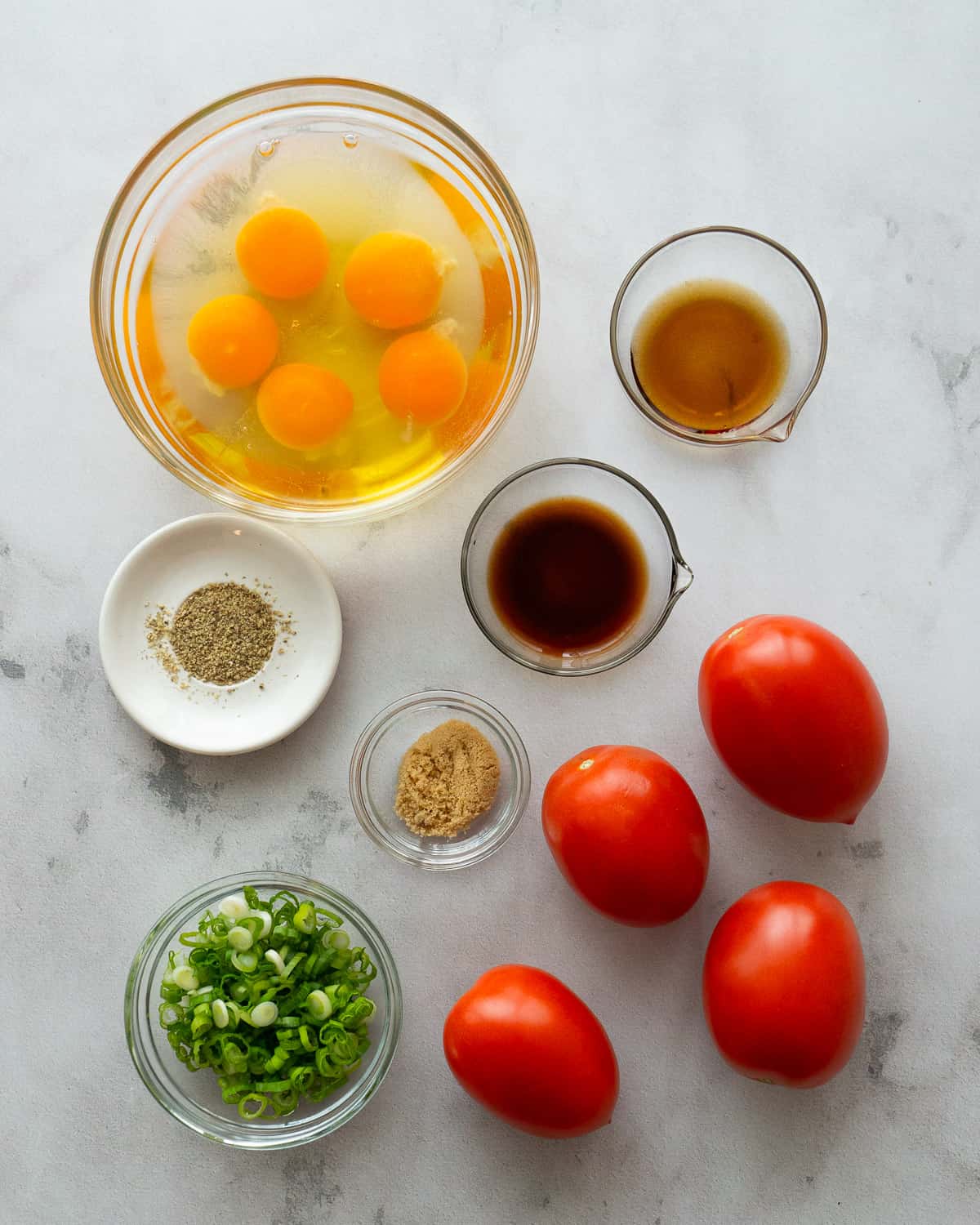 Eggs. Quality matters here. I like to use free range eggs with bright orange yolks which I find taste "eggier" and yields a more colourful dish.
Tomatoes. I use roma tomatoes as they are not as watery, but any kind of tomatoes will work for this as long as they are ripe and flavourful.
Fish sauce. You can sub soy sauce for vegetarian.
Soy sauce. You can use gluten free soy sauce as well.
Brown sugar, or white sugar. This is just to boost the sweetness of the tomatoes a little.
White pepper, but black will also work.
Green onions
Step-By-Step:
Here's a bird's eye view of the process, but be sure to check out the full video tutorial in the recipe card below to ensure success!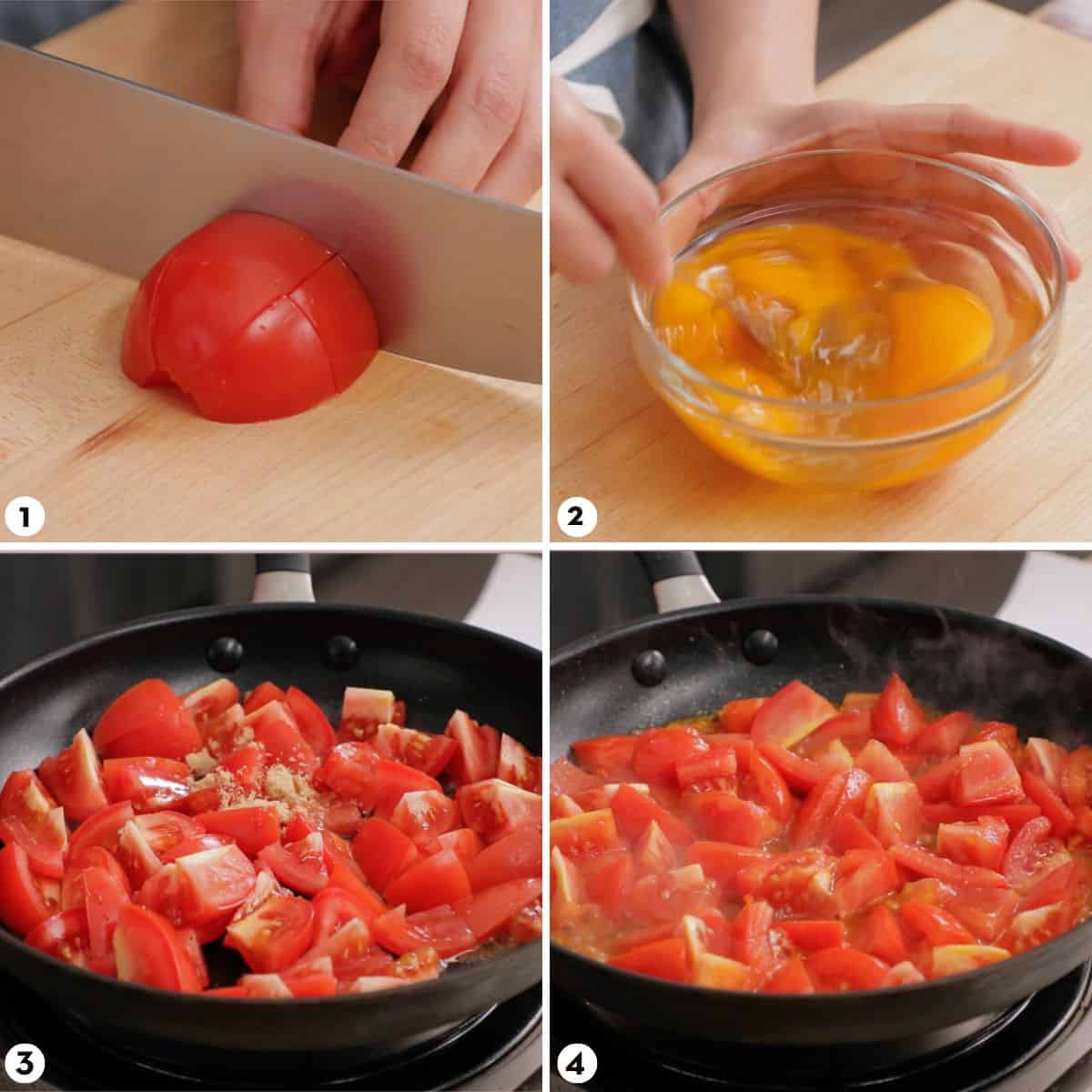 Cut each tomato half into 3 wedges, then cut the wedges into thirds.
Beat the eggs with fish sauce and white pepper.
Add tomatoes, soy sauce and brown sugar into a preheated skillet.
Cook until the tomatoes are soft but still holding shape, then stir in the green onions (not pictured cuz I forgot!); remove them from the pan.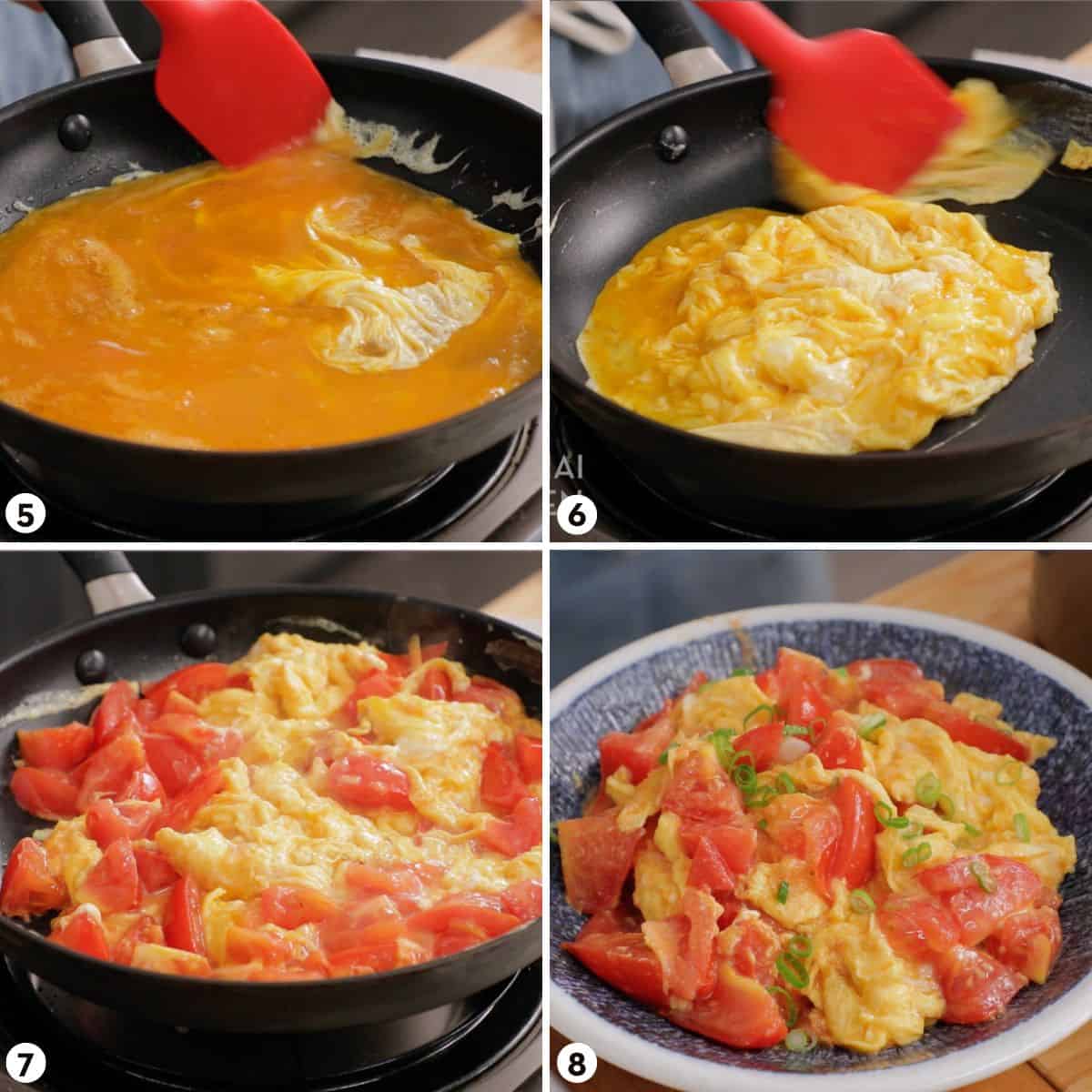 Give the pan a wipe then put it back on medium high heat. Add the eggs and quickly scramble them.
Keep scrambling until the eggs are about 80% cooked; there should be a little bit of raw eggs left.
Fold the tomatoes back in just until mixed and there is no more raw eggs.
Immediately transfer to a serving plate and garnish with more green onions.
Pro Tip: No Wok for This Stir Fry
While I use a wok for most stir fries, and you can use a wok for this recipe, I prefer using a 10- or 12-inch nonstick skillet. It has a large surface area for maximum amount of tomato juices to evaporate, so I won't risk having too much liquid in the dish. You'll also need to lift and scrape the pan in between so a lighter skillet is easier to manage than a heavy wok.
They Key to Juicy and Luscious Tomato & Egg Stir Fry
You might have seen versions of this dish that is drier, like just scrambled eggs with tomatoes in it. It's fine, but once you try a version that's juicy, saucy, with super tender eggs, you will understand why achieving this texture is so important to me.
There's nothing fancy you need to do to get that perfect juiciness - no extra sauce ingredients needed, because it's all in the technique.
Some recipes have you scramble the eggs until fully cooked first, take them out, and put them back in after cooking the tomatoes. With this method, the dish will end up drier because they are fully cooked and cooked twice, so some then add more liquid ingredients like water and cornstarch to get it to be saucy, making this more complex than it needs to be.
Enter the reverse method. If you cook the tomatoes first and take them out, you can add them back in when the eggs are only partially cooked, allowing the liquid eggs and tomato juices to mingle, creating a luscious, custardy texture. And the eggs are cooked only once, making it easier to achieve that just-cooked-enough tenderness.
This technique is much better understood via video, so make sure you watch the demo before you start!
Frequently Asked Questions
How can this be made vegetarian?
You can use soy sauce instead of fish sauce.
How can I make more or less of this recipe?
This is a great recipe for using up tomatoes that are about to go, so if you have more or less of the tomatoes called for, not to worry, just use everything you have and stick to this ratio for the eggs: 1 large egg for every 80 grams of tomatoes.

You might prefer a dish with more or less tomatoes, so feel free to adjust this to your liking, but this is a good place to start. As for the seasoning, you need ½ teaspoon of soy sauce, ½ teaspoon of fish sauce and a little less than ¼ teaspoon of sugar for every 1 egg used.
Before you start, be sure to watch the video tutorial to ensure success! I always include little tips and tricks not mentioned in the blog post. The video is in the recipe card below, but you can also watch it on YouTube!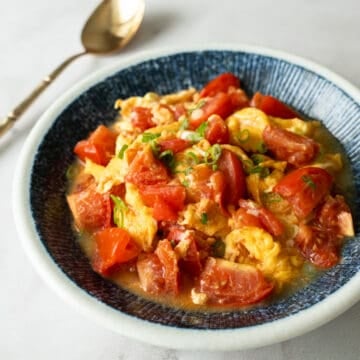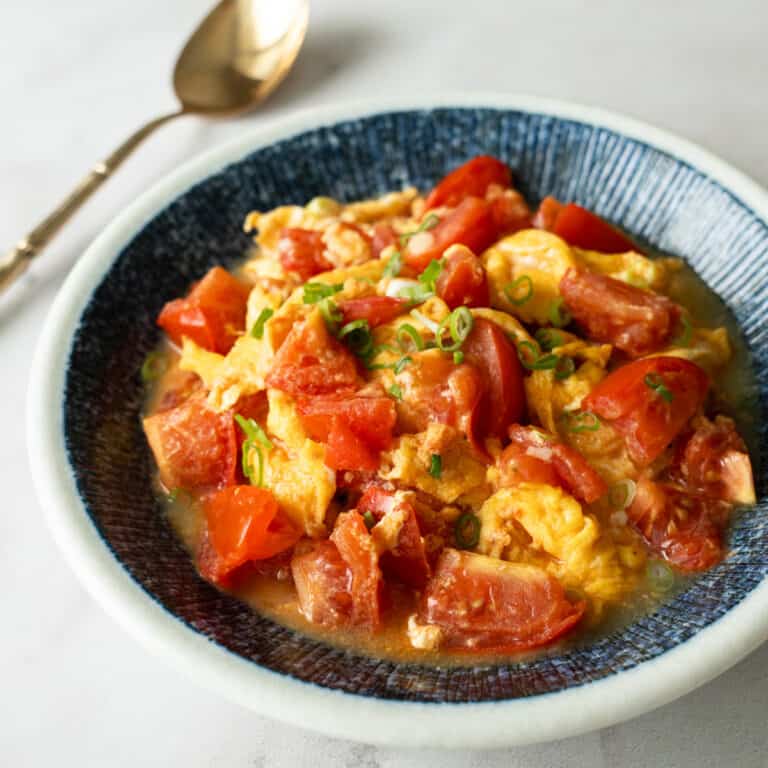 Chinese Eggs and Tomato Stir Fry
The perfect lunch or dinner for when you're short on time, or when you've got ripe tomatoes that need using up. This classic Chinese dish is comforting, delicious, and super kid-friendly.
Ingredients
14

oz

ripe roma tomatoes

,

see note 1

5

large eggs

,

see note 2

2 ½

teaspoon

fish sauce,

or sub soy sauce for vegetarian

Ground white or black pepper

,

to taste

2

tablespoon

neutral oil

2 ½

teaspoon

soy sauce

1

teaspoon

brown sugar

1

green onion

,

chopped

Jasmine rice,

for serving
Check Out Ingredients and Kitchen Tools I Use
Notes
You can use another kind of tomato as long as they are ripe for maximum flavour. I use roma because they are less watery and widely available.
To scale this recipe up or down, use the following ratio: For every 1 large egg, use 80 grams of tomato, ½ teaspoon fish sauce, ½ teaspoon soy sauce, and a little less than ¼ teaspoon sugar. Add the green onions and white pepper to taste.
All my recipes come with step-by-step video tutorials with extra tips not mentioned in the blog post, so make sure you watch the video to ensure success. If you enjoy them, consider subscribing to the YouTube Channel to not miss an episode. Thank you!
Subscribe to my YouTube Channel
Instructions
To prep the tomatoes (also see the video below for cutting demo), cut each tomato in half lengthwise, then remove the core. Cut each half into 3 wedges, keeping the wedges together, then cut the wedges into thirds crosswise.

Use a fork to beat the eggs with fish sauce and white pepper just until there are no more big gloopy bits of egg whites.

5 large eggs,

2 ½ teaspoon fish sauce,

Ground white or black pepper

In a non stick skillet, heat about 1 tablespoon of oil over medium high heat, and once hot, add the tomatoes, soy sauce, and sugar and stir to mix. Cook just until the tomatoes are soft but still holding shape, about 1-2 minutes depending on the ripeness of the tomatoes. Stir in the green onions then immediately pour them into a bowl.

2 tablespoon neutral oil,

2 ½ teaspoon soy sauce,

1 teaspoon brown sugar,

1 green onion

*This step goes very quickly - once you add the eggs you've got literally 1 minute, so make sure you review the instructions and watch the video demo above before you start! 

Wipe the pan with paper towel and return it to high heat. Add about another 1 tablespoon of oil and heat until hot again. Add the eggs and quickly use a rubber spatula to scramble them until about 80% cooked (there should be a little bit of raw eggs in the pan), then immediately add the tomatoes and "fold" them into the eggs JUST until mixed and the eggs are cooked through. Immediately transfer them onto a serving dish.

Serve with jasmine rice. If you like it spicy, a drizzle of hot sauce, chili oil, chili crisp, or whatever your spicy condiment of choice would be appropriate here.
Watch my videos AD-FREE and get bonus content on Patreon!
Tried this recipe? Share a pic!
Tag @hotthaikitchen on Instagram and Twitter!
Like this recipe? You'd also love these!