If you've been looking for authentic Thai recipes to try that don't require any experience, you've come to the right place.
I've been teaching Thai cooking for over 12 years, and one question that keeps coming up is: I'm new to Thai cooking, which dish should I start with? This list is your answer. All of these dishes are straight forward, i.e. you're not likely to "screw it up" 😉.
These are also 27 very common dishes in Thailand, regularly enjoyed by locals. I know that for most people of course they'll want to make their favourites, but they'll also want to make "what Thai people eat!"
Once you're ready to cook, you're going to need some ingredients. Before you go shopping though, see this post for my guide to buying essential Thai ingredients at Asian markets.
1. Tom Yum Goong ต้มยำกุ้ง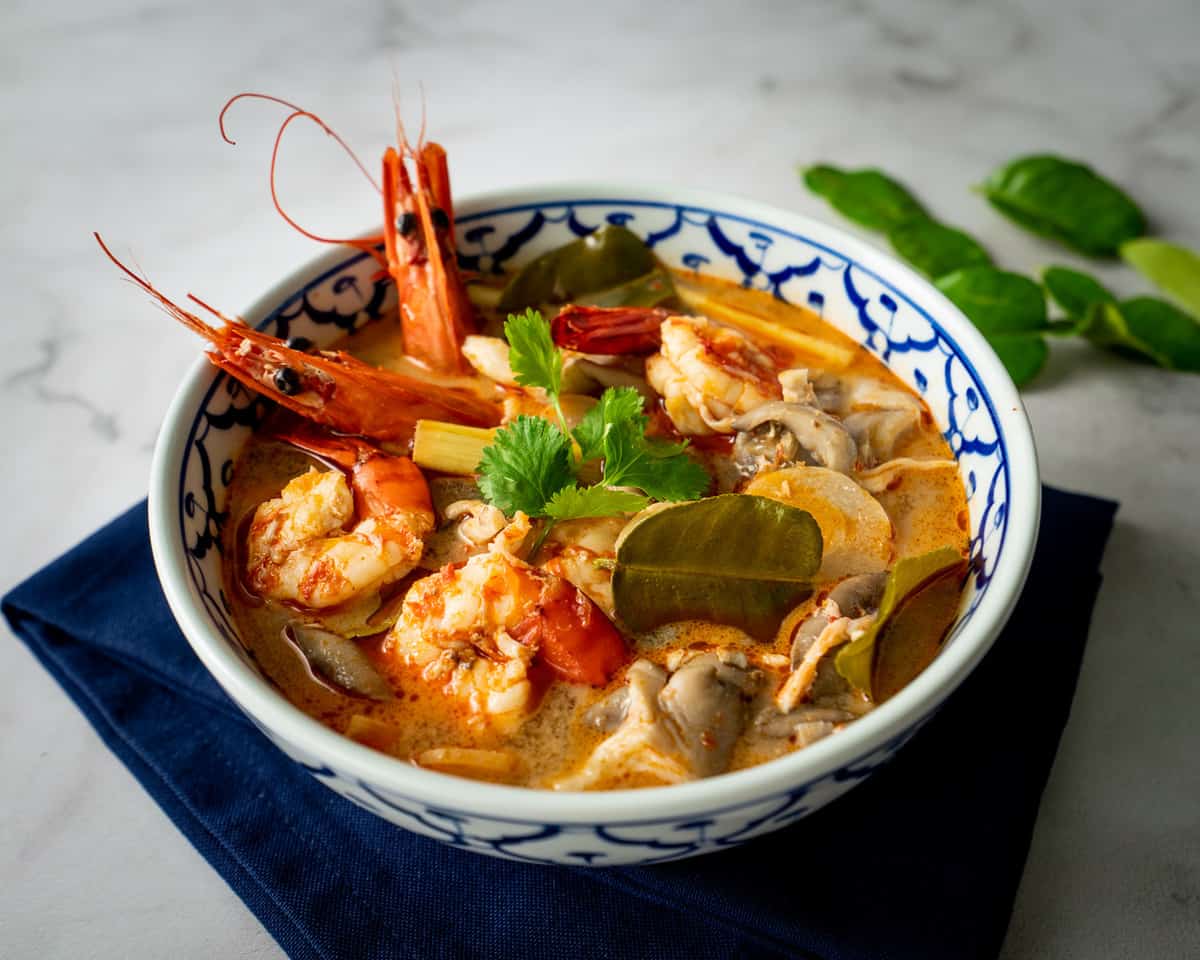 If Thai cuisine were to be be summarized by one dish, tom yum would be it. It has all the flavours we love - spicy, sour, salty, and sweet - and uses the key herbs that are essential to most Thai cooking; such as lemongrass, galangal and makrut lime leaves (aka kaffir lime leaves).
Once you have all the ingredients, making it is an absolute breeze. For your first time though you can also skip the shrimp stock and just use chicken stock to keep it simple.
2. Tom Kha Gai - Coconut Galangal Chicken Soup ต้มข่าไก่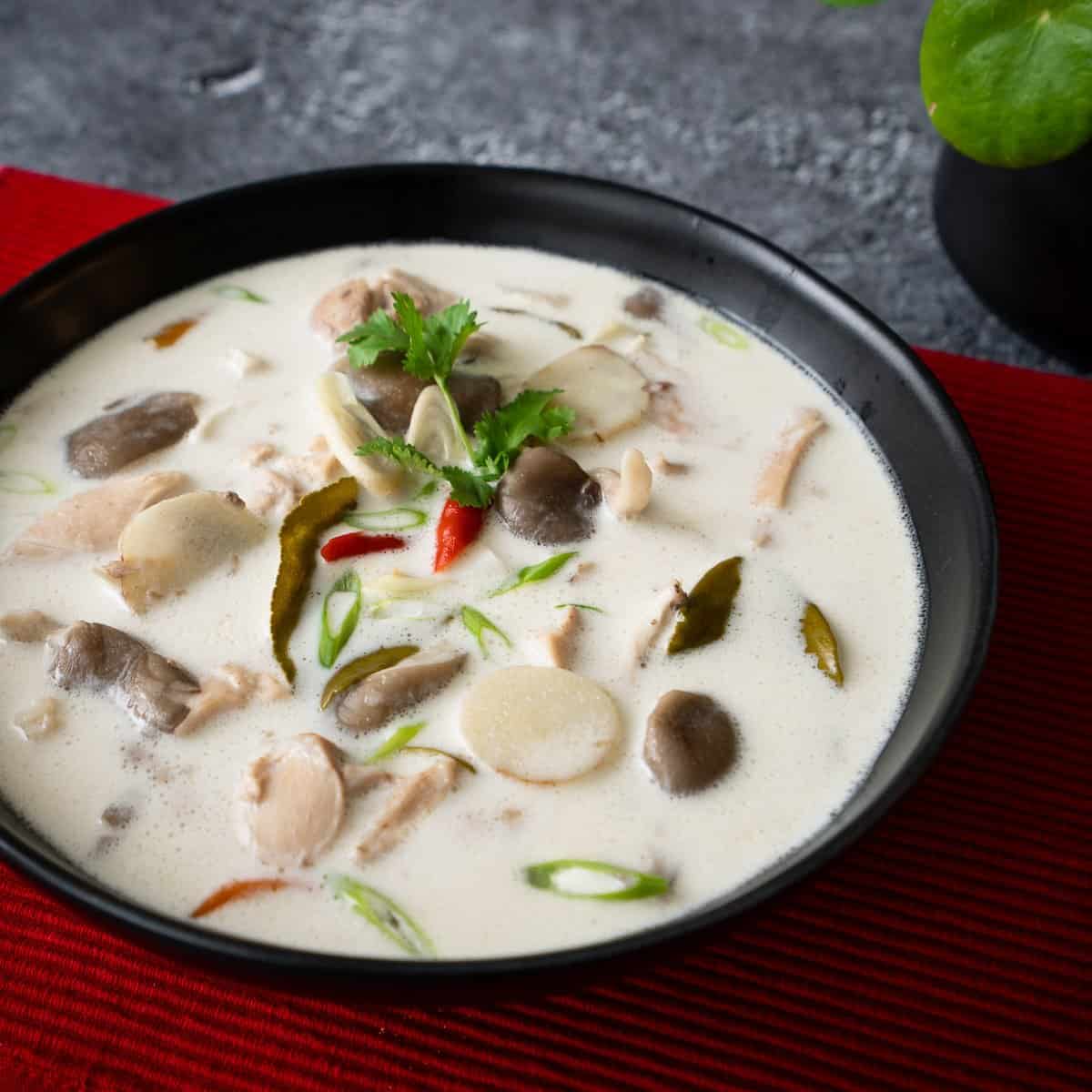 If you're not in the mood for spicy, no problem! Here's something comforting that feels like a cuddle in a bowl. Tom kha gai is a dish I've always included in any Thai cooking classes I've taught because it's a guaranteed crowd pleaser, and it always wows people with its unique flavours.
If you can source galangal, this is a must-try. Not sure what galangal is? Check out this post all about galangal.
3. Thai Green Curry - Chicken and Vegan แกงเขียวหวาน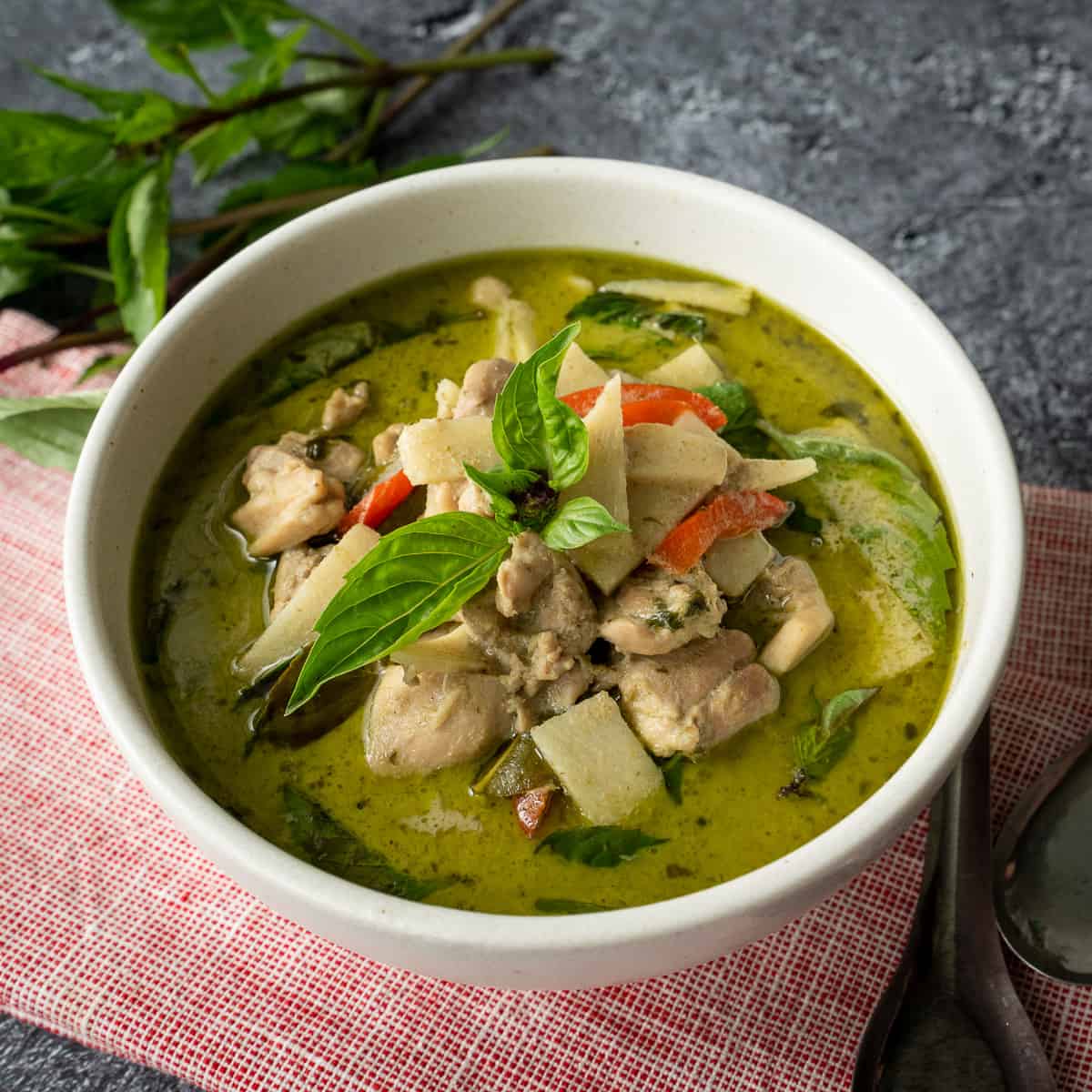 Of all my curry recipes, green curry is my #1 most popular, and one of the most well-known dishes in Thai cuisine. The good news is that it's very easy to make; and no, you do not need to make your own green curry paste from scratch (most Thai people don't!)
4. Thai Basil Chicken Stir Fry - Pad Kra Pao (Pad Gaprao) ผัดกะเพรา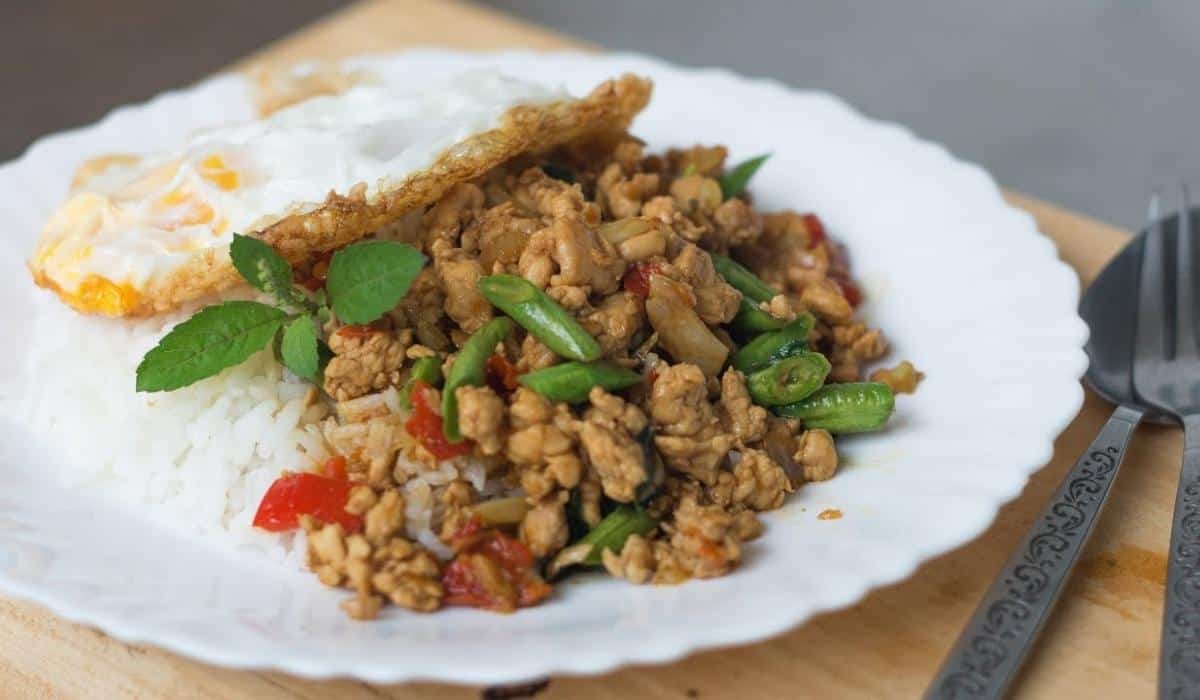 Sometimes written as pad krapow, pad gaprao, or pad kra pao, these are all different spellings for the same famous Thai stir-fry with holy basil. The flavour of this humble street food is impressive, making it one of the most popular dishes amongst Thais and foreigners alike.
Holy basil (gaprao) is used traditionally, but if you can't get it, Italian basil or Thai basil can also work and both are delicious. The crispy fried egg on top is optional but highly recommended. Totally weeknight friendly, this will become your new regular!
5. Instant Pot (or not) Massaman Curry แกงมัสมั่น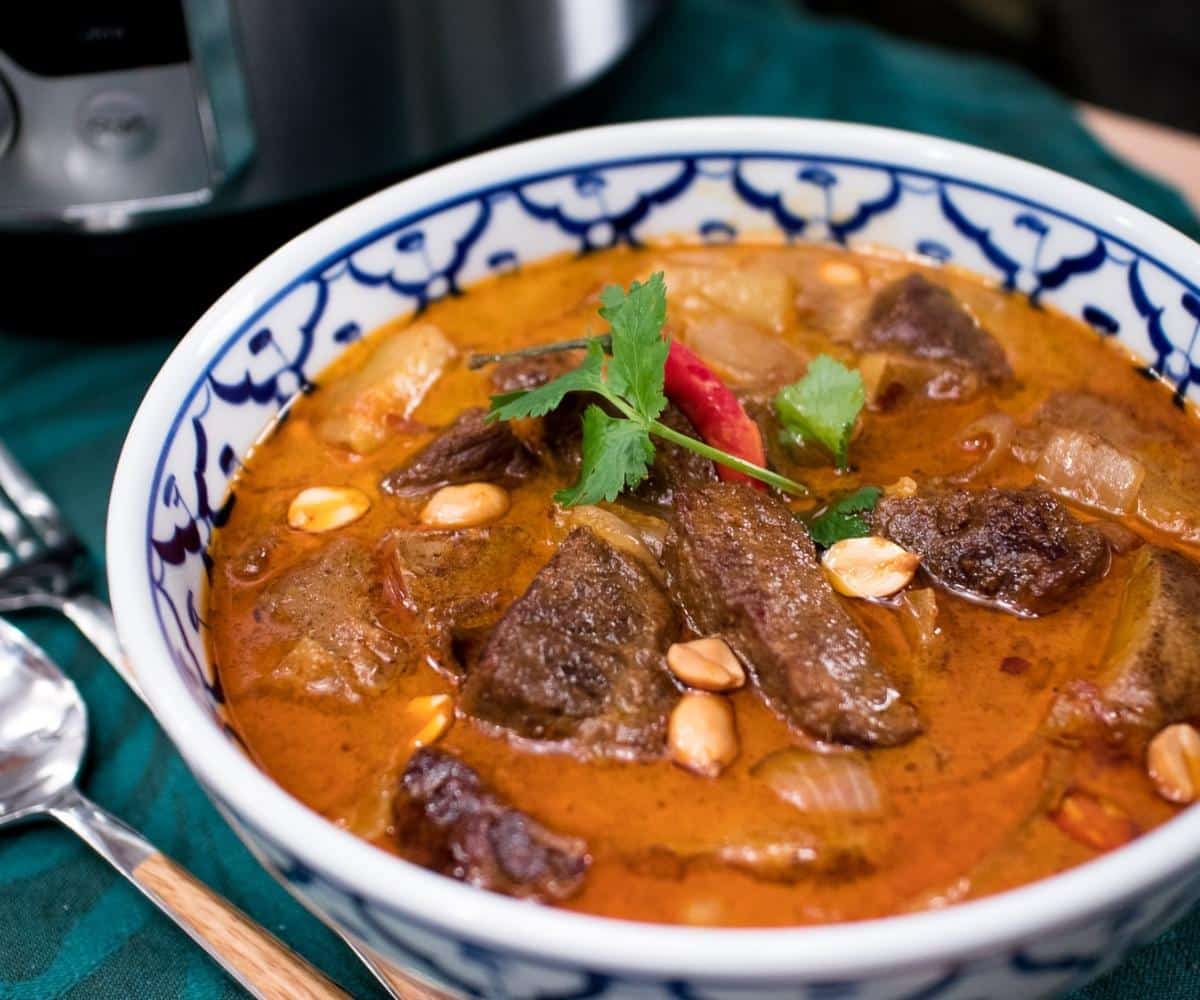 If you love Indian food, chances are you'll love massaman as it also has a rich sauce loaded with aromatic spices. It's also the most conducive to Instant Pot adaptation because it involves a long braising time that can be significantly shortened in a pressure cooker; but you can absolutely do it on the stovetop.
Feel free to substitute chicken or even lamb for this, adjusting the cooking time accordingly.
6. Green Papaya Salad - Som Tum (Som Tam) ส้มตำ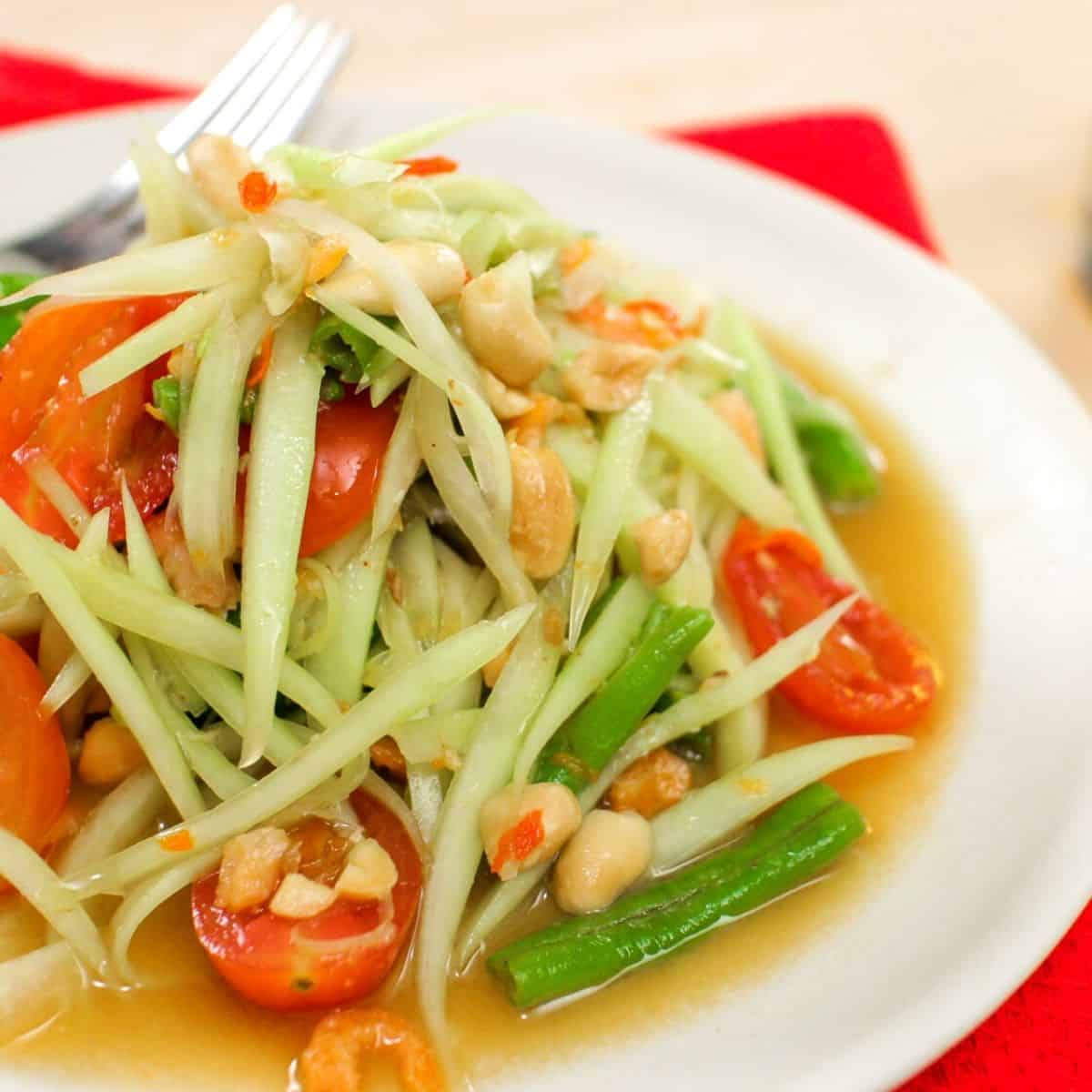 If you're grilling some meat for dinner, and looking for a side that will make it a complete and healthy meal, som tum is Thai people's go-to side dish. Crunchy green papaya is tossed with fish sauce, palm sugar, tamarind paste and fresh lime juice. With a little (or a lot) of chilies for that spicy flavor. Serve it with sticky rice or Thai coconut rice.
No green papaya? No problem. Try this corn and cucumber salad that uses a similar dressing, or this chayote and apple salad. Anything you'd use for a slaw will also work, so shredded cabbage, carrots or even kohlrabi!
7. Healthier & Easier Pad Thai ผัดไทวุ้นเส้น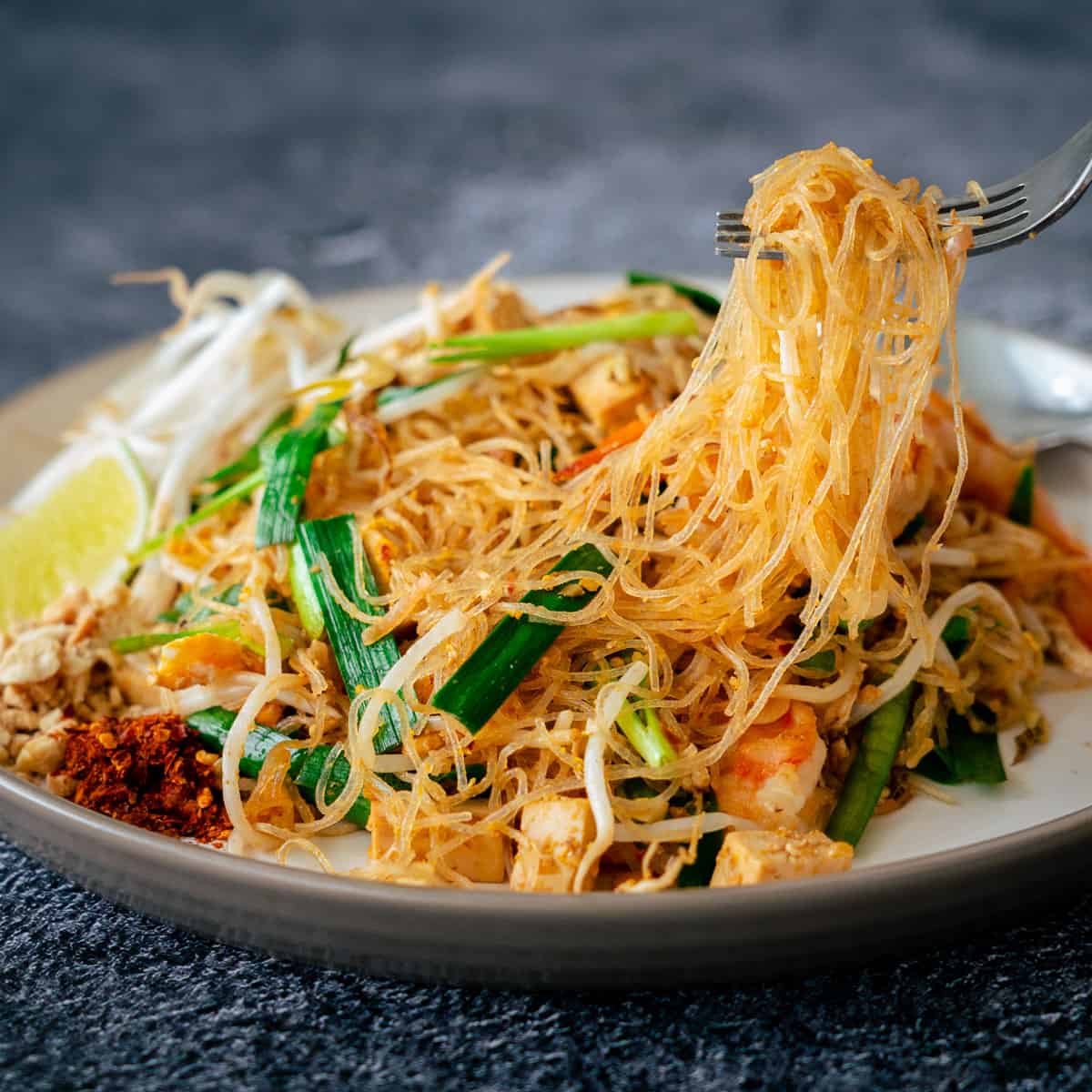 Pad thai is Thailand's most iconic stir-fried noodle dish, but it isn't the easiest. I would never suggest pad thai as your first foray into Thai cooking, as the rice noodles can be tricky to get right.
But no one said you have to use rice noodles! Glass noodles are way more forgiving and faster; not to mention healthier. And no, I didn't make this up; glass noodle pad thai is a dish we make in Thailand!
So if you're new to Thai cooking, this simplified version is the one I recommend you start with. And yes, it will still taste like the classic pad thai because glass noodles have a neutral flavour. And once you've mastered this easier one, next time around you can try the rice noodle pad thai.
Note: If you can't find palm sugar for the sauce, brown sugar will work just fine.
8. Cashew Chicken ไก่ผัดเม็ดมะม่วงหิมพานต์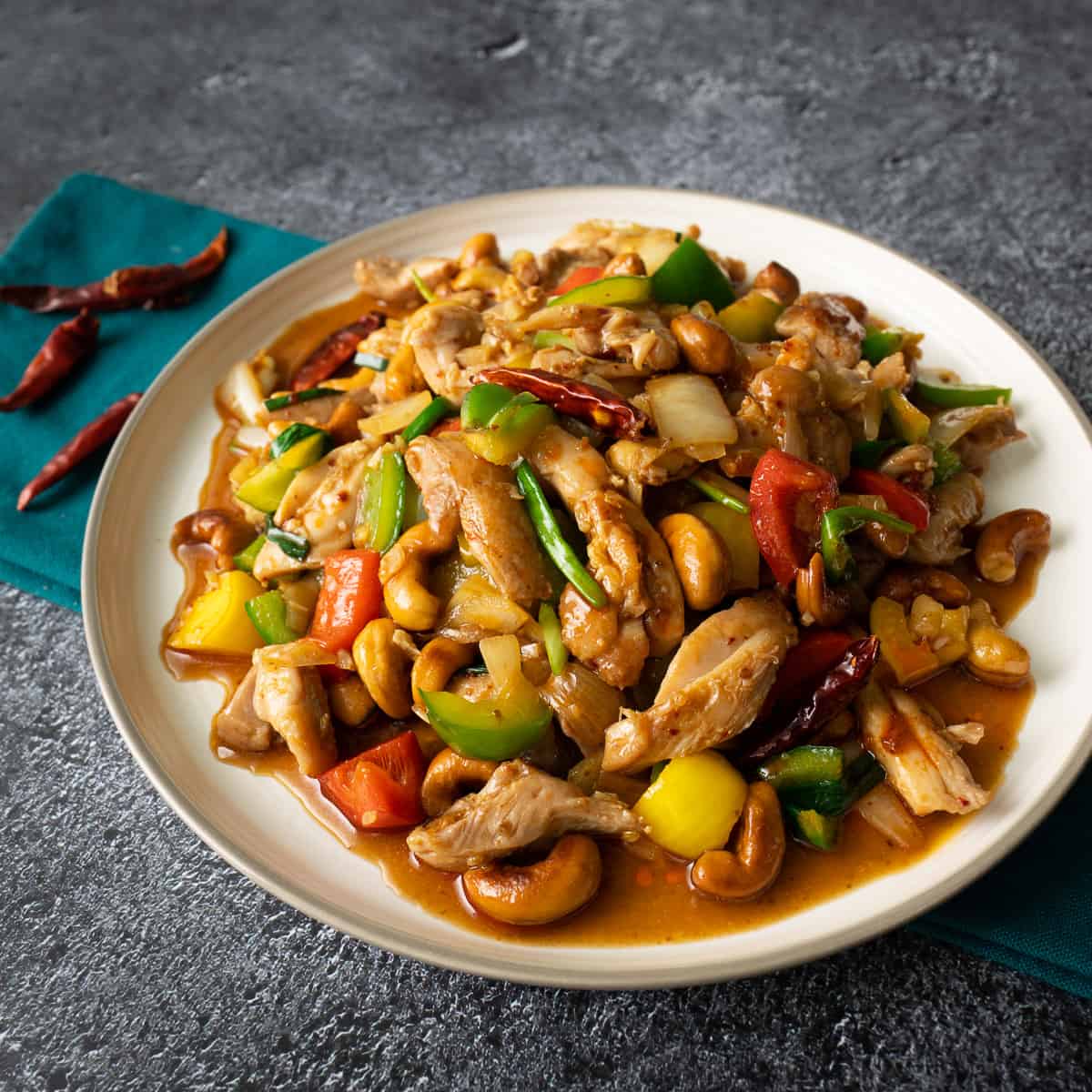 Cashew chicken is a popular item on takeout menus, but I promise you this version will beat any of them. It's my husband's favorite Thai dish, and I have put much effort in maximizing the flavour of this easy stir fry, so you might even be surprised by some of the tricks!
If you already love this dish from your local Thai restaurant, you're in for a treat!
9. Thai Pineapple Fried Rice ข้าวผัดสับปะรด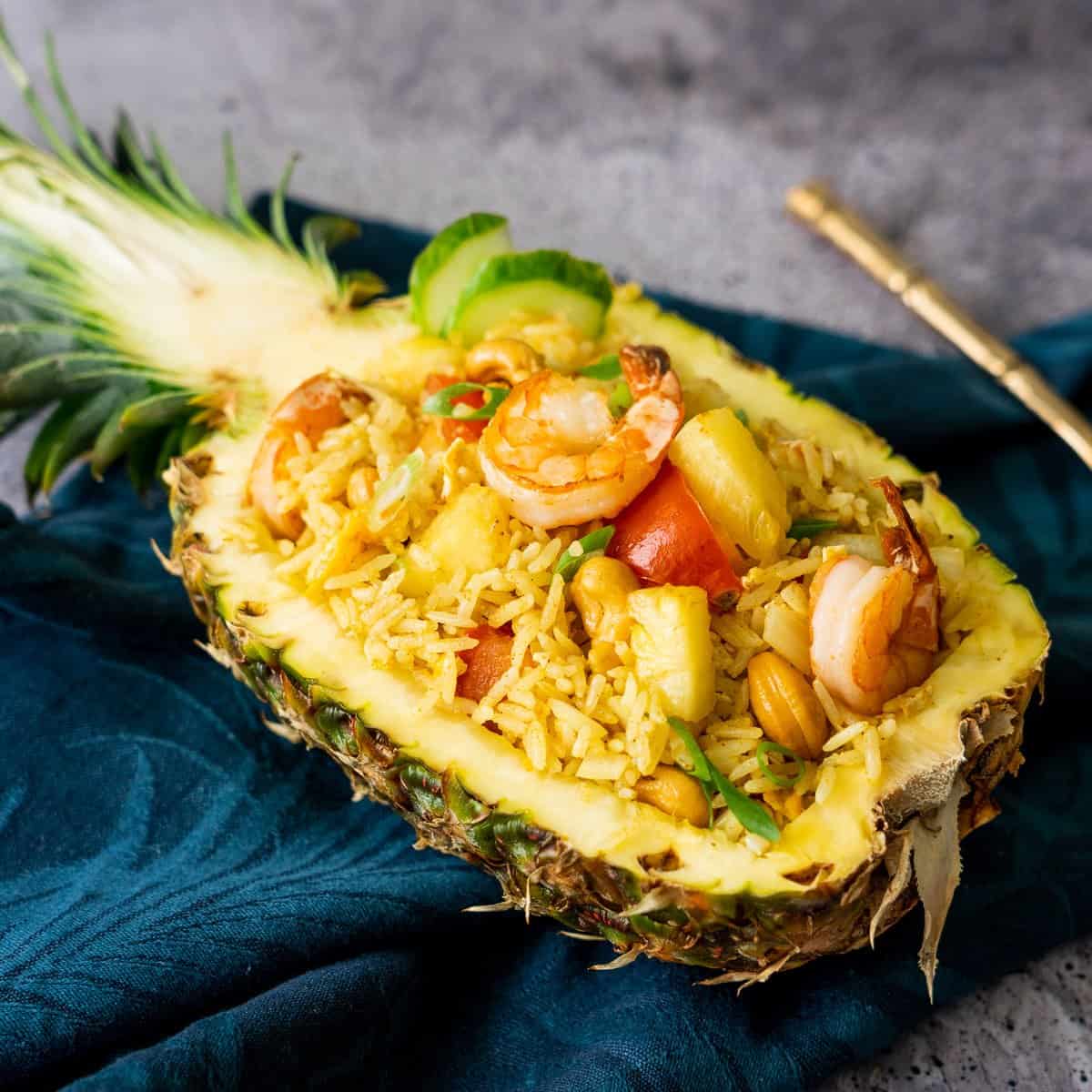 If you've only had pineapple fried rice in the context of Chinese food, you've got to try this Thai style! The recipe is easy, yet the result is a complex flavoured dish that also looks impressive.
You can make the pineapple bowl for the wow-factor, or skip it and buy pre-cut fresh pineapple chunks from the grocery store (but don't use canned!).
10. Laab (not larb) Gai ลาบไก่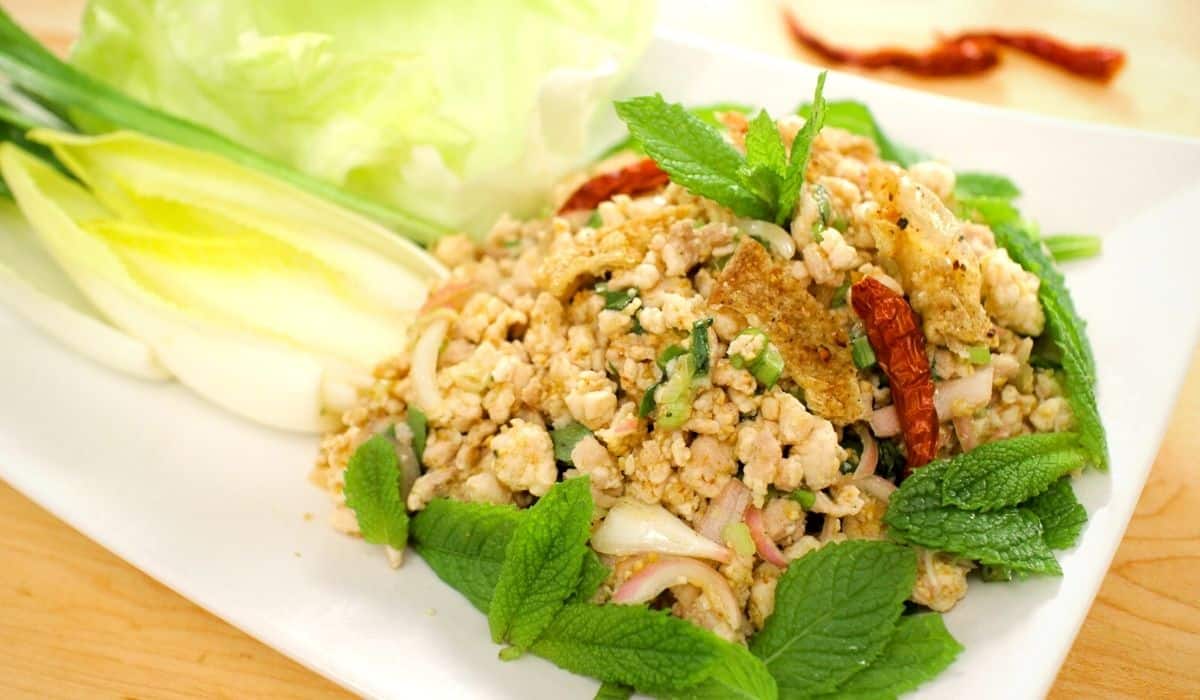 First and most importantly, it is laab, not larb. Please do not pronounce the R, thank you. 😉
Laab is a northeastern Thai salad made traditionally with ground meat. It's tossed in a spicy dressing made with fish sauce, lime juice, and toasted rice powder that adds a wonderful nutty flavor. This chicken laab is just an example, and as I have said many times, "you can laab anything."
Do explore the several laab variations on this site, including a vegan laab and a "leftover laab" that works for any leftovers (particularly great with leftover rotisserie chicken)!
11. Pad See Ew ผัดซีอิ้ว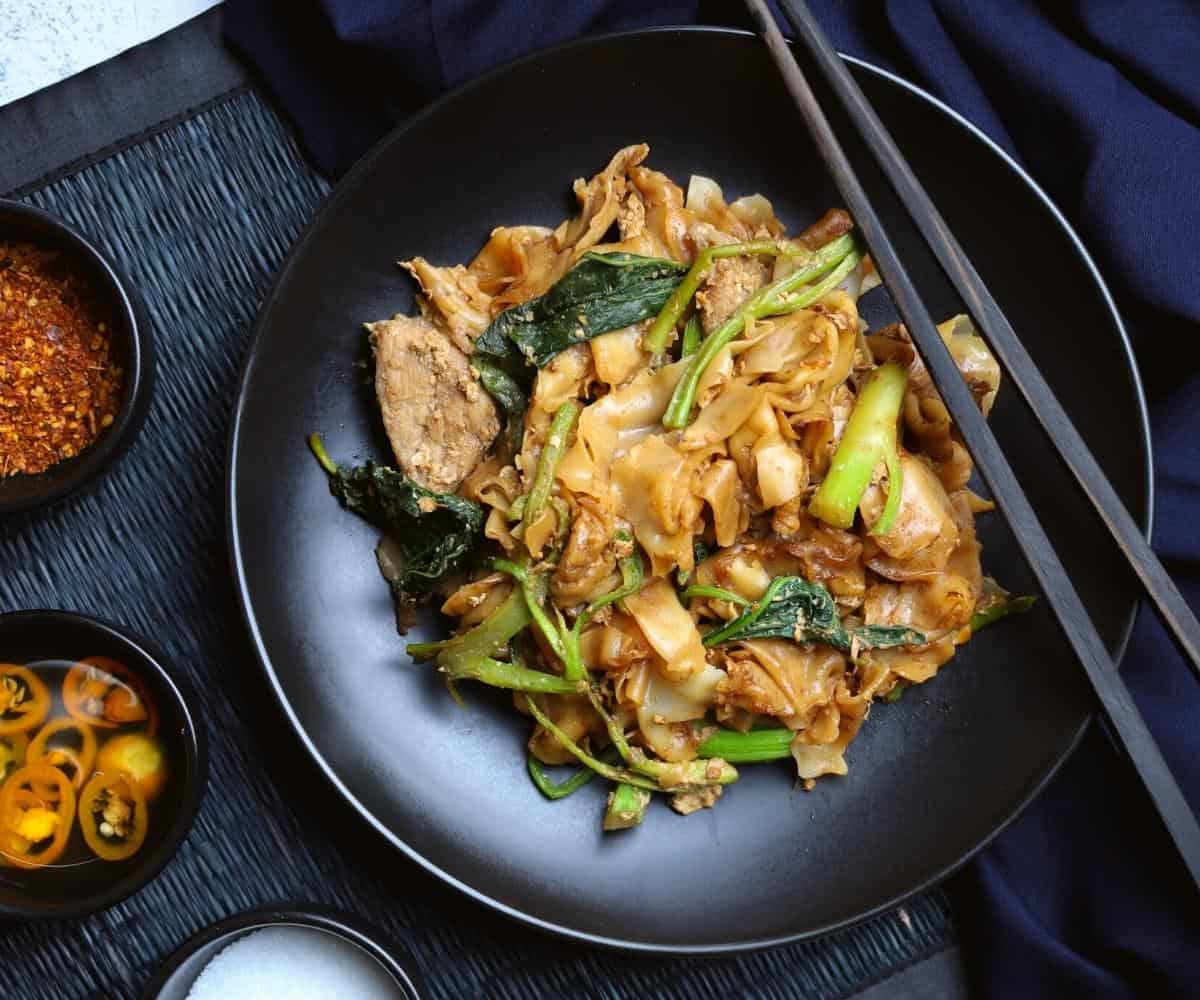 Of all the Thai stir-fried noodles, pad see ew is the one with a cult following. This iconic street food is surprisingly simple. Fresh wide rice noodles stir fried with a mix of soy sauces, eggs, and Chinese broccoli, that's it. But this is one dish that makes me routinely overeat (with no regrets, of course)!
But because it's so simple, the ratio of ingredients is key here, so please measure everything carefully. If you can't find fresh wide rice noodles, you can also try a version using egg noodles or rice vermicelli. And once you got the basic pad see ew down, try a similar but slightly more complex dish: pad kee mao or drunken noodles!
12. Thai Red Curry - Chicken or Vegan แกงเผ็ด
This is a simple curry that might not even require you to visit an Asian grocery store. Many Western supermarkets already carry red curry paste, fish sauce, and coconut milk which are the main ingredients you'll need.
The recipe calls for Thai basil, but regular basil will work, and it will still taste great if you skip it altogether. If you have leftover red curry paste, try making these epic Thai tacos!
Note: If you're vegetarian or vegan, read the ingredient list on your red curry paste to make sure it doesn't contain shrimp paste.
13. Pad Prik King - Red Curry Chicken Stir Fry ผัดพริกขิง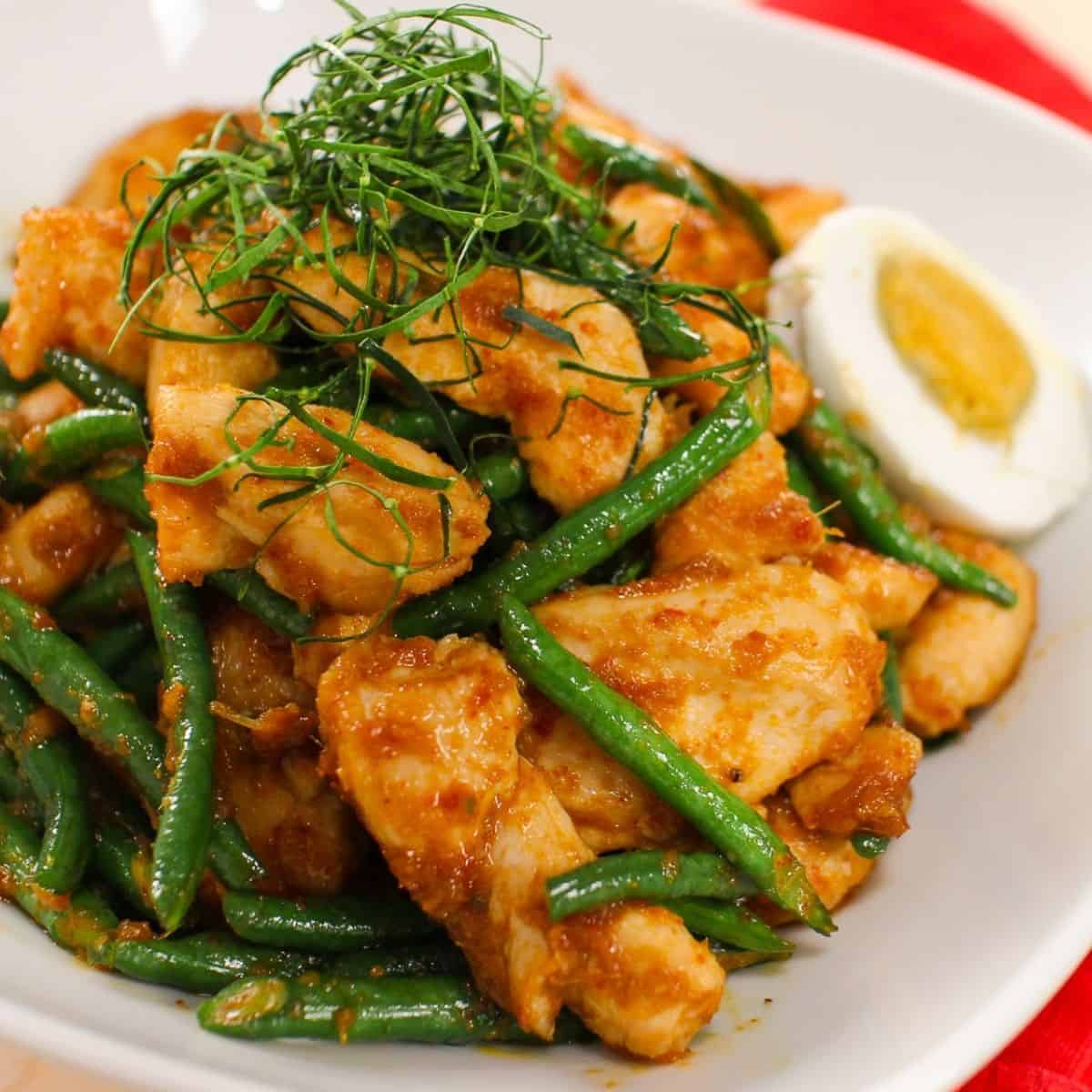 Thai curry paste isn't just for curries! We use it in all sorts of applications, including stir fries. This quick and simple chicken stir fry with red curry paste and long beans is one of my favourites - sweet, salty, spicy flavors...it has it all!
14. Thai Marinated Grilled Steak เนื้อย่าง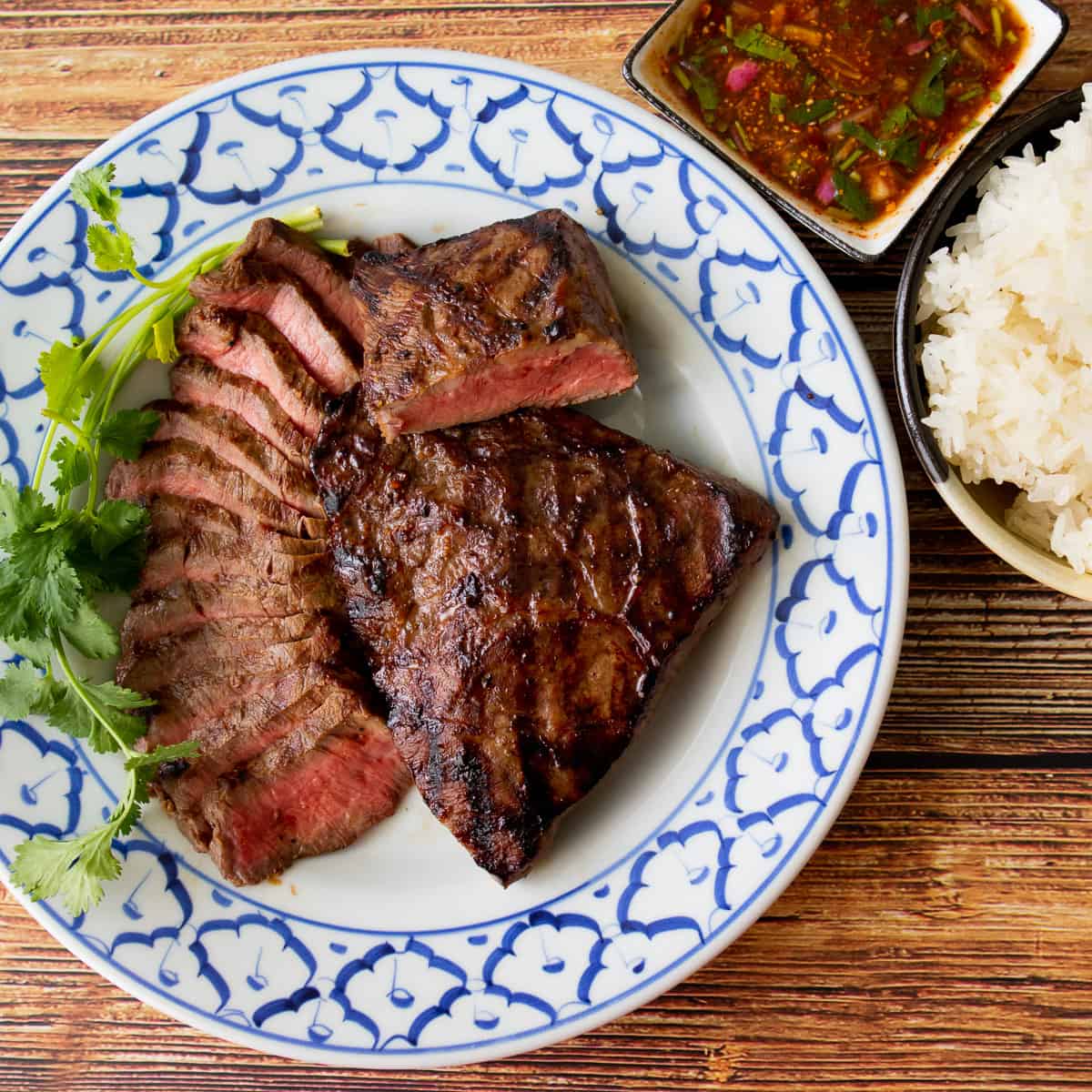 This is the only steak marinade you need. Yes, it is Thai, but it also has a neutral enough flavour that the steak will still go with any meal; Thai or not. Pair it with Thai sticky rice, but if you want mashed potatoes, that will work too! I also suggest grilling an extra steak or two, and turn it into this fresh and spicy Thai beef salad!
15. Thai Fried Rice ข้าวผัดปู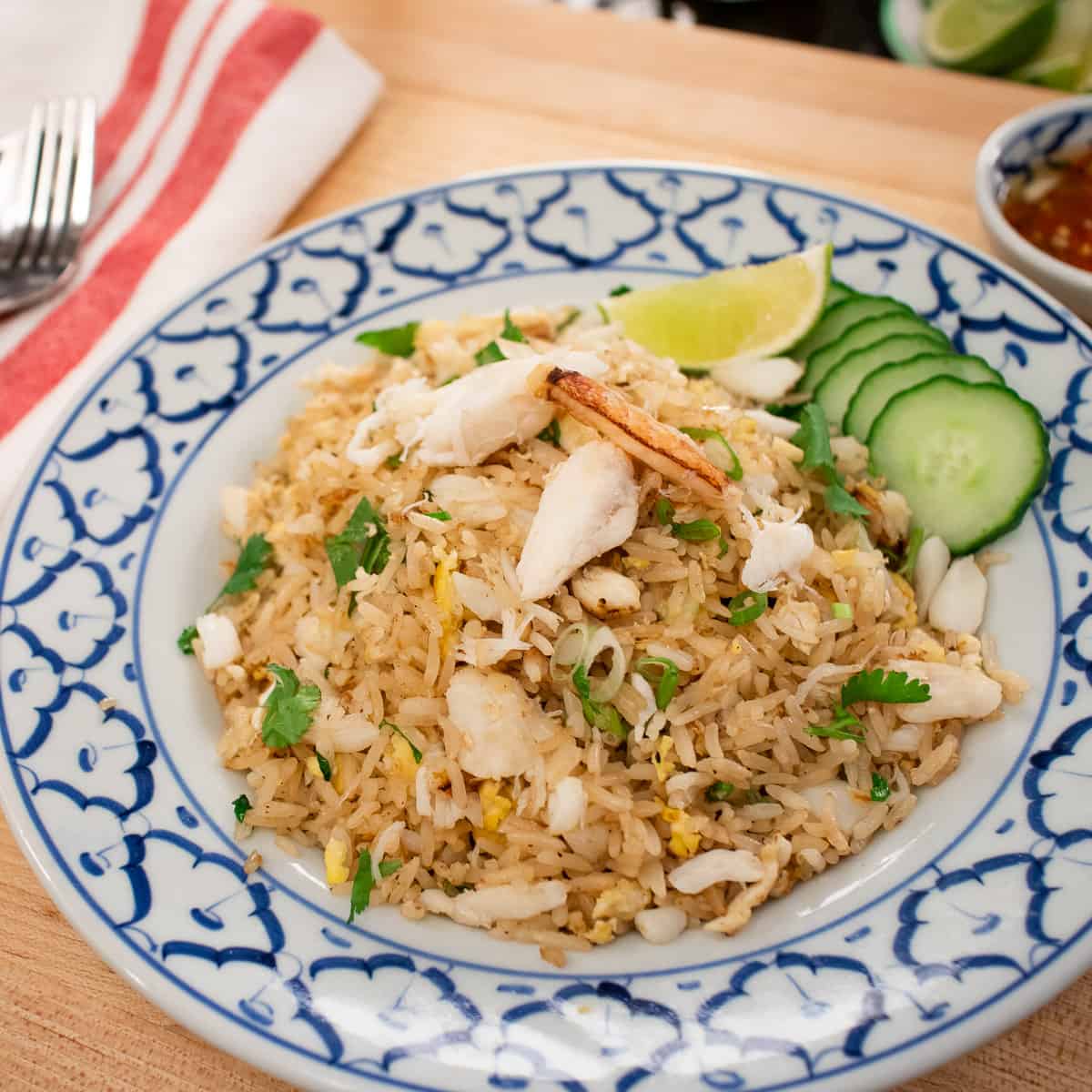 Thai fried rice is one of those dishes that look so simple that you think ... "it can't possibly be THAT good". But friends, I am still shocked by how good it is every time I eat a well-made Thai fried rice.
The crab version is the most popular in Thailand (and the best IMO), and also the easiest in a sense that you don't have to do anything with the protein. You can also substitute shrimp for the crab; and no, you do not need to have leftover rice for this.
For a more budget-friendly version, you can try the Thai chicken fried rice as well!
16. Panang Curry แพนงเนื้อ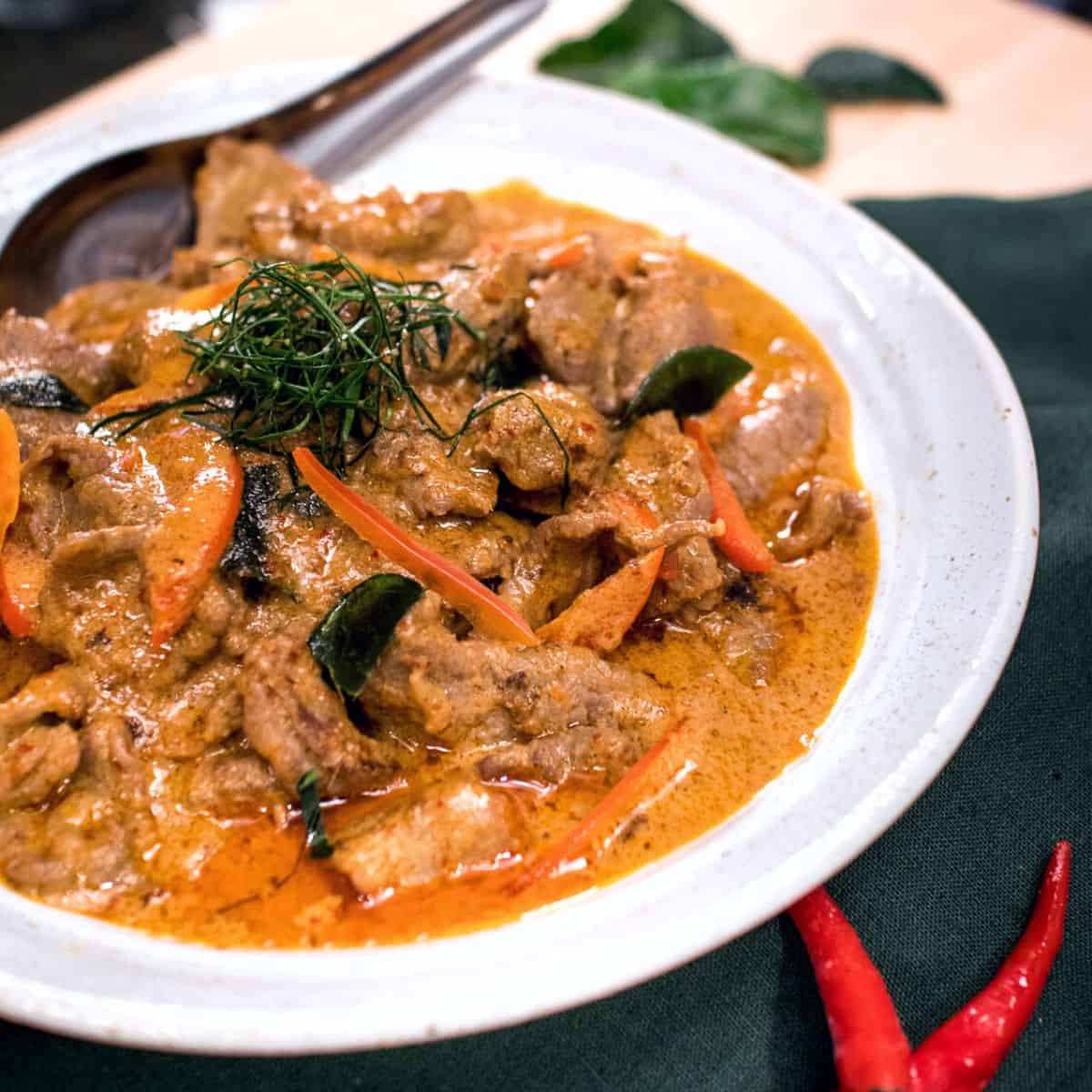 Of all Thai curries, panang is indeed the simplest and quickest one to make. With very little chopping to do, panang is more of a stir-fry than a curry. The creamy sauce has roasted peanuts and spices that add to the richness of it.
You can use chicken or pork instead of beef, and I also included a cheat for quickly turning store bought red curry paste into a panang curry paste.
17. Glass Noodle Stir Fry - Pad Woon Sen ผัดวุ้นเส้น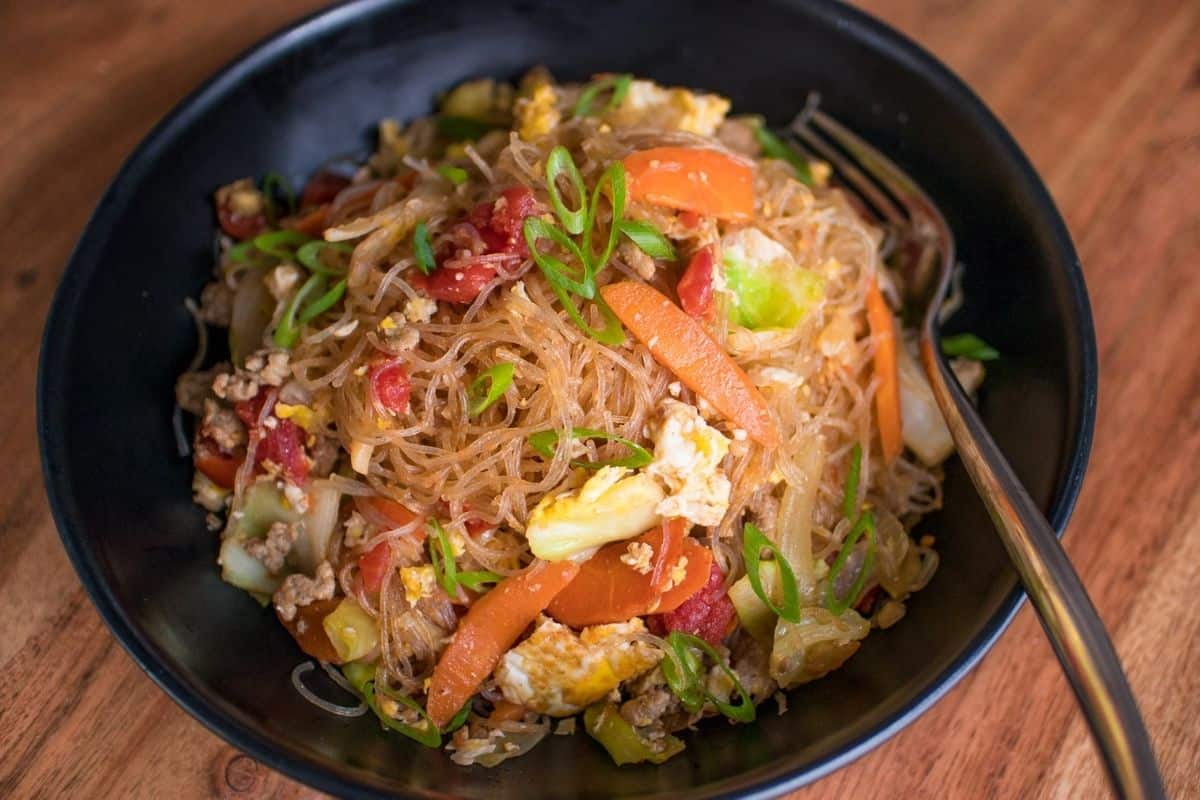 I created this glass noodle stir fry during lockdown when we all needed easy recipes that didn't require a ton of fresh ingredients.
This classic Thai stir-fried noodle dish uses mostly pantry staples, and can be adapted to work with different ingredients that you have in the fridge. It's also kid friendly and reheats well the next day!
18. Cabbage & Fish Sauce Stir Fry กะหล่ำปลีผัดน้ำปลา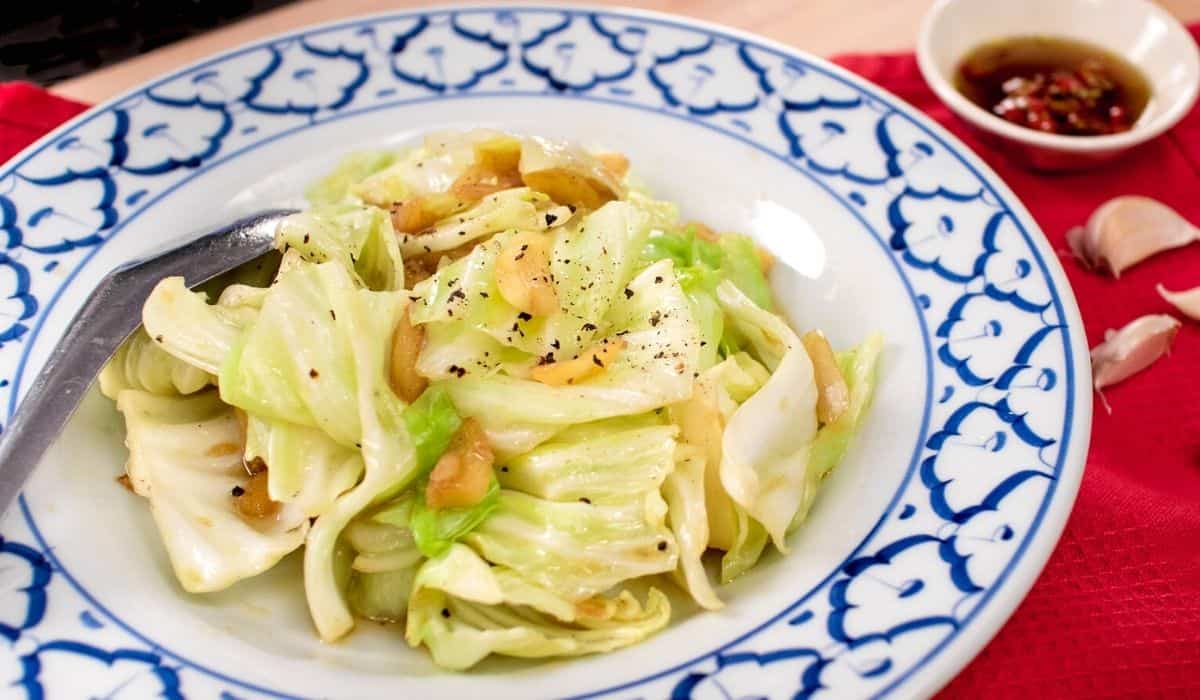 There are many easy Thai recipes, but this might take the trophy for the easiest one. I know "cabbage and fish sauce" may seem like a suspicious combination to some, but it delivers an incredible flavour. It's a popular veggie side dish in Thailand for a reason!
For this dish it's important that you use good quality fish sauce, so if you're not sure what that means, check out my ultimate guide to fish sauce.
19. Spicy Thai Egg Salad - Yum Kai Tom ยำไข่ต้ม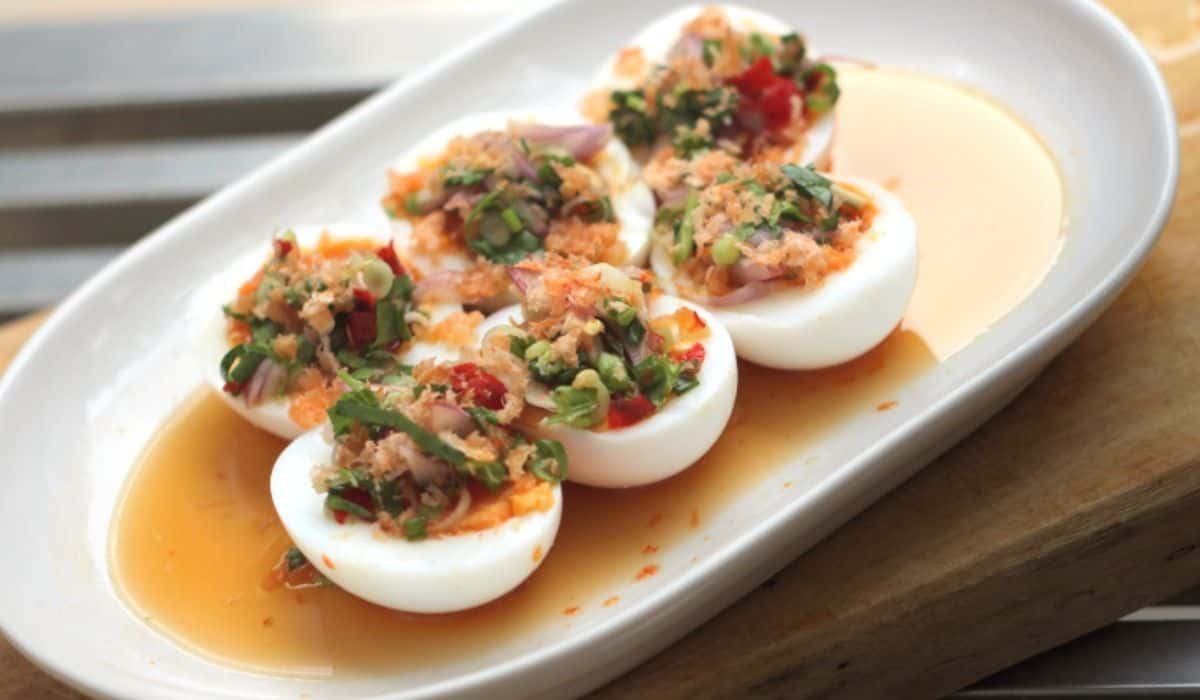 This is a hidden gem. You won't find yum kai tom in your local restaurant, but it's a common dish in Thailand that's so easy to make.
An egg salad unlike any egg salad you've ever had, and you can serve it as an appetizer or with jasmine rice as part of a main meal. Put this out on the table and I guarantee you'll get ooh's and aaah's from your guests, and they won't be disappointed by the taste either!
20. Satay & Peanut Sauce เนื้อสะเต๊ะ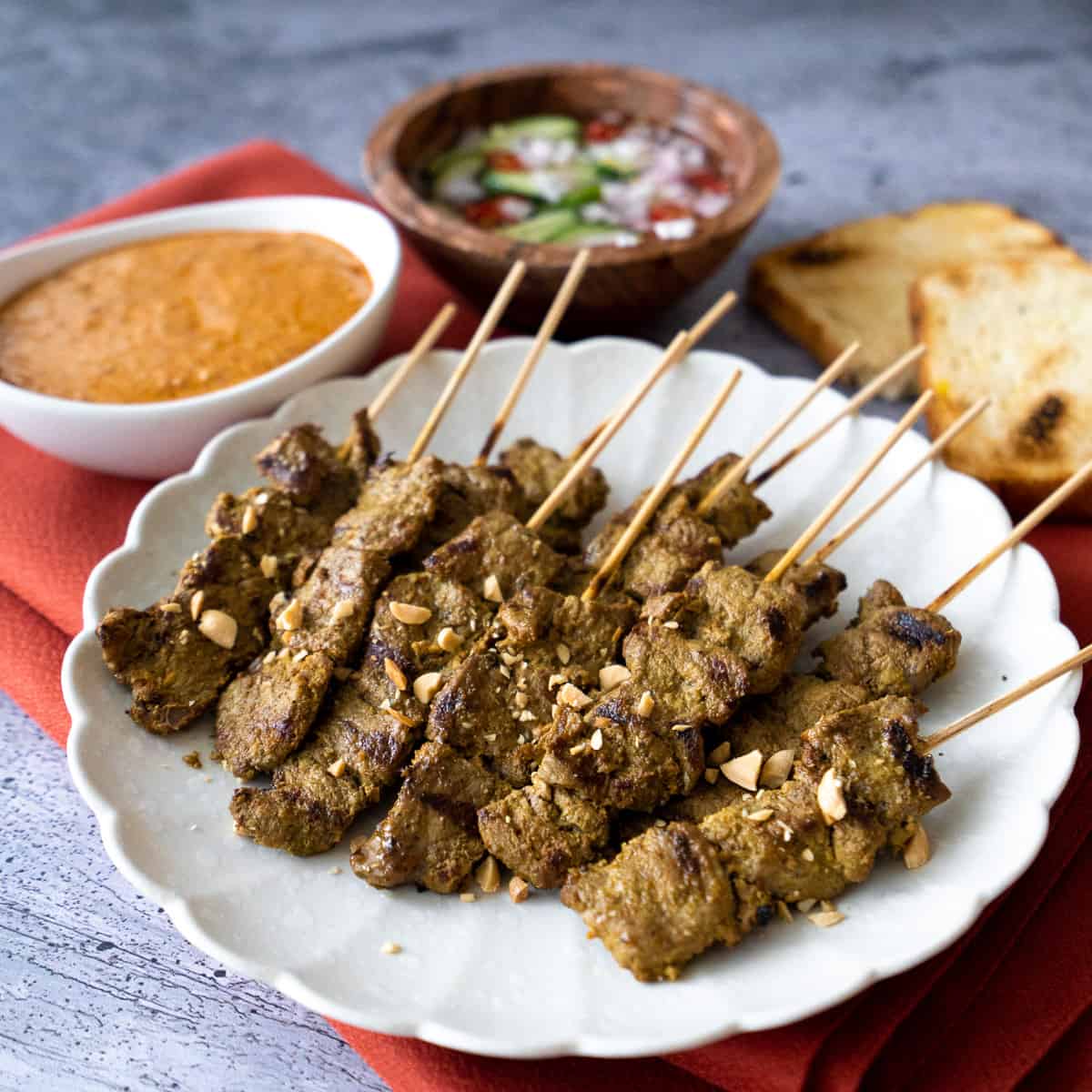 It's hard to find an authentic Thai peanut sauce on the internet, especially one that isn't made with peanut butter (news flash: peanut butter is not a Thai ingredient).
The peanut sauce in this satay recipe is the real deal and you can put it on anything, even plain roasted chicken or roasted vegetables. This recipe is for beef satay, but you can adapt it for chicken satay without any changes except for cutting the chicken thicker and bigger so it won't dry out quickly.
Oh, you can skip the skewering if it's a Tuesday and just knife-and-fork it!
21. Fish Sauce Wings (3 ingredients!) ปีกไก่ทอดน้ำปลา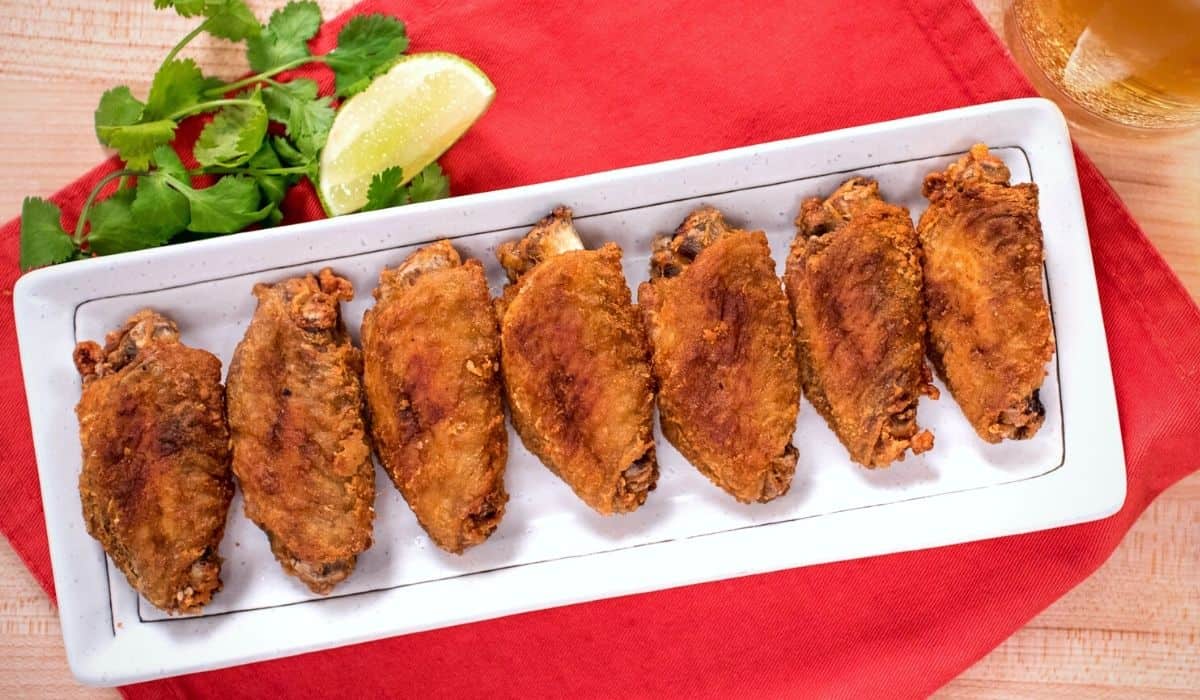 This is a recipe that truly highlights the power of fish sauce as a flavour enhancer. It's the MSG without the MSG. Chicken wings and fish sauce, that's it. I coat them with a little with rice flour, but you can skip it. Add some white or black pepper if you want to get fancy.
I shallow fry them, but you can also deep fry or air fry these.
22. Mixed Vegetable Stir Fry ผัดผักรวม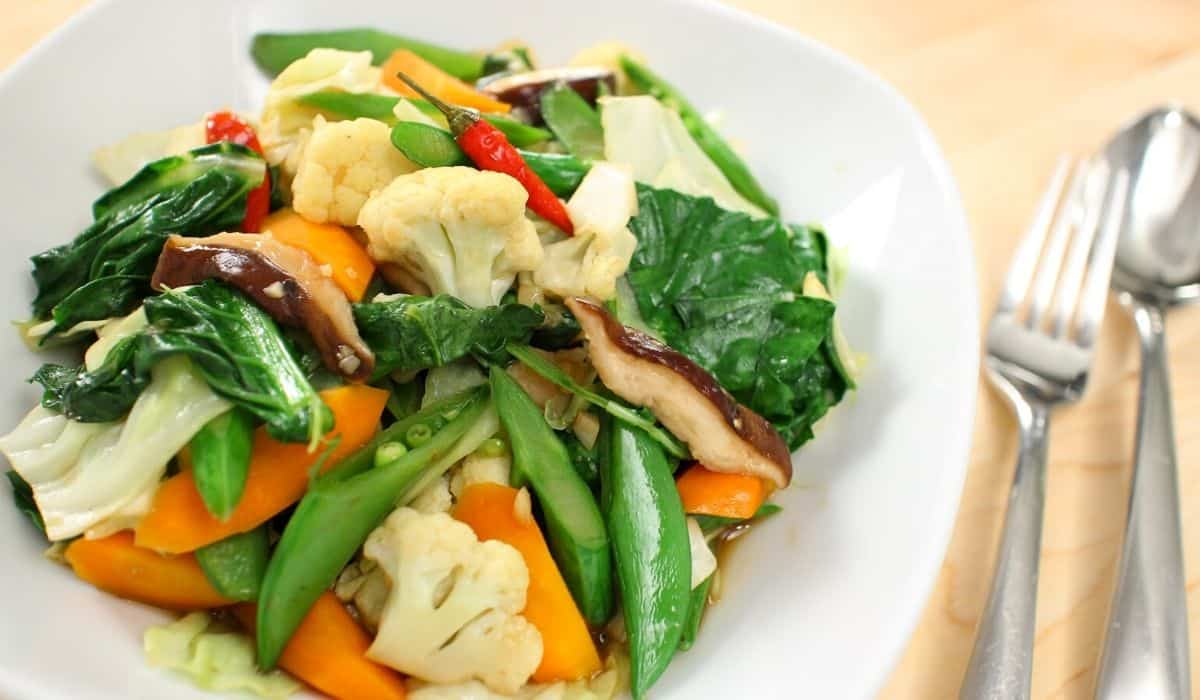 If you need to use up some fresh vegetables in your fridge, this is the perfect recipe to turn to. This humble mixed vegetable stir-fry has over a million views on YouTube, because as it turns out, people actually do like vegetables :).
The sauce is packed with the trifecta of umami: oyster sauce, soy sauce and fish sauce. Oh, and don't skimp on the garlic!
23. All-Purpose Thai Basil Sauce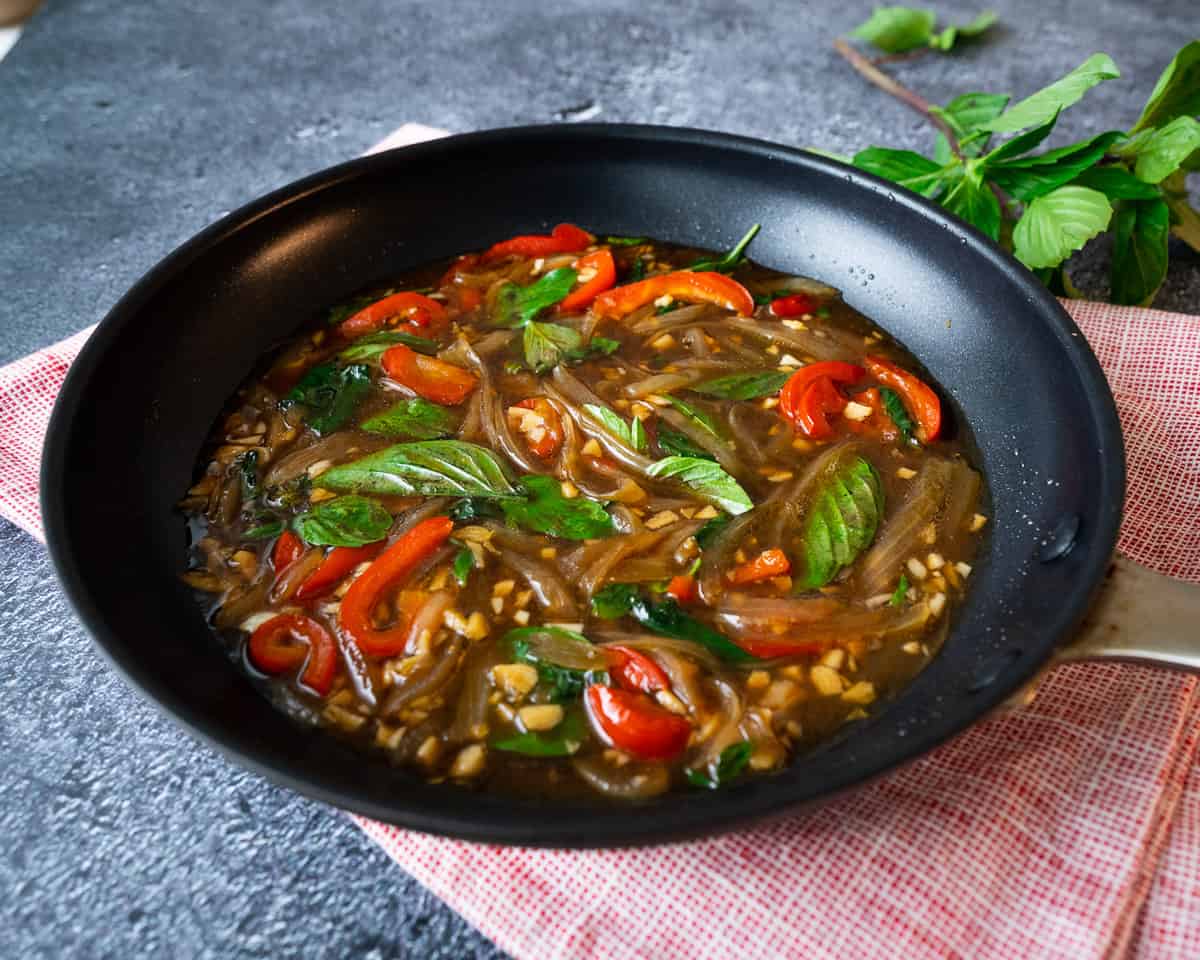 This is an awesome sauce you can put on anything and turn it into a Thai dish. I came up with this recipe because I wanted to have a versatile sauce that I can keep in the fridge and add Thai flavors to any protein. I also needed to use up some dying basil, and this worked out perfectly!
Pour the sauce over pan seared fish, oven baked chicken, or use it as a stir fry sauce for a mix of vegetables and protein. In the video tutorial I show you how to use it both ways!
24. Steamed Fish Ginger Soy Sauce ปลานึ่งซีอิ๊ว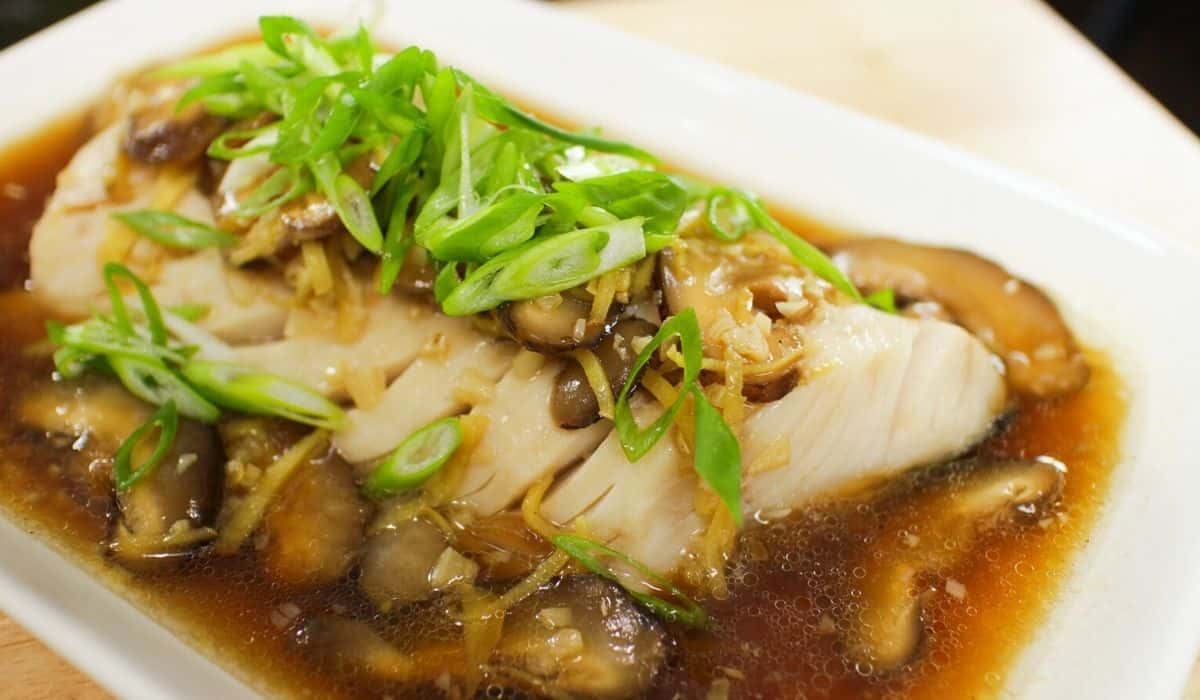 Thai people eat steamed fish on the regular. It's so easy: steam the fish, while it's steaming make the sauce, when the fish is done pour the sauce on top. That's it.
This ginger soy sauce with shiitake mushrooms is a crowd favourite and kid friendly, but for something spicy and tart, try steamed fish with garlic and lime sauce.
25. Ultimate Thai BBQ Chicken - Gai Yang ไก่ย่าง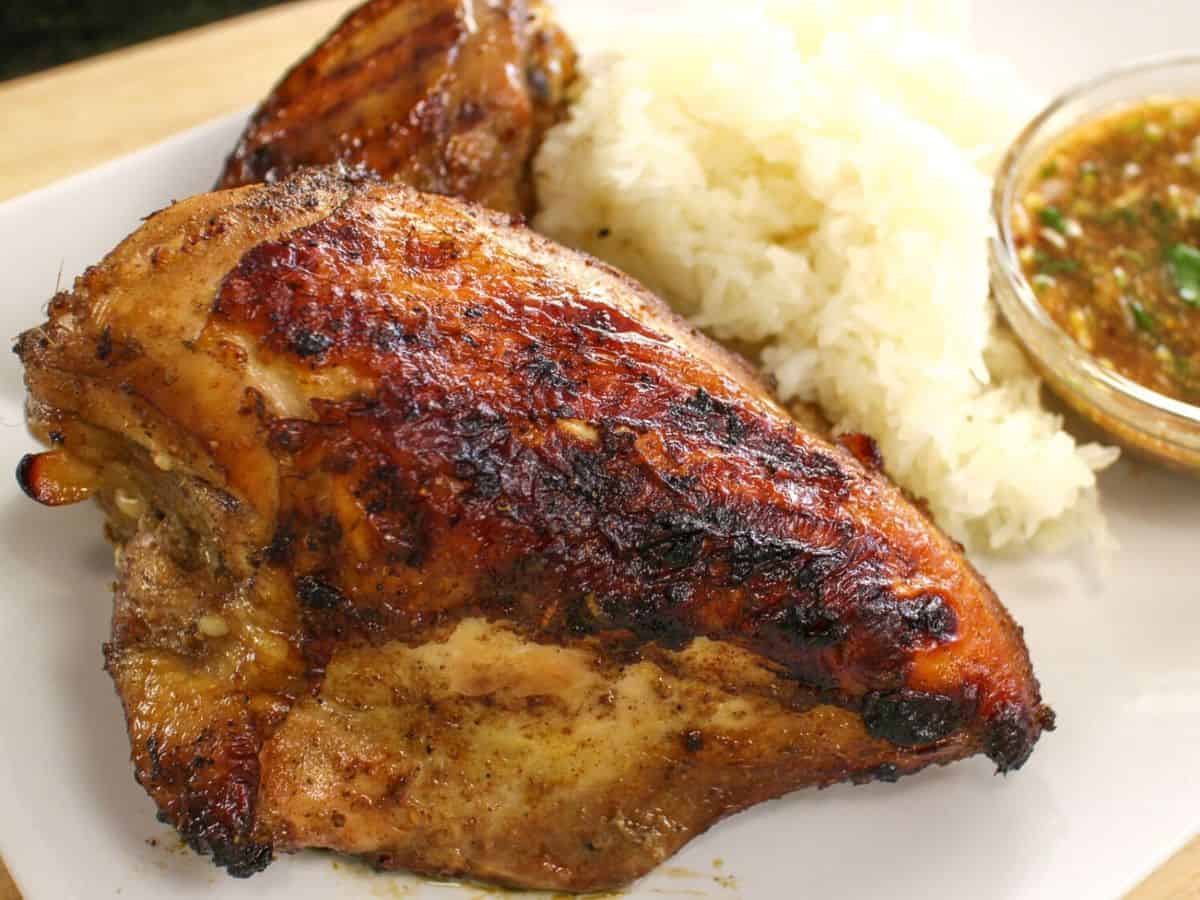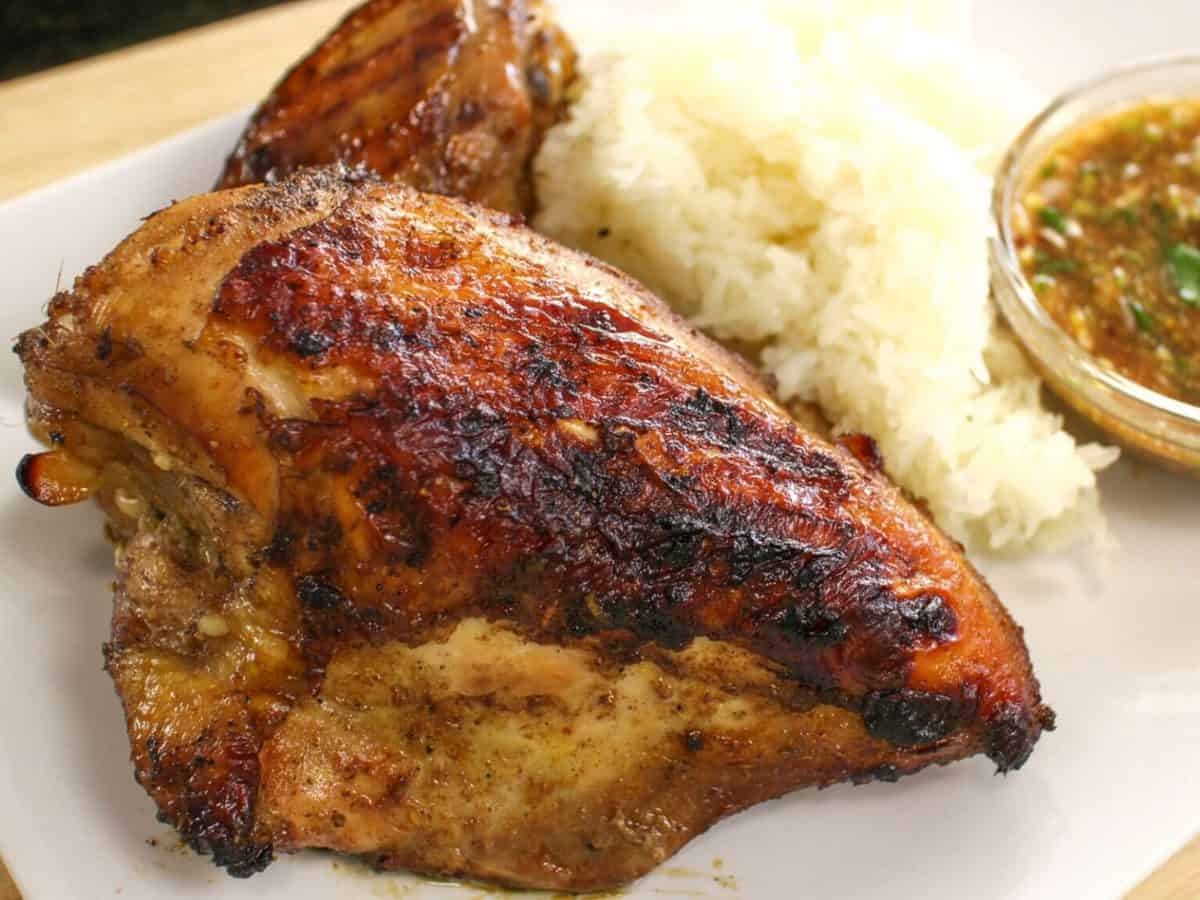 We all need one of those reliable "marinade today cook tomorrow" recipes, because nothing is more satisfying than coming home to a meal that's prepped and ready to cook. Here's a classic Thai BBQ chicken that you will return to again and again, as many people have.
You can use all thighs, all wings, or a mix of any chicken parts you prefer. You can grill them, or just roast them in the oven (400°F/200°C, timing will depend on the chicken part you use). Serve with sticky rice and a green papaya salad if you want the complete Thai experience, but it will work with any sides!
25. Mango and Sticky Rice ข้าวเหนียวมะม่วง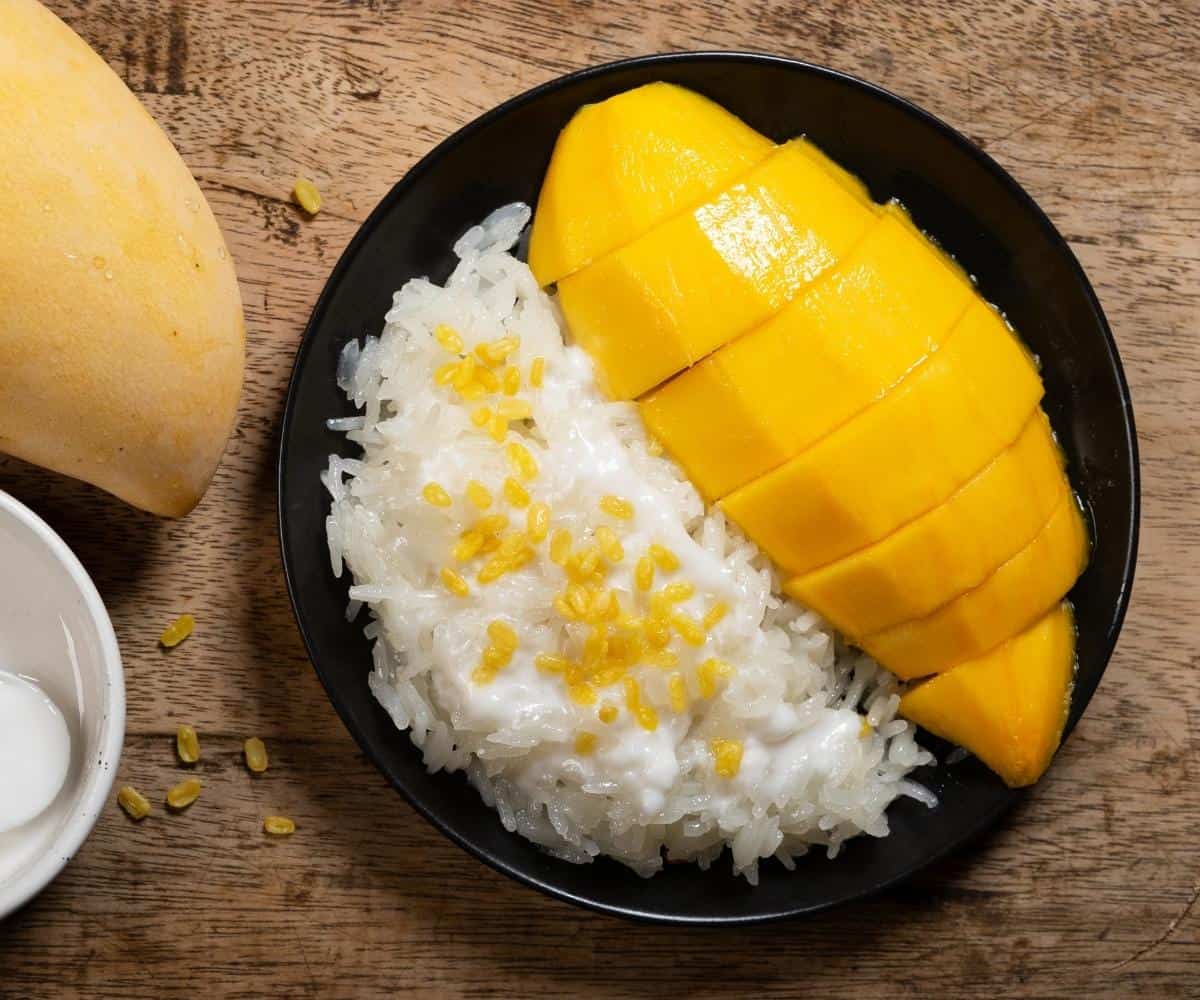 Thai desserts are totally underrated. Thai people love our sweets, and if you could only eat one Thai dessert in your life, this is it. When mangoes are ripe, sweet and in season, there are few things better to pair it with than our sweet coconut sticky rice.
When good mangoes are not available, make the sticky rice (aka glutinous rice) and serve it with ice cream; like this blender mango ice cream, or if you want to stick with traditional, try this 4-ingredient street-style Thai coconut ice cream.
26. Thai Iced Tea ชาเย็น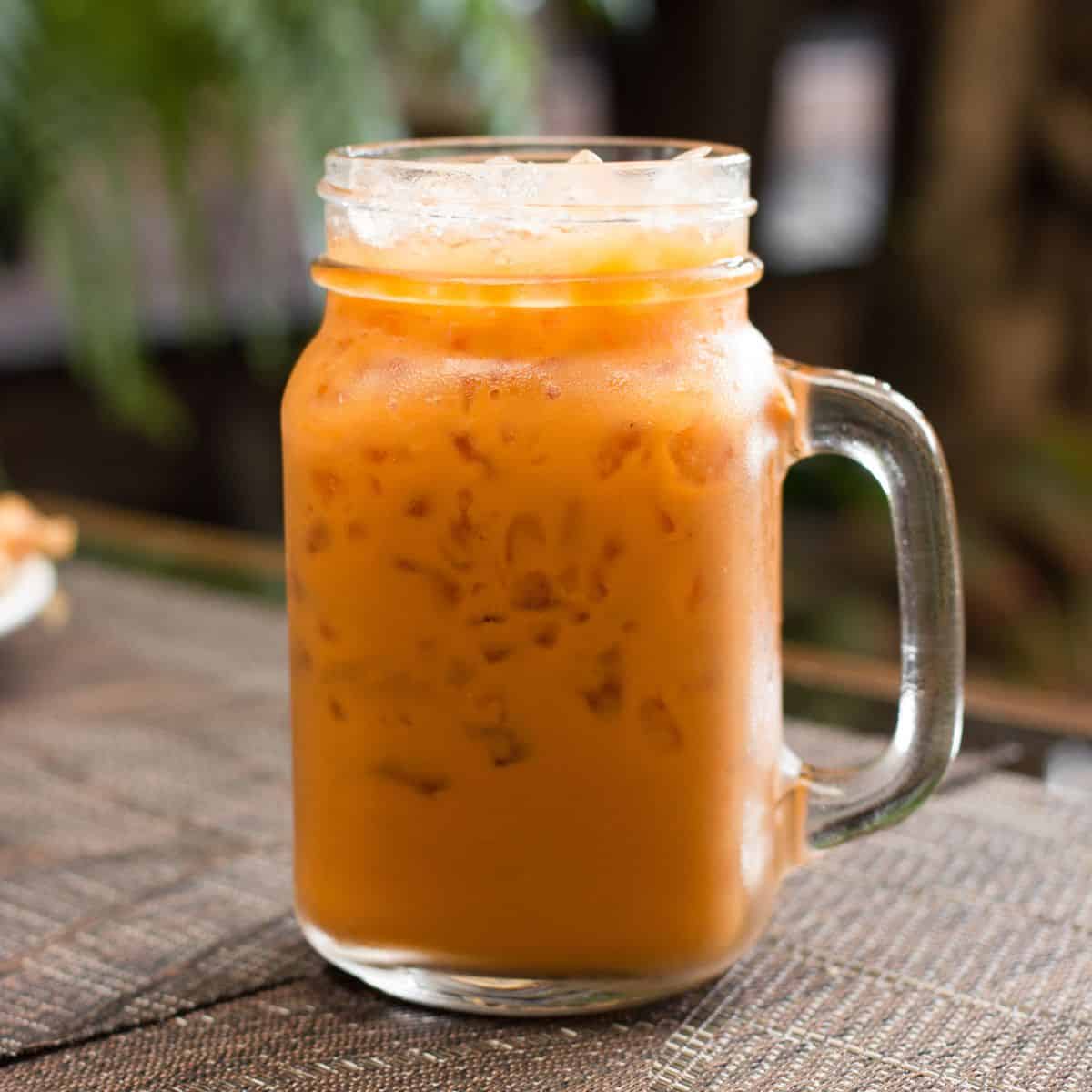 If you're looking for a beverage to tame the spices of your Thai meal, this is it! Thai iced tea is a rich and creamy black tea sweetened with condensed milk, and is the most popular Thai beverage.
If you're vegan or lactose intolerant, no problem! You can try this lesser known, dairy free Thai iced lime tea that is actually my favourite!
Honorable Mentions - More Thai Dishes Worth Exploring
This site has a vast library of authentic Thai recipes, and some modernized ones, so if you have time it's worth looking around for more ideas. Browse different categories of recipe by going to the main menu at the top. The "Popular Classics" category is a great place to start as it includes the most popular Thai recipes.
Finally, I want to quickly mention some great appetizer recipes here, because while they're not necessarily "hard", they can be a little more time consuming. But if you're hosting a Thai dinner, you gotta have some appies to complete the meal!
Thai Spring Rolls
There's the classic crispy spring rolls with pork, and also these amazing vegetarian spring rolls. Both are served with Thai sweet chili sauce that you can buy or make.
Thai Lettuce Wraps
This chicken lettuce wrap is not a Thai dish and is more of a Chinese dish, but many people (at least in the United States) seem to associate it with Thai food, and it's just a really tasty and a great start to any meal! For a REAL Thai lettuce wrap, this healthy and fresh mackerel lettuce wrap is a favourite of mine
Thai Fish Cakes
Flavoured with red curry paste, these Thai fish cakes are unlike any fish cakes you've ever had. My modified version is pan fried rather than deep fried (the traditional way), which makes it healthier and easier!