One of the first things you have to do as you start learning Thai cooking is to stock the pantry with Thai ingredients. Easier said than done, because shopping at an Asian grocery store for ingredients you've never used can be incredibly daunting. There are multiple options of everything - different brands, different prices, different colours - so which one are you supposed to buy?
In this article, I'm going to help you wade through the hundreds of bottles, packages, and cans to help you find the one that's best for your Thai cooking.
*This article is based on a video I filmed for my YouTube channel, so if you prefer to watch a video rather than read, here it is!
THE PRODUCE SECTION
We won't spend too much time here because it's pretty straightforward: they either have what you want, or they don't. BUT there are a few things to note:
Lemongrass
Additional Video Resource: Lemongrass 101
Some stores will have lemongrass sold as whole stalks, while others will have them cut in half so that they will fit into a tray. The important thing to know here is that the flavorful part of the lemongrass is in the bottom half of the stalk only.
So if your lemongrass comes pre-cut, you'll want to find the one with the thicker base - i.e. the bottom half - and use that. The top part you can throw it in as a bonus piece; I usually just freeze it and save it for stock, but you definitely don't want to just use the top part in your cooking. 
Galangal, makrut (kaffir) lime leaves and pandan leaves.
Additional Video Resource: Galangal 101, Makrut Lime Leaves 101
Galangal, makrut lime leaves and pandan leaves are essential herbs in Thai cooking. But if you don't see these in the fresh produce section, check the freezer. Many stores will only have them frozen, especially ones that don't have a large-enough demand to stock fresh. More on the freezer section below.
Tom Yum Kits
If you're looking for lemongrass, galangal, or makrut (kaffir) lime leaves, you might also look for Tom Yum kits. A Tom Yum kit comes complete with lemongrass, galangal, makrut lime leaves, and Thai chilies for your tom yum soup.
This is important to keep in mind, because for some stores might not carry fresh galangal or lime leaves separately, but they'll have it available in this kit.
THE FREEZER
The freezer at an Asian grocery store has many different, exciting ingredients. Let's look at some that I buy often.
Head-On Shrimp
When I first came to Canada, I was surprised that essentially all Western grocery stores do not carry head-on shrimp! Why would I want head-on shrimp? Isn't it better that the work has already been done for you?
Well…sure it's easier, but shrimp heads contain tasty tomalley and are great for making seafood-based soup such as this tom yum goong soup, or for making shrimp oil to amp up the flavour of your pad thai, as I show in this easier pad thai recipe.
Whole Fish
Asians love cooking whole fish - steaming them with various sauces such as in this steamed fish with garlic and lime recipe. The freezer has some great options for whole fish, and the golden pompano is one of my favourites.
Frozen herbs and fruits
Couldn't find fresh lemongrass, galangal, makrut lime leaves, pandan leaves, durian or Thai bananas? Check the freezer. For many stores that don't have high-enough traffic, they only stock these in frozen form. Frozen herbs are perfectly fine to use; and when I buy fresh herbs, I end up freezing them at home anyway! There are some notes here:
Frozen galangal. Avoid frozen whole galangal if possible only because it's incredibly difficult to use. Galangal freezes solid, so to cut into it you have to thaw it to a point, but if it's completely thawed the whole thing turns soft and leaks out precious, flavour-filled water. So if you can find pre-sliced frozen galangal, that is preferred.
Frozen chopped lemongrass. This is something you often find in the freezer of Asian stores, and while it's fine to use for things like curry pastes and marinades, note that they probably include quite a bit of the top half of the lemongrass stalk in this mix; and as mentioned, the top half is not as aromatic. So you will likely need to use more of it to get the same flavour.
ASIAN SAUCES - Soy Sauce, Fish Sauce and Oyster Sauce.
This is when people's eyes start to glaze over - hundreds of sauce bottles that line whole aisles. First, let's talk location. Most of the time, all the sauces are together - fish sauce is together with soy sauce, oyster sauce, etc. But in some stores, that's not the case. At T&T, the store featured in the video, they have a dedicated aisle for Southeast Asian products, and that's where the fish sauce, Filipino soy sauces and Indonesian soy sauces are. They are not with the Chinese, Korean and Japanese sauces. So if you can't find fish sauce or other Southeast Asian products, maybe check for a SEA section.
Fish sauce
Additional Video Resource: Fish Sauce 101 + Taste Test
Thai Fish Sauce
For Thai cooking, of course, you want to use Thai fish sauce and Squid is my go-to brand for everyday Thai cooking, and Tiparos is on par with Squid. They're not premium by any means, but they're inexpensive and perfectly fine for everyday use, and are both very popular in Thailand. Megachef is also a great one that's more premium than Squid and is a little sweeter, which might be better for those who find Squid too salty. If you're at a Western grocery store, the Thai Kitchen brand fish sauce is also very good.
If you don't plant to use fish sauce often, get smaller bottles, which are often hidden on the top shelf. Fish sauce doesn't last forever in a sense that once you open it, the flavor gets worse and worse over time, so you don't want a bottle that will last you years! Keep open fish sauce in the fridge.
Vietnamese Fish Sauce
Now, Vietnamese fish sauce is totally fine for Thai cooking. For example, Three Crabs is a good brand that's a little lighter; less salty compared to Thai fish sauce. Red Boat is a premium brand that's a "first press" fish sauce and is delicious if you can afford the higher price. More on what it means to be "first press" in this fish sauce 101 video.
How to Determine the Quality of Fish Sauce
Regardless of whatever kind of fish sauce you use, what you want to look for to determine the quality is the ingredient list. Good quality fish sauce contains very few ingredients: anchovy extracts or anchovies, salt, sugar, water and nothing else.
There should be no flavor and no color added because if they're adding those things, you better believe they're making up for the fact that there isn't that much fish in there!
Soy Sauce
Additional Video Resource - Soy Sauce 101: Everything You Need to Know
At most big Asian stores, soy sauces usually take up an entire aisle, and this is where people really get lost! So we're gonna spend a bit of time here.
Soy sauces are organized in Asian grocery stores, generally, in two different ways. First, by country of origin, and second, by type.
Soy Sauce by Country
For Thai cooking, if at all possible, look for Thai soy sauce. The most popular brand, and one I use, is Healthy Boy Brand. You can buy either the original flavour (yellow label) or mushroom flavour (brown label).
Unfortunately Thai soy sauce isn't usually available at stores that are primarily Chinese, Japanese or Korean. But if you go to a Southeast Asian store, your chances of finding it are pretty good.
But that's okay, if you don't have Thai soy sauce, Chinese, Japanese, Korean soy sauces will work fine as a substitute. So my recommendation is that you can just buy the soy sauce for the cuisine you will cook the most aside from Thai, and just use that for Thai cooking as well. Is it the same? No. Will it work? Yes.
Soy Sauce by Type
Once you've located the country of origin of choice, then soy sauces are divided by type: regular, dark, sweet, and what I call "specialty" soy sauces.
Most of the time you're going to want "regular" soy sauce, and that's exactly what to look for on the label: something that just says "soy sauce." Maybe it has a generic modifier like "premium soy sauce" or "organic soy sauce," but the gist of it should just be soy sauce. You can also use gluten free and low sodium soy sauces as your "regular" if those are issues of concern.
*Do not worry about specialty soy sauces. You're going to see all sorts of labels like "soy sauce for seafood" or "brown cooking soy sauce" or something else. These are special formulas made for specific purposes, and not what you need when a recipe simply calls for soy sauce. But if you want to buy it just to see what they're like, go for it!
Pro Tip When Shopping for Soy Sauce
The soy sauce you need is likely gonna be stuff at your eye level because that's where stores stock the most popular, most commonly bought products. Top and lower shelves are for products that are less frequently bought. Note that this may not apply to small mom and pop stores who don't follow the "industry standard" for stocking shelves!
Soy Sauce Prices
Finally, if you have narrowed it down to what you want and you still have four different brands to choose from, price is generally a very good indicator of quality. If you're willing to spend a little bit more, you're probably going to get a better product.
What About Light Soy Sauce?
"Light soy sauce" is a cause of confusion. People think it's low sodium, low calories, or low something; but it is not low in anything. Some brands just use the term light soy sauce to distinguish it from dark soy sauce. In other words, it is just regular soy sauce.
For example, Amoy brand carries light soy sauce and dark soy sauce, but they don't have anything that just says "soy sauce" because the "light" is their regular. By contrast, Lee Kum Kee brand does not have light soy sauce, only "soy sauce." For Thai Healthy Boy brand, regular soy sauce is labelled as "thin soy sauce," just to add to the confusion!
Dark Soy Sauce
Dark soy sauce is used primarily to add a dark brown color to food so it looks more appetizing. It's used usually in small amounts and is less salty than regular soy sauce.
For Thai cooking, we call it black soy sauce, but Chinese dark soy sauce is a fine substitute. However, Chinese dark soy tends to be saltier than Thai black soy sauce, so just keep that in mind and be prepared to reduce other salting agents when you're cooking.
Sweet Soy Sauce
Sweet soy sauce is usually found next to the regular soy sauces, but if you don't see them there, check if there's a Southeast Asian section because sweet soy sauce is usually exported from Indonesia.
There is a Thai Healthy Boy Brand sweet soy sauce, but I don't often see it on the market in Canada, so the brand I use is the Indonesian ABC brand, which works just fine in Thai recipes. Having said that, we don't use it very often in Thai cooking, only occasionally in dipping sauces, such as for these crispy garlic chives dumplings. Mie Goreng and nasi goreng are two classic Indonesian recipes that use sweet soy sauce.
Oyster Sauce
Additional Video Resource: Oyster Sauce 101 + Taste Test
The one thing you need to know about oyster sauce is that there are grades; there are premium ones and basic ones. The premium ones are more expensive, and they are better tasting with more oyster extracts in it. The basic one is cheaper; they're not as good, but for everyday or budget cooking, it is totally fine. Lee Kum Kee carries both grades, the basic one is Panda Brand, and the premium one is Boat Lady
One giveaway of oyster sauce quality is the price. If it's more expensive, it's likely better. The other giveaway is also the protein content. The higher the protein content, the more oysters are in it, and the better quality it is.
RICE
Additional Video Resource - Mini Doc: How rice is grown and processed in Thailand
Choosing the right rice is important as it is the foundation for your Thai meal. There's only one type of rice appropriate for your Thai meal: Thai Jasmine rice, which I also happen to think is the perfect "all-purpose rice" for non-Thai meals.
But how do you know that it's Thai Jasmine rice? Because here's a secret: just because the bag says 'jasmine rice" it doesn't mean it's the fragrant, famous Thai jasmine rice you're looking for.
So, what you need to look for is the word "hom mali." Literally "fragrant jasmine," this is the Thai name of the best variety of white rice in Thailand. AND you need to look for the green round logo which is the Thai government's certification that what's inside the bag is actually genuine Thai Hom Mali rice.
This is important because the word "jasmine rice" is not regulated. So, even if the bag says Jasmine rice, inside the bag could be any number of varieties, and you don't know whether if it's good or not.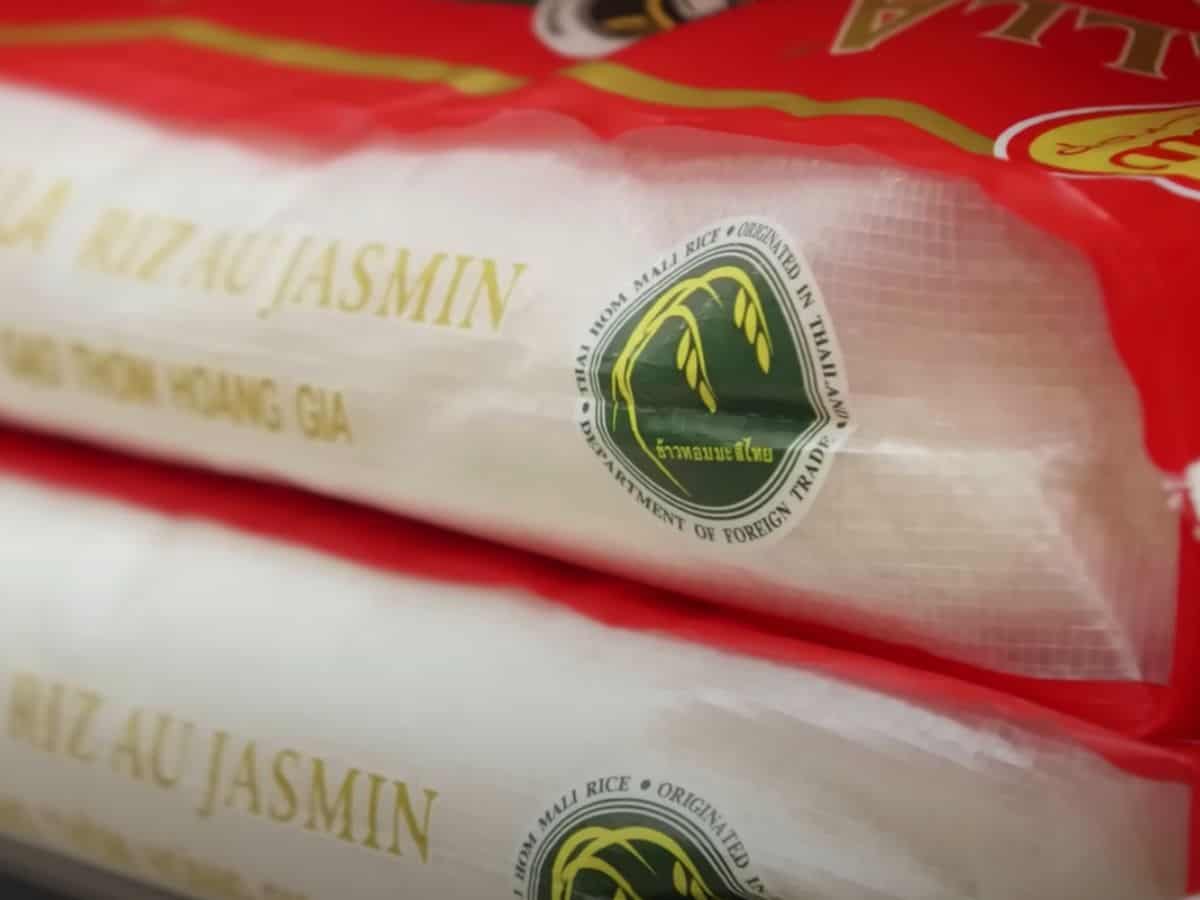 RICE NOODLES
Additional Video Resource: Mini Documentary: How rice noodles are made in Thailand
When buying rice noodles, there are two things you need to be concerned about:
1) you want to make sure it's a product of Thailand and made only from rice, because some Vietnamese rice noodles have tapioca starch added, which gives it a different texture. Not necessarily bad, but not the right one for Thai food.
2) You want to get the right size for your dish; the rule of thumb for dry noodles is that smaller ones are better for soups, and all sizes are okay for stir fries.
Sizing tends to vary from brand to brand though. Normally, I buy Erawan brand which comes in small, medium, large, plus the thread thin "rice vermicelli." If making a noodle soup, such as pho, Erawan Small is perfect. If making pad thai or another noodle stir fry, Erawan Medium is traditional. Erawan Large is fine for stir fries as well.
You might also see super thick rice noodles that are about half an inch wide. These are meant to be a substitute for fresh ho fun noodles that we use for popular stir fries like pad see ew, drunken noodles or char kway tiew. Know that cooked dried noodles does not yield the same texture as fresh rice noodles, but it's an acceptable substitute if that's all you have.
Finally, the super thread-thin noodles are called rice vermicelli. They are great for soups or stir fries, and are very quick to rehydrate and cook, perfect to have in the pantry for a meal in a hurry. Check out this pad see ew with rice vermicelli recipe where it takes only 20 minutes to prep and cook!
What about fresh rice noodles? If you're fortunate enough to have access to fresh rice noodles, that's great. Note that there are 2 types: cooked and uncooked. Cooked rice noodles are ready to use because they are, well, cooked!
The uncooked type is like fresh pasta; they're moist and pliable and need to be refrigerated, but they still need to be cooked. This is what most restaurants use because it's much faster to cook than dry. If you're buying them for a recipe, treat these like rehydrated dry noodles so you can skip the soaking. But be prepared to add a little more water to the wok if needed.
Curry Paste
Additional Video Resource: Curry Paste 101 which goes into much further detail about choosing the right curry paste for you.
The curry paste section is a bit tricky because it's hard to tell which one is good just from the packaging. But, there are two things you can look for.
Make sure it is a product of Thailand because I've seen Thai curry pastes not made in Thailand, and they are not very good.
Check the ingredient list. My preference is for curry pastes that only contain herbs, spices, shrimp paste, and salt - no oils, sugar or other seasonings. I want my curry paste to be as pure as possible, and then I will take it from there when I make the curry.
Maeploy, Aroy-D, Maesri and Namjai are great Thai brands that I've used before. They may come in big plastic tubs, which is probably more than you need but it lasts indefinitely in the freezer. But for occasional Thai cooks, look for single-use 50g packets or small tins.
Once you've got your curry paste, here's a video you want to check out for 5 different ways to use curry paste beside making curries!
Tamarind
Additional Video Resource - Tamarind: Everything You Need to Know
Tamarind is an important ingredient in Thai cuisine, especially if you want to make pad thai. But if you're not at a Southeast Asian store, your choices for tamarind are going to be pretty slim.
You can buy tamarind in 2 forms:
Ready-to-use Tamarind Paste
Ready-to-use tamarind paste is super convenient, and it is fine to use, but it isn't the best option in terms of flavour. It's essentially tamarind pulp mixed with water into an easily pourable consistency, packed into a jar or tub. It is usually labeled as "tamarind paste" or "tamarind concentrate," even though it is not a concentrate at all!
*Make sure you buy a product of Thailand or Vietnam, and do not buy Indian tamarind concentrate which is a very different thing.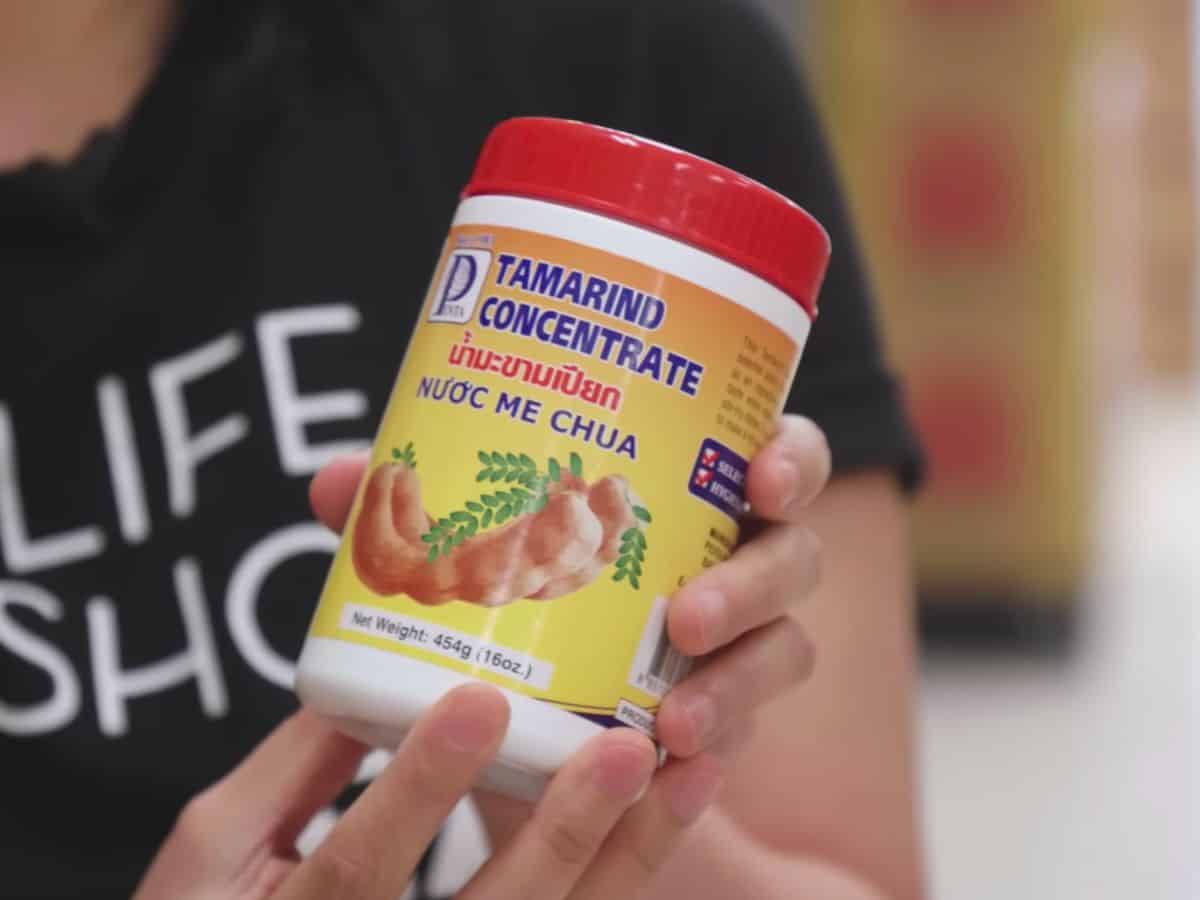 Tamarind Pulp
This is the dark brown, plastic wrapped, rectangular block that is simply labelled "tamarind" or "seedless tamarind." You will need to dissolve the pulp in water and strain it before using, but the end result is much more flavourful than buying the ready-to-use one.
This is the tamarind I use as I think the work is worth the flavour. Check out this video fora tutorial on how to make tamarind paste from pulp.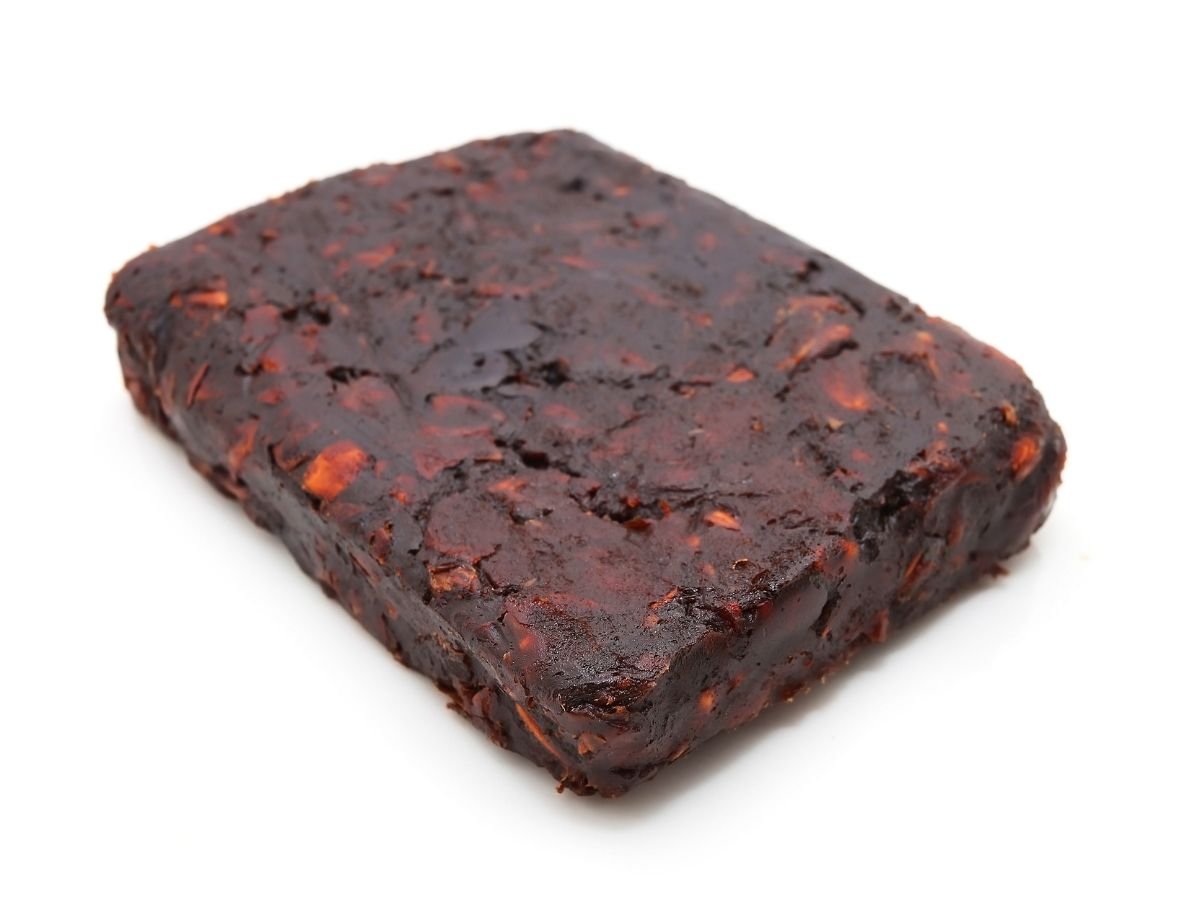 Coconut Milk
Additional Video Resource: Coconut Milk: Everything You Need to Know
When you are at the coconut milk section, the first thing I want you to do is look past all the cans, and then look for the paper cartons because the stuff in the paper carton is generally better than canned.
Coconut milk in paper cartons are processed differently, using UHT pasteurization, which results in less intensive heat treatment, leaving more of the beautiful flavour intact.
I talk more about this in my short documentary about how coconut milk is made, so I definitely recommend you to check that one out. It's one of my favourite videos of all time!
Aroy-D is currently what I use, but Chaokoh is also great. If you can't find UHT cartons, you can use coconut milk in cans, but do read on to find out how to choose the best one.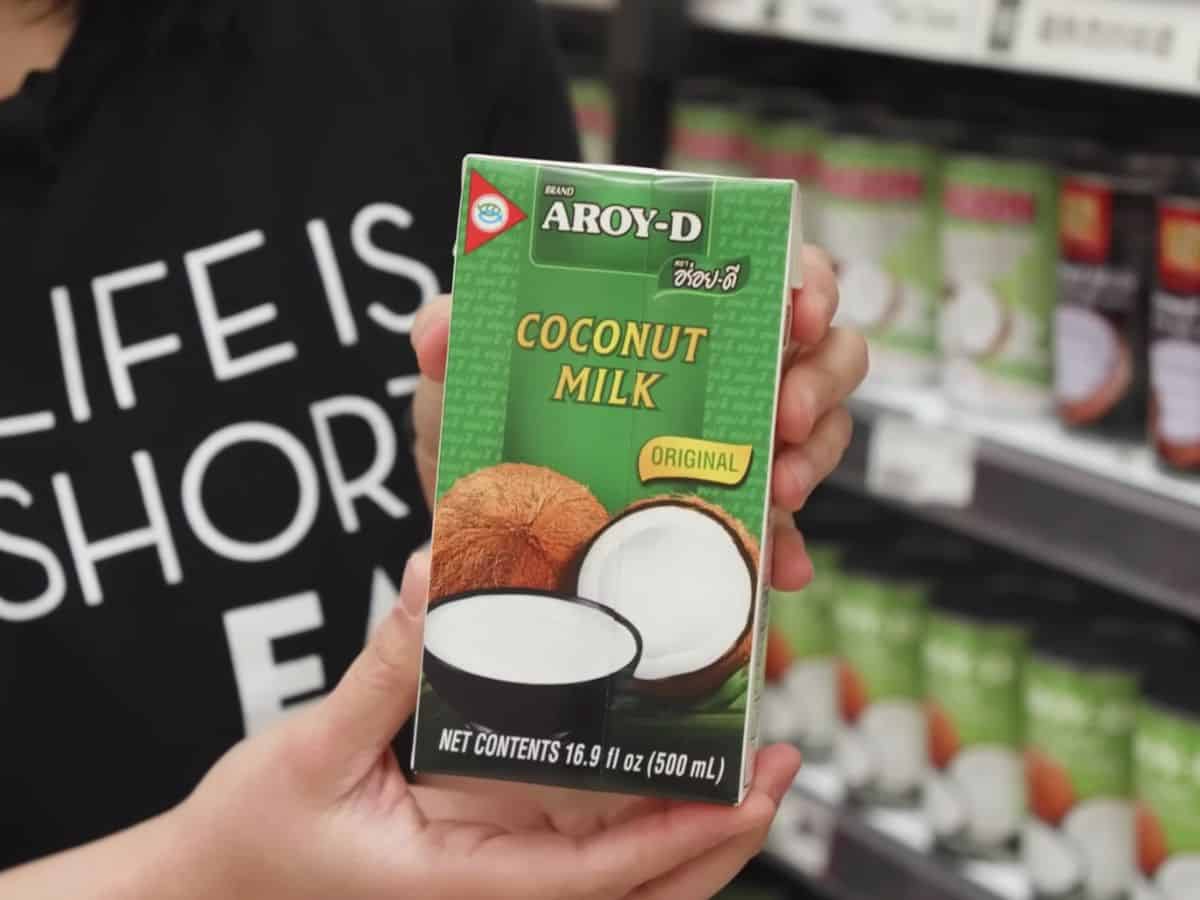 Coconut milk ingredients
Whether you're looking at cans or cartons, you want to look at the ingredient list. The fewer, the better. Most brands will contain at least 1 additive, either a preservative or an emulsifier. That's fine, but you don't want six different things on the label. My rule of thumb is look for a brand that only has 1 additive.
One note I will add is that I don't like coconut milk that has gums or other thickeners in the ingredient list. Companies add gums to prevent separation and also to thicken the coconut milk, making it look richer and creamier than it actually is. I find that many companies will add more water to the coconut milk, then add gums to make up for the added water. What results is a creamy-looking coconut milk that actually has little flavour.
Why does my coconut milk separate?
This is a totally natural thing that happens to coconut milk and there is nothing wrong with it (which is why I don't like it when companies add gums to stop this from happening). If you open a coconut milk and it has separated into a solid part and a watery part, just warm it up a bit to melt the fat and stir it back together. It has not gone bad.
What is Coconut Cream
A quick note about coconut cream because this confuses many people. Coconut cream is a man-made version of coconut milk with a higher fat content than coconut milk. I don't use it because this is not a naturally occuring product, so it has no place in traditional Thai cooking where recipes are based on freshly squeezed coconut milk.
But there is nothing wrong with it, so if there's a reason why you might want your dish to be fattier, this is what you would use. It would also make a good non-dairy substitute for cream in vegan recipes.
FUN STUFF
After you've got all the ingredients that you need, you never leave an Asian grocery store without some "fun stuff," and that's all the unique snacks and sweets! Walk down the snack aisle, the drinks, the instant noodles, and the freezer and grab anything that intrigues you!