It takes a lot for a recipe to be worthy of the "Hot Thai" designation. My Hot Thai Chicken recipe was the first to be released to rave reviews, and it now has over 1 million views. This dish deserves this title because it transforms the humble canned tuna into a dish that is bursting with flavours. It has all the iconic flavours of Thai food that we love: red curry, lemongrass, makrut lime leaves, and even has extra "loog doad" chilies! (More on that in the video.) It's also healthy, gluten-free, and can be done in less than 30 minutes!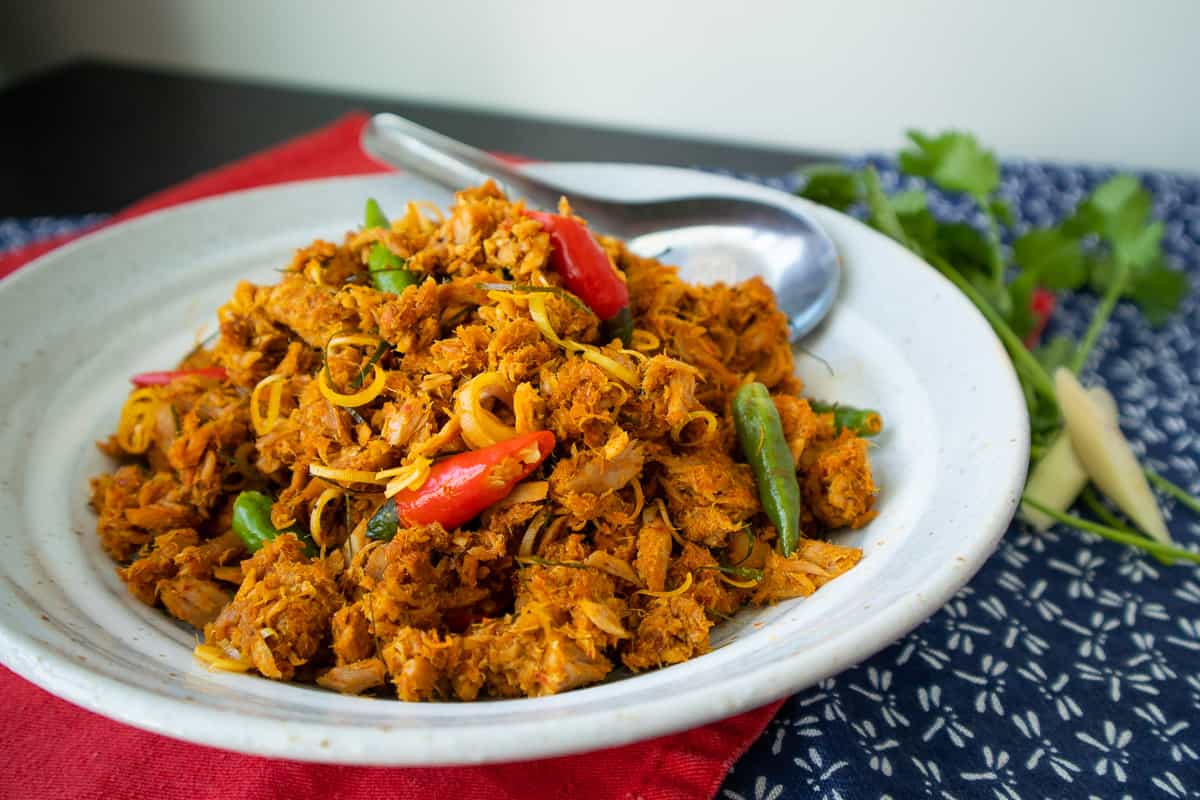 Inspired By a Southern Thai Dish: Kua Gling
The idea for this dish came to me because I was thinking about a fiercely spicy southern Thai dish called kua gling where ground meat is stir fried with a southern style curry paste. I was looking for something to do with canned tuna, and my mind connected the dots. After trying it, I was pleased to discover that the combination worked incredibly well.
What You'll Need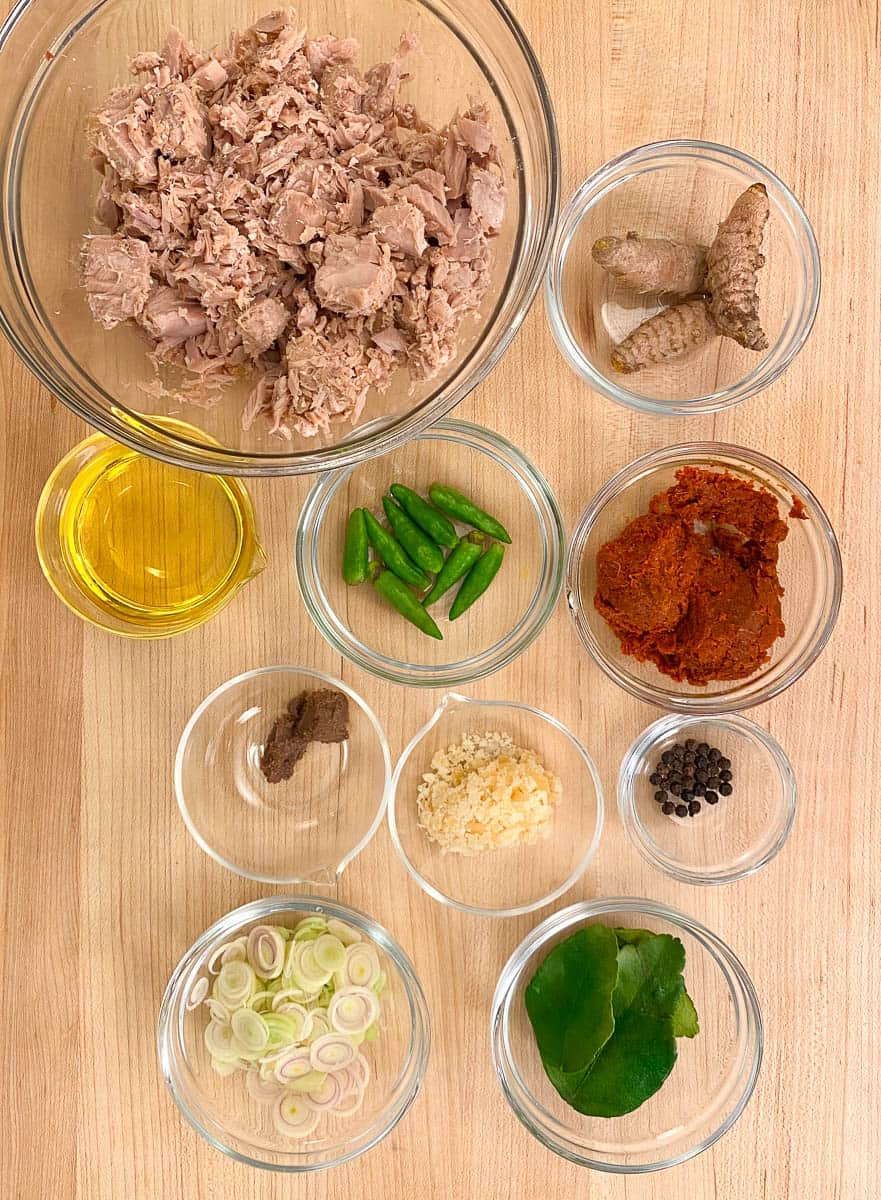 Step-By-Step: How to Make Hot Thai Tuna
Be sure to check out the detailed recipe and full video tutorial in the recipe card below - but here's a bird's eye view of what you'll need to do.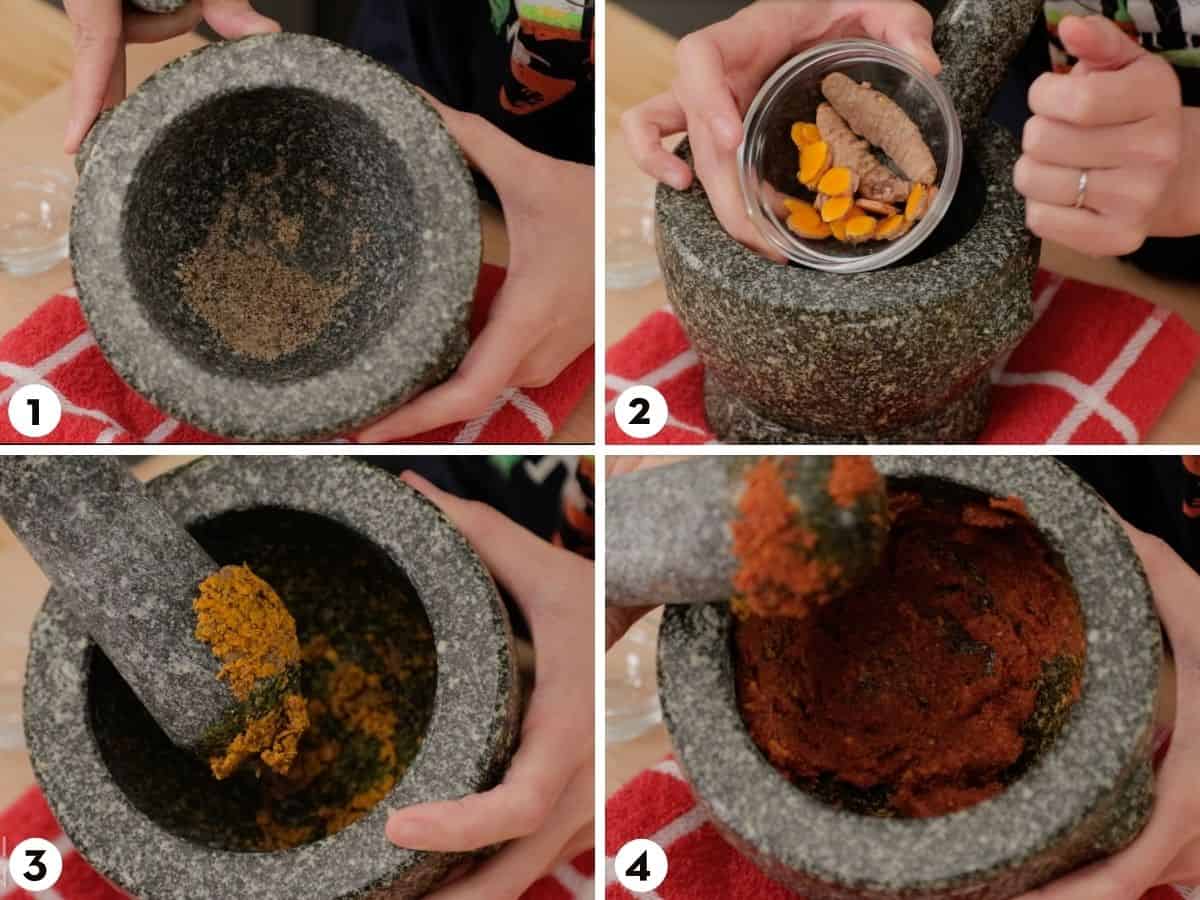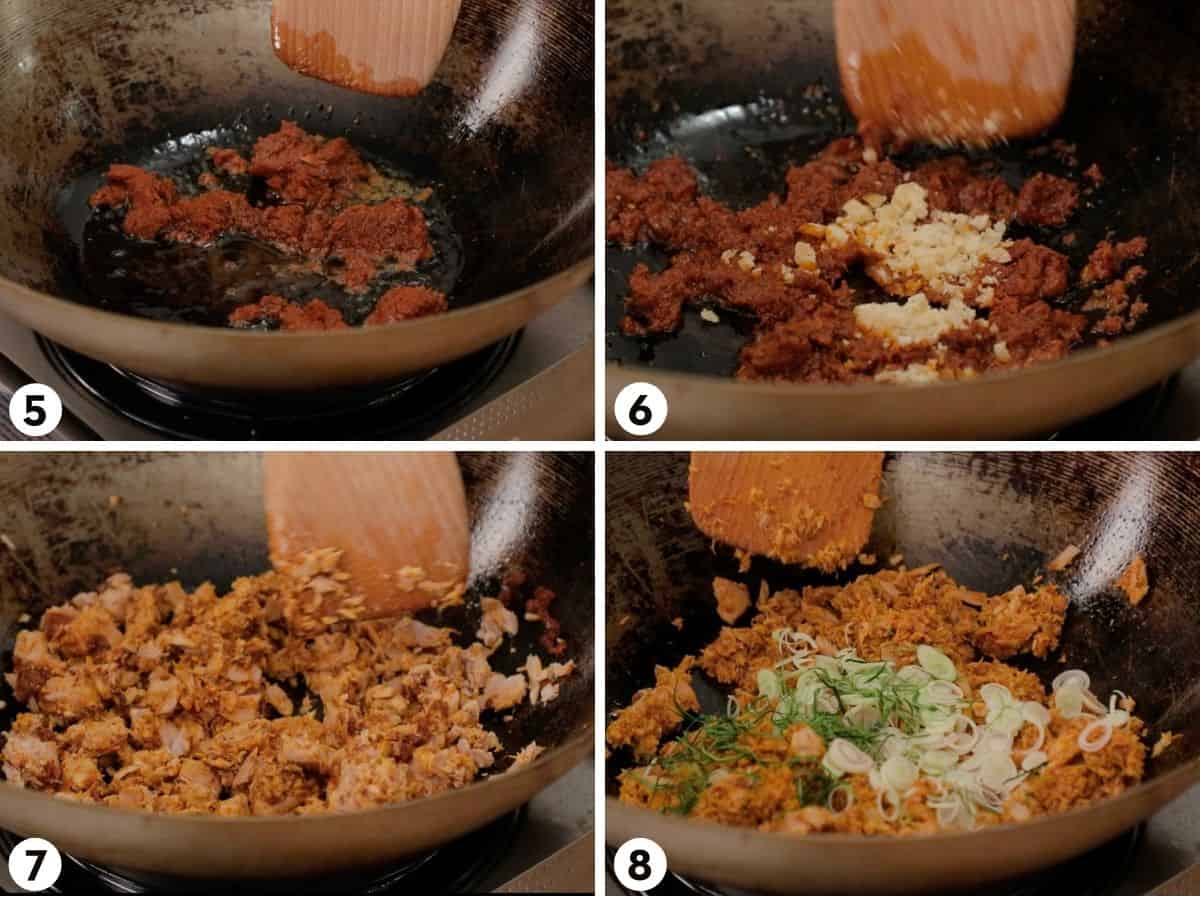 How to Serve Hot Thai Tuna
For those unfamiliar with the Thai way of eating, you might be looking at a pile of tuna on a plate and wonder how exactly you're supposed to tackle it! Well as with all other Thai dishes, the answer is: with rice.
In Thai we have this term kluk kao which means to toss something with plain rice. Some Thai dishes are just perfect for "klukking" with "kao", especially ones that are spicy and intensely flavoured, and this is one of them.
But it is more versatile than that! Here are a few ways I can think of using your Hot Thai Tuna:
Toss with jasmine rice.
Eat with plain congee (this is my favourite way)
Add to scrambled eggs
Use as a filling for omelettes or quesadillas
Eat with something creamy like mayo or avocado. This works really well as the dish is dry. Try filling a sandwich or top an avocado toast?
How to Choose Sustainable Tuna
When tuna is irresponsibly caught, it can be highly destructive to the marine ecosystem. Depending on the gear used, juvenile fish or some endangered species can be accidentally caught and killed. So when shopping, look at cans that say pole-caught, troll-caught, pole and line caught, FAD-free, school caught, free school, or unassociated, or look for eco-certification labels by the Marine Stewardship Council.
I highly recommend reading this short article by the Monterey Bay Aquarium Seafood Watch Program which gives tips on what to look for when buying canned tuna. And click around the site while you're there for other useful info on the subject.
You might also like...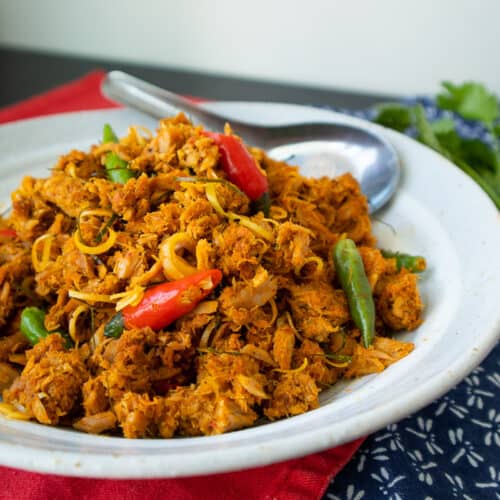 HOT THAI TUNA! Stir Fried Tuna in Red Curry
Tuna stir fried in red curry paste and other Thai herbs. It's an incredibly flavourful dish that is super versatile. Toss it with rice, eat with congee, add to an omelette, or anywhere you can use tasty spicy tuna!
Ingredients
Semi-Homemade Southern Thai Curry Paste
½

teaspoon

black peppercorns

1 ½

inch

turmeric root

,

sliced (see note*)

3

tablespoon

red curry paste

1

teaspoon

fermented shrimp paste (gapi)
Hot Thai Tuna
2

cans tuna, no salt added

,

260g total drained weight

2-3

tablespoon

neutral oil

1

stalk lemongrass,

bottom half only, thinly sliced

3-4

makrut lime leaves,

thick stems removed, thinly julienned

1

tablespoon

palm sugar,

finely chopped

Fish sauce,

to taste

Chopped cilantro garnish

,

optional

Red and green chilies for garnish

,

optional (see note**)

Jasmine rice or congee for serving

,

or see above for other suggestions
Notes:
* If you don't have fresh turmeric, substitute 1 teaspoon of ground turmeric.

** You can add a small handful of whole red or green Thai chilies which people can eat for extra heat (see video for more about this) or if you just want the colour without the heat, use bell pepper.
Check Out Ingredients and Kitchen Tools I Use
All my recipes come with step-by-step video tutorials with extra tips not mentioned in the blog post, so make sure you watch the video to ensure success. If you enjoy them, consider subscribing to the YouTube Channel to not miss an episode. Thank you!
Subscribe to my YouTube Channel
Instructions
Make the curry paste:
Grind the black peppercorns in a mortar until fine. Add the turmeric and grind into a fine paste. Add red curry paste and shrimp paste and pound to mix.
Make the stir fry:
If your tuna was packed in water, add 3 tablespoon of oil to a wok. If the tuna was packed in oil, you can reduce the amount you add to 2 Tbsp. Add the curry paste, turmeric and black pepper in a wok and saute for 2 mins over medium heat until aromatic.

Add the palm sugar and stir until dissolved.

If it looks a little dry, you can add a small splash of water to loosen the paste so it will mix more easily with the tuna, then add the tuna and mix well until the curry paste is evenly distributed. Keep stirring until the tuna is dry and crumbly.

Add the lemongrass, lime leaves, and chilies if using them; toss just to mix and turn off the heat.

Taste and add fish sauce as needed. It's important to taste before adding fish sauce because some curry pastes are already quite salty to start.

Toss in cilantro if you wish, and serve.
Watch my videos AD-FREE and get bonus content on Patreon!
Nutrition
Calories:
165
kcal
Carbohydrates:
4
g
Protein:
18
g
Fat:
9
g
Saturated Fat:
1
g
Polyunsaturated Fat:
1
g
Monounsaturated Fat:
5
g
Trans Fat:
1
g
Cholesterol:
45
mg
Sodium:
261
mg
Potassium:
160
mg
Fiber:
1
g
Sugar:
3
g
Vitamin A:
1849
IU
Vitamin C:
1
mg
Calcium:
38
mg
Iron:
2
mg
Tried this recipe? Share a pic!
Tag @hotthaikitchen on Instagram and Twitter!