---
A classic, much loved Thai curry, and a very quick one to cook: panang curry! Instead of being soupy like most other Thai curries, this one is more of a saucy curry with a thick, rich, luscious, flavourful sauce. In this video I also give you a recipe for how to make a "semi-homemade" panang curry paste using store-bought red curry paste as a base.
About Panang Curry:
Panang curry is kind of an interesting dish, because it's quite unique compared to other Thai curries. You may have noticed that most dishes that are classified as "curry" of "gaeng" in Thai cuisine are rather soupy. Lots of sauce, thin and runny sauce, some are even water-based and eat very much like brothy soups like this sour curry or this breast milk boosting curry. (If you have my cookbook, I talk about what is curry in there.)
Panang, on the other hand, might be closer to what you imagine when you think of the word "curry"— a thicker, richer sauce, and just enough of it to coat all the stuff and pool a little. We even have a special word for this amount of liquid in a dish, it's called "kluk klik". Panang is also unique in that it is all meat—it never has any vegetables added to it. The meat is always thinly sliced, and at most you'll get some red peppers thrown in as garnish.
Flavour-wise, it is similar to a red curry with a couple of important ingredients added: coriander, cumin, and peanuts. You can check out my Thai red curry recipe to compare!
It's a great weeknight curry because it comes together so fast. The cooking technique is almost more of a stir-fry, which awesome!
How to Ensure Tender Beef
When eating a beef curry or stir-fry, my biggest pet peeve is when the meat is chewy. I hate it. No matter how delicious it is...if the meat it chewy, the dish is ruined in my books. There are a few simple keys to make sure you have tender beef without having to braise it for a long time.
Choose a cut of beef that you would eat as a steak. The assumption being that any beef you will eat as a steak is considered "tender", at least compared to cuts you would need to stew or braise. This is a good rule of thumb for choosing stir-fry beef, which this recipe essentially is. I'm using New York strip in this video (it's a particularly fatty one, which was just a lucky pick at the store!).This does NOT mean it has to be an expensive cut, but if you're choosing the less expensive, leaner steaks, the next two points are very important.
Slice the meat AGAINST THE GRAIN. If the meat is naturally tender (New York, ribeye, or tenderloin), it's not as big of a deal, but for cuts that are borderline chewy....like flank, or lean sirloin tip, it's very important. You want the shortest meat fibers possible because the longer it is, the harder it is to chew. Think of slicing the beef as "pre-chewing"—let the knife do the hard work for you. So pay attention to your steak, look at which direction the meat grain runs, and slice across it. See my video for an example.
Slice meat THINLY. For 2 reasons, one is because the thinner the beef the more tender is it to chew, which is important if you're using leaner, less tender meat. The other reason is that this is a quick-cooking curry, not a long simmering one, so if the meat is thick the flavour will not have time to penetrate the inside. Using meat that is still a little frozen inside makes slicing thinly much easier.
Watch The Full Video Tutorial!
All my recipes come with step-by-step video tutorials with extra tips not mentioned in the blog post, so make sure you watch the video below to ensure success - and if you enjoy the show, please consider subscribing to my YouTube channel. Thank you!
Print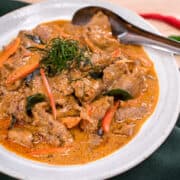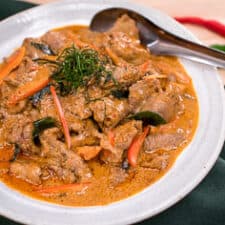 Panang Curry Beef แพนงเนื้อ
---
300g

beef, very thinly sliced against the grain (see notes about

ten

der beef above)

1½ tsp

fish sauce

2 tsp

oil

¾ cup

+

½ cup

coconut milk

1

recipe homemade or semi-homemade panang curry paste (recipe follows)

10

kaffir lime leaves, 7 roughly torn, 3 finely julienned

~1 teaspoon fish sauce, to taste

1½ Tbsp

palm sugar, finely chopped, packed (if using granulated sugar, use 1 teaspoon to start then taste and adjust)

A handful mild red pepper, thinly julienned for garnish, optional

Jasmine rice for serving
Semi-Homemade Panang Curry Paste
3

-

4

tablespoon red curry paste (see notes)

¾ tsp

toasted cumin seeds

1 ½ tsp

toasted coriander seeds

2 Tbsp

roasted peanuts, unsalted (if allergic, sub another type of nuts or seeds)

1 tsp

fermented shrimp paste (optional, only if the red curry paste doesn't already have it)
---
Instructions
For the semi-homemade panang curry paste:
Grind the cumin and coriander seeds until very fine using a mortar and pestle or a coffee grinder.

Add roasted peanuts and grind until fine.

Mix the red curry paste and shrimp paste into the ground spice mixture.
For the Curry
Add 1½ teaspoon fish sauce and oil to beef and massage it in with your hands, separating the pieces of beef that are stuck together as you mix.
In a saute pan or a wok over medium high heat, reduce ¾ cup coconut milk until thickened and creamy.
Stir in curry paste and reduce the heat to medium low. Cook the paste for a few minutes, stirring constantly, until coconut oil separates away from the paste. If the paste sticks to the pan, you can deglaze with a bit of the remaining coconut milk.
Add palm sugar and torn kaffir lime leaves and cook for a minute or so until the sugar is dissolved.
Add beef and quickly toss it with the curry paste, separating the pieces of beef as much as you can. Once the beef is about 50% cooked, add the remaining coconut milk and stir for 30 more seconds or just until the beef is fully cooked. If it looks too dry, you can add a splash of water at this point.
Stir in red peppers, if using, and turn off the heat.
Taste and adjust seasoning with more fish sauce and/or sugar as needed.
Garnish with julienned kaffir lime leaves and more red peppers as desired.
Serve with jasmine rice, enjoy!
---